One of the most difficult tasks during your fantasy football draft is trying to decide between two players you essentially see as having identical value. The purpose of this article is to not only identify pairs of players that are considered of equal value in 2018, but also take a look at the process of solving those dilemmas. With that in mind, here are two quarterbacks whose values look to be nearly, if not totally identical.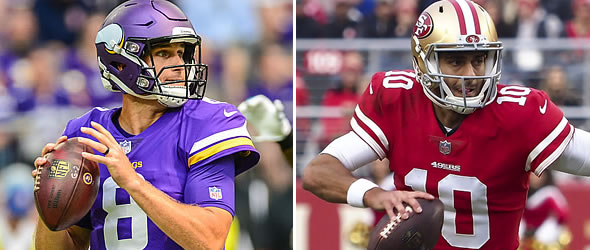 You've decided it's time for a quarterback at the end of the 8th round. Which QB do you choose?


Kirk Cousins vs. Jimmy Garoppolo

If you took a dozen fantasy football enthusiasts and asked them which of in these two quarterbacks they'd take in a redraft league, you would likely get six votes for each guy. I know - I tried. So, who has the upper hand?

With apologies to Marquise Goodwin, who I think is a very good young receiver, the better receiving corps is aligned with Cousins. Stefon Diggs, Adam Thielen, and Kyle Rudolph represent the best pass catchers Cousins has ever played with. Cousins also gets to travel to Green Bay in September (when the weather is pleasant) and doesn't go to Chicago until Week 17 when most fantasy seasons have already concluded. Finally, Cousins is the better scrambler and ran for nearly 15 yards a game last season with 4 rushing TDs. Garoppolo was credited with 11 yards on 15 carries in six games.

First 4 games for Cousins: SF, @GB, BUF, @LAR

So, what does Jimmy have going for him that Cousins doesn't? For starters, the last two defenses that Garoppolo faced in 2017 were the Rams and Jaguars - two of the best units in the league. He combined for 534 yards and 5 TDs in those games. Cousins, meanwhile, struggled against elite defenses last season as two of his worst outings were against the same Rams (18-27, 179-1-0) and the crosstown Chargers (15-27, 151-1-1). Garoppolo also plays for an offensive minded coach (Kyle Shanahan) while Minnesota thinks defense first with a defensive guru (Mike Zimmer) manning the helm. Last, but not least, Garoppolo isn't playing for a brand new team this season as he spent the second half of last season in San Francisco.

First 4 games for Garoppolo: @MIN, DET, @KC, @LAC

The Verdict: Cousins is more proven, but he wasn't brought to Minnesota to engage in shootouts. Garoppolo, meanwhile, plays for the man who turned Matt Ryan into a fantasy stud in 2016. I think we've just seen the tip of his iceberg when it comes to Garoppolo's fantasy football worth. Give me Jimmy G. and his upside. His strengths appear to be more pronounced.