As was noted last week, fantasy football managers neither overreact nor disregard what takes place on the field during the month of August. That being said, Week 3 of the preseason is typically a dress rehearsal for the regular season opener, so we pay more attention to what just took place this weekend than we do all else that occurs during the preseason. So, what happened out there Friday through Sunday that is worth our attention? Let's dive in...

1. Cloudy With a Chance of McFadden

For those that have been riding the Joseph Randle bandwagon all summer, it may be time to cool the jets. Darren McFadden looked like the more effective running back on Saturday night and is now running neck and neck presumably for touches in Big D. Move Randle down a bit in your rankings and move McFadden up. I still think Randle deserves to be the first Dallas RB picked, but it's a muddled situation at present.

2. Fly Eagles Fly

Chip Kelly did some wacky stuff personnel-wise this past offseason, but the mad scientist is beginning to look like King Midas if this weekend is any indication. Sam Bradford executed the offense almost flawlessly throwing three first half touchdowns as Green Bay struggled to slow the Eagles down. Yes, the Packers rested a few starters, but it was still a clinic by an offense that is on the rise. Like McFadden, Bradford has to be drafted with caution due to his health history, but he's got more upside right now than any other quarterback outside the top ten. Don't be afraid to pick any Eagles' players this week in your drafts.

3. Sophomore Sensations

How about three sophomore quarterbacks? Teddy Bridgewater completed every pass he threw, Blake Bortles was sharp and decisive, and Derek Carr put up high yardage totals as each led their teams this weekend to high efficiency performances. Much like Bradford, I'm starting to think that Bridgewater is moving towards borderline QB1 status heading into drafts, while Carr and Bortles make solid backups with upside at the position. I am excited to see how these three offenses improve in 2015.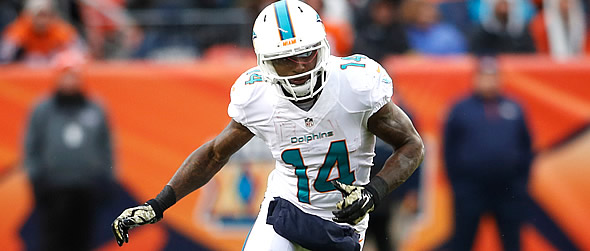 Despite all the additions this offseason, Jarvis Landry remains the lead dog in the MIA receiving corps.
4. Another Sophomore...on the Verge of a Breakout Season
DeVante Parker has real upside. And, it will be nice to see how Kenny Stills develops in a new offensive system. But, the real story in Miami is shaping up to be Jarvis Landry. Landry hauled in 5 passes for 84 yards in limited action on Saturday and his stock continues to shoot through the roof heading into the regular season. If you're drafting for a PPR league this weekend, consider Landry among the top 15 WRs in your draft. Even in a non-PPR, his projected output is top 20 worthy. It's looking more and more like Landry is in for a huge year so don't miss out on grabbing him on draft day.
5. Bizarre Happenings in the Big Apple
It was supposed to be the Giants boasting a high-octane offense in New York this season, but it was the Jets this weekend that looked like a team ready to begin the season. Chris Ivory is running with conviction and the well-travelled Ryan Fitzpatrick showed tremendous chemistry in hooking up with veterans Brandon Marshall and Eric Decker. Sometimes, we overthink a team as offensively challenged and thus write them off for a stretch of several years. These aren't Rex Ryan's Jets. It appears they are capable of actually moving the ball downfield consistently. As for the Giants, it's been a rough preseason. I would be cautious taking anyone from their squad whose last name isn't Beckham.
6. The Tier of Tight Ends behind Gronk is Bigger than You Think
Most fantasy magazines and websites have declared Jimmy Graham to be in a tier of his own beyond the long shadow of Rob Gronkowski entering this season. The performances of Greg Olsen (6 catches, 51 yards), Travis Kelce (42 rec. yards, 1 TD), and Martellus Bennett (7 catches) this past weekend suggest that to be faulty logic. Don't get me wrong: I think Graham has a chance to shine in Seattle, but Olsen, Kelce, and Bennett can probably be had a round or two rounds beyond Graham and offer similar value. It could be argued that each is going to be their quarterbacks first option. Look to get your starting tight end from this trio.
7. If Only You Weren't Doing Drugs…
It's a shame that Martavis Bryant's substance use/abuse issues are getting in the way of him playing a full season in Pittsburgh. Bryant caught three balls this weekend, but it was his whopping 46 yards per reception including a touchdown that got our attention. Bryant has the potential to be devastatingly good, particularly in non-PPR leagues. But, he comes with risk, especially in keeper/dynasty drafts. I would suggest that he's still worth a mid-round selection given his high ceiling and is certainly worth picking before Markus Wheaton.
8. Please Have Your Way With Us
Talk about a couple of lousy defensive performances. If the Steelers' and Titans' efforts this past weekend meant anything, I would suggest circling the names of every one of their opponents this year and reaping the benefits of the matchup. The Steelers made the four-headed monster that we call the Bills' quarterback situation look like four Hall of Famers (30-33, 395 yards, 3 TDs) while the Titans allowed Alex Smith and Aaron Murray (31 completions, 317 yards, 4 TDs) the same free reign. It would be easy to get excited about what the Bills and Chiefs did. Don't. These were two horrific defensive performances and they should be viewed as just that and not much more. Yuck.
9. The Winston Effect
Nothing we've seen this preseason gives me confidence in Jameis Winston having a successful first season in Tampa Bay. He completed only 40% of his passes on Saturday night (not good) and generally looked lost against the Browns defense. Mike Evans and Vincent Jackson are still getting drafted high based on their individual talents, but definitely take into consideration the situation they find themselves in before drafting them over the course of the next week. This offense is going to struggle and the wide receivers in particular are rated way too high for what they are likely to produce. Buyers beware.
10. Who in the World is Zach Zenner?
Rising from the midst of Ameer Abdullah and Joique Bell this weekend was mighty rookie fullback, Zach Zenner. I still think Abdullah and Bell will share carries evenly this season, but Zenner's performance (80 plus yards, 10 plus yards per carry) illustrates just how confusing tracking preseason action can be. Viva La Zenner!
Honorable mentions: Steve Smith showed some fire this weekend, both in terms of his play on the field and his willingness to mix it up with defenders in between plays. We like what we saw. He'll be more valuable early in the season than late when his legs give out, so drafting him to a roster alongside a guy like Martavis Bryant makes a lot of sense...also, performances by Matt Jones (Washington) and Ronnie Hillman (Denver) make them high ceiling handcuffs to consider late in your drafts…and finally, wasn't it nice that no draft-worthy skill position players were seriously injured this weekend (hoping Randall Cobb's minor shoulder injury is just that)? Here's hoping that trend continues into the month of September.
Well, if you haven't already drafted, the time has come. Hope this look at the third week of preseason gives you some valuable insight into what and what not to do in the days ahead. Best of luck as you put together your ideal squad!