The astute fantasy football manager neither overreacts nor disregards what takes place on the field during the month of August. That is my only preface as we move into a quick review of what is most fantasy-relevant from this past Thursday through Sunday night. Sure, there's one more Week Two game tonight, but time is of the essence with drafts taking place hot and heavy nearly every day. So, with that said, here's what we learned in Preseason Week 2…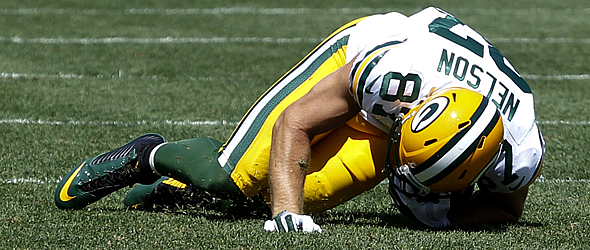 If Jordy Nelson (knee) is indeed out for the year, Davante Adams' fantasy value will sky-rocket.
1. Green Bay and Pittsburgh would like to go back in time and somehow leave Jordy Nelson and Maurkice Pouncey on the sidelines for what turned out to be a meaningul meaningless game Sunday. The loss of Nelson (most likely) for the season and Pouncey for at least half the season changes the rhythm of what were likely to be two of the NFL's top three offensive systems. The value of Davante Adams is soaring as a result of Nelson's injury and providing the top reactionary story, but don't underestimate how much Pouncey's loss will hurt the Steelers. It should lead to a mild down-tick in value for every one of the Steelers' offensive weapons.
2. I am not sure panic is in order (in fact, I know it isn't), but Eli Manning's 4-14 performance this past weekend marked his second awful outing in a row. The assumption has been that "Good Eli" is here to stay after last year's resurgence, but his lackluster accuracy and play in general the past two weeks is worth keeping an eye on.
3. If the game vs. New Orleans is to be considered a test on Jimmy Garoppolo's readiness for primetime action, consider the test passed with flying colors. Garoppolo led the Patriots on five scoring drives and demonstrated the ability to make all the throws. If Tom Brady does end up missing four games due to suspension, I think the Patriots will be in decent hands. That bodes well for all Patriot skill position players, particularly Rob Gronkowski and his band of merry wide receiver counterparts.
4. From the same game, Brandin Cooks absolutely torched the New England secondary. Both Cooks and Jordan Matthews continue to show that placing them within the top ten at the wide receiver position is far from a crazy thing to do. The difference between the two remains the presence of Drew Brees, whose fantasy demise this year may be greatly exaggerated if Cooks keeps playing like he did on Saturday night. The loss of Jimmy Graham may alter how effective the Saints are in the red zone, but Cooks could make them much more dynamic between the twenties to be sure.
5. Want a couple more wide receivers whose draft statuses improved over the weekend? How about Minnesota's Charles Johnson and Oakland's Amari Cooper. Teddy Bridgewater hooked up with Johnson four times in their brief action on the field together, including one touchdown. Anyone still drafting Mike Wallace ahead of Johnson is making a big mistake. Wallace will make some big plays this year, but Johnson is clearly Bridgwater's go-to-guy. As for Cooper, he only caught one pass in the game against the Vikings, but it happened to be a 40-yarder over the top of the defense. Cooper's ability to make big plays remains a great reason not to pass on him in your draft.
6. It's only preseason, but did you notice that Alex Smith threw a touchdown pass to a wide receiver? Yes, it was only a three-yard reception, but it was the first of its kind in over a year for Smith and it happened to go to Jeremy Maclin, his newest weapon in the Kansas City...err...passing attack. Smith still isn't worth a look until late in drafts as a low-end, low-ceiling backup, but Maclin might give Smith something in the red zone he hasn't had the past couple of years... a viable target that lines up wide. Stay tuned.
7. The signing of Chris Johnson by Arizona this past week was met with some interest in fantasy circles, but it was Arizona's "other" Johnson that made an impact on Saturday night to the tune of over 80 total yards in limited action. David Johnson has not logged enough time in training camp to be considered more than a rookie with some promise, but don't be surprised if the Cardinals begin finding ways to get him on the field early and often by late September. As for Chris Johnson (hamstring), he did not see action in his latest stint with an NFL team.
8. Watching Robert Griffin III try to tackle the Detroit Lions' front seven last Thursday night was like trying to watch a lamb cope with advancing wolves. The Redskins have the worst offensive line this side of Tampa Bay and it's hard to envision Griffin having much time to throw this year against above average- maybe even average- defenses. It's hard to tell if the problem in Washington is RGIII or those around him, but either way the bottom line is to steer clear of Redskins at their current ADPs. There are too many red flags to ignore.
9. We're talking about a limited sample size, but our first decent look at what Gary Kubiak will do for the Denver rushing attack was encouraging. C.J. Anderson, Ronnie Hillman, and Juwan Thompson all averaged at least 6.0 yards per carry vs. the Texans on a combined seventeen carries. Whereas I think the Saints are going to throw more than people think, the Broncos appear poised to try to bludgeon teams via their ground game. Anderson may end up as a top-three fantasy running back if he can stay healthy. I know that sounds a little crazy, but the writing is beginning to appear on the wall...just sayin'.
10. And finally, the Titans are showing some life in the second year of Ken Whisenhunt's tenure. You would be hard-pressed to find an offense that was worse in 2014, but between all three quarterbacks playing well on Sunday night and Bishop Sankey looking quick and decisive running out of the backfield, it may be time to consider Titans' players fantasy worthy in the middle-to-late rounds of your draft. You could do worse (see Browns, Cleveland).
Week Three normally brings us "dress rehearsal" games around the league, but after the injuries in the Packers-Steelers game, expect a few teams to continue exercising caution. Best of luck in your drafts throughout this week and remember to leave no stone unturned. Until next time...