No matter whose projections/rankings (redraft) you seek out and study with respect to the forthcoming 2014 season, there is almost universal agreement as to who the top six wide receivers are in fantasy football. All six are prototypical in terms of size, pile up receptions and are effective in the red zone, making their value stand above highly skilled possession receivers and mere red zone specialists. For the past three years, the leader of this pack has unquestionably been Calvin Johnson, the all-world, at times unstoppable, wide receiver of the Detroit Lions. But, is "Megatron" still the best of the bunch? And if he is, is he really worth drafting much ahead of guys whose talent and track records all warrant consideration for the top spot, as well? We'll debate the issue and offer some conclusions. As many now seek to build their teams around a top-tier WR almost as often as a top-tier RB, figuring out what the "Magnificent Six" bring to the table individually and in comparison to one another is imperative.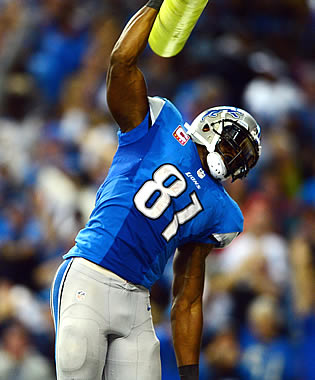 According to our Consistency Calculator, Calvin Johnson has been the most consistent wide receiver over the last three years.
Calvin Johnson

Why he's still the best of the bunch: Three years, 5,200+ yards; from 2011-2013, that's what Johnson accomplished despite double-teams on a near weekly basis and while battling nagging injuries at times. He continues to enjoy uninterrupted rapport with a quarterback who is fearless when it comes to throwing downfield. This offseason, the Lions added wide receiver Golden Tate and tight end Eric Ebron to the mix to free up Johnson to continue being what he's been for the entirety of this decade thus far. He's only 28 years old- very much in his prime.

Caution required: Jim Caldwell is now the head coach of the Detroit Lions. New coaches always bring some mystery into the equation in terms of how their teams' numbers will look across the board, position-by-position. Under Caldwell, the Baltimore Ravens' passing game was a mess last year, with quarterback Joe Flacco regressing a bit and the offense taking a step back overall. How much of that is on Caldwell as the offensive coordinator? Additionally, in three of Johnson's seven seasons, he's recorded five touchdowns or fewer. That is alarming given his size and speed. Again, it would be easy to suggest the addition of Tate and Ebron will free up Johnson in red zone situations, but what if it doesn't? What if Ebron becomes a matchup nightmare near the goal line and Johnson becomes something of a decoy? Yes, Johnson remains in his prime years, but you would be hard-pressed to find anyone who believes 2012 was not his "career year."

Contenders to The Throne: Demaryius Thomas, A.J. Green, Dez Bryant, Julio Jones, Brandon Marshall

Hot on Johnson's heels come five guys whose talent and fantasy production and/or potential is unquestioned. So, how do you differentiate between the five stars in ways that allow for the right choice to be made in August redrafts? Here's a list of some factors to consider and how the five franchise wide-outs rank with regard to those factors. The numbers reflect play over the past two seasons so as to avoid each player's rookie year.

Best quarterback throwing the ball: Thomas (Peyton Manning), Jones (Matt Ryan), Marshall (Jay Cutler), Bryant (Tony Romo), Green (Andy Dalton).

Most targets per game: Marshall (11.2), Green (10.7), Jones (9.9), Bryant (9.3), Thomas (8.9)

Explosive potential (Yards Per Catch): Thomas (15.4), Jones (14.7), Green (14.3), Bryant (14.2), Marshall (12.9)

Receptions per game: Marshall (6.9), Jones (6.6), Green (6.1), Thomas (5.9), Bryant (5.8)

TDs per game: Bryant (0.78), Thomas (0.75), Marshall (0.72), Green (0.69), Jones (0.57)

Yards per game: Jones (95.5), Thomas (89.5), Marshall (87.6), Green (86.8), Bryant (81.8)

Least risk (injury history, off-field issues, age): Thomas, Green, Bryant, Marshall, Jones

If you take those seven factors into consideration by assigning five points to every first-place slot down to one point for fifth, the rankings would be as follows:

What do those numbers tell us about each contender? Thomas is the most complete receiver of the bunch. Jones' value is being held back by concerns with respect to last year's season-ending injury. Marshall's value is higher in PPR leagues than in redraft leagues due to how often he is targeted. Green, like Thomas, does everything well but is not as valuable as Thomas due to QB concerns. Bryant's value is based prominently on what he does in the red zone. All in all, however, these five receivers compare well to Johnson in most of the categories and comprise the true top tier in terms of value at the position.



Conclusions



Thomas is the only wide receiver who comes close to equaling Johnson's all-around production. Johnson still exceeds Thomas in four of the seven factors noted above, but Thomas has greater stability with respect to changes to cope with this offseason, both in terms of coaching and surrounding personnel. That uncertainty alone, combined with Johnson's history of sometimes not being able to find the end zone, is enough to make Thomas the new king at wide receiver in 2014, if only by a photo finish. Both guys should be drafted confidently in the first round of non-PPR redrafts and early in the first round of PPR drafts.

Anyone following fantasy football over the last decade can see the writing on the wall with respect to wide receivers. Their value continues to increase while running-back-by-committees cut into the value of running backs by virtue of fewer individual carries and less utilization in the red zone. That being said, RB remains a position of scarcity, whereas there is more WR depth than ever before, as evidenced by 24 wide-outs gaining more than 1,000 receiving yards last season and 19 catching 80 passes or more. So, how early should you look to take one of the aforementioned top-tier WRs in redrafts next month? Beyond Johnson and Thomas, I think any of the remaining four would be ideal early in the second round of a redraft and late in the first round of a PPR-league draft. Don't be left without one of the six if at all possible, as the drop-off in terms of value is steep once they're off the board. That makes it tricky if you're picking early in the first round and ideal if you're picking late. Ideally, one of the "Magnificent Six" paired with the position of greatest scarcity (running back) seems like a great place to start.