QB Justin Herbert
(2021 QB Rank - 3, 26.5 FPts/G)
Every time Dolphins fans look at the 2020 NFL Draft, they must get a sick feeling in the pit of their stomachs after Miami took Tua Tagovailoa ahead of Justin Herbert. While Tagovailoa could still carve out a solid NFL career, the odds of him being better than Herbert seem astronomical (barring injury, of course) as the Oregon product is already viewed as one of the top quarterbacks out there and is probably 1a/1b with Joe Burrow for QBs 25 and under -- and youíd only tack Patrick Mahomes and Josh Allen ahead of that duo if you pushed the age limit out to 30.
While he was prone to some off days during his sophomore season, Herbert still finished the year with 5,014 yards passing, 302 yards rushing, 41 combined TDs (38 passing, 3 rushing), and 15 INTs. He has a tremendous arm, underrated athleticism, and, perhaps more importantly in the modern NFL, he trusts in his ability and the ability of his receivers to make plays, and he gives them that opportunity. Expect Herbert to get even more dangerous as he gains experience where the already rare poor decisions become even more infrequent.
Los Angeles may not have the depth of talent of some elite offenses, but the top of their depth chart is stacked with Pro Bowl contenders in the backfield and at receiver. Put an emerging superstar at the head of that offense, and the sky is the limit for what the Bolts could do in 2022 assuming their key pieces stay healthy. Other than Allen, who deserves to be the No. 1 quarterback selected, Herbert is in the conversation with Mahomes for the next QB off fantasy boards.
RB Austin Ekeler
(2021 RB Rank - 3, 21.6 FPts/G)
In a lot of ways, Ekeler has supplanted Christian McCaffrey as the preeminent dual-threat tailback in the NFL. Not that heís necessarily as talented as Run CMC, but when you miss 23 of the last 37 games (as McCaffrey has) itís hard to put them on the mountain top. One thing to watch for 2022, however, is whether Ekeler setting a new career high in carries (206, which was 74 more than any previous year) adversely affects the 27-year-old back. It didnít last year when he missed just one game; that after missing a half-dozen in 2021.
For fantasy owners, the biggest development was the 5-foot-10, 200-pounder showing a heretofore unseen penchant for goal-line work as he rushed for a dozen touchdowns -- he entered last year with nine rushing scores in his career. He added eight more as a receiver as part of a 70-catch, 647-yard effort, giving him 20 combined TDs for the year, which tied with Indyís Jonathan Taylor for the NFL lead. Heís as natural a receiver out of the backfield as there is in the NFL, and those extra touches in space help keep his workload up while not exposing him to more big hits.
If youíre looking for a drawback with Ekeler, it might be the drafting of Isaiah Spiller, who on paper should be a much more capable reserve than last yearís mix of Justin Jackson, who had a couple of nice games but was largely unimpressive, Larry Rountree III, and Joshua Kelley. Then again, nobody in the top five or six RBs looks airtight apart from maybe Taylor, so Ekeler is absolutely in the mix for the next back selected and is a definite top-five target.
LA snapped-up Spiller in the fourth round of this yearís draft, hopefully providing them with stability down the depth chart. Like the man in front of him, Spiller is a three-down back, showing toughness and elusiveness between the tackles, and good hands as a receiver and instinctive running ability with the ball in space. The Texas A&M alum is also regarded as a good pass blocker, so nothing should be off the table when he checks in to spell Ekeler. He lacks elite speed, though, and had issues with ball security in college, which heíll need to clean up post-haste.
While he doesnít carry more than RB5 value on his own, Spiller would be a smart addition as a handcuff to anyone that spends a first-round pick on Ekeler.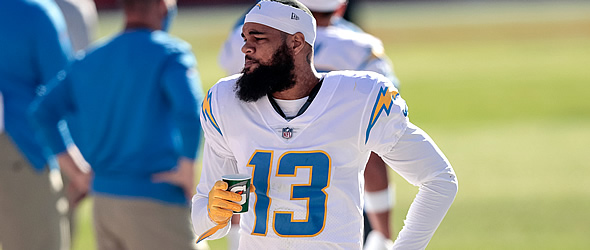 WR Keenan Allen
(2021 WR Rank - 13, 16.0 FPts/G)
Whatever happened when the Chargers relocated to Los Angeles did wonders for Allenís health. In the four years he spent in San Diego, the veteran missed 26 games. In five years since moving to LA, heís missed only three. Itís no surprise then that over that five-year run, Allen has averaged 102 catches, 1,184 yards, and 6.4 TDs per season. Itís that last number that keeps the 30-year-old out of the elite fantasy receiver discussion, however, as heís never been a prolific red-zone producer.
Even though heís not the designated big-play guy, Allen is the far steadier, more reliable option. He has great hands and is one of the NFLís elite route runners -- he has 60-plus first-down receptions in each of the last five years. Granted, a career yards per catch of 11.7 isnít awe inspiring, but he caught at least six passes in 11 of his 16 games, giving him a nice little bump in point-per-reception formats.
Allen is a borderline top-10 fantasy wideout, though he lacks the upside of some of the younger names in that same range such as Tee Higgins, A.J. Brown, or Terry McLaurin. So, you must decide if you prefer the higher floor/lower ceiling of Allen to some of those more volatile options.
WR Mike Williams
(2021 WR Rank - 18, 15.3 FPts/G)
Entering the final year of his rookie deal, Williams picked a good time to have his best season, posting 76 receptions (well above his previous high of 49), 1,146 yards, and 9 TDs. That was enough to earn the former seventh overall pick a three-year, $60 million deal to stay in Los Angeles. It wasnít always smooth sailing for Williams in 2021, though, as after topping 80 yards four times in his first five games while scoring six times the Clemson product would score just once in his next nine with only two outings of more than 65 yards receiving.
While the team will doubtless be hoping for better consistency this year, Williams is bound to be more volatile than Allen just based on his role as more of a downfield threat. At 6-foot-4, 218 pounds, the sixth-year pro has the size to outfight defensive backs for the ball in contested catch situations along with the speed to get behind them. He feels slightly overvalued if youíre counting on him a low-end WR2, but if you can grab Williams as your third receiver thereís certainly enough upside there for him to produce as a No.2.
WR Josh Palmer
(2021 WR Rank - 106, 6.2 FPts/G)
A year ago, Jalen Guyton (31-448-3) was the de facto No.3 receiver. While heís still in the mix for the job, Palmer (33-353-4) has more upside. A third-round pick last year, Palmer got more involved as the season wore on, scoring in three of the teamís final five games while posting his three highest yardage totals in those same games. With a year under his belt to improve his route running, Palmer has a shot to develop into a more consistent downfield weapon. His fantasy profile is nominal as long as Williams and Allen are healthy, but if anything happens to them Palmer could be a priority addition.
TE Gerald Everett
(2021 TE Rank - 20, 8.1 FPts/G)
Jared Cook (48-564-4) was a solid tertiary option for Herbert last year, but the Bolts moved on from the 35-year-old tight end and replaced him in free agency with Everett, who posted career highs in catches (48), yards (478), and touchdowns (4) last season with Seattle. After one year in the pacific northwest, the former Ram has returned to Los Angeles where he'll step into a potentially productive role as an underneath target for Herbert.
None of Everett's five seasons have moved the needle much for fantasy owners, and Cook's numbers in this offense last year don't jump off the page, either. That being said, Herbert's ascension could be the fantasy equivalent of a rising tide lifting all boats. Keep an eye on Everett, but don't expand a draft pick outside of deeper leagues where you'd carry a backup tight end.