MyFantasyLeague.com Users...
Check out the most popular waiver wire pickups this week across thousands of MFL leagues. Also, quickly see who's available on your waiver wire this week by using the MFL Power feature at FF Today. Just input your league's 5-digit ID number away you go!

Targeting weekly waiver picks is a completely subjective business, but this column hopes to point out some obvious and not-so-obvious selections to help your team from week to week while you strive to collect fantasy wins, reach your league playoffs and win the elusive title that your friends say is out of your grasp. While I'm a big proponent of making trades to bolster your roster, the waiver wire can be an almost limitless resource when it comes to discovering fantasy value in strange places. Each week, I'll highlight some of the popular (and not-so-popular) players who can help your squad and may still be available in your league.

Feedback is always welcome, appreciated and encouraged. I'll get to as many e-mails as I can.


---
Quarterbacks
Eli Manning, NYG – Did anybody freak out and drop Manning when it appeared Odell Beckham might be leading a path toward a quickly devolving, mutinous mess on a listless Giants ship? Beckham, Manning and the Giants are now in a much better place after a comeback win over the Ravens Sunday. The veteran QB had his best game of the season so far, throwing for 403-3-2, the two interceptions a mere blemish considering the two monster TD explosions (75 and 66 yards) that Beckham took to the house. Manning is available in about 10-25 percent of fantasy leagues, and he should be owned in all formats given his immense upside against the Rams in Week 7.
Kirk Cousins, WAS – Cousins has similar ownership levels to Manning and has also been frustrating owners, so you might see him available despite his enormous fantasy ceiling. He'll be in Detroit in Week 7 and could make a fine streaming option coming off a decent performance in a win over the Eagles (263-2-1).
Andy Dalton, CIN – UPDATE: I didn't realize that Dalton was only 69.5 percent owned in ESPN leagues and up to about 85-90 percent owned in more competitive formats, so I'm adding him to the list. His matchup with the Browns is the best of the week, according to FFToday's Strength of Schedule matrix, and the veteran QB is quietly having another solid season from a fantasy perspective. Don't forget about him, especially in shallow leagues where he may still be available.
Colin Kaepernick, SF – UPDATE: The controversial Niners QB had a rough first week in the loss to Buffalo, but there were some positives – namely his mobility and fearlessness at the position. The Bucs are coming off a bye and will definitely apply pressure, but that can lead to large runs and Kaepernick is still a great athlete who can make defenses pay. He's already received the nod as the starter and is likely to improve in all aspects facing a much weaker defense this week, making him a sneaky QB2.
Landry Jones, PIT – Jones is expected to start in Week 7 against the Patriots with QB Ben Roethlisberger (knee) scheduled to have surgery for a torn meniscus, and just about everybody in the Steelers offense takes a hit because of this. Jones obviously benefits, and the embarrassment of skill position riches makes him fantasy relevant. Last season, he had a decent Week 6 filling in for Big Ben against the Cards (168-2-0) and a bad Week 7 facing the Chiefs, but Antonio Brown's production fell off a cliff.
UPDATE: Roethlisberger had a meniscectomy – the surgical removal of all or part of a torn meniscus – on Monday and while the operation sounds serious, the recovery timetable is much shorter than for a full repair. Big Ben could still be back following the team's Week 8 bye, which means that Jones may only be a one-week starter. There are better options.
Case Keenum, LAR – Keenum (5-10 percent owned) threw for 321-3-1 and added a rushing TD in the tough loss to the Lions, and while his food might not taste very good today, fantasy owners might be willing to take a bite out of his matchup with the Giants – which could see similar results to the Week 6 shootout with the Lions. Jared Goff is still waiting in the wings, but he's not ready and the Rams have to be pleased with Keenum's play in Week 6.
Updates
Tyrod Taylor, BUF – Taylor started off slowly against the Niners but turnovers eventually put the Bills into some scoring opportunities and Taylor took advantage, throwing for 179-2-0 and adding 68 rushing yards and a fumble in their 45-16 win. The game was a lot closer for the first three quarters, and Taylor seems to have a knack for knowing what the team needs from him to win. Given how successful the running game has been, it's hard to see many three- or four-TD games form Taylor, but he's still rocking a decent floor and has some upside in the right matchups.
Alex Smith, KC – Smith failed to take statistical advantage (224-0-0) of a decent matchup with Oakland, and I'll never suggest him again in this column. I cannot stand how useless he is given the talented pass-catching backs he has at his disposal (Ware, Charles) plus an above average TE (Kelce) and WR1 (Maclin). If Smith were a sandwich, he'd be two slices of Wunderbar bologna on plain white bread, no mustard.
Dak Prescott, DAL – Prescott may have put up slightly better fantasy numbers in Week 3 against the Bears, but Sunday's win in Green Bay was his coming out party. The rookie threw for 247-3-1 with a lost fumble, and now that his first career INT is out of the way, he can go back to a non-controversial existence as the starting QB for the Cowboys. No? Well, forget the Tony Romo situation and take a one-week break, because this Week 7 bye will give us more time to think about what should be done once Romo is healthy enough to play. As an unabashed Cowboy fan, somewhat knowledgeable football writer and tireless Romo supporter, I've explained to countless people, over the past couple weeks that I have nothing intelligent to say on this topic, other than that I'm enjoying the wins.
Marcus Mariota, TEN – Mariota shredded the Browns en route to a 284-3-1 passing day, adding 64 rushing yards. That makes two big fantasy weeks in a row and the next few weeks continue to provide excellent matchups. He should be owned in all formats, despite current ownership levels ranging from about 60-80 percent.
Sam Bradford, MIN – The Vikings return in Week 7 to face Bradford's former team – the Eagles. Should be interesting, and Bradford could be a worth a look as a bye week fill-in for Cam Newton owners.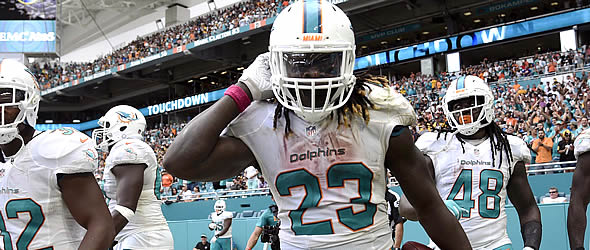 Jay Ajayi's breakout performance (25-204-2) came on a week when Arian Foster returned to action.
Running Backs
Jay Ajayi, MIA – Ajayi is owned in just 60-75 percent of fantasy leagues, and his monster fantasy day on Sunday against the Steelers (204 rushing yards, two TD; 1-3-0 receiving) makes him one of the most obvious targets on the waiver wire this week. While the Steelers had a bad week and were missing prominent run-stuffing 3-4 DE Cameron Heyward, the win over Pittsburgh comes as a welcome revelation for an offense without much of an identity. Though Arian Foster (groin, hamstring) was active and saw three carries and caught 2-12-0 on three targets, it looks like it's Ajayi's job to lose.
Jonathan Stewart, CAR – I understand there's not much chance he's available in your league (85-95 percent owned). However, since the news of his official return was not confirmed until Sunday, some owners may have been hesitant to scoop him up with one game to go before his Week 7 bye. I'm including him as a reminder that he needs to be owned in all formats. Stewart had 85 rushing yards and 2 TDs in a game that featured a lot of passing – so it stands to reason he'll be utilized quite a bit once the Panthers return in Week 8 to face the Cards.
James White, NE – It's pretty obvious that Tom Brady loves him some James White, who had 19 rushing yards and 8-47-2 receiving in the win over the Bengals. Owned in just 45-75 percent of fantasy leagues – mostly depending on format – White will be a productive contributor in PPR formats just about every week going forward.
UPDATE: Albany, New York native Dion Lewis might be looking at a Week 10 return, and could have big value if he supplants White as the passing down back. I'm not rushing to snap him up yet, but he's technically eligible to return this week and you'll just have to navigate the minefield of Bill Belichick's nebulous status updates and injury reports.
Chris Ivory, JAC – Whatever strange illness befell Ivory earlier in the season, he's back in action for the Jaguars. The team has a difficult time running the ball, but Ivory is the goal line back and had a TD (11 carries, 32 rushing yards) in Week 6. He's owned in just 50-70 percent of leagues and remains a powerful runner who grinds out yardage and scores. He could be a big part of the Jags' offensive approach in Week 7 facing the Raiders, and gets the Titans in Week 8.
UPDATE: The Jaguars worked out David Cobb (formerly a Titan and briefly a practice squad player for the Steelers), but it's unlikely he'll have an impact this season. Ivory looks to be the best bet for the bulk of work in Jacksonville.
Mike Gillislee, BUF – The Bills had a temporary scare in Week 6 when LeSean McCoy's knee got banged on an awkward hit – giving Gillislee some carries. The former Florida Gator had 60 rushing yards and a TD on just six carries and is a necessary handcuff to McCoy – and he's owned in just 10-20 percent of fantasy leagues. Gillislee is not as explosive or as shifty as McCoy, but in a league where multi-week RB injuries are about as routine as head injuries, he needs to be owned in 12-team leagues.
Rob Kelley, WAS – Matt Jones (85-95 percent owned) had a solid day for Washington, but the team made good on its promise to get Kelley (5-10 percent owned) more involved. The rookie had 59 rushing yards on just five carries and would assume lead duties on the first couple of downs if Jones were to get injured or struggle. He's worth a look in deeper formats.
Ka'Deem Carey, CHI – For now, Jordan Howard has a stronghold on the starting RB job, but Carey (1-5 percent owned) will be utilized in a change-of-pace role and could assume a bigger workload if the rookie falls out of favor or misses any time. Carey returned from a hamstring injury in Week 6 and totaled 50 rushing yards on nine carries.
Updates
James Starks, GB – It was a strange week for Starks, who was away from the team because of a personal issue, then added to the injury report with a meniscus injury, then ruled out for Week 6. He had surgery Sunday and will miss several weeks.
UPDATE: It looks like Starks will be out for about four weeks, and the Packers have acquired Knile Davis from the Chiefs for a conditional late-round pick. Davis isn't worth adding right now in most formats, but could be a decent fit for this offense should they incur more problems at RB. Eddie Lacy didn't practice Monday and is expected to be at less than 100 percent even if he plays on short notice Thursday.
Matt Asiata, MIN – The bye week hasn't helped clear up anything regarding the Vikings plans at RB, so for now Asiata resumes his previous value in a 50-50 split with the underachieving Jerick McKinnon.
Devontae Booker, DEN – Booker had 46 rushing yards and 2-7-0 on two targets Thursday. He's seeing about 80 percent of C.J. Anderson's snaps (29 versus 36 in Week 6) and is a must-own in all formats as he develops into a dynamic contributor. His ownership levels vary widely (25-70 percent owned), but he's stashed away on more of the seasoned fantasy sites and his ownership levels are much lower among casual fantasy formats. Since the sharps continue to be on him, he's worth owning in all 12-team leagues and could be worth grabbing in more shallow formats with bench space. The Broncos have some favorable matchups coming, so it might be worth it to find room for him.
UPDATE: Gary Kubiak was back to work and had plenty to say about increasing Devontae Booker's involvement, according to a quote from ESPN: "As a young player, we're trying to get him going as far as protection and those type of things, and he's starting to handle himself better," Kubiak said. "I think he deserves some more opportunities to touch the football. And when he's had the opportunity, he's done some good stuff." Sounds good to me!
Jacquizz Rodgers, TB – Rodgers is coming off his bye and is owned in about 30-60 percent of fantasy leagues. The Bucs also picked up Antone Smith, a home-run hitting RB who excelled in Atlanta in Dirk Koetter's offense – so it appears the Bucs are possibly preparing for another week without Doug Martin (hamstring, did not practice Monday). Rodgers could still be worth adding and had a solid Week 5, but you'll have to stay tuned to the news out of Tampa as it develops.
DeAndre Washington, OAK – UPDATE: After the Oakland offense looked atrocious in Week 6, it's very possible that Washington gets more of the workload in Week 7. He's not likely going to be a workhorse at any point this season, but in PPR leagues and deeper formats, there's going to be some value and the possibility of a big-play TD here and there.
Wide Receivers / Tight Ends
Kenny Britt, LAR – The Lions defense was terrible in Week 6, but Britt (7-136-2) looked good. The former Rd.1 draft pick (2009, Titans) busted through multiple tackles for a 20-yard TD in the first quarter, and he repeated the scoring scamper on a 9-yard TD late in the game. He almost had another TD in the third quarter, when he juggled the ball on his legs before securing it between his ankles on a 47-yard gain. Britt (20-30 percent owned) has always been talented – and the no-pressure situation in LA might be exactly what he needs to thrive.
Golden Tate, DET – Remember a couple of weeks ago when I told you not to drop Golden Tate, even though everybody else was recommending cutting bait? And last week, when I reiterated it after another slow week? This is why you've been coming back to read my column all these years, folks. It's not that I'm prescient – I just have a decent memory, and Tate's most recent struggles couldn't dissuade me from trusting he'd catch on at some point. The 8-165-1 (which easily could have been 8-165-2) is testament to my process. Snap him up if some dummy dropped him.
Kendall Wright, TEN – After being eased into action the past couple of weeks after nursing a hamstring injury, Wright busted out for 8-133-1 on nine targets from Mariota in Week 6 – though he played on just 35 percent of the Titans offensive snaps. Wright is a talented, quick receiver who's had pockets of fantasy viability over his five-year career, and is owned in just 5-10 percent of fantasy leagues. The Browns defense is in rough shape and was missing Joe Haden on Sunday, so Wright's offensive outburst might be very difficult to repeat this season, and his low usage could mean he's overvalued this week. Still – I've always been a fan of Wright's; he a much more seasoned competitor than rookie Tajae Sharpe, is more explosive than Rishard Matthews, and has a lot more in the tank than the ghost of Andre Johnson, who can be spotted on occasion haunting the Tennessee huddle.
UPDATE: Mike Mularkey said Monday that Sharpe has "taken a step back" in his development, which helps open the door for more targets to Wright and the other receivers.
Ty Montgomery, GB – Montgomery, dynamic performance (10-98-0; 6 rushing yards on three carries) was the lone bright spot for the Packers in Week 6. He'll be a popular add this week despite nearly universal availability, but it remains to be seen how the Packers will use him going forward. The matchups the next few weeks are favorable, but that could actually work against him if Jordy Nelson and Randall Cobb start going off.
UPDATE: As I mentioned earlier, Lacy was a no-go at practice Monday and it's looking more likely that Montgomery – who is healthy – gets a few additional backfield carries against the Bears Thursday night. He is a great snag off the wire this week. You'll just have to commit to him early, which is never any fun.
Pierre Garcon, WAS – UPDATE: Once a waiver-wire darling for the Colts, Garcon is now an overlooked-but-talented veteran who could be getting another big bump in targets (11 in Week 6) with TE Jordan Reed dealing with yet another concussion. He makes sense as a Kirk Cousins correlation play in DFS and as a bye week fill-in in redrafts.
Cole Beasley, DAL – The Cowboys are on a bye in Week 7, so Beasley won't be taken by too many owners despite his big Week 6 (6-58-2). And with fantasy owners addressing more pressing concerns, he could be overlooked. At just 40-75 percent owned, Beasley could be a sneaky pickup, and I don't think Dez Bryant's likely return in Week 8 will impact his role in the offense too much. Giddyup, Cowboys!
Michael Thomas, NO – With 5-78-1, Thomas (55-85 percent owned) had a solid Week 6, but remains one of many secondary cogs in the Saints offense. The only thing that would solidify more steady production would be an injury to one or more of the Saints WRs. Still, if he's available, he's a decent option with upside.
Robert Woods, BUF – Woods doesn't get a ton of targets, but he cashed in for 5-44-1 on six targets during Sunday's win over San Fran, and is a must-own in larger PPR formats. He's not a consistent performer and there are better options out there, but I still like Woods' ability to post decent numbers in the right matchup.
TE Hunter Henry, SD – Henry had 6-83-1 on eight targets against a tough Denver defense in Week 6. He's now scored in there straight weeks and is a must-own in all formats, despite the presence of Antonio Gates – a veteran who may have staved off Ladarius Green the last couple seasons but will have a tougher time maintaining fantasy relevance with Henry flourishing.
UPDATE: Gates (hamstring) is still banged up and admitted he's not 100 percent. Henry could see an increased workload this week and in subsequent action.
TE Jack Doyle, IND – It's time to admit that Doyle (4-53-1 on Sunday night) is a more viable fantasy TE than Dwayne Allen (ankle). I really liked Allen coming into this season, but he can't stay healthy and has been an underachiever since the jump. Doyle's fantasy ownership is half that of Allen's even though he's exceeded his production.
UPDATE: Allen is considered week-to-week with the ankle injury and I'm getting more excited about adding Doyle as the week progresses.
TE C.J. Fiedorowicz, HOU – Speaking of admissions, it's time to talk about Fiedorowicz. With 14-194-2 over his last three weeks (and coming off a 6-85-1 Week 6 performance), the Houston TE looks like a high-end TE2/low-end TE1 who's gained the confidence of Brock Osweiler. He's just 4-6 percent owned and will be a popular pickup this week.
Updates
Sammie Coates, PIT – With Big Ben hobbled and the Steelers struggling, Coates was a no-show in the reception department despite four targets. His predictable value is almost entirely wiped out with Jones at the helm in Pittsburgh, though he could be good for an occasional deep TD bomb.
Tyrell Williams, SD – He had 3-28-0 on three targets, but that was Thursday against Denver. He'll be fine.
Chris Hogan, NE – Hogan had just 1-39-0 on one target in Week 6, as the Brady-Gronk train steamed along. Stay tuned in the coming weeks.
Jeremy Kerley, SF – Bills DBs did a great job shutting down Kerley. The veteran WR had just 2-12-0 on seven targets from Colin Kaapernick, who looked mighty rusty, albeit capable of running the offense better than Gabbert. Still, one of the best parts about Kerley's upside was Gabbert's affinity for him on short throws.
Davante Adams, GB – Adams might be worth dropping some formats due to his most recent injury (undisclosed) that saw him shaken up and taken back to the locker room. He finished with 2-34-0 on three targets and could take a back seat to Montgomery in three-WR sets moving forward.
Cameron Meredith, CHI – Meredith followed up his breakout with 11-113-0 on 15 targets from Brian Hoyer. He's a must-own in all formats, and that's all I'm going to say.
Adam Thielen, MIN – Even if Stefon Diggs (groin) is back for Week 7, I like Thielen's emergence as a popular target for Sam Bradford, who may need to pass a bit more in the coming weeks. Don't forget about this guy.
Kamar Aiken, BAL – Aiken was better this week (Steve Smith was out), with 4-64-0 on six targets from Joe Flacco. He's not in the same upside category as Golden Tate, so I'm fine if you drop him, but I have a hunch he's still got a few decent games in him this season.
TE Gary Barnidge, CLE – Barnidge had 3-59-0 on five targets form Cody Kessler, and will be much more viable as a fantasy options if and when his buddy Josh McCown returns at QB for the Browns.
UPDATE: The Browns insist that Kessler is the starting QB, which should keep Barnidge as a TE2.
TE Charles Clay, BUF – Clay tallied 5-52-0 on seven targets in Week 6 and appears to be over his knee injury. He's a TE2 with some upside in PPR leagues and should get more red zone usage against better front sevens when the Bills can't just plow ahead with McCoy.