MyFantasyLeague.com Users...
Check out the most popular waiver wire pickups this week across thousands of MFL leagues. Also, quickly see who's available on your waiver wire this week by using the MFL Power feature at FF Today. Just input your league's 5-digit ID number away you go!

Targeting weekly waiver picks is a completely subjective business, but this column hopes to point out some obvious and not-so-obvious selections to help your team from week to week while you strive to collect fantasy wins, reach your league playoffs and win the elusive title that your friends say is out of your grasp. While I'm a big proponent of making trades to bolster your roster, the waiver wire can be an almost limitless resource when it comes to discovering fantasy value in strange places. Each week, I'll highlight some of the popular (and not-so-popular) players who can help your squad and may still be available in your league.

Feedback is always welcome, appreciated and encouraged. I'll get to as many e-mails as I can.


---
Quarterbacks
Matt Cassel, DAL – Cassel, who is just 5-10 percent owned in fantasy leagues, had his best game as a Cowboy, throwing for 299-3-1 in the OT loss to Philadelphia. He's slated to take on the Bucs in Week 10, and might be a one-week solution for owners needing a QB. The WRs are healthy and Darren McFadden is a solid receiving back, so the weapons are there – it's just a matter of execution and the ubiquitous "game flow" details you've heard so much about.
Kirk Cousins, WAS – The Patriots did an excellent job limiting Cousins (15-30 percent owned) to 217-1-1, especially considering the Washington QB had at least 40 pass attempts for the third straight game. Cousins should have an easier time against the Saints porous secondary in Week 10, though it's important to remember he has just one game this season (Week 7…you like that?!?) with more than one passing TD.
Landry Jones, PIT – With Ben Roethlisberger out a week or two after suffering a foot sprain, Jones becomes a viable QB2 add against the Browns. The Steelers are on a Week 11 bye and face the Seahawks in Week 12, so Jones will only be worth an add if you're desperate at QB and looking for the "one-week solution" we discussed above. Jones is familiar with the offense and while a definite risk, could supply adequate numbers.
QB Updates
Derek Carr, OAK – Carr's 301-4-1 made him a top five fantasy QB in Week 9. He's a starting QB in 12-team leagues and should be owned in all formats.
Josh McCown, CLE – McCown missed Week 9 but could start in Week 10 against the Steelers. It's worth watching and we'll update his status tomorrow (Tuesday).
Jay Cutler, CHI – Update coming Tuesday.

UPDATE: Cutler completed 27-of-40 pass attempts for 345-2-1 in the win over San Diego Monday night. He's nothing more than a decent QB2 with decent upside in favorable matchups.
Tyrod Taylor, BUF – Taylor returned to face the Dolphins and looked sharp with 181-1-0 but it was the running game that grabbed all the accolades from a fantasy perspective. The Jets offer a more difficult matchup and he may be forced to increased his passing attempts.
Marcus Mariota, TEN – Mariota, just 35-50 percent owned in fantasy leagues, had a triumphant return to the Titans on Sunday with 371-4-0 and a two-point conversion in the comeback win over the Saints. He'll be right back in the QB1 conversation despite a tough matchup against the Panthers in Week 10.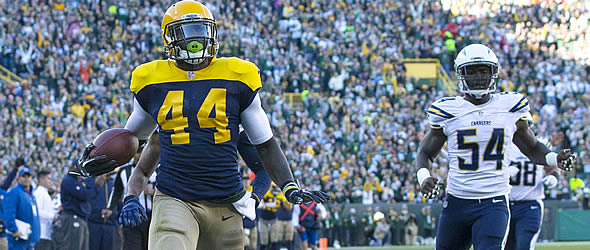 James Starks outperformed Lacy again and has earned at least a 50-50 timeshare moving forward.
Running Backs
Karlos Williams, BUF – LeSean McCoy ran well but was pulled from the game after suffering what is being described as a minor shoulder injury, giving way to Williams, who rushed nine times for 110 yards and two TDs against the Dolphins. In his first game back since a Week 4 concussion, Williams (65-80 percent owned) showed explosiveness and should be owned in all formats moving forward, even if McCoy is fine.

UPDATE: McCoy was present for Monday's walkthrough, but didn't participate and is listed as day-to-day heading into the Thursday matchup. Williams could be a big factor versus the Jets if McCoy is a no-go.
James Starks, GB – Starks was scooped up in a lot of leagues a few weeks ago, but he's still just 60 percent owned in CBS leagues and was started in just 5-10 percent of leagues in Week 9. He seems to have surpassed Eddie Lacy and finished Week 9 with 39 rushing yards on 10 carries but added 6-83-1 receiving, making him a top priority ad in PPR leagues heading into Week 10.
Charles Sims, TB – Sims (75 percent owned in CBS leagues) remains an explosive runner with plenty of upside, but he's a bit limited by the number of touches he's receiving in the Tampa Bay timeshare. He went for 78 rushing yards on eight carries vs. the Giants and added one catch for 4 yards.
Jay Ajayi, MIA – Lamar Miller is the unquestioned RB1 in Miami, but the Dolphins are likely to get Ajayi (about 5 percent owned) more touches in the coming weeks. He's a speculative add and necessary handcuff for Miller owners.

UPDATE: The Dolphins have waived Jonas Gray, further solidifying Ajayi as the primary backup in Miami.
Brandon Bolden, NE – Bolden caught his first career receiving TD, going for 3-27-1 and rushing for 12 yards on his lone carry. With Dion Lewis (torn ACL) out for the rest of the season and if James White (5-10 percent owned) remains out, Bolden could step up as the change of pace to LeGarrette Blount (98 percent owned).

UPDATE: James White, NE – White was actually a healthy scratch last week and is considered the prime candidate for an expanded role in the Pats' offense. He's a longshot for steady production, but could see more touches in the wake of Lewis' injury. It's also possible the Patriots resign Jonas Gray, who was just waived by Miami.
UPDATE: Marcel Reece/Roy Helu/Taiwan Jones, OAK – Some form of this three-headed monster will assume RB duties if Latavius Murray (concussion) isn't cleared for Sunday's tilt with Minnesota. Reece has the most upside in PPR leagues and makes the most sense as a waiver wire selection, while Helu has just 12 carries for 31 yards this season and has been a healthy scratch the past two weeks.

RB Updates
DeAngelo Williams, PIT – Williams stepped up in the absence of Le'Veon Bell and picked up right where he left off as the Steelers' bell cow in Week 2, rushing for 170 yards and two TDs and adding 2-55-0 receiving in the win over Oakland. He's a top 10 fantasy RB moving forward.
Jeremy Langford, CHI – Update coming Tuesday.

UPDATE: Langford rushed for 72 yards and a TD on 18 carries, hauling in 3-70-0 in the win over the chargers. With Matt Forte (knee) expected to miss Week 10, he's looking like a solid option next week as well. Langford, who took over at Michigan State after Le'Veon Bell left for the pros, was sharp in all aspects of his RB duties, including blitz pickup, pass catching and patience in the run game.
Joique Bell, DET – Bell was on a Week 9 bye and remains a viable add heading into Week 10.
Shane Vereen, NYG – Vereen had a productive week with 4-29-1 receiving, adding 12 rushing yards in the win over Tampa Bay. He's a solid RB3/flex in PPR leagues, though he'll likely been an inconsistent play.
Kendall Gaskins/Shaun Draughn, SF – Draughn remained largely unowned but contributed 58 rushing yards on 16 carries and 4-38-0 in the win over Atlanta. Gaskins handled some of the late-game carries and finished with seven rushes for 20 yards.
Antone Smith, CHI – Update coming Tuesday.

UPDATE: Smith had one carry for 11 yards and once again appears to be a talented back lost in the RB shuffle – just like he was in Atlanta.
Wide Receivers / Tight Ends
Cole Beasley, DAL – The Cowboys finally got Beasley (5-10 percent owned) involved, and in his first game with over 10 targets, the diminutive slot receiver went for 9-112-2, the second best receiving line of Week 9 (Antonio Brown's 17-284-0 on 23 targets topped the list). I've spoken at length of my appreciation for what Beasley offers in a Wes Welker-type role, but those sentiments have faded in the past few weeks. Remember – especially for DFS purposes – to reassess your prior evaluations of fantasy options, because you never know when they'll come back into play. Beasley became relevant because for the first time since early in the season, the Cowboys had a viable target hog (Dez Bryant) looming downfield, which opened up the slot.
Sammy Watkins, BUF – I know, he's probably not available in your league, as he's about 70-85 percent owned across the fantasy landscape, but if he is, don't hesitate to pick him up. Watkins was only started in about 25-30 percent of fantasy leagues last week, and went for 8-168-1 in the win over Miami. He's got major upside in the right matchup, though it may be tough sledding versus the Jets in Week 10.
Devin Funchess, CAR – Funchess (5-10 percent owned) got more looks in the Carolina offense and hauled in 3-71-1 on four targets, including his first career TD in the win over Green Bay. He's not a must-add by any means, but should have more upside as the Panthers head to Tennessee in Week 10. The rookie is probably a WR5 moving forward with some flex appeal in deeper formats.
Davante Adams, GB – Finally healthy, Adams (50-75 percent owned) broke out for 7-93-0 on 11 targets (as well as a 2XP) in the loss to Carolina. Look for the Packers No. 2 WR to see increased involvement in the offense and 6-10 targets per week.

UPDATE: Dorial Green-Beckham, TEN – Although Beckham caught just five balls for 77 yards on Sunday, he was targeted 10 times by Mariota and is poised for a bigger role in the offense with Kendall Wright (MCL) still hurting and the new coaching staff promising to get him more involved. DGB is a big man at 6-5, 237 lbs, but needs to learn to block better and do some of the small things better before he's a bona fide starting WR.
Griff Whalen, IND – Whalen (0 percent owned) saw six targets in the win over Denver, and the Broncos defense had difficulty keeping track of the fourth-year WR as he went for 5-73-0. He's on a Week 10 bye, but could be a sneaky add in deeper leagues.

UPDATE: Wes Welker, STL – Welker was added to replace Stedman Bailey on the Rams roster, which could prompt owners to jump the gun and add him. Unfortunately, he's yet to learn the offense and the Rams are not a high-volume passing team, so Welker is not likely to revisit his fantasy glory from New England or Denver. He may be a deep-league lottery ticket, but there are likely much better pickups this week.

TE Delanie Walker, TEN – Walker (75 percent owned, started in fewer than 50 percent of lineups in Week 9) will likely be unavailable off the waiver wire after his week, as he blew up for 7-95-2 on eight targets from Mariota. He has great chemistry with the rookie QB and looks like a top five fantasy TE moving forward.
TE Owen Daniels, DEN – Was this guy hurt? Whatever has kept Daniels (15-30 percent owned) from being a useful offensive weapon may be a mystery, but he exploded for 6-102-1 on nine targets in the loss to Indy. He'll likely be an inconsistent option, but week-to-week deployment will depend largely on matchup.
TE Garrett Celek, SF – I'm not going crazy recommending this guy, because he only saw two targets in the win over Atlanta and is on a Week 10 bye. But with Vernon Davis in Denver and both of his targets going for TDs makes me think he's a viable red zone threat worth considering as we look ahead to the Niners' future.

UPDATE: Eric Ebron, DET – The Packers have been terrible at defending TEs this season, and Ebron will likely be a popular target for Matthew Stafford this week if the Packers get up early. He's also a high-risk, high-reward play who's not a terrible bet for DFS success at a cheap salary.
UPDATE: Austin Seferian-Jenkins, TB – It's hard to say what kind of role ASJ will have or if he'll return this week against the Cowboys, but surefire HOF TE Tony Gonzalez recently sang his praises and said he'd be a Rob Gronkowski/Jimmy Graham type beast if he paired with a capable QB – something that Jameis Winston is not at this point. Still, he may be worth adding in deeper leagues and could blow up during the fantasy playoffs if he's healthy.

WR/TE Updates
Tavon Austin, STL – Austin remains heavily involved in the Rams offense, tallying 66 rushing yards on eight carries and 4-15-0 on seven targets in the loss to the Vikings.
Malcom Floyd, SD – Update coming Tuesday.

UPDATE: Floyd left Monday night's contest with a shoulder injury and without a catch. The injury didn't look good and he's may even be a longshot to play in Week 11 when the Chargers return from their bye. Stevie Johnson is the receiver to add if you're speculating for Week 11.
Willie Snead, NO – Snead (now 80-90 percent owned) has his second-highest target total of the season catching 6-95-0 on 10 targets from Drew Brees in Week 9.
Dwayne Harris, NYG – Harris busted on Sunday, hauling in just one grab for 1 yard on three targets. It may be time to move on.
Andre Holmes, OAK – Holmes had just two balls thrown his way and zero catches in Week 9.
Kamar Aiken, BAL – Aiken (60 percent owned) was on a Week 9 bye but is still a solid add heading into the Week 10 matchup with Jacksonville.

UPDATE: Aiken was targeted on almost half of Joe Flacco's passes when Steve Smith (IR/Achilles' rupture) left the game in Week 8, so he'll likely see high-volume targets and should be owned in 12-team leagues.
TE Ben Watson, NO – Watson (now about 85-90 percent owned) had a quiet week but still finished with 5-60-0 on five targets. He's a top 10 fantasy TE with lots of upside moving forward.
TE Jacob Tamme, ATL – Tamme had 6-61-0 on 10 targets in Week 9 but is on a Week 10 bye.
TE Crockett Gillmore, BAL – Gillmore (Week 9 bye) could get some looks in Week 10 versus the Jags, and is a TE2 with some upside in that matchup.

UPDATE: I'll be dialing up Gillmore as a risk/reward, TE-dependent red-zone target this week in a deeper league.