MyFantasyLeague.com Users...
Check out the most popular waiver wire pickups this week across thousands of MFL leagues. Also, quickly see who's available on your waiver wire this week by using the MFL Power feature at FF Today. Just input your league's 5-digit ID number away you go!

Targeting weekly waiver picks is a completely subjective business, but this column hopes to point out some obvious and not-so-obvious selections to help your team from week to week while you strive to collect fantasy wins, reach your league playoffs and win the elusive title that your friends say is out of your grasp. While I'm a big proponent of making trades to bolster your roster, the waiver wire can be an almost limitless resource when it comes to discovering fantasy value in strange places. Each week, I'll highlight some of the popular (and not-so-popular) players who can help your squad and may still be available in your league.

Feedback is always welcome, appreciated and encouraged. I'll get to as many e-mails as I can.


---
Quarterbacks
Teddy Bridgewater, MIN – Owned in just 38 percent of fantasy leagues after a slew of mediocre games, Bridgewater has a healthy receiving corps and some developing wideouts who can make big plays. He threw for a season-high 316-2-0 against the Lions on Sunday and faces the putrid pass defense of the Bears in Week 8. I grabbed him in one of my most competitive leagues (a 14-team league where I drafted Tony Romo and Tyrod Taylor), and he'll be a capable fill-in for the next three weeks.
Alex Smith, KC – Smith is purely a matchup play, and one with marginal upside considering the lack of a solid RB presence. Still, the Lions are not good, and if you're in a pinch, he could be a useful fill-in next week. Jeremy Maclin is expected back and Travis Kelce is one of the best TEs in football.
Jameis Winston, TB – Winston took another big step forward Sunday (297-2-0), though his team took a loss and his receivers got beat up. He now has two straight games without an interception, and he's passed for 200 yards in each of his six starts as a pro. Atlanta might not be the best defense to roll him out against, but matchups against the weak NFC East in weeks 9-11 could mean lots of scoring.
Nick Foles, STL – It may seem incongruous to see the name Nick Foles in a waiver wire recommendations column, but I like to take some chances. Foles, as useless as he's been to fantasy teams for most of 2015, has two decent games this season against good teams, and Week 8 shapes up to surpass both of them. Opposing teams are likely to start crowding the line to defend Todd Gurley, and the Rams have some viable receivers who could provide a quick-hit spark to help Foles rack up passing yardage and some TDs during the next few weeks. He's only 25-30 percent owned and if you're a risk taker, this might be a good spot to give Foles a look in DFS and as a bye week fill-in.

UPDATE: I'm going to stick by my Foles pick and make a bold prediction that he finishes among the top five (!) fantasy QBs this week. He's a salary saver in DFS, along with the surging Bridgewater and I'm plugging in both in a bunch of lineups.
QB Updates
Blake Bortles, JAC – Bortles had a relatively poor showing in London (187-2-1), but the Jags got off to a lead and spent much of the game treading water against the Bills. He's on a Week 8 bye and returns to face the Jets, Ravens and Titans, making him a viable low-end QB1 for all three.
Ryan Fitzpatrick, NYJ – The Harvard alum threw for 295-2-0 against the Pats and appears to be in full control of the Jets offense. He's almost a weekly lock for 250 passing yards and two TDs, which means he'll be a solid play next week facing the Raiders.
Ryan Tannehill, MIA – After hitting the waiver wire in a bunch of leagues during his Week 5 bye, Tannehill had a solid Week 6 and busted out for 282-4-0, with all four passing TDs coming in the first half against the Texans in Week 7. He's back among the QB1s and should be owned in all formats.
Derek Carr, OAK – I started Carr in another deep league where I got killed by the Romo injury and it paid off, as the second-year QB racked up 289-3-0 against the Chargers. He's owned in about half of all fantasy leagues and has a bevy of excellent young receivers, though the schedule looks a little more difficult over the next few weeks.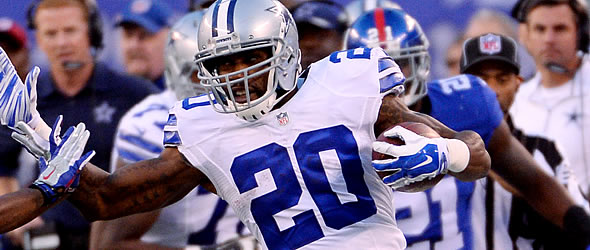 If Joseph Randle (oblique) misses significant time, Darren McFadden becomes fantasy worthy.
Running Backs
Darren McFadden, DAL – McFadden (50-70 percent owned) busted out for 152 rushing yards and a TD on 29 carries Sunday, adding 2-10-0. There's no telling if this is just a tease or the Cowboys will continue to run interference a la Christine Michael and the serial doghouse drama that surrounds Joseph Randle (oblique). The takeaway here is that McFadden, behind a solid line and with a better understanding of the playbook, is capable of shredding a poor run defense. He's a great pickup but is no more than a flex option against the Seahawks in Week 8.

UPDATE: Randle is nursing an oblique injury and McFadden has "absolutely" earned more work in the backfield makes him a top priority this week on the waiver wire, even with a difficult matchup. If the Cowboys are going to beat the Seahawks, they're going to need to establish a ground game and give McFadden the ball – plain and simple.
Alfred Blue, HOU – With Arian Foster suffering a season-ending Achilles tear, Blue is thrust once again into fantasy relevance. Kudos to the 30-35 percent of the fantasy world who kept him rostered anticipating this moment. To the others, go out and get this guy. Blue isn't a special back, but he's a relatively strong early-down runner and viable goal line back, though many of those duties could also be foisted upon Chris Polk. I might prefer McFadden given his offensive line, but Blue isn't a bad door prize if you don't have top priority.

UPDATE: According to beat reporters from the Houston Chronicle, we're likely to see a committee approach of Blue, Polk and Jonathan Grimes to assume Foster's versatility and production. Blue was the starter the last time Foster was sidelined, and he had one big game (against the Buccaneers) where he flashed vision and power. He's the Texans' leading rusher this season with 234 yards and a touchdown on 60 carries (3.9 yards per carry).
Khiry Robinson, NO – Robinson (10-15 percent owned) is a necessary handcuff for Mark Ingram, and showed he still has a nose for the end zone with 28 rushing yards and two TDs on 14 carries Sunday. The above RBs are better waiver wire picks this week.
Orleans Darkwa, NYG – There are now four Giants running backs on the fantasy radar, the latest being Darkwa (0 percent owned). Darkwa ran well on early downs and in the red zone, finishing with 48 yards and a TD on eight carries. He's a deep-league add and not someone to waste a high priority pick on.

UPDATE: Giants coach Tom Coughlin said on Monday that "the coaches felt strongly that he should be given an opportunity." Well that's nice. And here I thought Coughlin was just a grumpy old bastard with a red face! Darkwa certainly made the most of his chance, leading the team in rushing attempts and out-snapping Rashad Jennings as he averaged 6.0 YPC on his eight carries. He's in the mix for Week 8, but Jennings and Shane Vereen are still effective role players getting paid real salaries. Even Andre Williams – targeted by some as a 2015 breakout candidate – is a viable option for the Giants in short yardage running situations. Darkwa is an RB4 pickup in 12-14 team leagues, but you'll likely be chasing last week's points if you add him.
Mike Tolbert, CAR – Tolbert vultured a couple of Jonathan Stewart TDs on just four touches. He's owned in just 1 percent of fantasy leagues and only has relevance if something happens to require a heavier workload. I'm staying away, but he's obviously a factor in TD-only scoring formats, which are rare these days.
Matt Jones, WAS – The Washington running game never got going and Jones tallied just 29 rushing yards and 3-22-0 receiving in the last-minute win over Tampa Bay. Still – he's probably the highest-upside back they have and may get overlooked heading into the Week 8 bye. Jones is owned in 55-75 percent of fantasy leagues.
RB Updates
Jonathan Stewart, CAR – Stewart (now up to 95 percent owned after a couple weeks in the 80-90 percent range) ran well in Sunday night's win over Philly, rushing for 125 yards on 24 carries. He failed to score as Tolbert was used in the goal line offense.
James Starks, GB – Starks was on a Week 7 bye and returns to face the Broncos. It'll be tough sledding, especially if he splits touches with Eddie Lacy.
Christine Michael, DAL – I've been badgered a bit for not including Michael more prominently in this column, and I've consistently tried to throw cold water on the hype by reminding readers that he's never been exactly what NFL coaches have hoped he'd be. Now, it appears, after a game labeled a possible breakout for the third-year RB, people will temper their expectations.

UPDATE: McFadden is the guy. There could be some bizarre former team narrative at work here and if something should happen to Run-DMC this week (don't laugh – he could sustain a breakfast injury or injure himself pumping gas), then Michael would assume more value against the Seahawks.
Branden Oliver, SD – Oliver ran for just 35 yards on nine carries but caught 6-39-0 in the loss to Oakland. Melvin Gordon came off the bench and Danny Woodhead (85-95 percent owned) dominated touches and racked up all kinds of fantasy points (26 rushing yards, 11-75-2 receiving) in garbage time.
Dexter McCluster, TEN – McCluster had the best game of all the Titans backs, finishing with 20 rushing yards and 6-48-0 vs. Atlanta.

UPDATE: McCluster is roundly being described as a "desperation flex play" or something similar, but he's definitely got more value in PPR leagues, where he's a valuable check-down option for a mistake-prone Zach Mettenberger – or even Marcus Mariota, if he's ready to come back. I'm slowly warming to the idea of a McCluster add in 12-team and deeper formats.
Chris Thompson, WAS – Thompson was inactive for Week 7, with Jones picking up most of the relevant third-down and passing game work.
Tevin Coleman, ATL – Despite assurances this would eventually be a timeshare again, Coleman had just three carries for 14 yards and one target (no catches). He's nothing more than a handcuff at this point.
Wide Receivers / Tight Ends
Michael Crabtree, OAK – Despite his upside, Crabtree is owned in just 50-60 percent of fantasy leagues. Here are his targets in 2015 (8, 16, 9, 6, 9, BYE, 8) – so why is he so widely ignored? I'm definitely adding him in all formats where he's available, especially coming off a 6-63-1 performance, and with defenses likely treating Amari Cooper as a bona fide stud with more double coverage.
Danny Amendola, NE – Amendola (35-50 percent owned) has had two big games in a row, and followed up his 7-105-0 on nine targets in Week 6 with 8-86-1 on nine targets in Week 7. He was Brady's most reliable receiver, with both Brandon LaFell (6 drops) and Julian Edelman screwing up some decent Tom Brady throws. He's likely to see 6-10 targets in Week 8 against the Dolphins.
Rishard Matthews, MIA – Speaking of the Dolphins, don't they look like a different team? Matthews (55-65 percent owned) continues to stave off the DeVante Parker era with solid performances, this time catching 3-75-1 on three targets. It's likely he would have had more if the game were closer, but Matthews remains a viable high-upside, medium-risk play, despite the lack of love he gets from the hype-sters.
Chris Conley, KC – He replaced Jeremy Maclin in the lineup and caught 6-63-1 on seven targets from Smith in Sunday's win over Pittsburgh. If Maclin is forced to miss any more time, Conley (1 percent owned) should continue to see targets, though I'm tempering expectations. He's only worth a look in deep leagues.
Nate Washington, HOU – The veteran hauled in 9-127-2 in garbage time and likely won't repeat his stat line ever again, but he's not a terrible narrative play facing his old team (Tennessee) next week, and he's just 5-10 percent owned.
TE Jordan Reed, WAS – When healthy, Reed (60-75 percent owned) will be a popular target for Kirk Cousins. Though on a bye in Week 8, he might be worth a pickup after a clutch 11-72-2 performance (13 targets) against the Bucs. Reed is a chain-mover and a solid red zone receiver in the Aaron Hernandez mold, though he's had a history of head injuries.
TE Clive Walford, OAK – Walford, on the other hand, is almost universally available and despite only a smattering of targets over his first six games, could be a big-time fantasy TE in the making. The rookie (from the U of Miami) caught 2-42-1 in the win over San Diego and could be a factor against the Jets and Steelers in weeks 8 and 9, not to mention the rest of the season as the Raiders make a not-so-crazy playoff push.
WR/TE Updates
Marvin Jones, CIN –The Bengals were on a Week 7 bye, and if Jones is on the wire, grab him.
Lance Moore, DET – This is what happens when you start trusting Lance More after two straight weeks with a TD. Nothing in week 7.
Torrey Smith, SF – Smith was held catchless on Thursday. Yikes.
Stefon Diggs, MIN – Finally! In an update we can feel good about, I'm proud to announce that Diggs (55-75 percent owned) has arrived as an NFL starter and solid fantasy option. He caught 6-108-1 on nine targets, including his first TD as a pro – an incredible 36-yard diving fingertip catch on a deep throw from Bridgewater. He should be owned in all formats and is one of the reasons I'm high on the QB from here on out.
Bryan Walters, JAC – Walters had just one catch for 5 yards; both Allen's (Hurns and Robinson) were active.
Jeff Janis, GB – Janis (coming off a Week 7 bye) is a longshot for production with Davante Adams scheduled to return, but if he develops some rapport with Aaron Rodgers…look out.

UPDATE: Adams (ankle) returned to Packers practice on Monday and is on track to return for Week 8 against the Broncos, where he'll be a low-end WR3 option in fantasy leagues behind Randall Cobb and James Jones. Janis is not a safe bet for many targets with all three of those Packers WRs healthy.
TE Ben Watson, NO – Watson followed up his massive Week 6 breakout with 4-59-0 on five targets. Not bad.
TE Austin Seferian-Jenkins, TB – Seferian-Jenkins was once again inactive, and Mike Evans owners are thankful. It's looking more and more like that Week 1 game was nothing more than an elaborate rouse to get me and the rest of the ASJ-happy pundits all hot and bothered. He's a dynasty darling and a lottery ticket bench TE in redrafts until he gets fully healthy.