QB Andy Dalton
(2020 QB Rank - No.30, 16.0 FPts/G)
Andy Dalton is a genuinely fantastic human being, and decent football player, but if he isnít the prime example of the NFL being the ďNot For LongĒ league, I donít know what is. I do believe that when Chicago inked him to a one-year deal this offseason they fully intended on him being their starting quarterback in 2021, but only a month later the Bears lucked into Justin Fields.
After a strong start to his career, dragging some mediocre Bengal teams to the playoffs, Dalton peaked and it became clear he lacked franchise defining ability. Signed in Dallas to be a high level insurance policy, he struggled to find a rhythm behind a bad offensive line, and faced too much pressure to overcome a bad defense. Now in Chicago, Dalton assumes the role of Alex Smith, circa 2017, when Smith kept the seat warm for young Patrick Mahomes. Chicago insists that the plan is for Dalton to be the starter for as long as possible while Fields learns the ropes. Please donít believe this. The situation in Kansas City in 2017 is nothing like Chicago in 2021, and Iíd be SHOCKED if Dalton is the starter for long.
Justin Fields fits the mold of todayís top scoring fantasy quarterbacks; big arm, athletic, makes plays with his legs. The question is, when will he get his chance? Short of Dalton playing out of his mind the first couple of weeks, I anticipate Fields being the Bears starter for a bulk of the 17-game season, and weíve learned in recent seasons NOT to overlook the fantasy impact rookie quarterbacks can have. But Iím very concerned about the offensive talent around him. Sure, Allen Robinson is an All-Pro caliber player, but heís the only proven receiver on the roster and likely will be playing his final season with the Bears. Fellow receiver Darnell Mooney and tight end Cole Kmet have upside, but are both entering only their 2nd seasons in the NFL.

Keep a close eye on how things shake out in camp, as ďlights outĒ performances by Fields in the preseason could put tremendous pressure on the Bears to start Fields sooner than later. If he wins the job out of camp I wouldnít hate stashing him on my bench as an end of the draft QB2, but if Dalton wins the job, Fields sits it out on the waiver wire until he gets his chance.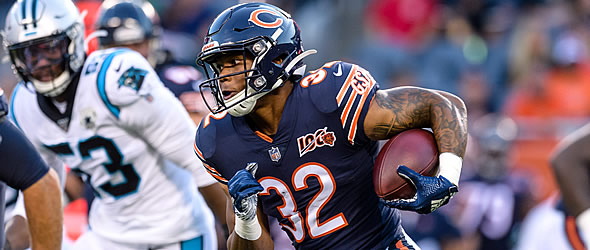 RB David Montgomery
(2020 RB Rank - No.6, 14.1 FPts/G)
Montgomeryís top-10 finish in 2021 is the definition of foolís gold. Through the first 8 games of the seasons he performed as expected. Two total touchdowns, no games even sniffing 100 yards rushing, and yards-per-carry average hovering around 3. Tarik Cohen going down in Week 3 with a torn ACL gave Montgomery a stranglehold on backfield snaps, but it wasnít until after the Week 11 bye that the whole world got tipped on its side. The schedule loosened up in a HUGE way, as Montgomery took advantage of matchups against Detroit, Houston, Minnesota, and Jacksonville to become one of the hottest players in fantasy football down the stretch. He found the endzone eight times over the final six regular season games, helping the Bears squeak into the playoffs. So while the end to the 2020 season was a dream for his fantasy owners, trying to chase those stats in 2021 is going to end up as a nightmare.

The return of Cohen and addition of Damien Williams means itís back to the bench for Montgomery in obvious passing situations. I expect a huge regression on those 54 receptions from a year ago and expecting him to finish in the top-5 in rushing attempts is also a pipe dream. In order to repeat as a RB1, Montgomery is going to have to do more with less behind a bottom tier offensive line, and a shaky quarterback situation. I canít see that happening, so Iím comfortable drafting him as a low end RB2 in most formats.
Williams, coming off a missed season due to Covid opt-out, joined the Bears as a free agent this offseason. Although their paths didnít cross when he was in KC, Williams does have familiarity with this Matt Nagy offense, and fits in extremely well as a backup to Montgomery as a runner and a passing game hedge bet to the health of Tarik Cohen. Williams was an important piece of the offense that carried the Chiefs to their Superbowl win in 2019, scoring six touchdowns in the playoffs. He has low tread on his tires for a 29 year-old back, and should provide the Bears with a versatile piece to plug into their backfield. Thatís fine and dandy for Chicago, but will it be enough for fantasy value? Yes, Williams is worth an add in all formats, especially as a handcuff to Montgomery. With Cohen likely to come along slowly, Williams could be the teamís passing back of choice, and his versatility gives the offense more mystery, and unpredictability. At times heís been able to carry the run game, so were Montgomery to go down, Williams could step into a RB2 level touch count. Donít sleep on the former Chief as an extremely cheap fantasy bench stash who could return major value.
RB Tarik Cohen
(2020 RB Rank - No.106, 3.8 FPts/G)
Letís be frank, outside of PPR leagues Tarik Cohen should be well off your radar, and honestly coming off a torn ACL, and starting camp on the PUP, Iím not exactly sky high on him in those leagues either. After a dynamic rookie season in 2018, Cohen was largely mediocre in 2019, and the three pre-injury games of 2020. The highlight reel, field flipping plays of his rookie year are now a season, and major injury in the past. On the eve of camp it seems Cohen is still rehabbing his way back into form, and for a 5í6íí player who relies solely on quick twitch speed, this has me greatly concerned for his early season impact. Damien Williams is most certainly going to handle a bulk of the non-Montgomery backfield touches and Iím just not sure where that leaves Cohenís fantasy value.
WR Allen Robinson
(2020 WR Rank Ė No.12, 10.1 FPts/G)
Despite some of the worst quarterback play in the league for the past several seasons, Allen Robinson has been able to transcend quarterback mediocrity and be a top fantasy receiver on sheer volume alone. Despite the disaster of the Foles/Trubisky duet last season, Robinson still turned in a WR1 performance on the back of the 3rd most targets in the league (151). As the clear cut ALPHA in the Chicago passing game, Robinson is again assured a giant volume in 2021, as the only other threat to his target throne is 2nd year receiver Darnell Mooney. With 98 and 102 reception seasons the last two years, Robinson has entrenched himself as a top option in all formats, and should benefit from the giant upgrades Andy Dalton (this says alot about the state of QB play in Chicago) and eventually Justin Fields.

With the way heís been able to produce to this point, I donít see a significant difference in Robinsonís production if itís the vet Dalton, or the rookie Fields. Entering his final year with Chicago before free agency can be both a boon (works harder to maximize his numbers/value) or pitfall (sits out minor injuries to preserve his health), so Iím not really going to bother factoring that into his value equation. What I will be comfortable with is waiting a bit while the run of top receivers fly off the board and taking a guy who I know is extremely likely to catch 100 passes and score 8+ touchdowns.
WR Darnell Mooney
(2020 WR Rank Ė No.56, 5.6 FPts/G)
Already one of most popular sleeper picks at receiver going into 2021, the bear market for Mooneyís stock is sky high after Anthony Miller was dealt to Houston over the weekend. Mooney, the 5th round rookie from Tulane acclimated himself quite well to the NFL last season with a 61-631-4 final line. By seasonís end he was the clear WR2 on this offense, and developed enough for the Bears to finally jettison Miller. Mooney plays bigger than his 5í10íí frame, and showed a savvy route running ability for a young player. Heíll easily find room to roam the secondary in the shadow of Robinson, and should see enough volume to improve on his rookie numbers. For the 25th receiver selected in the draft, with a shaky quarterback situation, Mooney was very consistent as a rookie. Iím very interested in Mooney as an upside WR3 player you will likely be able to grab late in your drafts.
TE Jimmy Graham
(2020 TE Rank No.10, 5.9 FPts/G)
TE Cole Kmet
(2020 TE Rank No.43, 2.8FPts/G)
Letís get this out of the way; this is a position group to avoid. I get that the universe granted Jimmy Graham one more relevant season on the back of eight touchdowns and a top-10 finish last season, but it's high time that Kmet steps up and becomes the threat the Bears drafted in the 2nd round last year. While I donít expect the 12-year vet to totally disappear, if I had to take a shot at one of these guys, Kmet would be it. At a rocked up 6í6íí 260, Kmet spent most of his rookie season learning the position as the in-line tight end, while Graham soaked up the receptions. After only getting 11 targets over the first half of the season, Kmet and the Chicago offense made a turnaround, and the rookie saw 31 looks down the stretch. Anthony Millerís departure leaves 76 targets up for grabs, and I think Kmet can snag a few of those. While the volume is unlikely to be enough to elevate Kmet into starting, or even TE2 territory, heís certainly someone to keep a waiver eye on.