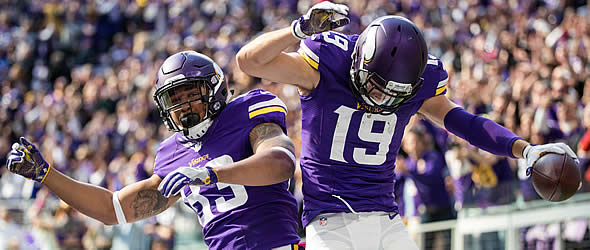 After back-to-back impressive seasons fantasy owners are Adam valuing Thielen as low-end WR1.

QB Kirk Cousins
(2017 QB Rank – No.4, 22.2 FPts/G)
The Vikings came off a snake-bitten 2016 season to have one of the most magical runs in history last year. Despite losing their starting quarterback and running back to season ending injuries early on, the Vikings held it together largely behind the play of an aggressive defense and their journeyman quarterback Case Keenum. While the defense returns largely intact, the Vikings made the splash of the offseason, replacing Keenum with Kirk Cousins.
While Keenum's success was an absolute shock, Cousins has racked up the statistics the past several years. The last three seasons has seen Cousins finish as the No.9, No.5, and No.4 overall fantasy quarterback. He's gone over 4,000 yards three straight years, and has tossed 25+ touchdowns in those seasons as well. Now these prolific numbers haven't exactly translated into wins for his teams, but the former Redskin has become the poster child for the strategy of taking a quarterback late in your draft.

So can Kirk continue to churn out the fantasy numbers as he moves to a more talented, established team? My gut tells me no. For years the Redskins failed miserably to build a reliable defense or running game around Cousins, and he racked up a ton of garbage time statistics trying to win shootouts or salvage respect in blowout losses. The Vikings will likely be favored in most of their games in 2018, and still want to win with defense and their running game. Say what you will about the wins and losses, but Jay Gruden can coach offense, and I think his scheme was very friendly to Cousins. I expect a statistical regression across the board, especially in attempts and touchdowns, but because of the talent he's throwing and handing off to, Kirk should still remain a good bet to finish as a QB1, just one that lands toward the end of the pack rather than in the middle.
RB Dalvin Cook
(2017 RB Rank – No.65, 14.1 FPts/G)
The sample size was small, but Dalvin Cook showed flashes of special ability during his first year with the Vikings until a torn ACL ended his season. His 14.1 fantasy points-per-game were good enough to put him in the top-10 at his position had he stayed healthy and consistent. In his wake Latavius Murray picked up the slack on the ground, punching it into the endzone 8 times and rushing for 800+ yards. Oddly enough it was Murray's slow return from ankle surgery that gave Cook the chance to shine early in the year. Although there isn't quite a similar parallel this season, (as Cook has the clear talent edge over Murray), drafting Cook as your RB1 is going to come with plenty of risk.

Sure Cook did show dual threat capability in the four games he played, catching 11 passes of almost 100 yards, but knee injuries are always scary despite modern medicine, and one of Cook's red flags coming out of college was the injury prone label. Thankfully his rehab has gone great, and he was cleared for team drills in early June. If he gets the full go at the start of camp and doesn't suffer setbacks, I'd be comfortable leaning on Cook as an RB1 in both standard and PPR leagues as he's going to catch a ton of passes with Jerick McKinnon's 51 receptions gone to San Francisco and Murray providing no threat in that area.

RB Latavius Murray
(2017 RB Rank – No.21, 8.9 FPts/G)
In the offseason of the 2017 season, the Vikings threw cash at Murray hoping he could be the lead back in the offense. But shortly after signing he underwent ankle surgery, and because he was slow to recover, it looked like rookie sensation Dalvin Cook would relegate Murray to being "just another guy" on the team. Eventually Murray got healthy, Cook went down, and the Vikings were forced to lean on their free agent. And lean they did. Murray averaged over 14 attempts per game during his starts, with the team going an impressive 11-0 when he carried the ball at least 15 times. Sure, he mostly got only what was blocked, as evidenced by his 3.9 yards per carry average, but he scored 8 touchdowns and was well worth the offseason investment.

Unfortunately for Murray's fantasy value, the Vikings clearly view him as a backup, as the two sides reached a restructured contract agreement in the offseason, lowering his salary. Because he provides little in the passing game (15 receptions last year), Murray is merely a handcuff for Dalvin Cook owners and would only have fantasy value should Cook go down again with an injury.

WR Stefon Diggs
(2017 WR Rank – No.16, 9.6 FPts/G)
The Yin to Adam Thielen's Yang, Stefon Diggs was a tale of peaks and valleys during the 2017 season. He began the season looking like a bonafide #1 fantasy receiver with a 22-391-4 line over the first four games. He seemed to mesh very well with newly installed starter Case Keenum, but a 7-week stretch followed the hot start that saw Diggs only snag one more touchdown and fail to register 80 yards. A 3-game touchdown streak salvaged some value in the fantasy playoffs, but as a whole he was down a significant amount of receptions from 2016.

Diggs's 8 touchdowns last season (in only 14 games) were more than he combined in his previous two seasons, and I expect there to be a natural regression in 2018. He'll be breaking in yet another new quarterback this season in Kirk Cousins, whose deep ball skill-set actually matches well with Diggs. I just think too much of this passing game funnels through Thielen, as the offensive scheme won't change much even with a new signal caller at the helm. His role in the offense means he's going to be inconsistent on a weekly basis, as he'll mix WR1 weeks with WR4 weeks. Let's split the difference and say with a slight regression in touchdowns and a slight increase in yards and receptions, Diggs comes in at a low-end WR2.

WR Adam Thielen
(2017 WR Rank – No.10, 9.6 FPts/G)
I really whiffed on my preview of Thielen last off-season. Not many people, including myself, expected him to repeat the breakout he had in 2016. And to be fair, he didn't repeat it at all, he shattered it! His targets, receptions and yards were way up, and while his touchdown totals remain pretty flat for a team's #1 receiver, there's no doubt it's time to take Thielen seriously as a yearly WR1. His 143 targets were tied with A.J. Green for 9th in the NFL and his 1,200 yards were good for 5th overall. He displayed a cool chemistry with Keenum and should make sweet music with Kirk Cousins, who possesses better ball placement and arm strength. Thielen wins with elite hands and body control, and is a master route runner. His high reception totals mean he'll give you weekly consistency, especially in PPR leagues. They didn't give Cousins all that money to mothball this offense, so I can't see why there aren't at least 130 targets that go Thielen's way this season. The low touchdown totals are going to keep his value muted in standard leagues, but he should again provide one of the biggest receiver bargains in fantasy football as a low end WR1 you can snag after all the other big names dry up.

TE Kyle Rudolph
(2017 TE Rank No.7, 6.3 FPts/G)
Because of improved line play and more consistent running game, Rudolph was a much smaller part of the passing offense in 2017. He remained strong in the scoring department with 8 TDs, but precipitous drops in receptions and yardage fueled his dip in the fantasy standings amongst tight ends.

The whole position itself has taken a weird turn in recent years, being incredibly touchdown dependent. It's also been very top heavy, with the top 3 or 4 tight ends really being head and shoulders above the rest. In this offense Rudolph is the third look, as most of his chances come within 20 yards. He makes his money with solid underneath routes and dominance in the red zone, and does have a new quarterback that loved to utilize the tight end. He'll probably be good for another 50+ catches for 500+ yards and half a dozen touchdowns, unexciting numbers, but par for the course at this position. There's nothing wrong with selecting Rudolph as your TE1, but he's the kind of pick in the draft that you let come to you.