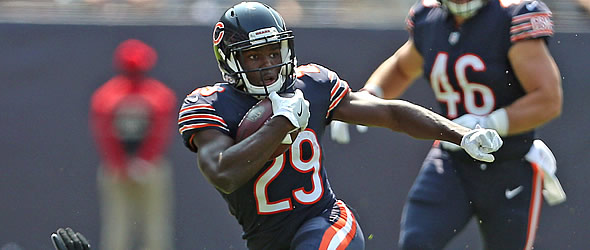 New head coach Matt Nagy has talked up Tarik Cohen this off-season. Will it result in fantasy success?

QB Mitchell Trubisky
(2017 QB Rank - No 29, 14.5 FPts/G)
Saddled with the least creative offensive coaches in the NFL and given the worst receiver corps in the league, itís not a big surprise that Trubisky, the highly touted No.2 overall pick, struggled to make much noise in 2017. But last yearís Rams have proven that with the right coaches, and an infusion of talent, offenses can make a dramatic improvement, and the Bears have followed this recipe to a T.

Gone is the archaic offensive philosophy of John Fox, and in comes the young mind of Matt Nagy, who cut his teeth in the classroom of Andy Reid. Say what you will about his clock management, but Reidís offensive system has consistently produced fantasy stars at his stops in Philadelphia and Kansas City. In addition to the forward thinking Nagy, Chicago went all out in free agency, snagging big play receivers in Alan Robinson and Taylor Gabriel and move tight end Trey Burton. The Bears even moved up in the 2nd round of the draft to select the prolific Anthony Miller from Memphis. Overnight the Bears shook off the dust and reinvented themselves on offense from top to bottom. With a staff also willing to engineer more plays for electric Tarik Cohen, Trubisky has elite playmakers at every level of the offense.
Now a QB can have all the talent in the world, but what exactly have we seen from Trubisky to be sold on him as a fantasy asset? For one, he completed nearly 60% of his passes, which is great considering his circumstances, and his perceived rawness coming out of North Carolina. A quick look at the stats shows a guy who got more comfortable as he got more starts, and other than a blowout loss to the Eagles, he kept his team in every game they played. He also showed plenty of athleticism, rushing for the 13th most yards amongst quarterbacks despite playing in only 12 games.

The Bears lost a ton of close games last year, and retained one of the best defensive coaches in the NFL in Vic Fangio. Itís going to take some time for these pieces to gel on offense and Robinson has to prove heís all the back from the torn ACL, but I really think the Bears are going to surprise people this year. I think Trubisky makes a leap in his second season and finishes as an upper tier QB2, and is someone Iíd be looking to add late to pair with an established star.
RB Jordan Howard
(2017 RB Rank - No.10, 11.2 FPts/G)
While the final numbers look strong (1,100+ yards rushing and 9 touchdowns), Howardís numberís overall were a bit of a letdown after his dazzling rookie year. His yards per carry average dipped a full yard from his first season (5.2 to 4.1) and he was much less consistent, (11 games of 70+ yards in 2016 compared to 6 such games in 2017). Add to the fact that he was still unable to bring anything to the passing game and you had the makings of Howard being a risky fantasy start last season.

With all the hype around the new coaching philosophy, the additions at receiver, and usage of Tarik Cohen, Howard sounds miscast for this offense as a one-dimensional workhorse. While itís unlikely Howard morphs into Marshall Faulk overnight, heís still going to be a big part of this offense. Heís gone over 1,000 yards in each of his first two seasons, and though his overall touches might be down this year, I think theyíll be much more efficient and his yards-per-carry average should rise. The entire Chicago offense should be more efficient, meaning more trips to the redzone, which in theory means more goal line chances for Howard. Howard has proven to be a durable workhorse, and his one dimensional game means heís prone to some duds (and a much lower priority in PPR leagues), but he should threaten to score double digit touchdowns, and Iíd be thrilled to have him as my RB2, as heíll have another chance to approach RB1 numbers.
RB Tarik Cohen
(2017 RB Rank - No. 42, 5.6 FPts/G)
5 foot 6 inches of dynamite, Cohen took the league by storm over the first two games of the 2017 season, catching 16 passes and totaling 201 yards and finding the endzone. Using his dynamic quickness and elite change of direction skills, Cohen was a nightmare for linebackers to cover, and he provided the Bears offense with their lone big play threat. But after Week 3 Cohenís usage inexplicably stopped, and while Chicago was totally devoid of receivers, the diminutive back from North Carolina A&T could only muster five receptions from Weeks 5-10. His usage ticked up slightly in the last quarter of the season, but it was clear the Chicago coaching staff simply couldnít find creative ways to get Cohen in the game plan.

The chatter this offseason couldnít be more different. New head man Matt Nagy has talked Cohen up constantly, comparing him to Tyreek Hill in playmaking ability and potential usage. Heís never going to be a 10+ carry guy in the NFL due to his size, but his absolute reception floor is 50, and heís a big play waiting to happen. Cohen makes for a strong FLEX play in PPR leagues, but is more of a RB4/5 in standard leagues as a quality bye week fill-in.

WR Allen Robinson
(2017 WR Rank - N/A)
Robinson took the NFL by storm in his second season when he put up a monster 80-1400-14 campaign with Jacksonville. He came crashing down to earth in 2016 seeing a huge drop off in every statistical category. He had a comically bad catch rate on deep balls, and looked to bounce back going in 2017. Well the redemption season never quite got off the ground as Robinson tore his ACL on his first and only reception of the season. Unwilling to pick up his 5th year option, or franchise him, Robinson skipped off to Chicago where his future looks bright once again.

The former Nittany Lion will have had nearly a year to recover from his injury by the time camp starts next month. All reports have his rehab going along perfectly, and the Bears expect him to be a big part of the offense as evidenced by the financial commitment they made to him. Still only 24 despite entering his 5th season in the league, Robinson has age and monster talent on his side. He participated in OTAs this offseason, and looks on track to be the No.1 option in the passing game. Chicago has gutted its receiving core leaving a ton of potential receptions and yards on the table for Robinson to claim. I donít know that he returns to the silly numbers of 2015, but this offense is going to be open and creative, and I think Trubisky makes a leap in his 2nd year. Iím not ready to pin my hopes on him as a WR1, but I think he puts up consistent WR2 numbers with the upside for more.

WR Anthony Miller
(2017 WR Rank - N/A)
Chicago traded up in the 2nd round this spring to nab the highly touted and ultra-productive receiver from Memphis. Miller brings polished route running ability and the skill to get open consistently at the short and intermediate levels. The Bears project Miller to man the slot, and this has the potential to pay off for Miller, as he can use his quickness over the middle to be a reliable target for Trubisky. With terrific body control, strength, and athleticism (he was a state champion track athlete in high school), Miller has a chance to produce in his first season. With all things being equal (and healthy) Miller will probably end up being more important to the Bears than he will your fantasy team, but Iíd certainly keep a close eye on the rapport he develops with his QB in the preseason. If Robinson proves to be slow to return to health, I could easily see Chicago leaning on Miller in the passing game, giving him fantasy value. Right now, heís an end of the roster stash at best.
WR Taylor Gabriel
(2017 WR Rank - No. 83, 3.0 FPts/G)
Short of some major injuries to some of the other pass catchers on the team, Gabriel will find it extremely tough to return fantasy value in 2018. Likely more valuable as a lid lifter that will keep the defense honest, Gabriel is at best 4th in line for receptions behind Robinson, Burton, Cohen and perhaps even 2nd round rookie Anthony Miller. Heís been in a pretty prolific Atlanta offense the last two seasons and only sniffed fantasy relevance in 2016 when he had half a dozen scores.
TE Trey Burton
(2017 TE Rank No.26, 5.0 FPts/G)
Leaving the talent laden Eagles for a chance at consistent playing time in Chicago, Burton gives the Bears a plus athlete and route runner at a position of need in the offense. Head coach and OC Matt Nagy bring a very tight end friendly scheme to the Windy City, a system that has turned Travis Kelce into a star. Burton, the 5th year player out of Florida made the most of his starts last season filling in for the injured Zach Ertz. In the two games Ertz missed, Burton tallied 112 yards and three scores. The Eagle offense is a hybrid of the system Nagy ran in Kansas City (from the Andy Reid coaching tree) so you know that Burton is guaranteed to be a big part of the weekly game plan. He has the size and speed to be a match-up problem, and he has a young quarterback that can and will work the middle of the field. Because you can see the breakout from a mile away, it would be a major disappointment if Burton isn't a top-12 tight end this season. He's a great bet to surpass his career totals during his first year in Chicago, and this is a fantasy position worth gambling on upside.