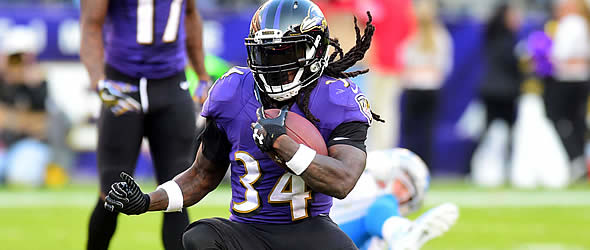 Alex Collins went largely undrafted but notched 235 touches and finished as the RB15 last season.

QB Joe Flacco
2017 QB Rank - No.25, 15.0 FPts/G
Iíve been very critical of Flacco as a fantasy and real life quarterback in these pieces the past several years I donít plan on changing it up! A severe back injury gutted nearly Flaccoís entire 2017 offseason, and he only got healthy enough to play just prior to Week 1 of the season. So while he grinded out a full 16 game schedule, statistically it was one of his worst full seasons since his rookie year. He was barely able to surpass 3,000 yards passing, and threw for only 18 touchdowns. I guess my biggest knock on Flacco is he doesnít elevate the play of the people around him. Sure, he had the injury bug hit some of his receivers last year, but Iíve seen quarterbacks do more with less, and the Ravenís seem to feel the same. The shine from his Super Bowl win is gone, and Baltimore clearly looked to the (near) future with their selection of Lamar Jackson in the first round of the NFL Draft.

Whether itís Flacco, or eventually Jackson, Iím not thrilled by the motley crew of receivers that Baltimore brought in to replace Jeremy Maclin and Mike Wallace. Michael Crabtree, John Brown and Willie Snead donít exactly keep defensive coordinators up at night. And while they do have productive seasons in their past, I just donít think Flacco has what it takes to help unlock that again. If you want to chase the ďAlex SmithĒ narrative, where the drafting of a 1st round quarterback will somehow light a fire under Flacco, be my guest. But for my fantasy money, Joe is only worth a look in 2-QB leagues.
QB Lamar Jackson
2017 QB Rank - N/A
I donít normally address the backup quarterbacks when I do these player outlooks, but the combination of collegiate production, draft pedigree, and the state of the Flacco-led offensive, Iíd be remiss if I didnít at least touch on Jacksonís fantasy prospects. The former Heisman trophy winner adds a dimension this offense hasnít had since the days of Steve McNair. Jackson can make plays with his legs, both in the running and passing game. Now, barring injury or catastrophe, Jackson is unlikely to see play at quarterback early in the season, but if/when he does, I think he has to be a priority free agent add. Much like Deshaun Watson last year, I do think Jackson has the skills and bravado to give this team a spark, and sometimes fantasy success comes down to finding lightning in a bottle. Most leagues are unlikely to have the roster limits to be able to waste on a back-up QB stash, but if you do, Jackson makes for a fine long-term investment.
RB Alex Collins
2017 RB Rank Ė No.15, 10.1 FPts/G
To say that during this time last year Collins wasnít on most peopleís radar is a monumental ďno-duhĒ. Still a member of the Seahawks in July of 2017, Collins was eventually cut, and signed to the Ravensí practice squad in early September. With injuries hitting the backfield, Collins got a call-up to the active roster about two weeks later. After looking spry in a Week 2 win against Cleveland, the former 5th-round pick slowly saw an uptick in playing time as he began to distance himself from the crowded Baltimore backfield. When the dust settled on the 2017 season, Collins ended up with nearly 1,000 yards rushing and 6 touchdowns, while sporting a crisp 4.6 yards per carry average. Through the season he showed bust and power, and was basically the only bright spot on a miserable Ravens offense.
Not much has changed in the Ravenís backfield in 2018. Signed to a 1-year contract after being a restricted free agent, Collins enters the offseason as the clear lead dog in a still crowded group. The Ravens fully committed to him during the back half of the 2017 season, and barring a miracle return from talented, but troubled Kenneth Dixon, Collins should easily lead the team in rushing. With all 23 of his receptions coming in the final nine games, Collins showed enough versatility to be more than a 2-down back. Keep a close eye on Dixonís usage and production in the pre-season, but as it sits right now Iíd be very excited to nab Collins as my RB2, especially if Jackson makes an appearance at quarterback.

RB Javorius Allen
2017 RB Rank Ė No.27, 7.5 FPts/G
Back to play in 16 games after an injury riddled 2016, Allen proved productive despite a limited amount of touches. Piling up over 900 total yards and 6 touchdowns, Allen provided surprising value at the running back position. After starting the year off as the lead back, Allen eventually settled in as a compliment to Alex Collins as the season wore on. His 46 receptions not only set a career high, but also made him a valuable commodity in PPR leagues. Until I see otherwise, I think the Ravens continue to lean on Collins while turning to Allen as a change of pace, passing back option. He has shown he can carry the mail in a lead role if called up, and has contract year motivation. Dixon is still the wildcard in this backfield, and has the potential to make this a maddening committee, but for now view Allen is a RB3/4 that you can probably nab late in your draft.
RB Kenneth Dixon
2017 RB Rank Ė NA
A suspension and a knee injury cost Dixon's 2017 season and most of the goodwill built up from his solid rookie season in 2016. As a rookie he showed three-down skills and his talent alone should be enough for him to at least push Allen for the No.2 gig. The Ravens are by no means committed to Collins as the long term answer, and I do think Dixon will be given every opportunity to prove himself. Because he missed his entire sophomore campaign and is third on the depth chart at the moment heís a great flyer option at the back end of drafts. But watch his ADP climb as the offseason wears on if he shows the chops to challenge the guys ahead of him.
WR Michael Crabtree
2017 WR Rank - No. 31, 8.3 FPts/G
Crabtree wouldnít be the first receiver Iíd go after during a full on rebuild at the position, but he does give the Ravens a reliable veteran possession receiver thatís scored 25 touchdowns over the last three seasons. Injuries and age have relegated Crabtree to be very touchdown dependent (his 10.7 yards per catch average was good for 85th in the NFL last year). Heís going to get open using savvy route running and solid technique, but offers nothing in the way of big plays after the catch. There are 164 targets up for grabs after the departure of Maclin and Wallace, so Crabtree should get his fair share. Being the most reliable and productive receiver on the team will certainly give Crabtree a chance to surpass his depressing reception and yardage numbers from last year. Keep in mind that injuries cost Crabtree three games last season, and heíll be an ďoldĒ 31 when the season starts. With a slight regression in touchdowns, but an increase in yards and receptions, he could be a low end WR2, but Iíd feel infinitely more comfortable picking him as a steady, but unexciting WR3.

WR Willie Snead
2017 WR Rank - No.152, 1.2 FPts/G
Injuries, a suspension, and a subsequent disappearing act were to blame for Sneadís fall from grace last year. Ultra-productive his first two seasons in the league (100+ targets, and 70+ receptions in both), Snead comes to the Ravens on a 2-year, $10-million dollar contract. Likely to man the slot in Baltimore, Snead encounters a downgrade in the quarterback department. He was able to make sweet music (Jazz?) with Drew Brees in New Orleans, but it remains to be seen if this passing offense can support more than Crabtree from a fantasy perspective. After being such a big part of the plan in New Orleans itís puzzling the Saints didnít use him much or tender him much of an offer to retain his services. Itís my guess receiver needy Baltimore overpaid for a former undrafted player that was largely productive due to the offensive scheme and quarterback in New Orleans. There are plenty of looks available, but I just donít think Snead gets enough of them to make a fantasy difference.
WR John Brown
2017 WR Rank - No.82, 4.9 FPts/G
Beset by injuries due to a medical condition, John ďSmokeyĒ Brown leaves the desert to join the Baltimore Ravensí revamped receiving core. With healthy wheels Brown was a big play waiting to happen in Arizona, especially in 2015 when he finished with 1,000+ yards and 7 touchdowns, but hamstring injuries sapped his speed and his vertical game and resulting production disappeared the last two seasons. Now healthy, Brown hopes to rehab his value on a one-year deal with Baltimore. Heíll start on the outside opposite Crabtree, and should give the Ravens a deep threat to keep defenses honest. His game should actually play well with Flaccoís strengths, and theyíll combine for a few big plays once and awhile. Iím just not fully convinced heís passed his injury bugs, and his availability and playing time in the preseason will go a long way to determine his fantasy value. If he misses days of camp with leg injuries again, heís undraftable. If he stays healthy and produces, he MIGHT be worth a late gamble. Whatever happens, Iím going to stick to my guns and say that ultimately this passing offense is only going to be able to support one fantasy receiver long term and Brown isnít it.
TE Hayden Hurst and TE Mark Andrews
2017 TE Rank – N/A
Another overhauled position on the Ravens' roster, the rookie duo look to make up for the loss of Dennis Pitta and Benjamin Watson. Hurst, the team's other, and less noteworthy 1st round pick, joins the Ravens as a do-it-all wonder from South Carolina. Old (25 when the season beings) for a rookie, Hurst should stabilize the position as a well-rounded run blocker and pass receiver. He may lack a little polish as a route runner, but has a great speed/size combination and catches everything around him. This offense has utilized the tight end greatly over the years, and Flacco is at his best when checking down and dumping off to his tight ends.

Andrews, the 3rd rounder from Oklahoma is a receiver in a tight end's body...literally. As a former wideout, Andrews is an adept route runner with a dynamic physical skill-set. What he lacks as a blocker he more than makes up for as a receiver, showing solid hands and collegiate production as he led Oklahoma in receptions and won the John Mackey award as the nation's top tight end. With a crowded tight room and being very raw as a blocker, it may take most, if not all of the season for Andrews to make much of an impact.

When it's all said and done, it's unlikely any of these guys is going to return much, if any fantasy value. Hurst is the most versatile, but Baltimore may keep as many as four tight ends, and they all seem to fill specific roles, meaning no one will get enough target share to be a realistic fantasy option.