QB Justin Herbert
(2020 QB Rank – No. 8, 26.3 FPts/G)
Rookie sensation Justin Herbert was shoved into a starting role just moments before Week 2 when a freak accident by a member of the Chargers' medical staff knocked starter Tyrod Taylor out of the game. While he and the Chargers fell just short against the then-defending Super Bowl champion Chiefs in that game, Herbert's 311 passing yards, including both a touchdown as a passer and as a runner, immediately drew the media's attention. Herbert went on to break practically every notable rookie passing record, including touchdowns (31), completions (396), and yards per game (289.1). He finished just 38 total passing yards behind Andrew Luck's rookie record set back in 2012, but it's worth noting that Herbert probably would've broken that as well if he had been the starter in Week 1. He also finished just shy of Dak Prescott's record for single season completion percentage by a rookie.
His passing game production and efficiency was undeniable, but Herbert also proved that he is a contributor in the running game. He's not going to give you many 50-plus yard rushing days and in fact he exceeded 25 yards on the ground just twice as a rookie, but he was willing to run when it counts—near the end zone—as he added five touchdowns as a runner.
While the traditional "teams throw more when they're behind" concept certainly still applies, it's also interesting that Herbert was more productive when the Chargers were winning games. He threw multiple touchdowns in all but one game that the Chargers won in 2020 and he averaged 304 passing yards per game in those victories.
To piggyback off of that, things are looking up for the Chargers heading into 2021. The team won their final four games of the regular season, although Week 17's contest against the Chiefs saw Kansas City bench most of their starters. In addition, running back Austin Ekeler missed about half of the season which definitely didn't help the passing game, as the other backs in Los Angeles are not nearly as productive as pass catchers. Having him back at full strength, hopefully for an entire season, should give a bit of a boost to Herbert.
LA also invested heavily in their offensive line by adding former Green Bay center Corey Linsley. Linsley has been an elite performer as an entire offensive lineman and should immediately add stability to one of the most important positions on the line. In addition, the Chargers bolstered the unit by selecting Tackle Rashawn Slater with their first round draft pick at 13th overall. These were necessary additions as Herbert was under pressure constantly as a rookie. Rookie offensive linemen don't always step in and make an immediate impact, but it seems fairly likely that Linsley and Slater will give Herbert more time, and thus more confidence, to hold onto the ball and sling it down the field for big plays.
It would've been nice to see Los Angeles invest a bit more into pass catchers this off-season as they've been missing in the draft for a few years now. There were some quality free agent receivers available who would've been a nice compliment to Keenan Allen, but the team instead opted to stick with what it had for the most part, adding only wide receiver Josh Palmer in the third round and swapping out Hunter Henry in exchange for Jared Cook at tight end.
Still, Herbert is a legitimate candidate for MVP this season if the Chargers can improve as a team. His combination of talent and poise made him an elite rookie and it'll be fun to see what he can do with a full offseason of preparation as the official starter. He's not going to cost as much as some of the top QBs will in seasonal leagues, but he's someone who should absolutely be a target in Superflex and dynasty leagues this year.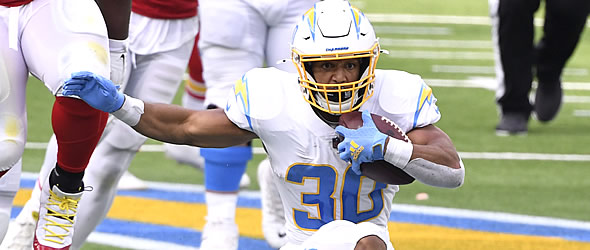 RB Austin Ekeler
(2020 RB Rank – No. 36, 11.1 FPts/G)
We mentioned above that running back Austin Ekeler missed half of the season with a serious hamstring injury, otherwise we could've potentially seen an absolutely monster season from the Chargers running back. As it was, Ekeler finished with 933 total yards and just three total touchdowns, allowing him to finish just inside RB3 range for the season.
What's most notable was his usage in the passing game. He essentially missed seven total games, so if we remove that Week 4 contest (injured), he would've been on pace for 116 targets on the season. To put that into perspective, the only running backs who saw more than third-place Nyheim Hines' 76 targets on the season were Washington's J.D. McKissic (110) and New Orleans' Alvin Kamara (107). Ekeler, despite missing those seven games, finished seventh among all running backs in total targets in 2020.
While the coaching staff's potential goal to keep Ekeler healthy is certainly something that we need to be aware of, it should be noted that they certainly didn't play it like that in 2020 despite the team not really being serious playoff contenders for most of the year. Ekeler returned in Week 12 and immediately saw the field on 72 percent of the Chargers' offensive snaps, whereas the next-leading back, Joshua Kelley, was on the field for just 23 percent of snaps. From that game on, Ekeler would be on the field for at least 60 percent of snaps in every remaining game for the Chargers, with the only exception being Week 17 when the Chargers were playing against the Chiefs' backups and won the game by multiple scores, thus not needing Ekeler nearly as much.
This is Ekeler's backfield and he's one of the few remaining "do-it-all" bell cow backs in the league. Assuming the Los Angeles' offense remains at about as good as it was in 2020, Ekeler could be in for a huge fantasy season. Very few backs offer the legitimate 100-catch upside that Ekeler does and that could easily boost him into the elite RB1 territory if he can stay healthy. He's going in the second round of most fantasy drafts, which makes him not overly costly despite giving high-end potential to fantasy owners.
RB Joshua Kelley
(2020 RB Rank – No. 61, 4.8 FPts/G)
The Los Angeles backfield is certainly about as close to a one-man show as can be found in the NFL right now, but if we're going to talk about another running back in this offense then it should probably be Joshua Kelley. Kelley was a rookie in 2020 and saw immediate playing time as the backup to Austin Ekeler. Ekeler's injury in Week 4 made Kelley one of the highest-priced FAAB acquisitions of the season, but he disappointed in dramatic fashion as he immediately began splitting snaps with the likes of veteran Justin Jackson and journeymen backs Kalen Ballage and Troymaine Pope.
It's reasonable to brush off this lack of immediate success as the coaching staff simply not trusting Kelley to take on such a heavy workload so early into his rookie season, but things didn't get much better as the season went on. He never reached a 60 percent snap rate in any game and he saw double-digit carries in just two of the seven games Ekeler missed. Worse yet, his contributions in the passing game were paltry as he caught just 23 passes for 148 yards and no touchdowns on the season, despite the fact that he did catch all 23 targets that came his way.
If we're to look for some sort of bright side, it should be that the Chargers didn't invest serious assets at the running back position this offseason. They added only sixth-rounder Larry Rountree III, a mediocre athlete who lacks Kelley's speed and agility, who was also not much of a pass catcher in college.
Kelley doesn't have much of a path to playing time unless Ekeler gets hurt, but if that happens again then the upside at running back lies with Kelley. He was a productive college player and he does have the requisite size and speed to be an NFL back. At this point we know that Justin Jackson isn't likely to give us anything from a fantasy standpoint, so at least there's some potential with Kelley.
WR Keenan Allen
(2020 WR Rank – 17, 10.5 FPts/G)
If you're looking for an under-the-radar player who is being disrespected in fantasy drafts this season, look no further than Chargers wide receiver Keenan Allen. The veteran has often been underappreciated throughout his career as he doesn't tend to put up the flashy highlights that some other pass catchers do, but he's been extraordinarily productive, including in 2020 when he was playing with a brand new rookie quarterback.
Allen's 2020 final season numbers don't paint the full picture as he played in just 14 games, but he was an absolute target monster. His 16-game pace would've been a whopping 168 targets, which would've put him just ahead of Stefon Diggs', who led the league with 166 targets. He still reached 100 receptions on the year for the third time in four years and he hasn't finished with fewer than 97 receptions in a season since 2016 when he missed almost the entire season with an injury. The Chargers didn't invest significantly at pass catcher this offseason, so there's little reason to believe that Allen won't again be near the top of the league in targets per game.
Traditionally better in PPR formats, Allen brings one of the highest floors in fantasy football to the table, despite the fact that he hasn't often provided the huge single-game explosions that some others do. Then again, he also hasn't been playing with a truly strong-armed QB like Herbert throughout his career, so perhaps we'll see the Chargers coaches opt to change the playbook up a bit and let him stretch the field more than he did in 2020 when he finished with a career-low of 9.9 yards per reception. Even with that, though, Allen finished sixth among wide receivers in PPR fantasy points per game in 2020 and 13th in standard formats. He's being drafted at or below that range in most fantasy drafts right now, so don't be afraid to add him at his current discounted rate.
WR Mike Williams
(2020 WR Rank – 42, 7.6 FPts/G)
A perennial fantasy disappointment since his absurd touchdown rate in 2018, Mike Williams again struggled to find consistency in 2020, catching just 48 passes on the season. He is still one of the best yards per reception producers in the league, but the fact that he's averaging just three catches per game makes it very difficult to trust him for fantasy, especially when he's only provided seven total touchdowns over his past two seasons despite playing in 30 games.
Still, Williams finds himself in a good spot to see plenty of targets again this season. The Chargers' wide receiver group lacks proven contributors aside from Keenan Allen and they even moved on from tight end Hunter Henry this offseason. Williams should be on the field in most situations and he remains one of the league's most spectacular jump ball receivers. Assuming the Chargers will continue to be an offense on the rise, Williams will have opportunities to score this season. Beyond that, he'd potentially see a huge increase in targets in the scenario that Allen were to go down with an injury, as he has a few times throughout his career.
He's not much more than a lottery ticket player to look at deep in your draft, but Williams does have some potential if things break his way.
TE Jared Cook
(2020 TE Rank – 12, 6.2 FPts/G)
Los Angeles has long been a place to find fantasy production at the tight end position and the newly acquired Jared Cook could be the newest player to finish as a TE1. Cook joined the team this offseason when the Chargers moved on from Hunter Henry, a consistent yet unspectacular pass catcher who failed to produce a TE1 fantasy season in 2020 despite the Chargers' lack of other pass catching weapons. Henry saw a career high with 93 targets on the year, but he caught just 64.5 percent of them, a career low, and his yards per reception also fell to just 10.2 which was also a career low.
Cook, who spent 2019 and 2020 in New Orleans, saw his numbers tumble this past season as he suffered through some erratic quarterback play, particularly in the weeks when his Saints were without future Hall of Famer Drew Brees. Even Brees himself seemed to be missing something last year, so it's not particularly surprising that Cook caught just 37 passes. Still, Cook was able to finish just barely inside TE1 range for fantasy as his 13.6 yards per reception was third-best among all tight ends and he also added an impressive seven touchdowns, bringing his total to 16 over the two years he spent with the Saints.
Cook may not be quite as consistent of a short-to-intermediate pass catcher as Henry has been, but he brings the field stretching ability that few tight ends can replicate. He's a big play tight end in an offense with really only one proven, consistent down-field pass catcher on the roster. He'll have to fend off fellow big play specialists like Mike Williams and Jalen Guyton to some extent, but Cook could be in line to finish third on the team in targets, behind Allen and Austin Ekeler. With the Chargers likely to be one of the most pass-heavy teams in the league, look for Cook to have a pretty decent chance of pushing to be a low-end TE1 in 2021.