QB Derek Carr
(2019 QB Rank – No. 17, 19.2 FPts/G)
There was some belief that the Raiders would move on from long-time quarterback Derek Carr this offseason, but the team seems to be prepared to give him at least one more chance to prove himself as the team itself makes the move to Las Vegas.

He may not be the most exciting option, but it's worth noting that Carr did actually have the second-best season of his professional career in 2019, as he used a dink-and-dunk approach to exceed a 70-percent completion percentage for the first time, along with exceeding 4,000 passing yards for the second straight season. He did this despite having what had to be considered one of the least-talented wide receiver groups in the league, a rookie running back who was not known for being a great pass catcher, and a starting tight end who had never caught more than 10 passes in an NFL season. All things considered, Carr's 2019 season was actually fairly impressive despite him throwing just 21 touchdowns.

One of the most risk-averse quarterbacks in the league, Carr is in an odd spot for fantasy purposes heading into 2020. Only Teddy Bridgewater has a lower average target distance than Carr over the past two seasons. This gives Carr a higher weekly floor than some of his more careless competitors at the quarterback position, but it doesn't often lead to many high ceiling performances. The Raiders did add two playmaking wide receivers in the first and third rounds with Henry Ruggs III and Bryan Edwards, but it seems like this type of personnel is tipping the team's hand a bit, as they may be ready to move on from Carr if he doesn't have a breakout season here in 2020.

Carr finished as the QB17 in 2019 and that's probably about where he'll finish in 2020. He's being drafted in the low-20s among QBs so he'll almost certainly outproduce that, but the chances of him breaking into the top 12 at the position are rather low.

RB Josh Jacobs
(2019 RB Rank – No. 14, 13.4 FPts/G)
One of the league's most elusive backs in his rookie season, Josh Jacobs answered pretty much every question that draft scouts and fantasy owners had about him. Many believed that he lacked the ability to sustain a full workload because he split touches at Alabama, but Jacobs stepped right in to a massive, 242-carry as a rookie in just 13 games. He did miss three games due to a shoulder fracture, but the fact that he only missed three games with that type of injury is a testament to not only his mental fortitude, but his physical toughness to continue to perform at a high level even in the face of a debilitating injury. That should give fantasy owners some real confidence heading into his second season.

The Raiders did get rid of veteran backup DeAndre Washington this offseason but passing game specialist Jalen Richard remains on the roster and they also added the position-fluid weapon Lynn Bowden Jr. It's rarely good for a player when his team invests a top three round pick at a similar position, but Bowden and Richard are both passing game weapons who are not built to take a heavy workload, so Jacobs is firmly in the driver's seat to lead this backfield in touches by a wide margin. In fact, he's a real contender to lead all NFL running backs in carries this season. The selection of Bowden does seem to indicate that the Raiders' coaching staff doesn't view Jacobs as an excellent passing game weapon, however, so that does cap his upside a bit, especially in PPR formats.

Nevertheless, Jacobs is firmly entrenched as the Raiders' top back and he'll be running behind one of the best run blocking units in the league. That gives him a tremendous floor as he'll likely see a 280-plus-carry season if he remains healthy. The Raiders offense should also be more explosive this season given the additions they've made so there's reason to believe that Jacobs has top five fantasy running back upside.
A third round NFL Draft pick, former Kentucky athlete Lynn Bowden Jr. transitioned from being a wide receiver in his freshman and sophomore seasons to being the team's primary running back and wildcat quarterback, while mixing in some work at wide receiver in his final collegiate season as a junior. Unable to participate in the athletic testing at the NFL Scouting Combine, Bowden did flash explosiveness and versatility not unlike the 49ers' Deebo Samuel in college.

Unfortunately, Bowden is a very unrefined prospect who really doesn't even have an official position as of now. Most believe that he'll be sort of a hybrid, Tavon Austin or Cordarelle Patterson-like WR/RB player, which would fit right in with the historical Raiders draft choices. These types of players don't often contribute consistent fantasy production, especially when they're stuck behind the likes of first round running back picks like Josh Jacobs, so 2020 isn't likely the time to invest in Bowden Jr. as in seasonal formats, but there's reason to be optimistic about his chances to do something for dynasty teams in the future.

He's not going to blow anyone away with his passing ability, but don't be surprised if you see the Raiders give Bowden Jr. a few opportunities to pass the ball as early as this season. Those types of trick plays can often lead to some explosive results, including touchdowns, which could be helpful in best ball formats.

Probably more of a threat to Jalen Richard's playing time than Josh Jacobs', Bowden Jr. is a player to keep an eye on in 2020.
The Raiders have long been known as a franchise that values athletic measurables more than on-field production, but they still caught almost everyone off guard when they made Henry Ruggs III the first wide receiver drafted in the 2020 NFL Draft, despite Ruggs being the third-most productive wide receiver on his own team at Alabama in 2019.

Ruggs does fit the profile of being "the next Tyreek Hill," which is of course something that every team is searching for now that they've seen how successful it can be, but it's tough to not think that the Raiders made a rather confusing choice given their current personnel. Ruggs blew the doors off the combine this year with his blazing 4.25 forty yard dash, but he goes to a team that simply has not shown a propensity to push the ball down the field, in part due to their own coaching staff, but also due to their starting quarterback. Derek Carr has gradually transitioned into becoming one of the least frequent risk-takers in the league in recent seasons. Ruggs isn't exclusively a deep threat like some might be painting him out to be, but his skill set just doesn't seem like it's going to be a great match for what the Raiders want to do on offense.

With that said, the Raiders do have one of the most effective running games in the league and even though advanced analytics would tell us that being an effective running game has practically zero effect on play action passing, many NFL coaches still believe that it does. Therefore there's a real chance that the Raiders utilize the play action passing game to give Ruggs some chances to beat defenses deep this season.

The Raiders depth chart isn't great at wide receiver so it wouldn't be surprising to see Ruggs ascend it rather quickly into being an every week starter, but the chances of him leading the team in targets here in 2020 just don't seem very high.

WR Tyrell Williams
(2019 WR Rank – 45, 7.8 FPts/G)
Veteran wide receiver Tyrell Williams started off the 2019 season red hot, scoring a touchdown in each of the Raiders' first five games of the season, which led to him becoming one of the most overvalued wide receivers in fantasy football. Savvy fantasy owners saw that Williams had not been targeted more than seven times in any of those five games and he failed to catch more than three passes in three of them. Williams has never been a high volume pass catcher, especially in Oakland, and his decline seemed inevitable. As it turned out, Williams would score just one more touchdown in the Raiders' remaining 11 games, while failing to exceed 82 yards and was never again targeted more than six times in a single game. Needless to say, Williams became a fantasy afterthought and those who were unable to realize that his touchdown rate was unsustainable were left scratching their heads as to why Williams wasn't producing fantasy-worthy numbers down the stretch.

Williams led all Raiders wide receivers in receiving yards, but that's really not saying much as he finished with just 651 yards in 14 games - a less-than-spectacular 46.5 yards per game. He broke out in 2016 as a member of the Chargers when Keenan Allen missed practically the entire season, but Williams has just two games over his past three seasons - including the playoffs - where he's caught more than five passes, and zero games where he's caught more than six passes. At 6'4", he's a player who does score more touchdowns on a per-catch basis than most, but the lack of volume means that he's simply not a reliable week-to-week fantasy contributor.

You could do worse than Williams deep into best ball draft, but he should be going undrafted in most normal fantasy football leagues this season.

WR Hunter Renfrow
(2019 WR Rank - 54, 6.5 FPts/G)
An underwhelming athlete, Hunter Renfrow was an off-brand selection by the Raiders in the 2019 NFL Draft but he actually paid decent dividends immediately as he led all Raiders wide receivers in receptions with 49 catches despite playing in just 13 games. His 605 yards and four touchdowns were nothing real exciting for fantasy purposes, but it showed that he definitely has a role in this offense. The Raiders did add some flashy new weapons to their passing game, but those players are all more likely to cannibalize one another than they are Renfrow, whose role seems to be well defined. He'll likely be the team's primary slot receiver and could quietly lead the Raiders wide receivers in receptions in 2020.

He's going off the board extremely late or completely undrafted in seasonal leagues due to his perceived lack of upside, but fantasy owners, particularly in dynasty, should be keeping an eye on Renfrow as a sneaky buy.
Another early-round pass catching weapon that the Raiders added this offseason was third-round wide receiver Bryan Edwards. Edwards was a four-year starter at South Carolina where he amassed over 3,000 receiving yards and 22 touchdowns. At 212 lbs, he stands 6'3" and seems likely to push to be the Tyrel Williams replacement on the outside for the Raiders in the future.

Edwards isn't likely to beat out Williams for playing time early this season, but he's definitely a player to keep an eye on in dynasty formats as he is really the only wide receiver on the Raiders, other than Williams, who has the size and athleticism to become a true alpha "X" wide receiver at the NFL level.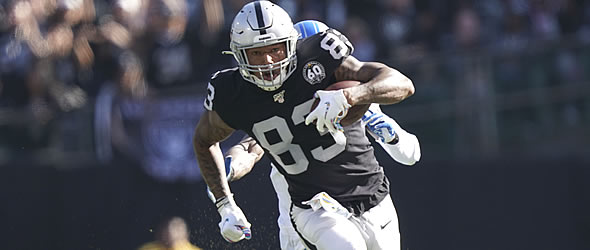 TE Darren Waller
(2019 TE Rank – 4, 8.3 FPts/G)
A lack of deep pass attempts certainly did benefit the Raiders wide receivers in 2019, but there's no question that it helped tight end Darren Waller. Waller broke out in a huge way, becoming one of fantasy football's most valued assets as he caught 90 passes for 1,145 yards. He was unlucky in that he scored just three touchdowns despite all those catches and yards, but he still finished as the No. 4 fantasy football tight end. He was one of the few true difference makers at the position and helped propel fantasy owners to championships by producing three 100-yard performances in his final five regular season games.

A relatively unknown player heading into 2019, Waller now finds himself being drafted among the top five players at the tight end position and many view him as sort of the break-off point from the "elite" tight ends to the players we have questions about. Certainly Waller himself is not without concern as he essentially broke out completely out of nowhere after three NFL seasons where he essentially did nothing and a less-than-spectacular collegiate resume. However, Waller is a rare athlete at the position at 6'6", 255 lbs with sub-4.5 forty speed. That type of player just does not come along very often and with his off-field issues appearing to be a thing of the past, there's a real chance that we might be looking at one of the best tight ends in the NFL today and a player who could help win fantasy championships again this season.

While he may regress slightly in total targets given the added weapons in the Raiders' offense, look for Waller to again lead the Raiders in targets, receptions and receiving yards again this season. A slight dip in targets and even yards could be offset, however, by added production in the touchdown column. He could double or even nearly triple his 2019 touchdown total here this season.

TE Jason Witten
(2019 TE Rank – 12, 4.8 FPts/G)
Veteran tight end Jason Witten was added by the Raiders this offseason and while some are looking at this as a potential cut into Darren Waller's production, think of it more as a sign that the team is not interested in giving him any sort of long-term competition at the position.

Witten did catch 60 passes this past season, but at 38 years old, his best days are long behind him. Even in his best seasons, Witten was never truly an elite fantasy producer. His low average depth of target and ability to find holes in zones makes him an ideal weapon for Carr to connect with in 12-personnel on third-and-short situations, but that's likely the extent of Witten's contributions for the Raiders here in 2020.

Certainly Witten does hurt Waller's upside a bit given that he could steal some snaps, but the chances are that Witten will not be on the field much unless Waller is also on the field, so there's really no reason to panic. Waller is still a fantasy tight end to own and Witten is really only viable in deep leagues where teams start multiple tight ends per week.