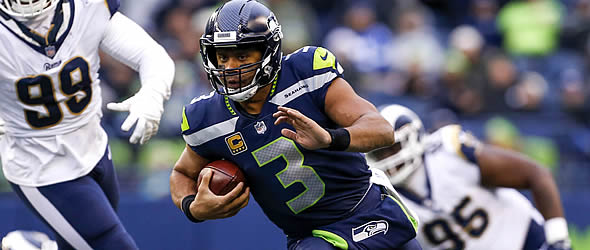 Offensive philosophy and declining rushing opportunities has Russell Wilson's fantasy stock sinking.
QB Russell Wilson
(2018 QB Rank – No. 10, 21.9 FPts/G)
Russell Wilson's 2018 season is an extremely interesting one because he certainly disappointed based on his average draft position, but it's hard to argue that he was actually a disappointment as a player. Wilson threw a career-high 35 touchdowns with only seven interceptions, the best ratio of his career. That type of efficiency is simply extraordinary, but the offense as a whole is a major concern right now.

Wilson is dealing with an archaic system coached by offensive coordinator Brian Schottenheimer, where passing the ball simply seems to be an afterthought. Wilson has historically thrown the ball less often than almost any quarterback since he entered the league in 2012, but he threw the ball 126 fewer times in 2018 than he did in 2017, when he threw a career-high 553 times. That's nearly eight fewer attempts per game for an entire season. When you consider that Wilson averaged 8.1 yards per attempt this past season, Schottenheimer essentially left almost 64 passing yards per game on the table by not letting Wilson throw the ball as often as he did the year prior.

To put those numbers into perspective even further, Pittsburgh's Ben Roethlisberger led the league with 675 pass attempts in 2018. That means he averaged 15.5 more attempts per game than Wilson did. Even with Roethlisberger being significantly less effective with those pass attempts on a per-attempt than Wilson was, Roethlisberger still outscored Wilson by a wide margin on the season. Wilson is almost certainly a better passer than Roethlisberger is at this point in his career, but the offenses they're playing in are artificially boosting Roethlisberger while artificially suppressing Wilson.

To make matters worse for 2019, Wilson will be without his favorite target, wide receiver Doug Baldwin, who retired this offseason. Tyler Lockett finally broke out, which gives us some hope that Wilson will have a reliable target out wide, but it's a very unproven depth chart. Seahawks did add receivers in the draft, including the physical specimen that is D.K. Metcalf as well as fourth-rounder Gary Jennings and even took a flier on seventh-rounder John Ursua, but the tight end position is still essentially a ghost town and the backfield isn't likely to contribute much in the passing game.

It's also worth considering that Wilson had another down year running the ball in 2018, which also limited his fantasy production. He ran the ball the fewest number of times (67) and produced the second-fewest rushing yards (376), but he also failed to get into the end zone as a runner for the first time in his career. While it's true that Wilson is still adding between two to three points per week on average as a runner, he's really taken a step back on the ground over the past three seasons as, perhaps as a product of scheme more so than anything. With the likes of Lamar Jackson, Josh Allen, Cam Newton and now Kyler Murray in the league, it'd be difficult to consider Wilson a top-tier rushing quarterback anymore. There's still some value in his legs, but it's more of an afterthought than we'd like.

The biggest concern with Wilson isn't that he's not effective as a passer, but rather that the team just doesn't trust him – or that they remain clueless as to how to run a productive NFL offense in 2019. Running the ball is certainly less risky and puts less pressure on a defense, but with a quarterback as talented as Wilson, you'd think that the team would be itching to throw the ball as much as possible. Wilson could and probably will see an uptick in pass attempts this season, but we also have to assume that his efficiency will dip a bit, considering that he threw a touchdown on 8.2 percent of his passes in 2018, whereas his career average is just 6.0 percent of his passes. If he regressed to his mean in that category, Wilson's touchdowns would have dropped from 35 scores to just 25 in 2018. That's a gigantic drop off in fantasy points and one that we should be aware of.

Thankfully Wilson's draft day cost has dropped off a bit this season as fantasy owners become more savvy and begin to understand that the Seattle offense just isn't built for him to succeed statistically, but he's still being selected inside the top 10 at the position. It's hard to envision a scenario where Wilson finishes lower than the top-half of the league in scoring at quarterback, but the upside just isn't there given the offensive system and his drop off in rushing production. He's a safe, but not-so-exciting pick at his current ADP.

RB Chris Carson
(2018 RB Rank – No. 14, 13.2 FPts/G)
The Seahawks invested a first round draft pick at the running back position in 2018, which only makes Chris Carson's breakout season even more impressive. Carson, a second-year player who was drafted in the seventh round in 2017, held off first-rounder Rashaad Penny all season on his way to 1,151 rushing yards and nine touchdowns on the ground, out-touching Penny by a total of 267 touches to Penny's 94 during the regular season.

Carson really picked up the pace near the end of the season, rushing for 100 or more yards in each of his final three regular season contests, but was then completely shut down by the Cowboys in Seattle's lone playoff game where he rushed for just 20 yards on 13 carries. Still, even in that contest where he was completely bottled up, the Seahawks stuck with Carson, giving Penny just four touches.

Carson shined in Seattle's conservative, "establish-the-run"-style offense, leaving many fantasy owners scratching their heads as we look forward to 2019. While it is presumed that Carson will be the lead back in Seattle again this season, it'd be hard to argue that the Seahawks offense wouldn't be better off throwing the ball more often this season, which could lead to fewer carries for Carson even if he does end up continuing to hold off Penny.

Carson is currently being drafted in the mid-fifth round and somewhere in the mid-20s at running back, which is a fair price considering the other backs being selected around him. Still, fantasy owners do run the risk that Carson ends up being less effective on the ground and thus ends up conceding more carries to Penny, thus making himself essentially fantasy irrelevant due to his lack of usage in the passing game.

RB Rashaad Penny
(2018 RB Rank – No. 60, 5.1 FPts/G)
With Chris Carson being the proven starter in the offense, Rashaad Penny has to be considered simply an upside play in this Seattle offense. Penny did not touch the ball often enough to be a meaningful fantasy contributor in his rookie season and that may very well be the case again this season. While his athletic measurables would seem to indicate that he'd be a capable pass catcher out of the backfield, the truth is that Russell Wilson simply doesn't pass to his running backs very often. No back in a Russell Wilson NFL offense has ever reached 40 receptions in a season and it's unlikely that Penny – or any of the backs currently rostered – can reach that number here in 2019.

With passing game contributions being essentially a non-factor, Penny's best chance of being a fantasy producer in 2019 really comes in the form of an injury to Carson. It'd be hard to classify Penny as a strict handcuff considering that he does have the potential to take over the role if Carson struggles, but the chances of him being an early-season contributor are very slim.

The upside with Penny is that he is almost certainly the more physically talented player between him and Carson, so Seattle may end up handing him the keys to the backfield at some point this season. In that case, Penny does have low-end RB1 upside, or at least solid RB2 potential in an offense that's led by a quarterback who's as efficient as Wilson is. He'd have serious touchdown upside attached to a heavy workload if he became Seattle's starter, which is absolutely within his range of outcomes this season.

WR Tyler Lockett
(2018 WR Rank – No.11, 10.2 FPts/G)
If Russell Wilson's incredible efficiency wasn't unsustainable enough for you, there was actually a player on Seattle's roster who was even more unsustainably efficient than Wilson was – that player is wide receiver Tyler Lockett.

With Doug Baldwin dealing with various injuries throughout the season that eventually led to him retiring, Lockett took over as Seattle's defacto WR1 in 2018 as he led the team in receptions, yards and touchdowns. But with only 70 targets on the season, he did it with the type of efficiency that we've never seen before out of a wide receiver. His impressive 16.9 yards per reception were sixth in the league among all pass catchers, but the touchdown efficiency was really where he turned heads as he caught a ridiculous 10 touchdowns. That's one touchdown for every seven passes that went his way. To give that number some context, Antonio Brown led the league with 15 touchdown receptions on the season - a number that on its own is probably unsustainable – but if he was scoring at Lockett's rate per target, he would've finished with 24 touchdown receptions. That's how crazy Lockett's numbers were.

So unless we're making the argument that Lockett is suddenly the most effective wide receiver in the history of football, then we have to understand that he's likely in for some regression in the efficiency department this season. But that doesn't necessarily mean that he's going to take a step back in production. In fact, he could actually end up out-producing his 2018 numbers if he's simply given a larger share of the targets in Seattle. With Baldwin, the team's leader in targets in 2018, now out of the picture, it seems likely that Lockett could see significantly more targets coming his way.

If Lockett can see a two target per game increase this season, it would not be at all surprising to see him surpass his yardage totals from 2018 while also having a chance to approach similar touchdown totals. He's a physically gifted player with big play ability that is nearly unmatched throughout the league and he has the opportunity to catch passes from one of the most accurate passers in the league. Considering that he's being drafted in the mid-20s at the position, it's safe to say that Lockett is being selected closer to his floor than he is his ceiling, which could make him a screaming value in drafts this season.

WR David Moore
(2018 WR Rank – 63, 5.4 FPts/G)
David Moore enjoyed a bit of a breakout season in 2018 after contributing nothing for the Seahawks in his rookie year of 2017. Moore saw more playing time due to the injuries in front of him on the depth chart, but he was at least effective when he caught passes, producing 445 yards and five touchdowns on just 26 receptions.

The biggest concern with Moore is that he was rather inefficient with the targets he saw. The numbers were great on a per-catch basis, but he actually caught fewer than 50 percent of the passes that came his way. Sure, some of that might have been him becoming acclimated with Russell Wilson, but it'd be easy to see why Wilson might look elsewhere this season if he doesn't have a particularly strong connection with Moore.

It's also worth considering that Moore was almost a complete non-factor down the stretch in 2018. After his lone 100-yard game against the Panthers in Week 11, Moore failed to catch more than two passes in any of Seattle's remaining games and did not exceed even 20 yards or score a single touchdown in any other contest. Doug Baldwin was back on the field and producing in those late season games so Moore was competing for targets with better players, but he was still on the field for 65 percent of Seattle's offensive snaps over those final six games of the regular season.

Moore won't have to compete with Baldwin which is certainly a positive and it does at least give him the possibility of seeing significant playing time, but the Seahawks obviously viewed wide receiver as a position of importance in the draft as they added D.K. Metcalf in second round, along with Gary Jennings in the fourth round. Both of those players will be competing with Moore for playing time and could end up taking over the starting role opposite Lockett depending on how things go in camp.

He's going undrafted in most leagues and should really only be considered in dynasty formats until we see how Seattle's offense looks early this season, but David Moore is a player who does have the potential to have some fantasy relevance again this season given the lack of proven pass catchers in Seattle.

WR D.K. Metcalf
(2018 WR Rank - N/A)
One of the most physically intimidating wide receiver prospects we've ever seen, D.K. Metcalf set the NFL combine on fire when he ran an unbelievable 4.33 forty yard dash at 6'3", 228 lbs. That insane size/speed combination is almost unprecedented and it certainly makes Metcalf a tantalizing pick in dynasty drafts this season.

However, there are concerns when it comes to Metcalf. While his 40 time was beyond impressive, Metcalf turned in an equally unimpressive 7.38 second three-cone drill, placing him 27th out of 29 receivers who participated in the drill at the NFL Scouting Combine. That drill is often looked at as the primary agility indicator, so it's concerning that Metcalf seems to lack what would be needed to create separation with anything other than raw speed in one direction.

The other major red flag for Metcalf is that he is simply not very productive in college. He had just 1,228 yards and 14 touchdowns in his three collegiate seasons combined at Ole Miss. Perhaps more importantly, his reception and yardage totals were more than doubled each season by teammate A.J. Brown.

Certainly Metcalf can be looked at as a long-term project player with immense upside. Perhaps he just hasn't been coached well, or maybe he just hasn't been locked in with his quarterback. It's hard to tell why he hasn't fired yet, but the athletic upside is undeniable. We've seen Russell Wilson give his receivers the opportunity to go up and make contested catches in the past, so Metcalf might be a great fit for this Seattle offense. With that being said, however, Metcalf is currently being drafted around the likes of Corey Davis, Marvin Jones, Golden Tate and other receivers who have actually produced before in the NFL and are arguably in better situations. That makes him a serious risk and a potential bust for fantasy here in 2019.

TE Nick Vannett
(2018 TE Rank – 30, 3.0 FPts/G)
The tight end position has simply not been a major part of the Seattle offense under Russell Wilson and that seems unlikely to change here in 2019 considering the team hasn't made any meaningful improvements to the position. Nick Vannett is back and would seem to have the inside edge to be the primary pass catching tight end in the offense again this season, but what does that really mean? He caught just 29 passes for 269 yards and three touchdowns despite playing in 15 games in 2018 and his only real competition was Ed Dickson. Dickson is also back this season, so the situation really hasn't changed.

Vannett is a low-percentile athlete almost across the board, but he does stand 6'6", 260 lbs, so he does have the size to bully smaller defensive backs out of his way in the end zone should the team opt to hit him on a play action pass near the goal line. Other than that, Vannett lacks the upside to be considered a serious fantasy option in anything other than deep formats where you're starting more than one tight end per week. Even then, he'd be considered a lower-end TE2 most weeks.