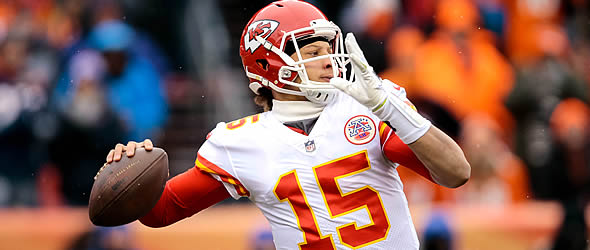 With a plethora of weapons, Patrick Mahomes is a worthy late-round QB for your fantasy team.
QB Patrick Mahomes
(2017 QB Rank Ė No.53, 15.2 FPts/G)
2017 top-10 NFL Draft pick Patrick Mahomes has become a favorite of late-round quarterback drafters this offseason but he might not pay dividends, at least early in the year. Itís not that we shouldnít have faith in Mahomesí physical ability, but the Chiefs simply face a horrifying early season schedule, with games at the Chargers, at the Steelers, home against the 49ers, at the Broncos and home against Jacksonville in their first five contests. It simply doesnít get much worse than that. Streaming Mahomes early in the season is probably not a great idea but savvy owners might be able to acquire Mahomes and other members of the Kansas City passing game on the cheap if they start slow against this tough schedule
One nice thing about Mahomes is that, unlike many other young quarterbacks, Mahomes would need almost a cataclysmic failure to be sat down. The only other quarterback of consequence on the roster is journeyman Chad Henne. Those drafting in best ball formats can feel safe that, as long as heís healthy, Mahomes will be behind center for the Chiefs this season.
Mahomes doesnít have top-end speed but he has enough to produce similar rushing totals to Alex Smith. He also possesses one of the most impressive arms in the entire league and has already shown it on the field in the limited playing time heís been given. There arenít many offenses in the league that possess the type of playmaking weapons that Mahomes has at his disposal (Hill, Watkins, Kelce) so the upside is there for Mahomes to be a big time producer this season but we just might have to wait awhile before it materializes into the box scores.
RB Kareem Hunt
(2017 RB Rank Ė No.3, 15.3 FPts/G)
A pre-season injury to Spencer Ware gave Hunt, a third-round pick in the 2017 NFL Draft, the opportunity to make a name for himself. He did just that, leading many fantasy owners to a championship on his way to leading the NFL in rushing. Whatís perhaps most impressive is that Hunt did it while running behind one of the worst-graded run blocking units in the league. But while there were certainly plenty of reasons to be excited about the 2017 NFL Offensive Rookie of the Year, there were also some concerns that we should take notice of heading into the 2018 season.
Huntís week-to-week performance dipped, particularly mid-season when he failed to score a single touchdown from Weeks 4 through 13. This fantasy scoring drought coincided with the Chiefs as a whole struggling on the field. Hunt struggled to produce in games where Kansas City fell behind on the scoreboard and that could be a serious problem this season given that the Chiefs are not expected to be quite as good as they were in 2017 when they outperformed most expectations, particularly on offense. Despite the long scoreless streak, Hunt scored a total of 11 touchdowns in the other seven games, finishing as the RB4 for the season. That was actually a bit disappointing given the numerous huge performances he had, but he was drafted as an RB2 or even RB3 in many leagues and he certainly returned huge profit on investment.
This season Hunt will be off the board in the first or early-second round in most leagues, which means youíre paying for RB1 production. He certainly has the potential to return that value but it would be difficult for him to improve on his nearly five yards per carry and 53 receptions that he gave fantasy owners in 2017. Still, even if he doesnít give fantasy owners the type of per-touch efficiency that he did as a rookie, Hunt is one of the few true three-down, bellcow running backs in the league. His floor is as a mid-level RB2 as long as he stays healthy, which should make him a relatively safe option near the top of drafts.
RB Spencer Ware
(2017 RB Rank Ė N/A)
Spencer Ware is looking to return in 2018 after spending a full calendar year recovering from a torn PCL and LCL. It is important to note that this is not an ACL/MCL tear, but rather the more devastating PCL/LCL tear. Ware did participate in minicamp earlier this offseason, albeit on a limited basis, but the team believes that he will be ready for training camp, and thus ready to start the season. However, there is still a possibility that Ware does not make the Chiefs roster. Kansas City could save $1.5 million by cutting him and that is certainly an option if they see him trending toward not being ready to play at full strength.
If Ware is cut, it would likely be Charcandrick West who slots in again as the teamís primary backup to starter Kareem Hunt, but West himself does not have much fantasy value unless Ware doesnít make the team and Hunt gets injured. There is also a possibility that offseason acquisitions Damien Williams or Kerwynn Williams beat out West for a roster spot, or end up replacing Ware if he gets cut.
At 5í10Ē and 230 lbs with a 4.67 forty yard dash time coming out of college, Ware is not much of an athletic specimen but he has produced in this Kansas City offense in the past when given the opportunity. Ware produced over 1,300 total yards in 2016 despite playing in just 14 games, and was a viable every week fantasy starter on a 12-4 Chiefs team that ruled the AFC West. Wareís career 4.6 yards per carry donít stick out as being anything particularly great but his knowledge of the offense should earn him the backup role in Kansas City if heís physically recovered from the knee injury that ended his 2017 season before it ever began. Ware is still just 26 years old and heís taken fewer than 600 carries through his college and professional career combined thus far, so there should still be plenty of tread on the tires. Still, given Huntís tremendous success as a rookie, donít look for Ware to see more than 10 touches in many games this season, which really limits him to essentially being a handcuff to Hunt and likely an undrafted player in most leagues.
WR Tyreek Hill
(2017 WR Rank Ė No.4, 11.1 FPts/G)
Tyreek Hill finished the season as the fourth-highest scoring wide receiver in standard scoring fantasy football leagues in 2017, but he was also the least-targeted player who finished in the top 15 at the position. Now that heís being drafted as a WR1 in fantasy, we really have to look at not just what he did this past season, but also what heís likely to do going forward. Given the lack of targets he saw in an extremely efficient Chiefs offense in 2017, Hillís current ADP sort of sticks out like a sore thumb at the wide receiver position.
Hillís tremendous big play ability was a big part of why Alex Smith saw such a huge uptick in both deep pass attempts as well as efficiency. Utilizing tremendous speed and athleticism that very few cornerbacks can match, Hill creates mismatches for his teammates as teams are forced to shade coverage in his direction to prevent the deep ball over the top. But when looking at his numbers from a repeatability standpoint, Hillís season looks like an extreme outlier. Seven of his eight touchdown receptions in 2017 came from 40+ yards. To put that into perspective, only Antonio Brown and Brandin Cooks even had seven total receptions - touchdown or not - of 40-plus yards in 2017. Yes, Hill is among the most electric players in the entire league but even he is due for some regression in that category.
Whatís interesting is that Hill enjoyed an impressive 2017 season with the notoriously weak-armed Alex Smith at quarterback. New starting quarterback Patrick Mahomes is stylistically a much better fit than Smith was for a receiver like Tyreek Hill, but it would still be almost impossible for Mahomes to outperform what Smith did this past season, given that Smith was among the most efficient passers in the entire league and a legitimate MVP candidate. Hill saw just 105 targets in 2017, a number which will almost certainly not increase substantially in 2018. The Chiefs added Sammy Watkins this offseason which could help shift some attention off of Hill, but Watkins should see a lot more targets come his way than any Chiefs wide receiver, aside from Hill, did in 2017.
With Watkins, target monster tight end Travis Kelce and quality pass catching backs like Kareem Hunt and Spencer Ware in the offense, there just arenít a lot of additional targets to go around for Hill. He could come close to repeating the tremendous per-target efficiency he did in 2017 but not finish as a WR1 this season, given the lack of targets heís likely to see. Itís very rare for a player to hover around 100 targets for the entire season and still finish as a WR1. Hill bucked the trend last year, but banking on him to do it again just doesnít seem like a wise strategy when there are so many other receivers being drafted near him who are likely to see 40 or more targets than he will on the season.
WR Sammy Watkins
(2017 WR Rank Ė No.33, 7.2 FPts/G)
Former No.4 overall NFL Draft pick Sammy Watkins is now joining his third team his young career, which usually indicates that the player is not living up to expectations. Watkins has failed to reach 1,000 receiving yards in three of his first four NFL seasons and heís actually been below 600 yards in each of his past two seasons. But at just 25 years old, Watkins is still extremely young and has plenty of time to learn. In fact, heís only about 18 months older than Calvin Ridley, who was drafted this offseason by the Falcons. Needless to say, thereís still a lot of upside for Watkins and the Chiefs invested heavily in him because they believe in his talent.
Watkins figures to take over much of the role vacated by Albert Wilson who left for Miami this offseason. Wilson was targeted just 62 times this past season, but Watkins is substantially more talented and the Chiefs have put a ton of money into him for a reason. At 6í1Ē versus Wilsonís 5í9Ē height, Watkins is a larger physical presence on the field. There have been times, where Watkins has made tremendous plays that normal receivers simply cannot make, but the lack of consistency has been difficult to deal with for both fantasy owners and the two previous NFL franchises heís been a part of in Los Angeles and Buffalo.
While his stint in LA was short-lived, Watkins quietly led the Rams in receiving touchdowns with eight this past season, scoring a touchdown on more than one in every five passes he caught. That type of pace is completely unsustainable but it does demonstrate Watkinsí ability to make plays in the red zone, which will be important given Tyreek Hillís lack of history doing so.
For Watkins, itís a new system in Kansas City with a young quarterback who he has no rapport with. Heíll get an entire offseason to prepare with Mahomes - something he didnít have the benefit of when he was traded to the Rams late in the 2017 preseason - but itís still tough to believe that Watkins is going to take the step forward into being an every week fantasy option as long as Hill, Kelce and Hunt are healthy. Watkins fits best ball formats in a major way but with fewer than 100 targets likely to come his way, heíll most likely be hit-or-miss for most of the season and that could be frustrating to deal with from a season-long standpoint.
TE Travis Kelce
(2017 TE Rank – No.2, 10.2 FPts/G)
Chiefs tight end Travis Kelce sat out Week 17 of the 2017 season but still managed to post career highs in both targets and receiving touchdowns. That allowed him to finish as the highest-scoring PPR tight end in fantasy football for the second straight season, trailing only Rob Gronkowski in standard scoring formats.
There's no question that Kelce is one of the biggest difference makers that can be found in fantasy football. While the tight end position doesn't score as many points as other positions, the gap between the elite tier of tight ends and the rest of the pack looks like a giant chasm, and there's a real case to be made that Kelce should be the top tight end selected in fantasy drafts. The top quarterbacks score substantially more points than the top tight ends do but the difference between the top quarterbacks and the mid-level quarterbacks is nowhere near what it is at the tight end position. That's why Kelce is being considered by many experts to be a strong option in the third round of fantasy drafts this season.
Not only is Kelce among the most durable options at the position, he's still in his physical prime and he's coming off of back-to-back monster seasons. While Zach Ertz and Rob Gronkowski are both considered to be in the same tier as Kelce, those players have some question mark's as Ertz hasn't yet put together a 1,000-yard season and Gronkowski has a long injury history. That's not to say that Kelce is completely without risk, however. While he'll be in the same offensive system, a move from the tight end-friendly Alex Smith to a big-armed gunslinger like Patrick Mahomes might not be as smooth of a transition as fantasy owners want to believe. The old "tight ends are the safety valve for young quarterbacks" cliche is mostly a false narrative and Mahomes has great pass catching options practically no matter where he looks in this offense. Still, Kelce is the most seasoned playmaker in this offense and the Chiefs will almost certainly look to continue to feed him the ball from a schematic standpoint.
It will take time for Kelce to develop the type of familiarity with Mahomes that he had with Smith but at a position that severely lacks depth this season, Kelce looks like about as much of a can't-miss player as is possible at tight end. The projected point totals don't look as high as the elite running backs, wide receivers or especially quarterbacks, but Kelce could give his owners a gigantic point differential over the competition at the tight end position. If you find yourself not liking the running backs and receivers available to you in round three, don't hesitate to pull the trigger on Kelce. If nothing else, you'll have one fewer lineup decision headache each week.