Maximizing value is the most important factor in having a successful draft. With that in mind, I present to you 10 players that I feel are being over-drafted for various reasons and should be avoided at their ADP, and possibly all together. While I may not necessarily hate all the players I name, I hate where they are being taken, and therefore would let other owners take the plunge. After six seasons of doing this piece, 34 of the 50 players I named ended up being considerably over-drafted. Here's to increasing that percentage in 2016.

Note: ADP based on 12 team standard scoring leagues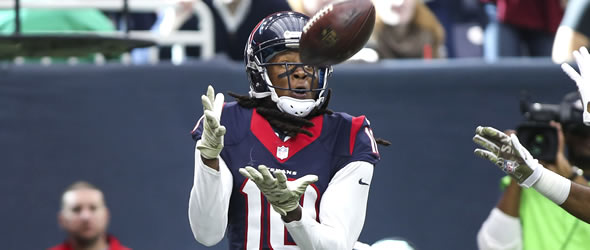 Draft smart: Everyone loves DeAndre Hopkins, but you're overpaying for him in the middle of Round 1.
WR DeAndre Hopkins
(ADP 1.08)
Hopkins is the highest ADP player on my list and I want to make it clear that I donít think he will be a bust by any means, but in the middle of Round 1 youíre are overpaying. He was an absolute beast last season and isnít much of an injury risk, plus he has extra motivation with a contract year coming in 2017, so why do I believe he is being over-drafted?
Hopkinsí 192 targets from last season will be hard to repeat, but several things have changed that make a repeat less likely. First, the Texans should emphasize and have more success in the run game, with newly signed Lamar Miller taking over as a workhorse back. Millerís arrival means less pass attempts for the Texans overall. Second, the team drafted Will Fuller and Braxton Miller this season and both have had their moments this preseason. Sprinkle in the apparent development of Jaelen Strong, and you have a more competent receiving corps around Hopkins this season. Third, is the quarterback change to Brock Osweiler, which might look good on paper, but heís not exactly a sure thing and the amount of chemistry he has with Hopkins remains to be seen. Finally, the news is out on Hopkins. He will be a marked man on the field. Overall, a drop-off of 40-plus targets wouldnít be shocking, making last seasonsí numbers almost impossible to duplicate. While a solid season is certainly likely, I think you will be disappointed if you take Hopkins inside the first round. Heís a mid-2nd round pick, outside the top 8 receivers on my cheatsheet.
RB Thomas Rawls
(ADP 3.05)
Rawls (ankle) had a big season last year before getting hurt and with the retirement of Marshawn Lynch, most people saw Rawls as an easy top 15 fantasy back headed into the 2016. Problem is, his ADP (RB14) represents his ceiling he and comes with considerable risk/downside. The Seahawks drafted three running backs this off-season, including C.J. Prosise in the third round, and with the apparent resurrection of Christine Michael, the backfield suddenly looks crowded. In a best-case scenario Rawls loses a handful of first and second down touches to Michael and most, if not all the third down work to a combo of Michael/Prosise.
While the Seahawks will still run quite a bit, they appear to be trending into a Russell Wilson-led passing team, as the coaches get more and more confident in their franchise quarterback and emerging receiving corps. Throw in the fact that Rawls was slow to recover from his ankle injury and that mid-third-round price looks steep. With an upright, aggressive, punishing running style Rawls does not shy away from contact, making him a perennial injury risk. Overall, he is a moderately high-reward/high-risk player that I wouldn't feel comfortable taking in the first four rounds.
RB Doug Martin
(ADP 2.12)
After two injury prone and unproductive years Martin rebounded last year to be a top 10 running back in all formats, racking up the second most carries in the league and catching a respectable 33 passes. His current ADP (RB12) in standard leagues, isnít an extreme reach but it represents poor value. With a rookie quarterback under center, the Bucs had little choice but to rely on the run game, but all reports on Jameis Winston have been glowing this off-season leading to an expectation of a more balanced offense in 2016. Coming off a 300-touch season, and a new contract extension, it is doubtful the Bucs will want to run Martin into the ground, and the emergence of Charles Sims almost certainly means less overall touches for Martin.
While I donít mind Martin if you go WR in the first there rounds, you're simply not going to get him in the fourth, and thatís fine with me. Iíd much prefer Amari Cooper, Brandin Cooks, T.Y Hilton, Sammy Watkins, C.J. Anderson, Latavius Murray, and Carlos Hyde, over Martin. Martin is a decent player and may have a decent year, but simply put, you are overpaying based on last yearís performance rather than looking forward to this yearís probable outcome.
QB Aaron Rodgers
(ADP 3.11)
In the seven seasons Rodgers has played 15 or more games, 2015 was his worst, fantasy-wise. A lot was going against him, namely the loss of his best receiver (Jordy Nelson), and sub-par protection from the o-line. He was still a top 10 fantasy quarterback, but he didnít come close to the return on investment most owners made when drafting him. This year most believe, including myself, Rodgers will rebound, but there is still reason to pause, especially given the late-third pick most people will have to spend.
The upside and high floor of Rodgers is very similar to Andrew Luck, Russell Wilson, and even Drew Brees, yet he is being drafted a full round to two earlier. Iím on board with the late-round QB approach personally but even if you have your eyes set on a stud QB, why would you take one in Round 3 when you can get basically the same player a round or two later? The elite quarterbacks are five deep so Iím waiting until the second or third QB is taken before I jump. You donít want to start the run, you want to end it. Do yourself a favor this draft season and wait until the double-digit rounds for a quarterback or at the very least wait until Newton, Rodgers, and Luck are drafted before filling the position.
RB DeMarco Murray
(ADP 4.01)

Murray has had a roller coaster career thus far, being labeled injury prone his first two seasons before having a solid third year, a monster fourth, and a very disappointing fifth. Now on his third team in three years, Murray looks to be the main ball-carrier in an offense that will attempt to stress the run. However, I donít think he will actually get the workload and produce enough to be a top-15 back. On a team that might be playing from behind a lot due to an awful defense, the Titans are going to run an ďexotic smashmouthĒ offense for about one quarter every game. Add that to the fact that they just drafted Derrick Henry in the second round, and have a QB that will run himself a handful of times, and the potential for Murray to have a big workload quickly diminishes.
With well over 1,100 career touches Murray may well be burnt out already, and if last year is any indication, the quality of the team around him may have to be higher in order for him to produce. Murray seems to be the top choice of owners who avoid the position in the first three rounds but the play I like is passing on Murray and taking Henry four full rounds later, locking up the higher upside of a player that could easily match or exceed Murrayís production.
WR Julian Edelman
(ADP 4.09)
Fantasy owners should not be investing a fourth round pick on Edelman, especially in standard leagues. His injury history is extensive, playing in all 16 games just once in his seven-year career, and he has already been nicked up this pre-season. We know Edelman is Tom Bradyís security blanket, but Brady will miss the first four games and considering Edelman has missed reps with Jimmy Garoppolo this off-season, the Patriots top wideout might get off to a slow start. While Chris Hogan and rookie Malcolm Mitchell will mostly work on the outside, tight end Martellus Bennett is sure to draw more looks over the middle in the short and intermediate area where Edelman usually thrives. Finally, Edelman simply cannot be counted on to produce touchdowns, as he has averaged just three per season over the span of his career and just five per season since he has been a full time starter.
Considering his lack of upside, his injury history, and increased competition for targets, Edelman provides horrible value in Round 4. Jeremy Maclin, Golden Tate, Doug Baldwin, Michael Floyd, and Donte Moncrief are all going after Edelman but each has more upside and safety in standard leagues.
RB Arian Foster
(ADP 5.07)
The Arian Foster saga, as it relates to fantasy football, has amused me this off-season. Before Foster was signed, he was a late-round dart throw and sometimes he wasnít, even drafted at all even though it was inevitable that he would sign somewhere. As soon as Miami agreed to the deal, it was like the second coming of Barry Sanders had arrived! Foster rocketed up the draft boards and is now being drafted as an RB2. His signing doesn't erase the fact that Foster is one of the most injury prone players of the last decade. In his seven-year career Foster has played all 16 games just twice and hasnít done so since 2012. Now at age 30, coming off a torn Achilles and with over 1,300 career touches, odds are Foster is not going to hold up for anything near a full season. With Jay Ajayi waiting in the wings, a receiving corps loaded with young talent, and an offense that looks like it will revolve around the quick passing game, Foster has a few strikes against him. His previous success and name recognition is driving his value, but he is more of a late-round flier than a RB2.
WR Josh Gordon
(ADP 6.01)
I couldnít believe my eyes when I saw Gordonís ADP. Gordon is currently the first Browns player off the board, despite being suspended the first four weeks of the season. Not to mention, heís one bad move away from being suspended long-termÖ again. His fitness is in question, and he hasnít played a regular season game since 2014. Is this not crazy to anyone but me? I get that Gordon had an incredible season in 2013 but there have been plenty of one-year-wonders that have come and gone in the NFL with less baggage and downside than Gordon. Much like Foster, fantasy owners are enamored with Gordonís past success and name value, and not with the current reality. Looking past his suspension, the Browns still have issues at quarterback and they just drafted a talented receiver in the first round and have a tight end coming off a career year. Add Duke Johnson to the pass receiving mix, and you have a lot of hungry mouths to feed in an offense that very few believe will be anything close to explosive or dynamic. Gordon (like Foster) is a late-round flier, not a top 75 pick and not a starting fantasy receiver.
RB Ameer Abdullah
(ADP 7.08)
Coming into the league with high expectations, Abdullahís rookie year was highlighted by more lows than highs, as he failed to notch a single game with more than 94 total yards and ended the year with almost as many fumbles (2) as touchdowns (3). While Abdullah has a good amount of natural talent, he failed to show much of it last season, constantly running into his blockers and failed to turn in enough explosive plays. A natural progression might be expected in year two but holding Abdullah back is the offensive system. The Lions ranked second to last in rushing attempts in 2015 and there is little reason to believe that philosophy will change much this year.
If Abdullah was a three-down workhorse this might not affect him, but the backfield is even more crowded than the receiving options. Theo Riddick (80 receptions last year) returns as the undisputed passing down back, while Zach Zenner will be the short yardage/goal-line back. Factoring in the specialty roles and the Lions pass-happy approach, I donít see many scenarios where Abdullah will get more than 10-12 total touches per game. You might gamble on Abdullah a few times in daily leagues to make the most of his explosiveness, but in standard leagues there will be too much inconsistency to make him anything more than bench fodder.
WR DeVante Parker
(ADP 8.01)
Parker came into the league as a much hyped prospect with a size-speed combo that has turned many receivers into fantasy gold. After suffering a pre-season foot injury Parker only played half the season, and while he showed flashes of being a solid receiver, he didnít exactly jump out as a future stud. This season, the Dolphins passing game is a bit of a mystery, with a brand new coach/coordinator (Adam Gase) and some new faces on offense in general. While some have crowned Parker the automatic No.1 receiver that is far from a certainty and itís more likely he will end up third in targets and fantasy production.
First, although the Dolphins will have the volume to produce multiple fantasy-relevant players, they have not exactly been efficient or explosive in the Ryan Tannehill era. Tannehill has some natural talent but the lack of a quality deep ball does not bode well for Parkerís strengths. Second, Jarvis Landry, save for an injury, is going to lead this team in targets, there is no doubt about that. Landry has over 200 total touches in just two seasons and he fits what Tannehill loves to do perfectly - throw short/intermediate routes. Behind Landry the Dolphins also boast Kenny Stills, who has had an excellent pre-season and is capable of being a big play threat himself.
While Parker remains an intriguing dynasty prospect, the receiving corps is too muddled, the offense too average, and intangibles (injury/chemistry/growth) are too unknown to invest anything more than a late-round pick on him, which of course wonít happen given his current ADP. Iíd much prefer to take a chance with Marvin Jones, Sterling Shepard, and RB Derrick Henry (to name a few), so do yourself a favor and pass on Parker this season.