Every fantasy football team manager has been there before; there is a player you are absolutely in love with and must draft, even if you have to reach a bit for him. On the flip side there are always players that seem to fall and even if you aren't totally convinced, you feel compelled to draft them based on the value they present. There is always a risk/reward factor you calculate based on many things including past performance, current situation, injury risk, competition, upside, and value, just to name a few. The following players stand out to me as having a ton of potential but also come with big question marks that may make drafting them at their current ADP a bit too risky.

Note: ADP based on 12-team, standard scoring leagues.

Justin Forsett


(ADP 2.12)

Risk: We all know football is not played on paper but it is hard to ignore the obvious. Justin Forsett is 5'8'' 195lbs and about to be 30 years old. Before last season he was nothing more than a complementary back who rarely did more than play on third downs. He blew up last season to end the year as the eighth best fantasy RB but we have seen many one year wonders over the years and Forsett has that look about him thanks to his measurables and resume. Add in ancient Steve Smith and a drop-prone rookie (Breshad Perriman) leading the charge at receiver and you have the makings of a lot of eight-man fronts lining up to stop the run. With bigger, younger, more powerful backs (Taliaferro and Allen) waiting in the wing, it would not be a surprise to see this backfield in more of a committee approach this season, making Forsett an absolute wasted pick in the late 2nd round.

Reward: Forsett climbed to his high ranking and didn't even take over the full-time role until Week 5. Now he is being drafted on average, as the 12th RB off the board, talk about value! Perhaps the most impressive thing about Forsett is the volume, or lack thereof, that he needs to really make a difference. Forsett only topped 17 carries four times last season and averaged less than 18 total touches per game but still produced top 8 fantasy numbers. For comparison, Matt Forte, widely regarded as a better fantasy back this year, averaged just over 23 total touches per game and only averaged a tad over 2 fantasy points per game better than Forsett. The bottom line is Forsett does a lot with a little (literally) and with Marc Trestman running the offense this year, Forsett's receiving numbers should only rise, possibly pushing him into the top 5 among running backs this season.

Buy or Sell at ADP: If this were PPR scoring I could certainly see the argument for Forsett being drafted this high, but in standard scoring I'm a seller on Forsett in the late 2nd or even 3rd round. The talent and skill-set of the players behind Forsett, especially Taliaferro and what the Ravens want to do on offense makes him too risky. While Trestman as offensive coordinator might mean more targets for the running backs in general, the Ravens still want to run the ball a lot and it makes too much sense to share the wealth in that backfield and use Forsett as more of a receiving option based on the lack of talent they have at receiver. I could be way off here but I picture Forsett this season as a 2013 Danny Woodhead type, that is 8-9 carries and 4-5 catches a game. In this scenario Forsett is certainly useful as a flex option player in standard scoring, but nowhere near a RB1 like he is currently being drafted.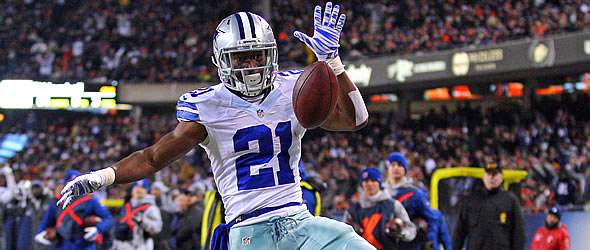 Randle owners will likely have to sweat a free agent running back over RBs currently on the roster.
Joseph Randle
(ADP 3.12)
Risk: Randle is a bone-head off the field, has done almost nothing in two seasons, and has competition from Darren McFadden and Lance Dunbar who are both better pass-blockers and at least in Dunbar's case, better receivers. Randle's upright running style and mediocre at best power and you have a "JAG" (just a guy) that landed in a situation where he is being over-drafted as a stud-like player. While the Cowboys have not made a move yet, there continue to be rumblings about signing a veteran free agent (Steven Jackson, Chris Johnson, Ray Rice to name a few) and if this happens the backfield could easily turn into a full-on timeshare where there is no consistency week-to-week for any of the players involved. With so many more consistent players with similar upside in the 3rd round why waste a pick on a guy that could easily be 3rd on his own team's depth chart by mid-season?
Reward: Sometimes situation means everything. We have seen, nearly every year, players with average talent get put in the right spot at the right time and flourish as a fantasy player. It happens at every position, Nick Foles a couple years back, C.J. Anderson last year, and Julian Edelman ever since Wes Welker left New England. Someone has to do it this year and with the departure of Demarco Murray and running behind perhaps the best offensive line in the league, this situation screams opportunity. With the Cowboys having an above average passing game and one of the best receivers in the league in Dez Bryant, there is so much room to run it would be a crime if this offense did not produce a 1200-plus-yard back this year. While it is a mild surprise the Cowboys have not gone after other RB's in free agency or the draft, it should just boost the confidence of those drafting Randle that the team truly has faith in him as someone that can handle the workload.
Buy or Sell at ADP: Even minutes before I write this piece I have gone back and forth on Randle as a buy or sell. With all things being considered, I am all in as a buyer in the early 4th round, or even late 3rd round. In a dynasty league I would pass on a player like Randle because I think he has one year wonder written all over him, but in redraft leagues I think he is a guy you can get as your RB2 that will produce as a mid-range RB1. While it was obviously a limited sample size, Randle averaged 6.7 yards per carry last year, the line is possibly even a little better this season, and he has had a full offseason as "the man" to get comfortable in the offense. Add that to an injury-prone McFadden as his main competition for early-down work, and you have the makings of a 18 touch per game back here in a dynamic offense in a division with average defenses. As the 18th running back off the board Randle could easily out produce players drafted 2 rounds ahead of him. He's not risk-free but this is the type of player that can win you championships.
Todd Gurley
(ADP 4.10)
Risk: The obvious risk here is the condition of Gurley's ACL and how fast he can recover and contribute this season. The Rams will not rush Gurley onto the field, as they, rightfully so, see him as a long term investment rather than a short term fix. Gurley is also a rookie who is spending most of his summer rehabbing rather than getting on-field reps. Even for a guy as talented as Gurley the transition to the NFL is a big one and with his concentration being more on getting healthy, it could be a while before we see him at full speed with a total grasp of the offense and his responsibilities. The final risk factor is the situation he landed in. The Rams are an average offense with an average line, below average receivers and a new quarterback in Nick Foles who nobody knows for sure if he was successful in Philly because of the system, or if he is a truly talented QB (I lean towards the former). With Tre Mason showing real promise last season, albeit in flashes, the Rams do not have to rush Gurley back fast, and it is highly doubtful he would be a workhorse year one even if fully healthy. Gurley has a lot of natural ability but is being drafted as a low-end RB2 when he is really more of a wildcard RB3.

Reward: One look at Gurley's college game tape and you know this kid is going to be special. Well built, powerful, fast, decisive are all understatements for a guy that many scouts are calling the best RB prospect to come out since Adrian Peterson. Gurley has the power to rack up goal-line touchdowns and the speed to break off homeruns. Gurley projects as a 20 plus touch workhorse who, based on talent alone, is probably already a top five runner in the league. The Rams obviously do not think his injury is a problem, drafting him as high as they did, and they have not been shy about talking about his potential. While the Rams offense as a whole is a bit of a question mark, the defense is very solid and it is very likely that Gurley, once fully acclimated will be the centerpiece of the offensive gameplan every week. There are so few backs in the NFL that have the potential to be given a full workload, and even fewer with as much talent as Gurley so as the 24th back off the board on average, Gurley could actually be a steal if the cards fall the right way.

Buy or Sell at ADP: I'm all in on Gurley in dynasty leagues as a top 10 or better running back but in redraft leagues for this season I am selling him as a top 25 RB. As talented as he is, I believe there are too many strikes going against him this year to commit to him in the 4th or even 5th round of drafts. The main issue to me is the workload the Rams will likely give him. Coach Jeff Fisher is a smart man and knows that the future is bright with Gurley but rushing him into a heavy workload in year one could easily damage him for the long haul. Mason is a capable back and if Nick Foles can just be average, the offense should be better than last year so there is no reason to put all the pressure on Gurley in year one when his concentration will be on rehabbing and making the transition to the pros. I think the Rams are a team on the rise but playing in a tough defensive division there are going to be a lot of low scoring affairs and I can't envision a lot of explosion out of this offense. Gurley will have some big plays and probably even a few great weeks but there are just too many solid, safe, explosive players still available in the late 4th/early 5th to take a lottery ticket on Gurley that early.
Wide Receivers