8/19/11



Which players will do well this fantasy football season, and which ones will struggle? That's one of the age-old questions surrounding this time of the year. So-called fantasy football experts banter over the virtues of certain players—the reasons behind why particular players will blow up, why they will stink. It's all conjecture, really, and we all have our own opinions. Below is my take on why certain players will shine in 2011 and on which ones will struggle. Whether they are victims of their team's circumstances, they have injury concerns, or they just aren't that good, I'll attempt to make a case for why each player below falls in the category listed.

Note: ADP based on a 12-team league.



Five Who Will Struggle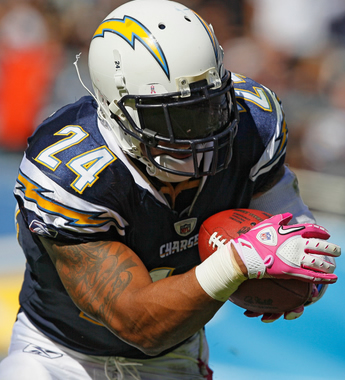 With TD-thief Mike Tolbert still in the mix, Ryan Mathews is on the bad end of the Struggle or Shine debate.
ADP: 4.06
Let me first say that I had Ryan Mathews last year, but the frustration I encountered week after week with him doesn't affect my views heading into this year (fingers crossed behind my back). That being said, I've seen Mathews listed as high as the No. 12 RB in a few magazines and on several Web sites. Wow. I would hate to be a fantasy owner having to rely on an RB1 who probably won't get any goal line carries and who could very easily split carries 50-50 with a 240-lb. converted fullback. Mathews finished 2010 with seven TDs, which some people point to as a nice stepping-stone for him entering 2011. But when you consider that four of those scores came in the last two games, including three in the season finale against the defenseless Denver Broncos, you quickly realize they aren't as meaningful as some would have you believe. Mathews had injury and fumbling problems last year. Add that to reports of his failing his initial conditioning test this year and you have a situation that I would run away from as fast as I could. Be very cautious about where you draft Mathews this season.

ADP: 5.12
After a renaissance of sorts in 2009, Cedric Benson took a step back a bit in 2010. He ran for 140 more yards in 2009 than in 2010, despite playing in three fewer games. But that was on a 2009 team that swept its division and one that employed serviceable and experienced offensive weapons around Benson. Entering 2011, however, Benson finds himself playing behind a rookie quarterback who has little experience on the outside at wide receiver. Benson strikes me as a player who goes into a shell when things don't go well for him or his team, and things may go terribly wrong in Cincy this year. Benson was a low-end RB2 last year—his inconsistently being the biggest culprit, as he couldn't put together two consecutive games of double-digit fantasy points. That made him dreadfully frustrating for his owners. Well, those who select him in 2011 will long for the Benson of 2010. He will struggle mightily this year, so temper your expectations if you're forced to draft him.

ADP: 10.10
I realize that even the most casual fantasy football owner won't draft Roy Williams as anything more than a late-round flier. In all probability, Williams will be drafted as a WR4, but I think his production will be so hit-or-miss that his spot on fantasy rosters will be questioned on a weekly basis. Some people are looking at Williams' production in Detroit when Mike Martz was the offensive coordinator as evidence of his potential in that kind of offense. Under Martz's guidance, Williams had the only 1000-yard receiving season of his career. And while the situation in Chicago seems to line up for him to have a productive season, he will find a way to be the average fantasy and NFL receiver he's always been. The intricate, down-the-field passing game Martz employs works best when the offensive line gives the quarterback time to throw, but Chicago had difficulty giving Jay Cutler time to throw last season. That won't change much in 2011, making Williams' chance of becoming fantasy-relevant again obsolete.

ADP: 7.04
Forget the fact that other receivers (Deion Branch and T.J. Houshmandzadeh come to mind) signed with Seattle and seemingly fell off the fantasy football map soon thereafter. Those players at least had a quality offensive line and a quarterback who could have a productive game from time to time. Sidney Rice goes to Seattle from Minnesota along with quarterback Tarvaris Jackson. This "dynamic duo" had trouble making things happen in Minnesota when they had a climate-controlled stadium, the best running back in the game, and an offensive line that, while average now, could be dominant at times. The hideous weather in Seattle will definitely play a factor in Rice's production, the Seahawks are devoid of running back talent of any consequence, and their offensive line has seen better days. Bottom line, Rice won't do much in 2011. Keep in mind, too, that the productivity Rice has enjoyed in his career came when Brett Favre was throwing him the rock. He had 83 receptions in 2009—a number he may have trouble reaching in two seasons with Jackson as his quarterback.

ADP: 6.08
BenJarvus Green-Ellis's place on this list has more to do with the unpredictability of New England's running game than with anything else. The Patriots have had four different leading rushers in the last five years. BJGE surprised many with his production and prominent role in New England's offense, but can we or should we expect that to continue in 2011? That's difficult to bank on. We all know Tom Brady makes the Patriots' offense what it is, and that the running game is there only as a complementary component of the offense. That kind of offensive philosophy doesn't bode well for those fantasy owners who may need to rely on BJGE to produce consistently. BJGE could have more value in TD-only leagues, but beyond that, I find it tough envisioning anything close to his 2010 season.

Five Who Will Shine

ADP: 9.07
Say what you will about the Rams' new offensive coordinator Josh McDaniels as a head coach. During his time in Denver, he made Kyle Freakin' Orton a relevant fantasy QB. Orton had career bests in every worthy QB category. If McDaniels can perform that kind of miracle on Orton, imagine what he can do with someone more talented and with a bigger, better threat at running back than anything Denver had? Only Drew Brees and Peyton Manning had more pass attempts than Bradford in 2010. He should hover around that area this year too, as McDaniels will utilize the young gun's extraordinary skill set to slice up defenses—especially in the NFC West, where playing defense often seems optional. The only concern with Bradford heading into 2011 is the lack of top-notch receivers in St. Louis. Mike Sims-Walker was brought in to fortify the position, but he isn't the true down-the-field threat the Rams need to really allow Bradford to shine. Despite the absence of a top receiver, Bradford will be a steal in this year's draft. In one hundred percent of the mocks I've participated in this year, Bradford was available in Round 9—a great value pick indeed. He and Matthew Stafford will compete for this year's Steal of Fantasy Drafts Award. Speaking of Stafford…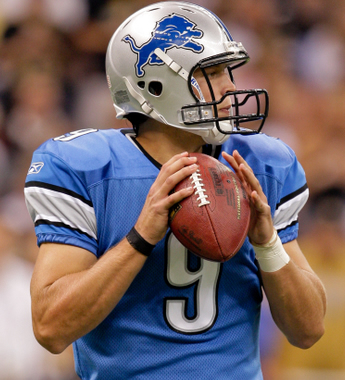 Stafford has the world beat if he can just stay healhty.

ADP: 8.07
Many fantasy owners are scared off by Stafford's injury history, and rightfully so. He's yet to complete a full season; but the games in which he's played, especially last season, shows just the type of explosiveness his presence can bring to Detroit's passing game. Shaun Hill, who replaced Stafford after he was injured last season, was productive in this offense for goodness' sake. Conventional wisdom says, if the journeyman Hill can become a fantasy spot-starter playing in a Scott Linehan-orchestrated offense, Stafford should become a world-beater. While that may be going too far too soon, Stafford is indeed one of the biggest sleepers in fantasy football this season. But for those true gamblers willing to overlook his injury history, Stafford can be had in the seventh or eighth round as your QB1 after you have solidified the rest of your starting spots. More realistically, though, Stafford should be drafted as a high-end QB2, especially for those owners who select someone like Aaron Rodgers or Tom Brady in the second or third round.

ADP: 3.08
Head coach Rex Ryan recently came out and proclaimed Shonn Greene the team's "bell cow," indicating that he will get the majority of the rushing attempts with LaDainian Tomlinson relegated to third-down duty. If that indeed proves true, Greene could be in for a huge year. He runs behind perhaps the best offensive line in the league, plus he plays in a conservative offense that will do the bulk of its damage on the ground. Greene isn't much of a receiver out of the backfield, but owners should be satisfied with the production he gives them rushing this year. His owners last year were ambushed when they realized LT would split the carries 50-50 with Greene, who many thought was one of the season's top sleeper picks. This year, however, there are more tangible reasons to consider Greene a nice sleeper, not the least of which is the head coach telling the football world that his third-year running back will receive the lion's share of carries.

ADP: 4.12
Jermichael Finley's spot on this list probably isn't a shock to many of you. After getting off to a nice start in 2010, including two 100-plus-yard receiving games through the first four weeks, a knee injury derailed his season in Week 5. But now, with the idea of returning to an offense led by one of the league's brightest stars at quarterback, coupled with the Pack's apparent plan to use Finley more on the outside in a two-point stance, the sky seems to be the limit for the fourth-year player. There's a good possibility that Green Bay won't rely on the pass as much as last season, but Finley should still get his looks in the passing game. And the fact that the coaching staff wants to spread Finley out wide to take advantage of mismatches against safeties should further increase his interest from fantasy enthusiasts. Assuming he has no setbacks with his surgically-repaired knee, Finley should pick up where he left off last year and finish the season as a top TE.

ADP: 14.04
Only 10 wide receivers had more receptions last year than Davone Bess. While his yardage (820) and TDs (5) are a bit lacking, his 79 catches were more than Calvin Johnson, Greg Jennings, Dwayne Bowe, and others had—making Bess a huge sleeper in PPR leagues. Brandon Marshall will certainly garner a lot of attention from the opponents' top cornerbacks, leaving Bess to roam underneath and gobble up receptions at a nice clip. Reggie Bush's arrival may temper some people's expectations of Bess as it relates to his reception numbers, but he will be on the field more often than Bush and should be surprisingly productive as a result. The quarterback situation is the one caveat, though. Chad Henne is the starter, and it's no secret that the team shopped around for alternatives at the position. But as long as Henne is under center, Bess should serve you well as a WR3 this year.