2008 Rookie Impact
Wide Receivers
7/15/08



Note: This series contains excerpts and sample profiles from my 2008 Rookie Scouting Portfolio, an FFToday.com publication available for purchase here. The RSP provides play-by-play examples that back up my observations of each prospect's performance. For my takes on previous rookie impact quarterback classes check here for impact articles from 2006 and 2007.
After Calvin Johnson and Dwayne Bowe, who were obvious starters in the making, I thought the 2007 rookie class for receivers was top heavy with over hyped players. While most touted Dwayne Jarrett, Robert Meachem, Ted Ginn, and Sidney Rice, I was higher on lesser-regarded prospects like Steve Smith, Jason Hill, and Mike Walker. Although it remains to be seen how the careers of these players will unfold, the receiver position is one of the more complicated to evaluate.
Last year there were no real surprise performances. Two of my favorite receivers from the rookie class posted solid stats. Dwayne Bowe was a borderline #2 WR with nearly 1000 yards and 5 scores for the Chiefs. Calvin Johnson had over 750 yards and 4 scores on 48 receptions, despite missing time with a back injury. Neither were re-draft studs, but you could have done worse if you picked either of these guys in the late rounds. As Sal Marcoccio mentioned in his recent article, rookie receivers are worth more consideration in re-drafts than they once were at the beginning of the decade.
The 2008 class is another inside-out group, but with less upside at the top of the class than 2007 and more interesting depth in the mid-to-late rounds. There are four players I think have the chance to be frequent contributors throughout the season, one of them—Devin Thomas—has a chance to be a fantasy starter at some point in the season, but don't expect numbers better than what we saw from Bowe and Johnson in 2007.

My rankings are based a combination of collected data from the Scouting Portfolio, my view of their potential fit with any offensive system, and their potential for growth based on the film study. The Score on these rankings is the highest raw checklist score performed on this player. These are views that often differ greatly from the consensus.

Since this publication was written prior to the NFL draft, the rankings are a reflection of players with the greatest chance to make a positive impact with their overall skill sets, and how flexible their skill sets are to the widest varieties of offensive systems. In any dynasty league setting, I would be comfortable drafting the first four receivers on this list in the early to mid rounds. After that, it depends on the size of the league but I think the 12 prospects listed have potential to be worthwhile fantasy players within a three-to-five year period.

One new way I have summed up a prospect is to compare him to other pros that played his position. It's also difficult to be accurate with just one player as a comparison because football players—as with anyone in their careers—have an amalgam of influences. Each prospect has skills reminiscent of multiple players. It's just like looking at a child and identifying all the ways he resembles different members of his family or listening to a musician and citing the influences you hear in her style. So in the chart below, I list the players I believe are the best match for each. The order in which I list them is how I rank them (best to worst) on a spectrum of stylistic similarities. The "x" is where I believe the prospect will eventually fall along this spectrum if he fulfills his potential as a pro. The dashes indicate an approximate skill gap between the players in terms of where they fall and a slash indicates these players will likely be the same in skill set.

Worthwhile WRs
Rank
Name
Score
Height
Weight
Strengths
Comparison
1
Devin Thomas
91
6-2
215
Hands; Speed; Elusiveness; Balance
Terrell Owens--X/Javon Walker--Michael Westbrook
2
Earl Bennett
93
5-11
208
Hands, Quickness, Body Adjustment
Sterling Sharpe--Chris Chambers-Greg Jennings-X
3
Malcolm Kelly
88
6-4
224
Hands, Body Adjustment, Balance
Plaxico Burress-X/Malcolm Kelly/Reggie Williams-Ernest Wilford
4
Limas Sweed
89
6-4
216
Hands, Body Adjustment, Balance
Plaxico Burress-X/Limas Sweed/Reggie Williams-Ernest Wilford
5
Adarius Bowman
86
6-3
223
Power, Body Control, Hands
Larry Fitzgerald--Plaxico Burress-Malcolm Kelly/Limas Sweed/Reggie Williams-Ernest Wilford/X
6
Early Doucet
84
6-0
209
After the catch, Body adjustment, Quckness
Chris Chambers-Greg Jennings-Earl Bennett-X
7
Paul Hubbard
84
6-3
221
Hands-After the catch-Body Adjustment
Andre Johnson--Marques Colston-Jerry Porter/X
8
DeSean Jackson
83
5-9
169
Speed, Elusiveness, Hands, Body Control, Vision
Steve Smith -Santana Moss--X-Antwaan Randle El--Samie Parker
9
Keenan Burton
85
6-0
200
Quickness, Elusiveness, Hands, Body Control, Vision
Jerry Rice--Rod Smith -X-Darrell Jackson-Antonio Bryant
10
Harry Douglas
88
5-11
176
Hands, Body Adjustment, Routes, Quickness
Reggie Wayne/Donald Driver/Derrick Mason-X-Brandon Stokely--Dennis Northcutt
11
James Hardy
82
6-5
217
Hands, Body Control, Routes
Harold Carmichael-Plaxico Burress-X-Marcus Robinson
12
Andre Caldwell
79
6-0
204
Speed, Elusiveness, Body Control
Joey Galloway--Eddie Kennison/Lee Evans-X
Here's the way I rank the players according to their potential to get it done on the field for fantasy owners in re-draft and dynasty leagues for the 2008 season. Overall, I'm skeptical any of the candidates will have a Colston-like rookie year. I think at best, someone may approach Calvin Johnson's rookie fantasy totals.
Best Chance To Make Their Mark Early
Devin Thomas, Redskins: The reason Thomas didn't receive the pre-draft hype commensurate with what he displayed on the football field in 2007 had to do with the fact he was a one-year wonder in big-time college football. He didn't see much time at all in 2006 and in 2005 he was in the junior college circuit.
What Thomas does extremely well is run after the catch. He's not as powerful as Anquan Boldin, Andre Johnson, or Terrell Owens, but his size-speed-agility combo is impressive enough that he can do damage as a return specialist and the open field off a slant or crossing route. He's a perfect fit for the west coast system and I wouldn't at all be surprised if Thomas develops into a great fantasy option by 2011. If he catches the ball as well as he did last year, he could accelerate his development.
But let's talk about 2008. Washington has Santana Moss and Antwaan Randle El as the incumbent starters on a receiving corps that on the surface doesn't match the Zorn system's needs. Thomas will get his chance with a strong camp and I would imagine Randle El is the most likely candidate to move to the slot if Thomas can make the early adjustment. I think of the three rookies I lumped in this category, Thomas has the greatest ceiling of potential to make a big impact in 2008.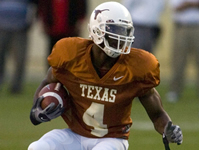 Sweed will give Big-Ben another viable threat in the red zone.
Limas Sweed, Steelers: Speaking of Hines Ward…I believe Sweed is going to make life more fun for the Pittsburgh passing game. Sweed is a big target with build-up speed that can get him deep more effectively than his timed speed indicates. He's a lot like former Steeler, Plaxico Burress in this respect. He's used to making big plays in big games even early in his college career (ask Vince Young and the Ohio State Buckeyes).
Ben Roethlisberger and the Steelers offense will benefit tremendously from Sweed. They have another viable weapon in the red zone for certain plays they couldn't execute consistently since Burress left town. However, Sweed won't be as much of the beneficiary fantasy-wise as the offense in general. The real plus will be the Steeler's ability to move Hines Ward or Santonio Holmes to the slot and create match up problems that will result in big plays.
I think Sweed's rookie production could be touchdown-heavy, but light in the yardage department. He'll be one of the few receivers many people will take late in re-drafts, but his impact should be more of a positive for Roethlisberger, Holmes, Ward, and Miller in that order.
Earl Bennett, Bears: I hear a lot of Hines Ward comparisons about Bennett. He's a tough receiver who will fight for the ball and won't get shut down with physical play at the line of scrimmage. He's not a blazer, but can get deep on occasion. Jay Cutler reportedly lobbied for the Broncos to take him. I was impressed with his ability to make plays against some of the better SEC cornerbacks during Vanderbilt's post-Cutler era. He has a knack for making catches in tight coverage. What I fear is that he'll lack the athleticism to be the same kind of weapon in the pros. Then again, Hines Ward is neither fast nor big for a receiver—he's just incredibly tough, smart, and enthusiastic about the game.
I think Bennett is the type of receiver that will be as good as his quarterback makes him. Sure, that's true of most receivers—but in Bennett's case it will be magnified. He makes the top of my list for 2008 because neither Brandon Lloyd nor Marty Booker inspires much confidence in me any more. If you could morph them into "Brandon Booker," the acrobatically gifted, runner after the catch with fly-paper hands, toughness over the middle, and no attitude then I'm sold. I just don't think Dr. Frankenstein lives in Chicago. Bennett may be able to approximate an imitation of "Brandon Booker," but will Grossman or Orton suddenly turn into John Elway? Not likely. Bennett will not be the first rookie wide receiver off the board in re-drafts, but he might be the best one to take a chance on late because the Bears need help at the receiver position and Bennett doesn't have a long climb to make up the depth chart.
DeSean Jackson, Eagles: He's a truly dynamic player and has the kind of leaping ability and toughness to be more than a slot receiver if he can improve his routes and protect the football after the catch. He will get a lot of chances to make plays in Philly this year as a situational player and he's my odds-on bet to be the rookie that has a Second Half Wonder-type of stretch run. On a slightly different note, the receiver I like to surprise in Philly is actually TE Kris Wilson who should make Donovan McNabb very happy. I wouldn't be shocked if he outplays L.J. Smith at some point this year. Kansas City media types I've met raved about Wilson and the Chiefs moved him to FB to simply get him on the field.
Great Expectations, Few Results This Year
James Hardy, Bills: There is a ton to like about James Hardy. He possesses excellent hands and he's a strong leaper with good body control and coordination when airborne. This is the player most fantasy owners who want to look smart will try to grab—especially in dynasty leagues.
I agree it's a smart pick. It's just not likely it will translate into major production this year. I'm going to give you a few reasons:
Routes:

Hardy has clearly worked on his routes during college. He is actually ahead of the game compared to many other receivers when it comes to route running techniques—especially on curls, hooks, and in- and out-routes. But he still takes false steps to tip off defensive backs and he's a long strider who is still learning to use his natural speed as a football player.



Taking Hits:

Hardy avoids contact. He has a physical advantage over any defensive back, but he tends to anticipate contact by ducking his head, resulting in dropped passes or missing opportunities for yards after the catch. Hardy is a former basketball player and as one can tell by his body, he wasn't the banger that Antonio Gates was at Kent State.



Giving Hits:

I've seen Hardy show some tenacity as a blocker, but not often enough to believe he's going to do it consistently early in his pro career. The Bills are going to be running team with a short passing game. Hardy will need to be an effective blocker to make the offense go.



Steve Johnson:

He's not in the top 12 I provided above, but he's the true definition of a sleeper. Johnson is a physical receiver with after the catch ability and proven, big game production in clutch situations at Kentucky. He's also one of the more aggressive blockers in the run game I've seen in this rookie class. He's already made a good impression in Bills camp and I would not at all be surprised if he outplays Hardy early in his career.
So if you want to look smart and get the nodding approval of some of your geekier fantasy owners, pick Hardy late in a re-draft. If you want to win games and make the self-serving smart guy frown, monitor Johnson's progress and consider him as a pick off the waiver wire.
Malcolm Kelly, Redskins: Kelly might be the best all-around receiver in this draft with the exception of his questionable speed. I wouldn't worry too much about his workout times—that was the unfortunate result of rehabbing from an injury. But even then, he was never a burner. He is a very graceful receiver with better body control than Limas Sweed. Kelly is also raw as a route runner and I don't believe he'll beat out Moss, Randle El, or Thomas for extended opportunities in 2008.
Early Doucet, Cardinals: Here's another guy getting compared to Hines Ward. Doucet has the athleticism, but I'm afraid he'll be a bit of a "training camp hero." What that means his he'll look good in practice, but he won't have commensurate production on game day. The reason is his hands technique catching the football. I have seen Doucet enough to know that as much as he makes difficult receptions in traffic, he traps the ball against his body instead of using his hands to snare the ball. Doucet won't be able to manhandle most defensive backs in the NFL and I'm skeptical he'll be able to continue producing at a high level unless he hones his technique.
There are real positives with Doucet that will show up on Sundays. He's a good runner after the catch, not afraid to go across the middle, and he will dish out contact. He's not the blocker that Hines Ward is, but he's good for his position. With Anquan Boldin, Larry Fitzgerald, and the vastly improved Steve Breaston ahead of him, I don't see Doucet making a dent unless the corps gets decimated with injuries.
Sneaky Good (Note: These are lower profile players according to their draft position or media hype, but should outperform the "Great Expectations…" players not only earlier, but also more consistently throughout their careers)
Keenan Burton, Rams: My favorite receiver in this draft class not named Devin Thomas. Burton was a fantastic player at Kentucky. He has deep speed, excellent open field vision, and he's fearless in both the passing and return game. Other than a lackluster performance against LSU last year, he was one of the more impressive receivers in this class. He routinely made Andre Woodson look good last year and as a junior.
Injuries have been Burton's bugaboo and lowered his stock. Nor does Burton have the prototypical dimensions NFL types want from an early, first day pick so his 4th round selection wasn't so surprising. What will be surprising to some is that he'll outplay Donnie Avery, the Rams first round pick, and the first receiver taken in this draft. I didn't see enough of Avery to evaluate him for the RSP, so I'm not including him in this list, but I do have some impressions of his game based on limited film study. His routes need work, especially against the jam, which he didn't see in the run and shoot offense at Houston. Avery also doesn't consistently catch the ball over the middle against tight coverage or looming hits.
Burton on the other hand, will make his offense look good and he's a much more physical player than Avery. If you want a mid-to-late round dynasty pick that will develop into Isaac Bruce's successor (probably not as good, but still will make you happy), Burton is my bet.
Harry Douglas, Falcons: Looking for the next Derrick Mason? Douglas could be that guy. He's a very smart receiver, who frequently bailed out Brian Brohm. He's undersized, but he is more courageous across the middle than some of the bigger guys. His hands are excellent. He may lack the speed make up for his build in the eyes of evaluators looking for a 1st round prospect, but he's a savvy route runner and I believe Matt Ryan is going to establish a great rapport with Douglas as a slot receiver and he could very well become much more. Here are quality receivers in the NFL from the past 15 years that have similar physical dimensions as Douglas.

Size Isn't Everything...
Name
Height
Weight
Comment
Flipper Anderson
6'0"
175
Speed was his game.
Deion Branch
5'9"
193
Didn't come into the league at 193 lbs.
Wayne Chrebet
5'10"
188
Slow, small, but productive.
Kevin Curtis
5'11"
186
Getting a chance to show his stuff.
Bobby Engram
5'10"
188
Produces with a good QB.
Ted Ginn
5'11"
178
Speed is also his game--1st round pick.
Terry Glenn
5'11"
190
Speed and hands, but came into leage ~175 lbs.
Marvin Harrison
6'0"
175
Future HOFer
Santonio Holmes
5'10"
185
Off to a great start.
Derrick Mason
5'10"
190
Didn't enter the league at 190 lbs.

I doubt Douglas ever becomes more than an 800-1000 yard producer on a consistent basis, unless he lands with a team using a run and shoot style offense, but he'll be a name worth knowing and drafting in the coming years.

Developmental Projects

Andre Caldwell, Bengals: Much of the talk of the future for Cincy's receiving corps is Jerome Simpson from Coastal Carolina. I didn't evaluate Simpson, so I don't know enough about the guy other than what you can hear practically everywhere else. I do know that Andre Caldwell is quite an athlete with after the catch ability. He drops some untimely passes, especially in the middle of the field, but he's definitely not afraid to attempt to make a living in that area, either. I believe he has a good opportunity to develop into at least an effective slot receiver. It just depends on how seriously he takes his opportunity to play in the NFL.

Paul Hubbard, Browns: I've talked enough about Hubbard.

Misused Talent

Adarius Bowman, Free agent: Drug issues, disciplinary problems, and a cement-drying 40-time killed Bowman's chances to get drafted. Too bad, he has serious talent. I saw him do some impressive things at Oklahoma State that had me thinking down the line he could be as good, if not better, than Reggie Williams of the Jaguars. There's a chance he could get his life together, but I'm not counting on it.