12/16/08
As we all know Hindsight is 20/20. This weekly column is devoted to learning from common mistakes and serves as FFToday's "Fantasy Football Confessional."
---
I entered the playoffs with six out of seven teams qualifying. Three of those teams took a nosedive in the opening round – including an uncharacteristically bad performance out of the dynasty league team Mike MacGregor and I share in the HAFAX-II league where in we took the leftovers from a 2006 CBS Sportsline castoff squad and turned it into a playoff team in 2007 and a division winner this year. I'm still smarting from that one.
In fact, all the contenders I thought most likely to succeed are now out of it. 130 points wasn't a bad effort for my SOFA auction league team even if I made the mistake of opting for Derrick Ward over Marshawn Lynch. But I ran into a buzz saw of a Rotoworld squad who outscored all the remaining semi-finalists with 151 points. I also put up my season average of 89 points in the Fantasy Auctioneer Invitational Experts League despite pitiful games from Larry Fitzgerald and Terrell Owens (choosing Dominic Rhodes over LJ and Ward helped), but lost out to Emil Kadlec of Fantasy Sports Publications, Inc., whose team went off with 111 points thanks to extra special efforts from Dallas Clark and the Jets defense (thanks J.P. Losman, I owe you a kick to the groin…maybe I'll just settle for tossing a pair of shoes your way).
The remaining squad turns out to be my Ironman team that has gotten hot at the right time. A timely trade for rookie Kevin Smith in lieu of Brandon Jacobs' recent health troubles has given me a quality starter alongside Brian Westbrook and it paid dividends earlier than I expected.
Let's look back at the lunacy that was semi-finals weekend for most fantasy leagues.

Tarvaris Jackson's 11/17, 163-yard, 4-touchdown beat-down of the Arizona Cardinals: As an Adrian Peterson owner, I feel a bit sabotaged here. Not that a 28-carry 165-yard effort is bad day. It's just that I expected a 2-3 score day from Peterson with "Toothless" Tarvaris Jackson at the helm. I've grown accustomed to Chester Taylor vulturing a score off a hard-earned run from Peterson the play before, but I saw this coming like those folks at Palm Beach Country Club or the FGG saw Bernie Madoff making off with $50 billion in the Ponzi Scheme to end all Ponzi Schemes. Now I'll have to call Jackson, "TD-tossing" Tarvaris.
Jackson scored 24 fantasy points in most leagues. You know there's some guy with a half-decent fantasy team that slid into the playoffs and won a championship berth with this shot in the dark of a start. He's probably chartering an offseason trip to Guatemala as soon as week 17 hits so he can hunt down that surplus of #7 jerseys NFL.com shipped to a girls' soccer team just after Frerotte took over as the starter.
I wouldn't be surprised if it's that guy on the TV commercial dressed with his wife in full Viking regalia. I had to call my fiancée into room just so she could watch the wife give a Hacksaw Jim Duggan imitation while she bragged about the costume also doubling as her wedding dress. How can anything surprise you after this week? We've got the soon-to-be, former Illinois Governor, Rod Blagojevich and his Chazz Michael Michaels-esque obsession with his hair. There's President Bush dodging shoes – not gunfire - in Iraq. And Tarvaris Jackson went 11/17 with 4 touchdowns. What's next, a Broadway musical of Shrek?
It gets worse. If you owned Kurt Warner or any of the receivers constituting the trio of Fitzgerald, Boldin, and Breaston, you can thank "Triple T" Tarvaris Jackson for putting the Vikings ahead so early that the immobile Warner had no choice but to face an onslaught of Vikings defenders blitzing at will. The way I see it, Jackson not only prevented Peterson from having a playoff game for the ages, but he also set the conditions to make Warner look average and turned the best fantasy receiving corps into nobodies. Talk about a fantasy-killer (and I thought that Viking fan's wife was bad). The Cardinals even gave Matt Leinart some mop-up duty.

Unless you consulted these two psychics (and heard back from them from their graves), there's no way you started any of these excellent performers:
Dennis Northcutt – 5 catches, 127 yards, and a score: The guy is a career possession receiver and I watch enough of the Jags to tell you that Northcutt is the receiver David Garrard likes to overthrow once a week on a deep route. I guess Garrard must have gotten hit in the chest as he unfurled this pass (or he finally figured out how to take something off the throw).
James Jones – 4 catches 132 yards: If you told me in the preseason that Jones was going to have an impact, I would have given it more serious consideration than I would seeing him reappear this late in the season to have a big day. That touchdown from Greg Jennings salvaged some love from the receiver's fantasy owners, but not a lot.
JaMarcus Russell – 17/31, 242 yards, 2 scores, 1 INT: In most leagues that's 20 fantasy points. What percentage of leagues had him on a roster, much less an active playoff contender? About the same amount of those with Taravaris Jackson.
LaMont Jordan – 12 carries, 97 yards, and a score: I know of at least a couple of posters on web sites who called this shot. But it's even less likely when you look at the box score and see a healthy Sammie Morris posted 117 yards and a score. The Raiders are just killing me. Rodger Goodell was at the game, too. I wish he were there it investigate what's happening to this once-proud franchise. Al Davis is getting so bad, he's beginning to remind me of MLB owners, or worse yet, Bud Selig.
Dallas Clark – 12 catches, 142 yards, and a score: I know Clark is a good player, but when you read the Colts receiving box score and see these numbers below, where would you normally see Clark's name?

Wk 15 - Colts Receiving
Rec
Yds
TDs
LG
12
142
1
31
7
104
0
39
4
30
0
17
2
22
0
16
1
8
0
8
1
6
0
6
1
6
0
6
If you said row three, you know the Colts. To think that with Wayne, Harrison, Gonzalez, and even Dominic Rhodes there was little chance Dallas Clark would be the guy snagging a dozen passes for 142 yards and a score. He even caught the second-longest reception of the day.
Detroit's defense might make anything possible at this rate. Then again, you have to give the Lions credit, they played the Colts tough. I do believe with Matt Millen gone they can turn things around quickly with the right hire in the front office.
Torry Holt – 4 catches, 64 yards, and a score: It's only Holt's third score of the season and 54th catch. He would be on track to nearly double that number at this point of the season in most other years. In fact, the only year he had fewer catches was his rookie season (52) and he's likely to have fewer yards and touchdowns. He'll be a value pick in 2009, but he wasn't someone a playoff team likely started in 2008.
Cedric Benson – 21 attempts, 73 yards and 3 receptions for 88 yards: Here's a shocker. Maybe he was promised tickets to "Shrek the Musical" if he tried this week.

Thanks Lance Moore, you had a great year but those 5 catches for 27 yards were awfully generous of you – especially when your buddy Marques Colston chose to reappear with 6 grabs for 87 yards and a score.
And I really appreciate you, Cadillac Williams. At least Warrick Dunn could get the job done when he was getting most of the opportunities. He did have 19 touches for 90 yards, but those 59 yards you got on 14 carries would have looked better on Dunn. I'm happy you're patella tendon is better and I hope you crank out a great 2009 season, but this was bad on Jon Gruden's part to thrust his man-love for you onto us fantasy owners at the worst time.
Thanks for nothing Clinton Portis. Seven points against the Bungles? After the season you had? Or should I think Jim Zorn and his imaginative passing offense? I think both of you deserve credit. It takes two for a conflict.
Terrific job Chris Johnson – 13 carries for 65 yards isn't a bad average, but we fantasy owners don't get points for yards per carry averages. Should I thank Mike Heimerdinger for his desire to throw the ball deep and ignore the running game that seemed to be working ok? Maybe I should give more props to Kerry Collins for missing on those deep throws. Of course, I would never throw a deep ball to Justin McCareins with the game on the line. He's not known to catch those balls very well. Maybe I should thank Jeff Fisher on this one. Especially if I were a Rob Bironas owner who could have had 15 points in this game – but knowing Fisher from following him, he's just tell me "you're welcome" and get ready for the Steelers next week.
Gracias, Andre Johnson for taking more than your share with 11 catches for 207 yards and a score. Kevin Walter looks hungry on the other side of the line…fantasy owners wish someone could have fed him before their team starved to death on Sunday. I bet if thought balloons in comics were for real, we'd see one emanating from the Colts QB that says he'd sell his kidney for a chance to play a couple of seasons with Johnson – alright, maybe his brother's kidney…

Keep an Eye Peeled
Here are some quick-hits on players I believe you need to keep watching for 2009…
Detroit DE Clif Avril – The rookie out of Purdue comes to the NFL with a similar background as Giants DE Justin Tuck. I think Rod Marinelli did a good job landing this guy and Avril is progressing enough that he should do well with Dewayne White on the opposite side. He's a fast player who just needs to refine his pass rushing techniques. Avril, White, Ernie Sims, Kevin Smith, and Calvin Johnson give me reason to think there's a chance this team won't take as long to rebound as it seems right now.
Baltimore CB Fabian Washington – I thought Washington was the best CB in college football when he was playing at Nebraska. Then he was drafted by the Raiders in 2005 and the first-round pick took a little while to get things together. This isn't a surprise when you think about the team he was on. According to Pro Football Weekly's column, The Way We Hear It, Washington is living up to the expectations the Ravens had for him when they acquired him in the offseason. Apparently, Rex Ryan believes if he didn't drop a few interceptions, he'd be Pro Bowl bound. Washington should develop into the type of corner that Nnamdi Asomugha has become, another guy drafted at the end of the first round (2003) by the Raiders.
Green Bay RB Kregg Lumpkin – I talked about him all summer, but I believe the Packers believe they found a future starter with Lumpkin. I think he'll continue to regain some of that speed he lost due to multiple injuries in college and I don't believe the Packers are convinced that Ryan Grant is the long-term answer. Otherwise, they wouldn't have let the guy hold out and then decide to pay him.
Buffalo WR Steve Johnson – He continues to show up here and there in box scores this season. The free agent rookie is only going to get better and as I have said before, I wouldn't be surprised if he out performs James Hardy down the line. He already has thus far…although that's not saying much.
Did You Know?
Hall of fame player/coach Dan Reeves worked as a salesman for a concrete plant in Grand Prairie, Texa called Gilford-Hill during his off-seasons as a player? Reeves was a half back who tied for second in the league in 1966 with seven rushing scores and during his eight seasons with the Cowboys, they never missed the playoffs and they made the Super Bowl twice, winning it once. Talk about times changing…can you imagine Terrell Owens having an off-season job? I bet you can't even imagine Tim Castille having an off-season job? Who? That's my point.
Memo to Rod Marinelli
I know you're all about the team concept. It is why football fans are on your side. Your squad is playing hard despite some lapses in discipline and a lack of impact players. And I'm sure you can hold your head up high that your Lions team gave its all even if they go 0-16. But it shouldn't have to be this way. You have the most unstoppable offensive weapon in football and its time you use him more than 4-5 times per game.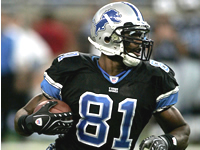 Unstoppable: Calvin Johnson is.
Every week I see Calvin Johnson run 15-30 yards down field and grab a jump ball between two defenders. This should be happening every quarter. Apologies to Brandon Marshall and Terrell Owens in his 49er prime, but Calvin Johnson makes these two look like they are still small school college guys. Look what Gary Kubiak did with Andre Johnson against the Titans. If you want to win at least one game this season, don't worry about the integrity of your offensive system. Chuck the ball to Johnson on deep sideline routes. Zip it to him on slants. For Homer Jones' sake, throw him the alley oop! And how can you not throw him the fade or stop fade on a regular basis in the red zone?
Calvin Johnson is what Al Davis would have wanted to invent if he could have melded Andre Johnson and Randy Moss into one being (you have to wonder if you tried this with Moss and Ronald Curry – no wonder Randy played possum; I get the image of the basement below the pawnshop in Pulp Fiction with Rex Ryan playing the role of "the Gimp." The horror…
You need to use your star player. Look what Jim Zorn didn't do this weekend versus the Bengals. He has one of the best runners in football with Clinton Portiis and they give the ball three straight times to Mike Sellers at the goal line. Mike Sellers? It's like asking Al Pacino to play the extra in a detective flick and give the starring role to the gaffer.
Although you haven't been pulling a Zorn with Calvin Johnson, it's like having Optimus Prime, but forcing him to remain in 18-wheeler form. Maybe you need to watch Transformers because you must not know what you have.
Ok, I'm not that big of an idiot – you must know what you have – this is just the fantasy football equivalent of a kid's letter to Santa. Indulge us, won't you? What (else) do you have to lose?
Final Note
Did you watch Ken Dorsey throw the ball to Braylon Edwards in (frequently double) coverage last night? Dorsey may not have the prototypical NFL gun that personnel guys want from a QB, but he made some good plays against some difficult defensive looks that confused more heralded quarterbacks and he trusted his big-play threat to get the ball. For a quarterback who hasn't started a football game in quite a while, his talent for giving his teammates a chance to make a play is something other quarterbacks should take note. Especially when Trent Cole owned Joe Thomas for most of the evening.