10/30/07
As we all know Hindsight is 20/20. This weekly column is devoted to learning from common mistakes and serves as FFToday's "Fantasy Football Confessional."
---
Brett Favre…wow! Given, many would doubt a healthy Champ Bailey gets beat by James Jones, but the DB suited up so he was healthy enough. I don't know what impressed me more: beating Champ Bailey deep, throwing a perfect pass over Drè Bly in overtime for an even longer bomb, or calling his shot to Ron Jaworski in the pre-game where he put his toes on the 50-yard line and nailed the pylon with one throw. Have you ever tried to throw a football through a tire swing from even 15 yards away? Watching football from the stand level makes the game look deceivingly easy. Try imagining it from on the field—Favre basically threw three balls through the tire swing from 45-50 yards out. How many times has Brett Favre been money on Monday Night?
Despite week 7 being my worst performance in the FFTOC, I was still ranked #16 overall heading into the weekend. There were some huge performances from Brady, Brees, and the Pats defense and my performance was again, not up to recent standards, so my in-season ranking could take a tumble. Hopefully, not so far down the rungs of the ladder that I'm looking up at a qualifying spot in the finals.


FFTOC Update
Pos
Player
Pts
Comments
QB
B. Roethlisberger
22.1
Nobody seems to listen, but the Steelers are a balanced offense and Cincy's putrid pass defense made this an easy pick.
RB
B. Jacobs
13.7
A touchdown would have made a big difference, still and easy choice.
RB
M. Lynch
8.7
Better than starting Gore, but I might has well have gone with Stephen Jackson—it could be the last time he plays for a while.
WR
A. Battle
2.2
Pitiful…I thought this was a nice sleeper play. The only thing me and Matthew Berry did agree on…
WR
T. Holt
17
With Bulger and Jackson back in the lineup against a very porous, Browns secondary made this all too obvious a pick.
WR
B. Stokley
7.1
I'll take it.
TE
D. Clark
1.1
I thought about using Gates, but hoped I could squeeze a decent game from Clark before Olsen took the starting job away for good…
K
P. Dawson
9
Decent.
DEF
Titans
14
Culpepper versus the Titans pass rush was like chumming shark-infested waters.
Total
94.9

As I said last week, I can only afford 3-4 of these games and I've had two in a row. If I can stay in the top 20-30 with weeks like this, I'll be better off than I anticipated. There are still plenty of decent players left for me to use, but I'm not sure I want to take the route of "saving" marquee names for the finals. It seems to me that trying to pick the best match ups has been a successful strategy for me and I don't think I want to adjust it. Otherwise, I'm going to encounter paralysis by analysis and that's never a good in fantasy football.

Let's move on to the week one files of 20/20 Hindsight.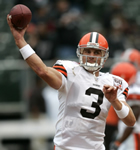 Derek Anderson Would Make Braylon Edward's Season: Seriously, not me. For the entire preseason I picked the likes of Mark Clayton, Bernard Berrian, and Reggie Brown over Braylon Edwards. It wasn't because I thought Edwards lacked talent; I thought Cleveland lacked a talented quarterback to get him the ball. Can you really blame me? The Browns opening day starter is the #3 QB in Seattle right now!
Anderson is playing excellent football, but let's talk about why this is the case. First, and foremost, he trusts his receivers. Veteran quarterbacks throw the ball into tight, single coverage when they have excellent athletes at eh receiver position. Anderson is playing like a veteran who has years of rapport with Edwards and Kellen Winslow. Two of his three touchdown passes were well-placed throws into tight coverage that relied upon his two best skill position athletes to use their athleticism to win the ball.
Sounds a bit obvious, right? In contrast, check out Vince Young and Trent Edwards. Both are promising quarterbacks, but they either pick the wrong situations to put the ball up for grabs (Young) or avoid doing so because an overly cautious approach (Edwards). Last week in the 4th quarter, Kerry Collins threw a deep sideline route to Roydell Williams, who out-leaped the opposing defender for the ball. This play was a big reason Tennessee won that wild game in Houston. J.P. Losman, although a bit more reckless, gave Lee Evans the chance to win the football on a 4th QTR bomb and it was Evans who indeed came up with the reception and the score. Check out McNabb or Brady throwing to a superior athlete in single (and in Brady's case with Moss, double) coverage. Kevin Curtis came down with a great grab in exactly this situation on Sunday. So did Marques Colston on a great rainbow of a flag route from Brees.
Lesson Learned: Derek Anderson has demonstrated that he makes good decisions when to throw the ball in tight, single coverage. It's probably one of the big reasons why he averages 14.6 yards per completion—highest in the NFL. In just about any other year, he would be the fantasy QB darling of 2007. Still, he's the ultimate, surprise fantasy player in the first half of the season with 19 total touchdowns. If you added him (and used him), he likely saved your season.
Marques Colston Would Make His Fantasy Season Debut In Week 8: This three-touchdown performance was what we expected periodically throughout the first half of the season. Why did it take so long? Are the Niners that bad?
Colston's slow start had a lot to do with the lack of an established, #2 wide receiver. Last year, the Saints had the threat of Joe Horn on the opposite side of Colston. Notice how I said threat, and not production. Horn had been good enough for long enough as a Saint that teams had to respect his ability to bust out of his slump for a longer period of time than some 2nd- or 3rd-year guy who hasn't proven anything in this league. As a result, Colston was allowed to surprise opposing defenses. This is why he actually got open on deep routes that you don't see him running this year. Teams know his strengths and weaknesses, so they are ready for him.
They aren't accounting for Joe Horn on the outside and allowing Colston to run free from the slot. Depending on how long you've been playing fantasy football, you may remember that Keyshawn Johnson actually had some long receptions as a rookie. Johnson and Colston are very similar players stylistically speaking. For most of Johnson's career, he was regarded as one of the better possession receivers in football—you get the point. Notice that Colston's one long reception was off a flea flicker? That's the kind of help Colston needs to get deep separation.
To begin the year, the Saints didn't have anyone defenses seriously had to target. Horn was gone, Devery Henderson was dropping passes, Lance Moore was an unknown, and David Patten didn't begin seeing the field and producing until earlier this month. It didn't help that Brees wasn't playing like his normal self, but without a consistent, vertical threat in the passing game, Colston wasn't going to do much. Now that Brees has gotten back on track, Patten has emerged as a consistent player, and Moore and Henderson have proven just dangerous enough, Colston is seeing more opportunities.
Lesson Learned: We are only half way through of the NFL season. Teams make adjustments and Colston happens to be the beneficiary of the Saints' improvements. Look for a much stronger second half from Colston.

Mike Vrabel Would Outscore Most Offensive Players In Fantasy Football: I sure didn't—though I'm gladly taking it with my 6-2 Ironman team, Out To Lunch. Vrabel had three sacks, each forcing a fumble, and 11 tackles. Then there was his 10th career touchdown reception—or should I say 10th career reception. He scored nearly 40 points, 17 more than my opponent's QB, Peyton Manning. Only QBs Drew Brees and Tom Brady outscored Vrabel. The former Ohio State stud who floundered with Pittsburgh, saved my week 6 in a game I had to win, but had these core players on bye: Fitzgerald, Bowe, McNair, Julian Peterson, Michael Boley, and Derrick Johnson.
Lesson Learned: This is the great thing about IDP leagues. With the right scoring system, you can win with defense. It's good for fantasy football, because Mike Vrabel was a huge reason why the Patriots dominated this game and his fantasy points should be a reflection of it. I have been in this dynasty league with IDP and 40-man rosters since 2003, and some of my marquee offensive draft picks have been Onterrio Smith, Brandon Lloyd, Cadillac Williams, and Matt Jones. As my ex-'s stepfather would say in his gravelly, Texas twang: Not so good.
But defensively speaking, I've done much better. Here are players I drafted I've managed to keep on my squad: Darnell Dockett, Michael Boley, Sean Jones, Derrick Johnson, Channing Crowder, and Karlos Dansby. Throw in some trades that netted me a 4th round pick to select Brandon Jacobs and then a deal for Brian Westbrook and Steve McNair where I gave up pick and Tom Brady (okay, not so good), and I'm kind of like the Titans of fantasy football—strong running game and a good defense. It ain't pretty, but if you haven't already, it's another way to enjoy the season because you learn to appreciate good defense.


Vernon Davis Would Have A Good Outing: Although the Niners had a horrible game, Vernon Davis was healthy enough to amass 71 yards and a score on 6 receptions. Heading into the game, the Saints were 19th in fantasy points allowed to tight ends. Not a good sign for Davis—so much so, ESPN's Matthew Berry mentioned Davis as a player to bench for just this reason.
But digging deeper, which teams did the Saints play up to this point? This of tight ends for their opponents is unimpressive: Indy (Clark as the #4 receiving option in the opener), Tampa (name the last time Alex Smith consistently scored TDs—never), Carolina (Pre-Jeff King), Tennessee (They're still waiting for someone to replace Frank Wycheck), Seattle (nope), and Atlanta (Crumpler was out).
Lesson Learned: Stats railed off in sound bites sound impressive, but can be dangerous. It's often worthwhile to do your own research before you just take someone's word for it.


Nagging Feelings—Week 9
Analysts sometimes drive me crazy with their mangling of player names. Some are understandable—for instance, I'm not going to blame the poor soul who had to say Houshmandzadeh the first time the Bengal receiver took the field as a #4 receiver early in his career. On the other hand, Amani Toomer has been around for over a decade—pronouncing his first name like the Italian suit doesn't work.
Did you see Matt Jones make that sweet, one-headed catch in the redzone? Can someone tell me why the Jags haven't used this play from the moment they saw Jones do this for scouts at the Senior Bowl practices? I'll tell you why—their offensive coaching lacks leadership. The symptoms:
They cut their top-ten draft pick and franchise quarterback, Byron Leftwich. Whether or not David Garrard is a better quarterback is a moot point. Jack Del Rio made Leftwich his scapegoat despite the fact that when healthy, Leftwich was a worthwhile starter. There's a lot of negatives mentioned with Leftwich—he gets hurt, he lacks mobility, and his delivery is too deliberate—but he was tough, accurate, and had a gun for an arm. He also had issues beyond his control that created just as many problems as the former Jaguar-QB's deficiencies. See below.

They are consistently near the top of the league in dropped passes. That's right, Reggie Williams, Matt Jones, Ernest Wilford, and even the Great Jimmy Smith could not consistently hold onto the football. It didn't have to do with Leftwich gunning the ball too hard into coverage, either. Even if it did, I don't remember anyone whining about Marino, Elway, or Favre being the reason for a high number of drops—that's because their receivers caught the ball! Reggie Williams was known as a sure-handed receiver coming out of Washington and Jimmy Smith was clutch for years prior to Leftwich taking over. Even Matt Jones has shown some amazing mitts. So why did they show such great inconsistency holding onto the ball?

They've gone through three offensive coordinators in five years. Young receivers often drop passes they would never drop in college football because they are too busy thinking about the offensive system rather than reacting to what is on the field. For most players, it takes time for an offense to feel like second nature, especially a receiver. You have probably noticed that prior to a breakout season, some of the better receivers in the league dealt with drops you just don't see from them anymore. But when you switch coordinators repeatedly, even vets like Jimmy Smith will have the untimely drop. I've shown in the past that Leftwich would likely have been a passer with a 60% completion rate if the Jags had the same amount of drips as the average squad.

In addition, the change of coordinators means a change in play calling style in down and distance situations. This also messes with continuity and preparation. Teams like the Cowboys and Niners of the 90s were great because they refined the same plays over a span of years. The Colts offense had this opportunity to refine all that we as fans have come to know as signature plays for Indy's offense. The Jags never got this chance.
Certainly injuries were obstacles for creating offensive continuity but as a frequent observer of this team over the years, I saw plays that worked whenever Jacksonville used them, but didn't use them enough. That pass to Matt Jones in the corner of the end zone was one of them. This all leads back to the head coach, Jack Del Rio. He's been a terrific defensive guy, but the fact he hasn't been able to land a solid offensive coordinator who knew how to exploit the great athleticism of the Jags receiving corps and make consistent play calls has hurt him.
Quinn Gray is an interesting prospect. If you saw him last year in Kansas City, you know the guy has potential. He was also good enough this weekend. So I believe if the Jaguars don't make the playoffs, Coach Del Rio is gone—and rightfully so—he's run out of excuses.
Here's an ultimate football fantasy for you: The 6-2 Packers acquire Ricky Williams via trade with the Dolphins and Green Bay goes to the Super Bowl to face the undefeated, New England Patriots. Who else could you imagine beating the Pats in a wild and crazy game other than Manning? Yep, that's right. But he needs a running back. I know I'm still on the Ricky tip, but the Pack needs someone. Trade for Priest Holmes if he has something left. How can you not want to see Favre do it one more time?
It would be the ultimate, Hollywood script come to life: Fighting off the temptation of retirement, Favre comes back despite losing the opportunity to land Randy Moss to the ultimate, front-running team. You can even see Bill Belicheck cast as the evil genius paired with his golden boy quarterback doing anything it takes to win, including pulling his own version of Richard Nixon. Add Ricky Williams as the ultra-talented, but misunderstood player who fell from grace to this ragtag lineup and you've got yourself the potential for the best football movie of all time.
A guy can dream, can't he?