12/11/07
As we all know Hindsight is 20/20. This weekly column is devoted to learning from common mistakes and serves as FFToday's "Fantasy Football Confessional."
---
I entered week two of the FFTOC Finals with the #1 ranking,


FFTOC Update
Pos
Player
Pts
Comments
QB
D. Anderson
19.7
I thought he was the best candidate for a 4-Td performance, go figure…
RB
R. Grant
22.2
No-brainer.
RB
A. Peterson
0.3
This one hurt. I kept waiting for NFL.com to show that 80 yard run to Taylor was their mistake. I also had Selvin Young and Travis Henry available, but the Broncos RB of choice of RB for any given week is a frustrating pick.
WR
R. White
13.5
Not bad, though I needed a lot more to make up for Peterson.
WR
B. Engram
11.5
I was satisfied with this, until I saw Peterson's day.
WR
D. Driver
3.8
The odd man out on a better passing day from GB than many thought.
TE
M. Lewis
2.5
I considered Donald Lee and Gates, but got too cut with this pick.
K
J. Brown
10.0
Decent for a kicker.
DEF
Jaguars
12.0
I was beginning to regret not going with Buffalo, but Clint Ingram helped.
Total
95.5
I should still be within reach if I perform better next week.

This wasn't a total burnout, but taking a chance on Marcedes Lewis and Adrian Peterson's inexplicably bad day hurt me.

QB (Need 2): D. Garrard; J. Kitna; M. Bulger; E. Manning; J. Cutler; M. Schaub; T. Edwards

To think I'm disappointed with a 2-touchdown effort from a quarterback who I last saw play at Oregon State prior to this season says a lot about this topsy-turvy season. My remaining options are intriguing, but not necessarily clear cut choices.

RBs (Need 4): J. Addai; F. Gore; Peterson (Chicago); E. Graham; R. Droughns; F. Jackson; T. Henry/S. Young/A.Hall; J. Fargas; D. Foster; L. Maroney; J. Chatman; K. Smith; M. Morris; D. Williams

Next week should look as good on paper for me as last week, but with hopefully better results.

WR (Need 6): L. Fitzgerald; L. Evans; J. Cotchery; D. Bowe; J. Gage; M. Jenkins; I. Hilliard; S. Moss; D. Mason; J. Porter; M. Muhammad; M. Furrey; S. McDonald; N. Burleson; A. Toomer; E. Wilford; K. Robinson; J. Jurevicius; K. McCardell; J. Reed; D.J. Hackett; D Henderson; A. Davis; B. Wade; S. Rice; D. Northcutt; V. Jackson; M. Booker; T. Ginn; S. Morey;

I'm feeling a little better here, because Cotchery and Evans have some life left in them.

TE (Need 2): A. Gates; J. Shockey; D. Lee; J. King; G. Olsen; B. Watson; T. Scheffler; L.J. Smith; Z. Miller.

Gates, Shockey, and Lee aren't bad remaining options two bad I didn't opt for two of these three last week…

Let's move on to the week fourteen files of 20/20 Hindsight.


We'd Have So Many 4-Touchdown Passers: Tom Brady and Peyton Manning posting 4 scores in a game is nearly an expectation. Matt Hasselbeck's day was no surprise. Jay Cutler's 4-td day was a surprise, but Broncos fans would probably tell you they've been expecting him to do something like this sooner or later. But when Trent Edwards throws four touchdowns on a less than impressive stat line of 11/23 for 165 yards, that's pretty shocking—except when you consider he faced the Dolphins.

Lesson Learned: All four quarterbacks lead teams that are in the hunt for a playoff spot or division crown—coincidence? I think not.

Adrian Peterson Would Have 14 Carries For 3 Yards: If this isn't a season-ender for many a playoff team, I don't know what is. Peterson came off a terrific performance against Detroit only to follow this up with this log of carries:
1st QTR yardage by carry: -2, 2, and 4

2nd QTR yardage by carry: -6 and –3

3rd QTR yardage by carry: 0,3,0, and 1

4th QTR yardage by carry: -1, -1, 4 (there was a 21-yard run called back on a holding penalty on Matt Birk)
Most of the carries were to the left side or up the middle. What's so puzzling on the surface is Minnesota got up early on the Niners and one would have thought the early lead would have set the tone for a big day from All Day. Unfortunately, it never happened against a team that, up to this point, allowed more yards on the ground than all but 6 NFL teams.
Lesson Learned: The Niners planned to stop Peterson and despite being successful, the Vikings were able to beat San Francisco with Taylor and a very efficient Tarvaris Jackson.

Samkon Gado Would Be A Better Play Than The Vikings Adrian Peterson: If someone told you to start Gado over A.D. would you have listened? Gado had 93 yards from scrimmage and two scores while subbing for Jesse Chatman—21 more fantasy points than Peterson. This seems more like a fantasy football version of News of The Weird.
Lesson Learned: Only five teams allowed more fantasy points to RBs than the Bills. Of any offensive skill position, runners have the easiest time adjusting to a new team. We've seen enough from Gado to know that he's capable of producing when given the opportunity.
Detroit Would Nearly Beat Dallas Due To Their Ground Game: More News of The Weird. Not only was it a surprise to think Jon Kitna and the Lions would even be competitive in this game after they embarrassed the Cowboys in 2006, but it was also mildly shocking they were up 27-14 in the 4th quarter. And the crazy part was Kevin Jones and TJ Duckett accounted for 3 scores while Kitna's touchdown count remained at zero. But I think the weirdest thing is the fact that there have been games that Detroit has pounded the ball and looked like a playoff team, but then they'll shy away from the ground game for stretches and look horrible.
Lesson Learned: Something stinks in Detroit and it's the offensive game planning. Mike Martz may have a terrific mind for the passing game, but he's holding back this team. I wouldn't be surprised if 2008 is Martz's last season as Detroit's coordinator, because the media will be critical of this lopsided approach throughout the off season. The Patriots can get away with this unbalanced offense because they are winning. But the moment this team struggles for a short period of time, it's all we'll be hearing about.

Brett Favre Would Play Well Against Oakland: I heard people say Favre wasn't a good play this week not just because he was banged up, but analysts also credited the Raiders defense. If you noticed Favre went 15/23 for 266 yards and two scores—not shabby.

Lesson Learned: This is where rattling off stats like "Oakland averages the least amount yards versus the pass" is misleading information. If you looked at the detailed performances of quarterbacks facing the Raiders, you would know that Oakland had yet to face a passing offense the caliber of Green Bay. Sure, Oakland allowed the least fantasy points per game to QBs, but do I need to say it again? LOOK AT THE LIST OF QBs! The last time they faced a statistically solid passing offense was weeks 1,2, and 3…this is why stats are dangerous. If you chose a riskier option than Favre for this reason, hopefully that option was Edwards or Cutler.


Nagging Feelings—Week 15
I know the Chargers won on Sunday, but after watching Philip Rivers get the cold shoulder from LaDainian Tomlinson, do you get the feeling that LT was wishing he still had his high school pal, Drew Brees quarterbacking his team? Brees may not be having the same stellar year as 2006, but his team also leads the league in dropped balls. On a night where Mike Vick began serving a 23-month sentence, it was sad to me in a different way (and much less grave) that Brees, who was the QB the Chargers selected in the 2nd round with the pick they received for flip-flopping 1st round picks with Atlanta, which got them LT and Atlanta got Vick, could have made it a three-horse race for the AFC Title. Brees is that good of a quarterback and leader, but you can't compare the line and skill positions of the Saints with the Colts, Pats, Cowboys, or even the Chargers. Put Brees back in San Diego and their skill talent and line is in my opinion as good as the Cowboys, and on any given Sunday, capable of handing it to the Colts and Pats.
As I say all the time, the now-deceased John Butler was a genius and his trade of what turned out to be Vick for Tomlinson and Brees gains greater magnitude with the current events. Too bad A.J. Smith would rather have a second rate version of Bernie Kosar instead of a pro bowl caliber leader and player, who would have never allowed a star player to disrespect him on the bench during a game, much less allow it to get to that point in the first place. Brees has great anticipation, mobility, and pocket presence. If you didn't notice that last night, maybe you noticed Rivers lacked all three things on Sunday. Tell me which QB you'd rather have: Rivers, Roethlisberger, or Brees? If you answered b, c, or b or c, you watch football. If you answered a, then I'm calling your fanhood into question.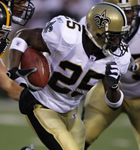 I listened to the Monday Night Football crew discuss Reggie Bush's future and I want to weigh in on the issue. The greatest quality about the best athletes is their capacity to work hard: Manning, Brady, Tomlinson, T.O., and Ray Lewis are all football examples of players at the top of their game who prepare with legendary intensity. 60 Minutes just profiled LT and he would only allow the CBS crew to film a very limited part of his workout regime. Last I remember, Bush once worked out with LT and got sick! The only player in the NFL who may perform at the level of these guys whose work ethic is questioned at times is Randy Moss. Reggie Bush and Adrian Peterson were like Randy Moss in college, but neither could sustain that physical dominance in the pros. Bush proved this due to his lack of production in his second season. Peterson proved it with taking the league by storm and more importantly, the comments his team made about his work ethic and ability to learn quickly.
After listening to the MNF team relay the Saints profile of Bush as a natural talent who still needs to work harder, it all makes sense as to why Bush looks like he's trying to break one on every play—he's still trying to get by on talent alone. This off-season is when Bush will get to make a choice with his career. He can be the Dave Meggett-Kevin Faulk-Eric Metcalf style of player the ESPN crew characterized him and do this for the remainder of his career or he can work hard and elevate his game to Tiki Barber-Brian Westbrook-Priest Holmes status, three players originally characterized as "satellite" or "situational" players. If he doesn't begin to show signs of making this leap in 2008, stick a fork in his fantasy career. He won't have to be a 1300-yard back next year, but he'll need to show signs on the field that he's a more disciplined runner between the tackles.