11/27/07
As we all know Hindsight is 20/20. This weekly column is devoted to learning from common mistakes and serves as FFToday's "Fantasy Football Confessional."
---
This was as wild an extended weekend of football—college and pro—that I've seen in a long time: Arkansas-LSU had its second great game in as many years (Everyone likes McFadden, but what about Felix Jones???); Kentucky nearly putting Georgia into the SEC Title Game and giving them a legitimate chance to be a top 3 team; and crazy-huge plays between Denver, Chicago, San Francisco, and Arizona in the span of three hours. And the nightcaps on Sunday and Monday: A.J. Feeley only doing what Peyton Manning did—making the match up a contest; and Mother Nature turning back the clock on modern football in Pittsburgh.
Last week I was incorrect about the number of remaining weeks before the finals of the FFTOC—this weekend was the last round of the regular season. Fortunately, I had key "non-finals material" players come alive for my team and I might have gotten enough from these guys to actually win my bracket by the closest of margins—a nice bonus if that indeed happened.

FFTOC Update
Pos
Player
Pts
Comments
QB
B. Farve
33.24
One of my two "safe" plays. I strongly considered Matt Schaub, but Brandon Stokley lighting it up against Detroit after I switched him out for Crap was a lesson I heeded—your first inclination is best.
RB
F. Taylor
17.8
You have to love the fact that Fred Taylor still has the wheels to break one.
RB
J. Lewis
20.7
Lewis was one of those plays where I felt he was good enough against Houston, but shaky as a "playoff" back for the final rounds.
WR
Reg. Williams
11.9
I just got back into town with enough time to watch his lone catch. I didn't realize he'd respond to my constant berating of his game.
WR
G. Jennings
18.0
I wanted to save Driver for the playoffs. Jennings was a great bonus.
WR
Royd. Williams
0.9
It was between Jones and Williams—completely disregarded Gage.
TE
K. Winslow
16.7
Winslow was the other "safe" play decision I made for this lineup.
K
K. Brown
5.0
The way Brown was playing lately, I thought I'd get more out of him.
DEF
Colts
5.0
I was actually disappointed by this game. I thought the Colts would make Atlanta rollover and play dead early.
Total
129.24
This score should clinch my berth into the finals.

With the final rounds ahead I'm feeling pretty good with my remaining pool of players. It's comforting to know that I have some of the more productive fantasy QBs, RBs, and TEs available to me during this four-week, finals period. It would just be nice to know which Denver RB I should start versus the Raiders this weekend!

QBs—P. Manning; D. Anderson; J. Kitna; M. Bulger; E. Manning; J. Cutler; M. Schaub; J. Campbell; J.P. Losman

RBs—B. Westbrook; J. Addai; S. Jackson; F. Gore; A. Peterson; S. Young/T. Henry/A.Hall; J. Fargas; L. Maroney; J. Chatman; R. Williams; K. Smith; E. Graham; J. Jones; R. Grant; D. Foster; D. Williams; M. Morris; R. Droughns; D. Ward

WR—L. Fitzgerald; L. Evans; Roy Williams; H. Ward; A. Johnson; D. Driver; J. Cotchery; D. Bowe; R. White; A. Gonzalez; A. Davis; I. Hilliard; B. Marshall; S. Moss; D. Mason; J. Porter; D.J. Hackett; B. Engram.

TE—A. Gates; J. Shockey; G. Olsen; C. Cooley; B. Watson; L. Pope; D. Lee.

Let's move on to the week one files of 20/20 Hindsight.


It Would Take A Throwback Player To Win A Throwback Game: Don't you think the Dolphins should have double covered Hines Ward? He was the passing offense with 9 catches for 88 yards, many coming on key plays. Ward at one point seemed like the only player comfortable on a surface that was nasty, but the way it used to be in the old days. Eventually Willie Parker and the offensive line seemed to follow Ward's lead.

Lesson Learned: Football may be a tougher game in the present day due to bigger, better athletes with more speed, game plans with higher complexity, and more games, but in football in the past played on fields like this on a regular basis and you didn't hear about all this whining. It would only figure that the one player in the league with a smile on his face no matter the situation would be the deciding factor.

Anthony Gonzalez Would Average 17.5 Yards A Catch In The Place Of Marvin Harrison: Gonzalez had 6 catches for 106 yards as the #2 WR for the Colts on Thanksgiving evening. Sure it was the Falcons, but Gonzalez is a rookie coming off injury and played extremely well in an offense requiring a high level of processing plays quickly at the line of scrimmage due to the leeway Tom Moore gives Peyton Manning. The reason the Colts drafted Gonzalez is the fact he might have been the most polished route runner in his draft class, which signaled to Indy that he could assimilate the offense.

Lesson Learned: Are you ready for the waiver wire darling of the stretch run? Even if Harrison returns to the lineup, Gonzalez could be the AFC South's version of Wes Welker…


The Vikings Defense Would Outscore Most Fantasy Wide Receivers: Nothing like 3 out of 4 interceptions going for scores. These three plays alone could have beaten the Giants by one. New York had a decent, yards per carry average between Rueben Droughns and Ahmad Bradshaw, but they gave away the game too early.

Lesson Learned: Dwight Smith and Darren Sharper may not be what they used to be, but they are still veterans capable of baiting an average quarterback.

The Cardinals Defense Would Be The Team That Allowed Frank Gore To Have The Type Of Game We Expected At Least A Few Times This Year: How could Arizona allow 34 points to the 49ers? For starters, it is a divisional rivalry so the teams know each other better than most. Then there's the presence of veteran Trent Dilfer. San Francisco's backup is not only a stabilizing influence in the huddle and practice, but he is also healthy—something Alex Smith was not.

Does Dilfer have a better understanding of when to check to new plays? Probably, and this only helps Frank Gore, who had a whale of an effort with 116 yards rushing, 98 yards receiving, and two scores. I'm sure there's some truth to the notion that the Niners are more predictable without Norv Turner at the controls, but I believe this team snuck up on people last year where this hasn't been the case in 2007. One thing is for certain though, the Niners have an easier schedule ahead and with Dilfer under center, this should spell good things for the offense.

Lesson Learned: If you gave up on Frank Gore, I hope you got consistent production in return. If you kept Gore, I hope you had consistent depth to keep you in the hunt for Gore to take over. The biggest thing you should learn about Frank Gore—who was generally regarded as a top-5 pick in most fantasy drafts—is you want to stock up on RBs with at least 4 picks within the first 7-10 rounds in 2-RB starting lineups. If you did, chances are you picked a player the caliber of Adrian Peterson, Chester Taylor, Fred Taylor, or Marshawn Lynch as your 3rd or 4th back. If you didn't, you now can see why it's a worthwhile strategy for next season.


Brett Favre Is Easy Money On Thanksgiving Day: 381 yards and 3 scores in Detroit when the Lions knew Favre would be throwing early, often, and always. This has opened up the run with their ability to spread the field.

Lesson Learned: Start fantasy QBs and receivers that face the Lions on Thanksgiving Day until further notice.

Gus Frerotte Is Brett Favre Gone Wild: "4-Rot" had four chances to beat the Seahawks, but blew three of them.

Lesson Learned: Gus is a yardage monster much of the time, but he won't win you games with even a strong set of skill players around him.

Devin Hester Is The Best Return Specialist Ever? Just so you know, I was writing this before his second return for a score today. I know it's premature, given it is Hester's second year as a pro, but have you seen a better one? Dante Hall? He played on a strong unit with a great special teams coach. He also did far too much east-west running. Michael Lewis? The Beer Man was fast, but lacked the vision of Hester. Billy Johnson? He was an east-west guy who lacked the blazing speed of Hester. Deion Sanders? Hester's about as fast, but breaks more tackles. Mel Gray and Brian Mitchell? These guys have proven their skills for far longer than Hester has been around, but Hester has played 196 fewer games and scored only 3 fewer touchdowns than Mitchell. The numbers don't lie…

Lesson Learned: Hester may have already made a case for being one of the best ever, but he's still not even the best in the history of his team. Gale Sayers has the highest career average per return in NFL history and the highest average per return for a season. But I have to say that it's close. Still, I'd rather have Sayers who literally had eyes on the back of his head.

The Key To Beating The Pats Is Stopping Randy Moss, Not Brady: The Pats Golden Boy had over 300 yards passing, but the reason the Eagles were competitive had to do with limiting Randy Moss to an ordinary day for a receiver. If A.J. Feeley didn't give away three balls, Philadelphia wins this game.

Lesson Learned: Moss is the most valuable player on this team. His presence as a deep threat opens up the underneath game, sets up the run (when they decide to do so), and often gives New England's defense enough of a lead to play aggressively. I heard Merrill Hoge say Moss didn't want to play as much after he got popped a few times, but that was an irresponsible statement. Moss got popped in other games, and still came up with big plays. The fact was Brady didn't have as much time for Moss to run past double teams like he has in other contests (the Jets were an example). Timing is everything with the deep pass—the Eagles did not allow Brady enough time to hook up with Moss deep. John Madden also made a great call that Andy Reid and the Eagles were doing an excellent job of exposing the Patriots pass defense between the hash marks. The Pats are still an elite team without Moss, but more like they were in 2006—beatable.


Nagging Feelings—Week 13

Subway missed the boat with its commercial where Brady Quinn was featured, throwing subs from a parade float. Although he aptly responded to the crowd that "he was kind of busy on Sundays," it would have been funnier if Derek Anderson handed him a sub and responded "that's alright, I'll cover for you."

And don't even get me started on Citizen and it's use of Eli Manning…Unstoppable. Yeah, unstoppable alright—he can't stop throwing pics…

Is there a player who misses more tackles or gets posterized by opposing skill players more often than Adam Archuleta? Not only did he allow Andre Hall run through his tackle on a touchdown off the option, but it seems like he's getting run over, run through, or faked out week after week. I'd like to say Achuleta was thrown off by the quarterback option that Cutler and Hall ran, but he was in perfect position as he hit the Denver RB only to slide off his waist onto the ground. He also got outran on a route by Tony Scheffler and still let the TE catch a 41-yard pass after interfering with the guy. Is there a worse, well-known defender in the NFL?

Was Bernard Berrian's 4th down, diving grab the best clutch-catch of the season? I think so. Just look at the situation and the fact Champ Bailey was playing him man to man. Speaking of this game, why can't the Bears recognize that their best back is Adrian Peterson, the star runner from Georgia Southern? This guy has terrific balance and power and runs with the toughness that Cedric Benson has yet to show.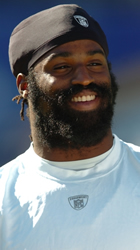 I have no problem supporting Ricky Williams. The guy spent 8 months in a treatment facility getting therapy. Obviously, Leigh Steinberg is going to do his spin control through the media on Monday Night Football, but the fact the Ricky has been out of the media's scope for this long despite his desire to remain in the league lends some credibility to what his agent is saying. I believe his issue was psychological in nature and unlike a great many players who had psychological issues, but probably had to cope with them without the same support that Williams is finally receiving, the mercurial runner is ready to get back to playing.
It's really not hard to imagine his mindset: He reacted immaturely due to a fairly debilitating condition that no one understood and tried to self-medicate. When this medicating got him in hot water, he got cornered into making stupid choices to try to save face and deny how difficult his psychological problem was for him. As a result, he threw away his career. Now that he's getting yet another chance, he's probably thinking there's nothing he can say, actions and time will be the only way he can show he's moved past his issues. He's also got to be sick of talking about this problem. Seriously, look at the stigma of mental health issues in America today. We still have a fair number of people in our population who believe people dealing with these issues are weak-willed, making excuses, or being enabled by a bunch of quacks who make up stuff as they go along.
Keyshawn Johnson and Emmitt Smith will wonder aloud why Williams is even allowed on the team for walking out on his teammates, but Johnson was so disruptive he was kicked off the Bucs at mid-season and Smith staunchly supported a teammate who was quite aware that his coke habit and threatening another player with a pair of scissors could have earned him a bus out of Dallas but did it anyhow. What is responsible about this behavior? Aren't these ways these players let down their teams? The "let down his team" party line by these former players illustrates the ignorance of Williams' issues. This doesn't mean Williams isn't accountable, but if Emmitt Smith is going to call Michael Irvin the ultimate leader when in today's NFL he would have been treated like Tank Williams and Pac Man Jones, is hypocrisy. Michael Pittman is considered a good teammate, but if you saw him treating your sister, mother, wife, daughter, or girlfriend like he repeatedly has treated his wife and child, you'd probably be in jail and hoping for a plea bargain from 1st degree murder down to manslaughter. So when you hear the media ask former players about Ricky Williams, remember these guys lack the education and/or sense to approach what he's been dealing with. I'm not berating them, because none of us have if the 8-months in a psychiatric facility coping with what must have been a debilitating issue is true. Unless it's a Barrett Robbins-like issue, something like social anxiety disorder seems tame and possibly fabricated. No one really knew, and there's a lot more to the story we're going to find out in the coming months-years. I can see a book in the works—maybe years from now—about his coping with mental illness. How else do you explain a player who is described as one of the most intelligent in the league with all-world ability and a great personality that won over some of the most old-school players and coaches who seemed to veer off course in the strangest ways no one could have predicted for him?