11/20/07
As we all know Hindsight is 20/20. This weekly column is devoted to learning from common mistakes and serves as FFToday's "Fantasy Football Confessional."
---
With three weeks of the preliminaries remaining, I'm in good shape to make the final cut and have strong players available for when it really counts.


FFTOC Update
Pos
Player
Pts
Comments
QB
K. Warner
20.24
I'll need to begin playing some of the marquee QBs whose teams won't be fighting for a playoff spot down, but this was a good match up.
RB
C. Taylor
38.2
Was there a more obvious play this week? This year?
RB
P. Holmes
5.6
I had Earnest Graham here all week, but was worried Michael Pittman might get more time. Bad call…
WR
C. Henry
14.1
This was an easy call, although Antrel Rolle was tougher than Cincy expected.
WR
M. Clayton
0.03
I thought I might get burned here, but had to take my shot.
WR
I. Bruce
5.4
TE
L. Pope
2.2
K
S. Graham
9.0
This works…
DEF
Patriots
18.0
This might have been the more obvious play and it saved my week.
Total
112.77
I'm very happy with this week due to the fact I saved good players.

At this point of the season it's time for me to use a bit more strategy with my player selection. Looking at the players below, I'm more inclined to begin using players who are with teams that will not have their division wrapped up when I need them most. So far those teams are likely New England, Green Bay, Dallas, Indianapolis, and maybe Pittsburgh.

QBs—P. Manning; B. Favre; D. Anderson; J. Kitna; M. Bulger; E. Manning; J. Cutler; M. Schaub; J. Campbell; J.P. Losman

RBs—B. Westbrook; J. Addai; S. Jackson; F. Gore; A. Peterson; J. Lewis; S. Young/T. Henry; J. Fargas; L. Maroney; J. Chatman; E. Graham; J. Jones; R. Grant; D. Foster; D. Williams; M. Morris.

WR—L. Fitzgerald; L. Evans; Roy Williams; H. Ward; G. Jennings; A. Johnson; D. Driver; J. Cotchery; D. Bowe; R. White; A. Davis; I. Hilliard; B. Marshall; S. Moss; D. Mason; J. Porter; D.J. Hackett; B. Engram.

TE: A. Gates; J. Shockey; K. Winslow; G. Olsen; C. Cooley; B. Watson; L. Pope; D. Lee.

As you can see, I used most of the players from those teams I mentioned, so that means I'll have to take my chances on players who aren't high-end choices. If I can get decent production for the next two weeks to make the cut, I'll have enough firepower to contend for the money if I make the right choices.

Let's move on to the week one files of 20/20 Hindsight.


Tony Romo And Terrell Owens Would Pitch And Catch For A Combined 8 Fantasy Touchdowns: I'm ahead by 20 points in a dynasty league at 5:30 P.M. EST, Sunday afternoon until Romo and Owens go on such a tear that I'm down by 70 points at 6:30 P.M. There's nothing like a 90-point swing in the span of an hour to turn your team's fortunes upside down.

Lesson Learned: A divisional rivalry where the opposing secondary is decimated makes it ripe for an all-pro quarterback and all-pro receiver to set the world on fire. Kind of like…

Tom Brady And Randy Moss Pitch And Catch For A Combined 8 Fantasy Touchdowns: With the help of Bernard Berrian, Patrick Kerney, and Randy Moss, I actually cut that 70-point lead to a 13-point deficit going into Monday night with Keith "Mr. Monday Night" Bulluck ready to earn my squad the most improbable comeback of the ages.

Lesson Learned: Like I said: A divisional rivalry where the opposing secondary is decimated makes it ripe for an all-pro quarterback and all-pro receiver to set the world on fire.

Brian Westbrook Could Handle The Rock 30+ Times And Remain Productive: I've been saying Westbrook could run between the tackles since I first started writing for FF Today as far back as 2004. The Eagles starter literally carried this team to a victory as a runner between the tackles despite the fact he missed practiced with a swollen knee. With 32 carries for 148 yards, Westbrook shattered the myth that he can't grind it out for a tough victory.

Lesson Learned: If you check this one out and come to the list of backs with Westbrook's dimensions, you can now add Maurice Jones-Drew and Willie Parker to this list of small, but effective inside runners.



Devard Darling Would Catch 104 Yards Worth Of Passes For A Score: The Ravens receiver has been a Gutcheck favorite as a sleeper/developmental receiver for a few years now. Is it possible the light has come on for Darling? Or has Darling been ready to contribute, but offensive genius, Brian Billick hasn't recognized he had a player of this caliber on his roster. Don't laugh. Billick didn't seem to have a problem with letting Derek Anderson get away…then again this was the Browns secondary that Darling burned twice for big plays.

Lesson Learned: I guess if it's a divisional rivalry where the opposing secondary is weak, even a second-string quarterback and second string-receiver can set the world on fire. Does Darling have a chance to become a Second Half Wonder? With the way Mark Clayton is playing, the answer is yes. He seems to have a rapport with Kyle Boller and if the second string QB gets a chance to keep playing, Darling could be another fantasy surprise down the stretch. I think next week is pivotal for owners to see if Darling has a chance here. If you have roster room, pick him up this week and wait. Worst-case scenario is you drop him next week.



Chester Taylor Was A Great Play Against The Raiders: The fact we've all been harping on Brad Childress not using Peterson as the starter over Taylor does not take away from the point that Chester Taylor was a 1200-yard back last year. That makes the Vikings "second string" back an "above average starter" based on performance. If Childress had not made questionable decisions with his personnel choices and management of off field issues in addition to his depth chart moves at RB, one might consider that the Vikings coach was right about Peterson splitting time—especially in light of Peterson getting hurt.

Lesson Learned: This was a classic match up with a great offensive line facing a poor front seven. The least talked about lesson that could prove important down the stretch for many fantasy owners is the Vikings line is so strong that if Taylor gets hurt and Peterson is still out, then Mewelde Moore becomes a hot commodity. Remember Mewelde Moore down the stretch, because he's good enough to make your fantasy lineup successful if thrust into the starter's role.

Denver's Ground Game Would Be Productive Against The Haynesworthless Titans Defense: It's always difficult to fathom that one defensive lineman can make such a difference, but that difference was apparent last night as Selvin Young and Andre Hall ran right up the gut of the Tennessee defensive front. Speaking of the Denver ground game, I can't stand how the commentators kid about these "anonymous" runners that are so sorry that Tony Kornheiser can gain yardage if he got the ball. Andre Hall may have gone un-drafted, but he's a promising young runner that you should have heard of a couple of years ago. He was actually the player that put South Florida on the map.

Lesson Learned: Here's my scouting report on Hall, a player who demonstrated excellent balance both in college and in this game. Why was he not drafted? The same reasons Brian Westbrook was considered a top-5 player by ability, but a mid-round pick due to his size.


Nagging Feelings—Week 12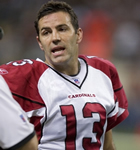 Did you see Kurt Warner making big plays under pressure? He almost looked Favre-like with a couple of those underhand pitches to J.J. Arrington and Leonard Pope in the face of the pass rush. The Cardinals QB was a great fantasy option down the stretch in 2005. If he stays healthy, look out…
When I went out on a limb a few years ago and said Byron Leftwich would be a better quarterback than Michael Vick I didn't think I would win that argument because of the events that transpired this summer—for both QBs. And if you really examine whether I won this argument, I'd actually say it's an ugly draw: Vick never became a good passer and Leftwich has yet to remain on the field long enough, which is partially his fault for his slow wind up and lack of mobility. Leftwich was a player I liked prior to studying film in the systematic fashion I do for the Rookie Scouting Portfolio. Unfortunately, Leftwich is like a poor man's Drew Bledsoe.
What's fascinating to me is that Vick and Leftwich are diametric opposites of what doesn't make a good NFL quarterback: Vick is all mobility but doesn't keep his eyes downfield and Leftwich is recognized as one of the better QBs in the league in regards to field vision, but his mobility is nonexistent. You need to be able to move enough and have a quick release—neither qualities Leftwich has. There are only a handful of teams I can see which have the offensive line to protect Leftwich to be effective. Unfortunately for the Falcons QB, the only offensive line that could help him maximize his talents would have to be the equivalent of John Madden's group in Oakland that protected the statuesque, Kenny Stabler.
Meanwhile, I should give props to David Garrard yesterday. The Jaguars quarterback and Reggie Williams were in sync against the Chargers. But it's this last phrase that keeps me from doing so—the Chargers are an underachieving team that has never had a good secondary. Two weeks ago was a game of the ages for Antonio Cromartie and the worst game of Peyton Manning's career—you can throw that one out of the Rolodex. Until I see Garrard and Williams looking good against a team like the Colts, Cowboys, Packers, or Pats, I'm not convinced.