Dynasty League Prospects
5/17/11
This space will be a semi-regular feature at FF Today and will speculate upon NFL up-and-comers who may be or may not be well known in dynasty league circles. I'm not guaranteeing anyone to become the next star, but merely helping you keep abreast of developments that could affect your dynasty league rosters this season—and you may even discover unknowns who could become known quantities down the road.
---

As dynasty owners look forward to the 2011 season, we become quite impressed with our "shiny new toys"—the rookie class. In the same way that children on Christmas morning toss aside all the great toys they got the year before, we make way for our rookies by cutting young underachievers in our dynasty leagues. The waiver wire is likely littered with plenty of potentially valuable players that were tossed aside after not producing during their first or second years in the league. In this column we'll try to find a few young players that have yet to produce significantly, but who could help your dynasty team a lot more quickly than most of this year's rookie class. Just as in life, patience is a virtue in dynasty leagues. Treasure becomes trash rather quickly in this fickle hobby (but sometimes it turns back into treasure again). If you can manage to consistently pick up the trash before it turns back into treasure, you'll be ahead of the game against your league-mates.

In this installment we won't necessarily look at many unknowns, but rather at some former rookie sleepers that may just finally wake up.


The Passers

Matt Flynn has toiled in Aaron Rodgers' shadow for the first three years of his career, much like Rodgers was forced to do behind Brett Favre. Flynn finally got to show off his wares when Rodgers was forced to miss a start against the New England Patriots, one of the better teams in the NFL last season, and he more than held his own. Flynn threw for 251 yards and 3 TDs with 1 interception in that game, and he looked very poised for a player making his first NFL start. While some offseason rumors suggest that Flynn will be traded by the Packers before the start of the season, I'm not expecting that to happen. The Packers would not want to jeopardize their defense of last year's championship by not having a capable backup that knows their system in case Rodgers gets his bell rung once again. However, a major impetus of this rumor is the fact that Flynn is entering the last year of his contract. If you have the roster space, Flynn makes a nice stash as an up-and-coming young QB, as he'll surely get signed somewhere as a starting option next offseason. Flynn isn't the most gifted physical specimen, but he's smart, gritty, and has the mobility of the man he backs up at the quarterback position. For your fantasy squad, he'll be a great QB2 who can grow into some real legit trade bait once he proves himself.

Former Fordham University quarterback John Skelton saw the field in 2010 (before he was ready) and left many fantasy owners unimpressed. There are many rumors swirling around about who will end up being the starting quarterback in 2011 for the Arizona Cardinals—a prize that comes with getting to throw the football to Larry Fitzgerald—and until the lockout ends, none of us will know for sure who will ultimately be handed that job. If a young quarterback like Kevin Kolb gets traded to the Cardinals, then Skelton will likely never see a legit chance at playing time. However, if the team ends up with a stopgap solution like Marc Bulger or Donovan McNabb, Skelton will learn from the bench while impressing upon the staff in practices and spot duty that he could be their future. Skelton was compared to Joe Flacco by some pundits during last year's pre-draft process. The comparison makes sense in that he's big, strong-armed, and also came out of a small-time college program. Skelton has great leadership skills, fits the prototype mold of the franchise quarterback, and has landed in the ideal situation for a young signal caller. He should get the opportunity to soundly acclimate himself into a system loaded with surrounding talents like Fitzgerald, Andre Roberts, and a stable of young running backs. He's only an option in deep leagues with large rosters, but he could pay dividends with a little patience.



The Runners

Word is that the Broncos will be looking to add to their running back depth chart through free agency once the lockout ends, but right now the cupboard is bare behind starter Knowshon Moreno. Jeremiah Johnson, out of the University of Oregon, looked very impressive in the preseason for the Texans last year but was a victim of the numbers game and bounced to the Houston practice squad and then to Denver. Johnson has the speed, moves, burst, and vision to make it at the NFL level. Unfortunately, his value will be discounted by his size—but that won't stop him from making plays if he gets the chance. That chance could come sooner than later, depending on what type of back Denver brings into the fold. Since Johnson's an adept pass catcher with good open-field abilities, he could at least take on a Mike Goodson-type of role for John Fox. If Denver does not bring in another option—which admittedly is unlikely—then Johnson is one Moreno injury away from a significant role where he can showcase his abilities.

Another team whose depth chart is in flux pending free agent acquisitions is the Miami Dolphins. They added big back Daniel Thomas out of Kansas State in the third round of the NFL draft, but they have little else behind him. Former Purdue Boilermaker Kory Sheets, who Miami grabbed after he was released by San Francisco, is a good receiver out of the backfield and could find a role in 2011. Sheets isn't the biggest back, but he can knock defenders to the ground with a nice stiff-arm and sheer determination. He is a natural hand-catcher and displays good speed in the open field, making him an ideal player to fill a third-down role in Miami. He also has the vision and agility to be a productive cutback runner if he earns an even bigger role with the team. His style does lead to his absorbing some big hits, so injuries have been and will continue to be a concern. But he's worth a flier in deep leagues.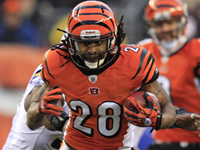 Can Scott be a feature back?
Cincinnati is yet another team that may present some opportunities for lesser-known backs this coming season. While most beat writers fully expect the team to bring back Cedric Benson, who is currently a free agent, he will be 29 this year and looked fairly pedestrian in 2010 after reviving his career in 2008 and 2009 with the Bengals. Another Cedric, Cedric Peerman, has bounced around the league after being drafted out of Virginia by the Baltimore Ravens, but he has NFL-level talent. Despite lacking elite speed, he can still bust off long runs since he gets through the holes quickly with burst and decisiveness. Concerns about durability and ball security may have been the reason he hasn't been able to stick with a team thus far, but given his reputation as a tremendously hard worker, I wouldn't be surprised if he puts those issues in his past and moves forward as a productive part of the young Bengals offense. The more obvious candidate for an increase in carries in Cincinnati, however, is third-year back Bernard Scott out of lower-level Abilene Christian. Scott was able to showcase himself last season, with mixed results, as a backup to Benson. At times he looked like a potential star; at other times he looked like a guy that can be decent in spurts but never "the man." At 27, he's already getting up there for a prospect, but he does get to top gear in a hurry and has terrific open-field speed. At worst he's a great third-down option as he catches the ball like a wide receiver and has big-play capabilities in open space. Size may be an issue for him as a feature back, but the ability to be an inside runner is there, due to his exceptional footwork and his ability to cut back against the grain. Given that Scott never really took over for an obviously declining Benson along with the rumors that Benson will be re-signed despite averaging under 4 yards per carry last season, one can interpret that to mean that Marvin Lewis does not see Scott as a feature back. That may very well be true, but it also helps depress Scott's trade value, making him an interesting offseason bargain.

The Pass Catchers
Damian Williams definitely disappointed those who picked him in rookie drafts last season as he barely saw the field and finished the year with only 16 catches. But despite his smaller stature, he is tough in traffic due to his quickness in small spaces and his sticky hands. He has enough burst to get open at the NFL level and is very polished in his route running. While an ideal slot receiver in three-receiver sets, he also has the ability to play as a split end. He could start the 2011 season opposite Kenny Britt—if the Titans finally decide to push aside uninspiring vets Justin Gage and Nate Washington—and he would compliment Britt's downfield abilities well. Now is the time to acquire the former Trojan before he breaks out, especially if he is owned by one of the more casual members of your league who may be considering cutting him to make room for the rookies he just drafted.
In his sophomore season, Arrelious Benn should step right into the possession receiver role in the young and improving Tampa Bay passing offense. While fellow second-year player Mike Williams gets all the acclaim in dynasty circles, Benn quietly ended his season strong before suffering a knee injury. All reports coming out of Tampa are saying that Benn is ahead of schedule and will be ready for training camp. With Josh Freeman's growth last season, two Buccaneer wide receivers could easily become fantasy relevant in 2011. Benn, like Williams, has a "my ball" mentality and fluid athleticism for a player his size, and he can gain yards after the catch. He should at least prove to be a poor man's Anquan Boldin to Williams' Larry Fitzgerald for years to come, and right now he can be had at a fraction of the price that Williams commands. While Benn is far from an unknown commodity in dynasty leagues, the Mike Williams hype train should allow a smart owner to swoop in and grab the former Fighting Illini at a cheaper price than a similar-pedigreed player would normally command. I wouldn't be shocked if Benn and Williams end the season within 10-20 fantasy points of one another.

Jacoby Jones had supposedly been on the verge of super stardom the last two offseasons, but he has been unable to grab the reigns completely from the over-achieving Kevin Walter in the battle for the Texans' No. 2 wide receiver role. The team may very well allow Jones to walk in free agency, which would give last season's late-round pick, Dorin Dickerson, the opportunity to be the player who can finally take some heat off of Andre Johnson. Dickenson was a collegiate tight end at Pittsburgh who lacked any semblance of blocking skills but was drafted by Gary Kubiak to play wide receiver. His size/speed combination (6'2", 226 pounds, with a 4.4 40-yard dash at the NFL Combine) could add up to great things in the prolific Houston passing game by next year at the latest. Dickenson is the type of player that can come out of nowhere and surprise the fantasy world.

At 6'6", 227 lbs., Ramses Barden has something that no other receiver on the New York Giants has: great size. Even Hakeem Nicks, who plays like a beast, is only 6 feet tall. Barden uses his large frame to shield defenders away from the ball, but has yet to show the necessary quickness off the line or in his breaks to make an impact at the NFL level. However, if he learns to fight better for the ball and use his bulk to out-muscle smaller defensive backs, he should at the very least be a reliable red-zone target for Eli Manning, with the upside to be much more. The Giants drafted him as a project and he may now get his chance entering his "magical" third year. Possession receiver Steve Smith had micro-fracture surgery this offseason, and there is some buzz in New York that he may need to start the season on the PUP list. While Mario Manningham broke out in Smith's absence last season, Barden can be the short-area check-down option for Manning, as Nicks and Manningham are better deep threats than route runners. Barden should really only be considered in deeper leagues at this point, but at least keep your eye on him in shallow leagues as well.