Dynasty League Prospects
5/18/10
This space will be a semi-regular feature at FF Today and will look to explore, speculate, and keep people interested in up and comers in the NFL who may be or may not be well known in dynasty league circles. I'm not guaranteeing anyone to become the next star, but merely helping the reader to keep abreast of developments that could affect your dynasty league rosters this season and beyond and perhaps even help you discover unknowns who could become known quantities down the road.
---
The Passers
The Seahawks made a bold pre-draft move when they swapped second round picks with the San Diego Chargers to land restricted free agent and career backup Charlie Whitehurst. The former Clemson Tiger also drew interest from the Arizona Cardinals who instead settled for Derek Anderson to push Matt Leinart. Whitehurst's collegiate stats were not very impressive, but he did play in a run first offense and had limited weapons in the passing game. However, he did show enough to catch the attention of savvy GM A.J. Smith who drafted Whitehurst in the third round of the 2005 NFL draft despite already having Philip Rivers on board. When three recently well run NFL franchises take notice of an "unknown" player, he should catch your interest a little as well. Matt Hasselbeck's career is coming to a rapid close and since he's been hampered by back injuries in recent seasons, a few missed games is a distinct possibility. Whitehurst has a big arm and ideal NFL size. The knock on him has been poor decision making, but the coaching he should receive as an heir apparent versus a third string backup should help him improve in that regard. If he's able to learn the ropes under new head coach Pete Carroll, he just may be a valuable backup QB, at worst, for your dynasty team. While others are taking questionable rookie prospects like Jimmy Clausen, Tim Tebow and Colt McCoy in the second or third rounds of rookies drafts, sit back and wait on Whitehurst who has just as much upside as any of those prospects and is more NFL ready, having been through a few training camps with San Diego.
The Redskins finally gave beleaguered QB Jason Campbell the boot, sending him to Oakland, after acquiring former Eagle Donovan McNabb in a blockbuster trade this off-season. Learning a new system shouldn't be a problem for Campbell who has been forced to do so virtually every season since his junior year in college. Campbell has a strong arm and good mobility, but has shown a propensity to get flustered under pressure and hasn't always made the best decisions with the football. A fresh start could be just what Campbell needs to live up to his first round potential. In Oakland he'll be asked to get the ball downfield more and will have a nice set of young skill position players to toss it to. TE Zach Miller is a great over the middle target that is more athletic than Chris Cooley, who had great success with Campbell, and second year receiver Louis Murphy played very well as a rookie despite some horrid QB play in Oakland last season. If Chaz Shillens stays healthy and RB Darren McFadden flourishes in a Reggie Bush type role, this just may be the most talented support staff Campbell has worked with. Campbell has improved each season he has started, and it shouldn't be very expensive to add him to your squad. Adding a player cheaply, before he has his break out season, is a great way to have success in a dynasty league.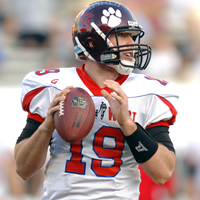 John Skelton: A potential long-term option if the Leinart era is a short one.
While former first rounder Matt Leinart will be given every opportunity to succeed in Arizona and former Pro-Bowler Derek Anderson is on board in case Leinart falls on his pretty face, keep an eye on rookie QB John Skelton. Skelton will likely not see the field in 2010 barring a disaster in Arizona, but he could be a potential long term option if the Leinart era is a short one – and let's face it, anyone that watched Leinart replace Kurt Warner in the playoff game against New Orleans couldn't be all that excited about Leinart's chances. Skelton has been compared to Joe Flacco by some pundits. The comparison makes sense in that he's big, strong armed and also came out of a small time college program, in this case the even more obscure Fordam University. Skelton has great leadership skills, fits the prototype mold of the franchise QB and has landed in the ideal situation for a young QB. In Arizona, he can sit and learn and when ready work with Larry Fitzgerald, who has the ability to help out any QB by making tough catches. If you have the roster space there are worse options to sit on your fantasy bench for a year. If Leinart succeeds and looks like he'll be around for a while, you can always cut bait on Skelton.
The Runners
As most fantasy owners know Steven Jackson hasn't exactly put together a Favresque streak of consecutive games during any point in his career. Despite that, the Rams failed to secure a legit backup for Jackson via the draft or free agency at this point – although they did bring former Eagle Brian Westbrook in for a physical. Incumbent backups Kenneth Darby and Samkon Gado have shown some flashes, but have not been terribly consistent and are unlikely to be able to handle the load should Jackson be lost. The wildcard in the mix could be UDFA Keith Toston. Toston put up 1,218 yards and 11 TDs during his senior season at Oklahoma State and is a talented runner who stays low to the ground and has terrific lateral movement. Although he does not have ideal straight line speed for a "smaller" back (5'10", 210 lbs), he makes up for it with quick stutter steps, great patience and vision. If the Rams fail to sign Westbrook or another veteran, Toston shouldn't find passing up the incumbents on the roster all that difficult, which means you could have a useful player who has a chance to be a starting back at some point this season without spending much to acquire him.
The Packers waited until the sixth round to draft a RB this year, showing some faith in incumbent starter Ryan Grant, but not so much in Brandon Jackson who just may lose his third down back role with the team. While Grant is a hard, decisive runner and a good fit for the Packer zone blocking scheme, very few people would argue that he is a tremendously talented back. All this means that former Buffalo tailback James Starks could be one of the surprise rookie runners this season despite not being as prominent on the radar as a number of other young runners. Starks' detractors will say he runs too upright, but most tall backs (Starks is 6'2") are accused of doing the same. Starks missed the 2009 season, but used that opportunity to gain 15 pounds of much needed muscle and is currently listed at 218 pounds. He's a good cut back runner with speed, burst, and sharp moves that should fit in well with Green Bay's zone blocking scheme. If the added muscle increases his power without losing his explosiveness, he could be a major steal in rookie drafts.

Jerome Harrison put together a very nice stretch run during the 2009 season which likely helped many fantasy owners take home their league's trophy. However, the fantasy landscape is littered with non-descript running backs that finished the season strong, in part because they had fresh legs and were facing tired defenses, who promptly returned to obscurity the following season. This list of "studs" includes: Samkon Gado, William Green, Julius Jones, Ladell Betts, Nick Goings, Marcell Shipp and Brad Hoover among others. Harrison may be more talented than some of these guys, but he hasn't been able to gain the trust of two different coaching staffs and is a 27 year old career backup. The Browns moved up in Round 2 of the NFL draft to choose former Tennessee volunteer Montario Hardesty and still have last season's late round pick James Davis in the mix as well. My dark horse candidate, however, is former Denver Bronco and Arkansas fullback Peyton Hillis. Hillis was forced into action in 2008 after five other RBs were injured in Denver and ran with reckless abandon while significantly outperforming all of his predecessors. Hillis is a hard running 240 pounder, with surprisingly nimble feet and soft hands for a back his size. He should end up seeing significant time in short yardage and third down situations, at least, and I have a feeling that Eric Mangini will fall in love with this kid. A player that can likely be found on the waiver wire in most leagues that could end up having significant value is a player that should be on your radar if he's not already.
A player that will likely not make much of an impact in 2010 (heck he may not even make the roster), but should be on your radar is Shawnbrey McNeal whole could step right into Darren Sproles' 3rd down/change of pace roll in 2011 after the Chargers let Sproles walk. McNeal was recruited and enrolled at the University of Miami, but found himself buried behind Javarris James and a few other backs in his two seasons there, so he left for SMU where he gained over 1,400 total yards and scored 14 TDs in his one season as a starter. At 190 pounds he is a little undersized - but still bigger than Darren Sproles – but can run inside due to his compact running style and while small he isn't afraid of lowering his shoulders and initiating contact. If you play in a league with large rosters, he's worth a speculative spot for a potential reward in 2011.
The Pass Catchers
Mike Thomas is the favorite to start opposite Mike Sims Walker in Jacksonville this season and this may be your last opportunity to obtain him relatively cheaply. Personally, I own him in all three of my dynasty leagues, as I was a big believer in him coming out of Arizona and think that belief will pay off this season (and believe me I'm not egotistical enough to think that anything I write here pumps up his trade value). Thomas has routinely turned around defensive backs in one-on-one match ups with his superb route running in OTAs so far. He is small in stature but like the WR he's most compared to, Steve Smith, his strength belies his size. Walker has amazing quickness in small spaces and catches everything in sight. He put up decent numbers (48-453) as a rookie playing mostly in the slot, but Tory Holt's departure opens up an opportunity for a bigger role in his sophomore season. While Jacksonville is not a high flying passing team the presence of Mike Sims-Walker and Mike Thomas just may give the Jaguars their most talented WR duo since Jimmy Smith and Keenan McCardell.

Devin Thomas has gotten off to a slow start to his career, but he possesses excellent run after the catch skills, the ability catch the ball in traffic and excellent fundamentals. This year, Thomas gets his best opportunity to succeed as he has offensive mastermind Mike Shanahan running the offense and a quality passer in Donovan McNabb throwing him the ball. Santana Moss should still draw the opposing team's best cornerback giving Thomas the opportunity to make plays in an offense desperate for playmakers (let's face it the trio of AARP eligible RBs aren't going to be grabbing large chunks of yardage at a time). Thomas' price tag is still rather cheap and owners that got "burned" using a first or second round pick on him in 2008 rookie drafts may have even already cut bait on him – if that's the case move in and benefit from other's lack of patience.

The Denver Broncos drafted Demaryius Thomas in the first round, surprisingly as the first WR off the board, but the rookie WR that could make the biggest impact for the team in 2010, and perhaps beyond is mid-round pick, Eric Decker. Decker is more of a possession type WR than down field threat Thomas, but is a fluid athlete who can make plays. He'll be a great bargain in rookie drafts in the third round as opposed to Thomas who has been a mid first rounder. Decker could be a solid weekly contributor immediately in point per reception leagues if he gains Kyle Orton's trust. While his ceiling is likely limited, a good possession WR is an often overlooked asset in dynasty leagues for their steady point production. Brandon Marshall's trade out of Denver puts 100+ plus receptions on the table for some one to pick up, and whoever steps up in training camp could be that person once the season gets underway.
Injuries have derailed the career of Adrian Arrington thus far in his three NFL seasons, but he's a guy I liked better than his college teammate Mario Manningham coming into the league. He could end up being fool's gold due to his inability to stay healthy, but having a WR in the Saints high powered offense that likes to spread the ball around is not a bad thing to have rostered. Arrington has decent size and attacks the football in the air and would make nice compliment to Marques Colston on the other side of the field, if he didn't have Robert Meachem, Lance Moore and Devery Henderson in front of him on the depth chart. He's not an immediate add, but if one of the other Saint WRs go down in the preseason, a waiver wire claim on Arrington could pay dividends.