Dynasty League Updates

9/12/07



This space will be a semi-regular feature at FF Today and will look to explore, speculate, and keep people interested in up and comers in the NFL who may be or may not be well known in dynasty league circles. I'm not guaranteeing anyone to become the next star, but merely helping the reader to keep abreast of developments that could affect your dynasty league rosters this season and beyond and perhaps even help you discover unknowns who could become known quantities down the road.

The Passers

Jay Cutler continued the success that marked his brief rookie campaign by torching the Bills suspect pass defense for 304 yards and a touchdown. He worked really well with former practice mate Brandon Marshall during 2006 and that comfort level continued as the duo combined for 52 yards and a TD in Week 1. However, in order for Cutler to really break out he needs to get the ball in the hands of stud WR Javon Walker who he generally ignored last year. He took a major step in that direction connecting with Walker 9 times for 119 yards against the Bills. Fantasy villain Mike Shanahan was very smart to take his lumps at the end of 2006 in order to develop his franchise QB.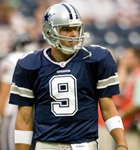 There was not much defense played in the Sunday Night Game, but perhaps that had something to do with the two young signal callers emerging in the NFC East. Tony Romo who had his share of doubters (me amongst them) and the much maligned Manning the Younger, combined for 657 yards passing and 8 TDs in the contest. Romo is in the last year of his contract and has a lot to prove to the front office, but if this game is any indication, Jerry Jones may soon start to regret not locking up Tony long term when he could still have still done it "cheaply". Where Romo ends up (My prediction is he stays in Dallas) will help determine his long range value so keep an eye on any developments. Eli Manning is arguably in a "make or break year" in New York and my predictions in preseason that he would silence his critics is looking good for now. In fairness though I must point out Manning has gotten off to fast starts that faded quickly the past two years. If Eli can sustain his confidence all season, the best two QBs in dynasty leagues going forward might both be named Manning.
Speaking of Eli, there are conflicting reports of the severity of his shoulder injury, but it seems likely that Jared Lorenzen will get the start in Week 2 barring a quick recovery. The "Hefty Lefty" gets an opportunity to show the Giants he is capable of being their primary backup and perhaps the former Kentucky QB will show the rest of the league that he can be a viable starter down the road. After watching him in pre-season I have my doubts about that, but it will be fun to see a blitzing corner back try and take down a 285 lb. quarterback.
Don't be surprised if rookie QBs Brady Quinn and John Beck see the field some time in late October or early November. Charlie Frye lhas been shiped to Seattle and Trent Green failed to jump start a poor Miami offense. Both of their respective teams are going nowhere fast so it may be time for the future franchise QBs to get the keys to the offense and learn on the job after their bye weeks are completed.
The Runners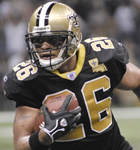 While there's only one game in the books for the Saints its clear that their defense hasn't improved much and they may be better off letting Deuce gets loose more often. Deuce McAllister was the best offensive player on the field for the Saints on Thursday and the team may come to the conclusion that a ball control approach is the best way to help keep them in games, especially if teams are able to game plan to slow down Payton's aerial attack like the Colts were able to. Deuce will turn 29 in late December so you wouldn't want to build your team around him, but he should have a few more years left in his powerful legs.
Joseph Addai is a great example of how sometimes a player's situation is more important to his fantasy football success than his talent level. Don't get me wrong Addai is a very talented running back that does everything well, but as long as Manning, Wayne, Harrison, Clark, Saturday and Diem continue to line up with him, Addai should continue to out produce every back in his stellar 2006 draft class, despite some of them being better pure runners.
Fantasy enthusiasts have been attempting to kick DeShaun Foster to the curb for years now but the talented former UCLA runner refuses to yield to the much heralded DeAngelo Williams. Both backs ran really well, albeit against a run defense that finished last in the NFL in 2006, however Foster did more with his carries (5.5 ypc) than Williams (4.1 ypc). Don't be surprised if the uber-loyal John Fox brings Foster back to finish out the last year of his 3 year, $14 million dollar contract that was restructured this off season, once again disappointing Williams' fantasy owners.
The Adrian Peterson era started sooner than expected as Chester Taylor's hip injury opened the door to a monster game for "All Day". The full extent of Taylor's injury is unknown but its looking like it will be hard for Minnesota to keep Peterson on the sidelines even when Taylor returns. Taylor may be a good buy low target however, as the size of his contract could make him expendable this off season and there are many teams that could use the services of this hard runner if he hits the market. Forgotten man Mewelde Moore would also benefit from Taylor's departure as he would likely spell Peterson on passing downs, as Peterson despite his 60 yard TD reception, is not known for his pass catching abilities.
Cedric Benson went up against a tough San Diego defense, but didn't look very impressive at all in his first game without Thomas Jones ahead of him on the depth chart. He only averaged 2.2 yards on his 19 carries and fumbled the ball away. He even appeared to be benched for a while after the fumble, but backup Adrian Peterson also struggled and fumbled as well. Garrett Wolfe owners had to be pleased. Benson can still turn it around, but after bailing out of the Super Bowl with a knee sprain, wearing cement shoes during preseason and failing to take advantage of his first start, the luster is starting to fade on the former Texas stud.
Injuries to Cadillac Williams and Brandon Jacobs may open the door to playing time for a couple of late round rookies. Kenneth Darby was sent to the practice squad after a nice preseason, but may get recalled by Tampa Bay if Caddy is to miss time since Pittman has been moved to full back and Earnest Graham is solid but unspectacular. If he was dropped in your league, he may be worth a look. Ahmad Bradshaw also had a nice preseason and was already being considered for a role in the offense this season. With Jacobs reportedly missing 3 to 5 weeks, Bradshaw could greatly benefit. Derrick Ward is expected to be the main beneficiary, but don't be surprised to see Bradshaw get some reps as at least a third down back in order to spell Ward. This injury gives Ward a short term boost in value but the future remains cloudy for the journeyman type half back. Bradshaw is the much better long term bet.

The Pass Catchers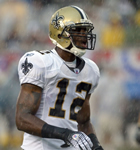 Be sure to talk to the Marques Colston owner in your league, if he's ready to panic and thinking "sophomore slump", grab the kid. His stats were not overly impressive, but he looked good and hauled in an errant Brees' pass he had no business catching. His size and speed will continue to make him a favorite target, and one has to believe it will get better in New Orleans. He reminds me of a slightly faster version of Rod Smith, who like Colston was unheralded coming into the NFL draft (Smith didn't even get drafted), but was still able to put up borderline Hall of Fame numbers during his surprising career.
A popular sleeper pick after off season work on his hand-eye coordination combined with his third year status, Troy Williamson continued to disappoint his owners this Sunday. He's not yet a drop candidate as one must see how he and Tavaris Jackson progress, but a few more games with only two catches and many dynasty owners will be cutting bait on the former first round pick. If Minnesota feels the same way, rookie Aundrae Allison or Packer re-tread Robert Ferguson could benefit.
What to think about Shaun McDonald? Many wrote off his impressive preseason stats as "just preseason stats", but the young former Rams' WR who joined his former coach Mike Martz in Detroit, out produced two former first round picks and last season's NFC leader in receptions during Week 1 for the Lions. McDonald has some talent but so do Roy Williams, Calvin Johnson (who had a solid game in his debut) and Mike Furrey. If you have a deep bench he's worth a look but McDonald's long term prospects should be tempered as he'll likely never beat out CJ and Roy and there just aren't enough balls to go around in Motown.
Rookie James Jones replaced the injured Greg Jennings in the Green Bay line-up and contributed admirably in a game that did not see the Favre lead attack put up big numbers. After a stunning preseason, he is on most avid fantasy player's radars, but he was likely a late round rookie pick in most dynasty leagues that could pay long term dividends. If the Packers go into total rebuilding mode next season when Favre hangs it up, Donald Driver could be moved or released, making way for a Jones and Jennings starting tandem in 2008.
Jason Avant, who came into the NFL without much fanfare but had some experts (notably FF Today's Matt Waldman) labeling him as a very good prospect to become a solid possession receiver at the professional level, was the leading WR for the Eagles in Week 1. A strong preseason vaulted him past Hank Baskett on the depth chart and Avant could be a good safety valve for McNabb when deep threats Brown and Curtis are covered, especially with LJ Smith being banged up. Avant could be a poor man's Keyshawn Johnson long term and may be on the waiver wire in a lot of leagues. He shouldn't be in yours after reading this.