8/13/09



Back for the third installment of the FF Toolbox summer of mock drafts. Commentary can be found for the May and June mocks, and while this one took place mostly in August, it started late July and shall be known as the July mock. The plan last I heard was to run another draft in August but run that as a draft-and-go league, meaning we draft the teams but don't do any in-season team management. Just let it run on its own and see who ends up at the top of heap through 16 weeks. More on that when the time comes.

For now, let's check out the July mock draft.

Point-per-reception scoring

Start: 1 QB, 2 RB, 2 WR, 1 TE, 1 K and 1 DEF

The draft is 16 rounds, and this time I got the 11th pick. With the top starters I accumulated through the first 6 rounds, I have to tell you, I love the 11th pick. If only I could guarantee it would go this way every draft. Check the full draft report and my pick commentary below.

1.11 RB Frank Gore, SF - I know a lot of people drafting near the end of Round 1 this year are tempted to go WR-WR, but I think it makes more sense to go with a RB-WR combo to stay flexible through the 3rd/4th. If you go RB-RB, then you somewhat force your hand to draft at least one WR in the next two rounds, or vice versa. You may not get good options or value at that position with your next set of picks. This is a particularly important consideration at this draft spot because once you say goodbye after your 2nd round pick, there are a lot of picks - 20 - before it gets back to your 3rd round pick.

As for picking Gore, he does it all well, particularly catching the ball. It would be nice if he scored a little more, but wear-and-tear on Brian Westbrook and the age difference between them have me leaning to Gore. Of course all the "player looks great" reports from training camp need to be taken with an oversized grain of salt this time of year, but current reports are that Gore, "is tearing up training camp."

2.02 WR Calvin Johnson, DET - "Okee-dokee, I did not expect Calvin to make it back to me. I was ready to go off the reservation with a non-consensus pick which would surely put me at the bottom of MFL's draft recap ratings, but my other guy is a dwarf next to CJ's 6'5" 235 lbs. Yep, I've got to take him."

That was my exact comment from the MyFantasyLeague.com draft report at the time I made the pick. I stayed quiet on just who that non-consensus pick might be, and part of the reason I went with Gore in the 1st was because I was going to be more okay taking this other WR instead of Johnson, than taking RB options like Westbrook, DeAngelo Williams, Steve Slaton, Marion Barber over Gore. Now I can finally say who that WR I was - the Packers' Greg Jennings. Jenning's ADP is about a half round lower than Johnson. I have a really strong feeling about Jennings and the Packers offense this season. I'll have to make up for that later in my draft.

3.11 RB Pierre Thomas, NO - Thomas in one of those players who has and continues to slowly creep up average draft position rankings. The reason for that is because the more you look at this guy, the more there is to like. Reggie Bush's role does not interfere with Thomas' role. Thomas had a monster 2nd half in 2008 and looks to build off that in 2009.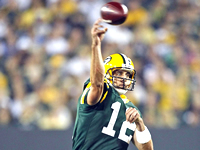 Aaron Rodgers has all the weapons he needs heading into his second full year as a starter.
4.02 QB Aaron Rodgers, GB - Here is where I try to make up not taking Greg Jennings earlier (2.02) even though I'm very bullish on the Packers offense. Check the receivers Rodgers has to work with - Jennings, Donald Driver, James Jones and Jordy Nelson, plus a new TE in Jermichael Finley creating some buzz. It is often those 3rd, 4th and 5th receiving options who, while not studs by any stretch, are very good allowing the QB to spread the ball around and vault from good to great fantasy status. Not to mention Jennings is on the cusp of stud-dom. Ryan Grant comes back healthy. This is only Rodgers' second year as the starter and he impressed me right out of the gate last year. After riding pine for 3 years behind Mr. Favre, you know he must have soaked in a ton of experience in 2008, which puts him in prime position for a great 2009.
5.11 WR DeSean Jackson, PHI - I am pretty much in shock that, in a PPR league starting only 2 RB and 2 WR, that Tony Gonzalez is still sitting here as an available option. This is after Jason Witten already went over 20 picks ago, plus Antonio Gates in the early 4th and Dallas Clark in the early 5th. Why is Gonzo still here? Oh wait, this pick commentary is about DeSean Jackson. Yep, well I checked, as you most definitely should when drafting near the turn on either end of the draft, and Witten was drafted by FansFF, picking right after me. They won't be picking Gonzo. I can get him at my next pick. And I did.
6.02 TE Tony Gonzalez, KC - In fairness to DeSean Jackson, I spent my entire 5.11 pick commentary on Gonzo, so turnabout is fair play. Jackson was my best option at that pick, and I did expect FansFF to pull at least one if not two WR on the turn. Jackson was great as a rookie last season. You can see the natural talent bubbling over in this kid. The Eagles bolstered their offensive line like nobody's business in the off-season, giving Donovan McNabb lots of time to pick and choose his receiving options. Whether the Eagles plan to ratchet down Westbrook's workload or not, Jackson in entrenched as the Eagles' top wideout.
Check out that lineup six picks in: Rodgers, Gore, Thomas, Johnson, Jackson, Gonzalez. It is times like these I wish this wasn't a mock draft.
7.11 RB LenDale White, TEN - While there are a couple RB starters still on the board, I'm not crazy about those options and instead turn to not much of a pass receiver but the underrated, underappreciated (in fantasy circles) LenDale White. Yes, yes, Chris Johnson is the next best thing to sliced bread, but as we know, a primary RB logging 75% or more of the carries is not the way most teams are running these days, especially teams who put so much focus on their running game. The Titans were the epitomy of this in 2008 as White registered 15 TD. White is slimmer this training camp, but I'd rather a slimmer more focussed RB than a larger questionable work ethic RB, wouldn't you? White continues to offer good draft value.
8.02 WR Bernard Berrian, MIN - I might be sacrificing some catches but I'm going with upside over some more experienced, steady-Eddie type receivers still on the board like Hines Ward and Derrick Mason. Berrian has never had a good NFL QB, which is a contributing factor to his low catch-to-target ratio. If Sage Rosenfels can do better than Tarvaris Jackson - and I think he can - then Berrian could enjoy a career year, even on similar targets as in the past.
9.11 WR Kevin Walter, HOU - WR is the position I'm least confident about on my squad, and the same can be said for FansFF's squad drafting next (wink), so back to the well at WR I go. I'm buying into the high expectations being heaped onto the Texans offense this off-season, and Walter represents acceptable value at this spot.
10.02 QB David Garrard, JAC - Every draft I do there continues to be a big gap of blank spots from the top of the QB rankings down to Garrard, Garrard, and then another big gap of blank spots below him until we get into the likes of Joe Flacco, Chad Pennington. As I told a friend recently, Garrard is just sort of there. He isn't going to wow you by going out and winning a game for you most weeks, but he'll be consistently good enough to not lose a game for you either, and ultimately end up as a top 12 QB. Not a great starter, but a very good backup and reliable spot starter you can wait on to draft.
11.11 RB Fred Taylor, NE - While I would have had to consider drating Laurence Maroney at my next pick, the option was not there because KFFL grabbed Maroney just before this pick and my pre-draft kicked in for Taylor. That is all for the better anyway. The last thing I want to do is play musical chairs with the Pats RB situation. I did it last year in one league and it was not fun. Still, Taylor is worth a shot here because I do believe he is the best RB on the roster and could earn the lion's share of the carries. Maroney may have more athletic ability at this point given his youth relative to Taylor, but he hasn't shown to do much with it, which is why they went out and got Taylor in the first place. At this price, I'd put my chips on Taylor being the guy with upside.
12.02 DEF San Diego Chargers - Shawne Merriman is back and ready for a banner year. His Twitter page told me so. With a full year under aggressive defensive coordinator Ron Rivera, who was promoted in late October last year, this defense should return as a fantasy force. They play in a weak division and should run roughshod over the Chiefs, Broncos and Raiders. One of the few defenses worth drafting a little earlier than you might otherwise draft your defense.
13.11 WR Isaac Bruce, SF - I am actually excited about this pick. Josh Morgan is the 49ers' WR getting all the fantasy love right now, and Michael Crabtree is still getting drafted relatively high considering he hasn't signed a contract yet and doesn't appear close to doing so (although these things can turn around quickly). Still, Crabtree is setting himself back for this year, which brings us to old man Bruce. He considered retirement, but came back and is having an excellent camp. In a 2-start WR league, he may never start for me and I probably hope he doesn't, but its nice to give Bruce some props at a great value this late.
14.02 RB Ricky Williams, MIA - Hey, for one of my few drafts this year I do not have Ronnie Brown, but no one seems to want to give Ricky Williams any love at all so he fell all the way down to the 14th round here. Ricky is slowing down but in a reserve role on a solid running team, and in short bursts should he be thrust into starting action, he will perform admirably. Ronnie hasn't been a pillar of health in his career, so Ricky is a good depth pick.
15.11 K Kris Brown, HOU - I think the Texans offense is setting itself up for big things, and Kris Brown has been pretty reliable and consistent with a big leg in recent years as it is anyway.
16.02 RB Kevin Jones, CHI - Even this late in the draft there are still some nice upside picks worth drafting, although most of them in my opinion are at WR, like Devin Thomas or James Jones. As it stands though, a 6th RB is going to be more valuable than a 6th WR. I could have justified rookie Glen Coffee as insurance on Frank Gore, or Sammy Morris as another option in the NE backfield, but I'll go with Kevin Jones here. I've always liked Jones and think he's gotten a bit of a bad rap. He was playing on the Lions all those years after all. Should Matt Forte go down, Jones could be like a lottery ticket that cashes.