6/14/09



I received an invite into an early mock draft organized by Jeff Christiansen over at FF Toolbox, which kicked off May 27th. I was randomly assigned the 9th pick of 12 which in my opinion is a ho-hum draft position. Too late to grab the best at RB, and seemingly a bit too early to get a WR. I'm usually not keen to pull the first player off the board at a position, unless I have the 1st pick of course, but I can't even remember the last time that happened. Circa 2006. Maybe.

The scoring is standard performance plus 1 point per reception, giving the WR position more umph, but then the starting lineup is a modest 1 QB, 2 RB, 2 WR, 1 TE, 1 K, 1 DEF, as opposed to a 1-2-3 QB/RB/WR setup or additional flex player options, therefore resulting in a decrease in the value of WR relative to RB.

The draft results (screenshot courtesy of the FF Today Cheatsheet Compiler / Draft Buddy) are copied below.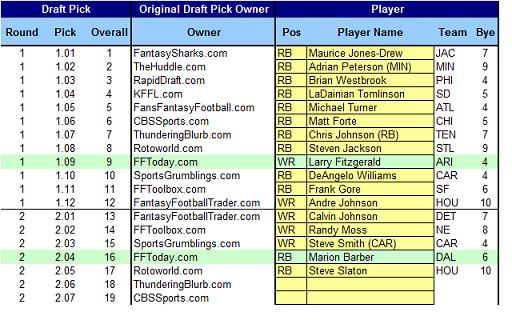 I strongly considered Frank Gore at the 1.09, and DeAngelo Williams to a lesser extent. I think each are better RB options than a few backs taken earlier, most notably Michael Turner. Given the scoring system and considering Turner catches very few passes - a grand total of 6 last year - Turner really has to churn out the rushing yards on a lot of attempts to get his fantasy numbers in line with the higher reception backs. He did it last year, so it isnít impossible, but it is a tougher mountain to climb. I would also lean to Gore and perhaps Williams over Chris Johnson and Steven Jackson. However, you can essentially see at 1.09 Iím sitting looking at some very similarly ranked 2nd tier RB, and the top tier WR.
I decided to go WR to guarantee myself one of Larry Fitzgerald, Andre Johnson or Randy Moss. In opting for Fitz over the other two, it is really a toss up for me between Fitz and AJ. Fitz plays in an easier division, but AJ is relied on more by his team to produce as Fitz competes for catches with Anquan Boldin (as of today anyway) and an overall better supporting cast. Between their respective quarterbacks, Kurt Warner is considered to be better than Matt Schaub, but is older and each of them is somewhat prone to injury. Iíd call it pretty close to a wash in terms of QB play impacting each of these guys. All in all, I went with Fitz because if there was a chance either one would fall to my second round pick, it was going to be AJ.
As for Moss, I can justify passing on him by saying Moss relies more on TD scoring than receptions, and TD are more likely to fluctuate. Plus, we donít have a great idea how Tom Bradyís recovery is coming along. Truthfully though, Iím personally just not a big Randy Moss fan or Pats fan. If I think Fitz and AJ have essentially the same point potential, then Iím going to go with them because I like them better.
The second round pick of Marion Barber is interesting because I thought there was going to be a good chance I would start this draft WR-WR just to see how it turns out. Then there was a run on WR kicked off by FantasyFootballTrader going WR-WR at the turn. Given the starting lineup requirements of 2 RB, 2 WR, I really think the smart play is drafting one of each in the back end of the first round. It gives a lot more flexibility once the third and fourth rounds come around.
Barber didnít have a great year last year in his first as the featured guy instead of a significantly contributing committee guy like the prior 3 seasons, starting only 3 games in that span, and also in college where he shared the spotlight with Laurence Maroney. Some of his 2008 workload increased when rookie Felix Jones went down in Week 6 and didnít play again. Barber plays a punishing game, but this results in injury that caused Barber to bow out of some games or miss them entirely. Late in the year, another rookie, Tashard Choice became the feature back.
There is no doubt Barber is a talented player, who has a great nose for the end zone and catches the ball well. He had a career high 52 catches last year. With the departure of Terrell Owens, and I have to say, Iím not at all sold on his replacement Roy Williams, more receptions (and TD?) could flow to the RB position. Hopefully the coaching staff and Barber himself learned a little from last year to better manage Barberís playing time and maximize his output.

After plugging away through the weekend we come to the middle of the sixth round....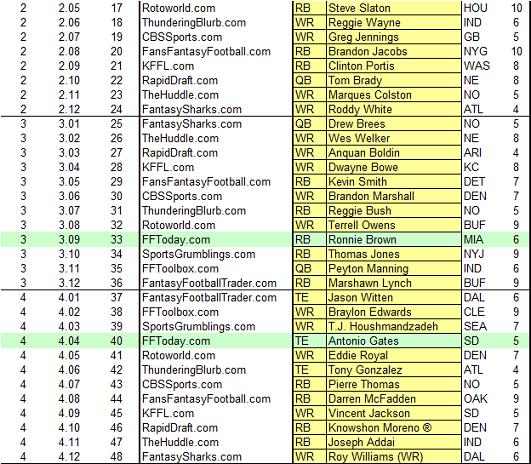 3.09 RB Ronnie Brown - I was debating Reggie Bush vs. Ronnie Brown for this pick before ThunderingBlurb snatched up Bush, making my decision for me. This is Brownís second year back from a knee injury that cut short a phenomenal first half of the 2007 season. With Ricky now 32, Brown should see more workload shifted his way. Brown is no slouch catching the ball either, recording over 30 receptions in each of his 4 seasons.
4.04 TE Antonio Gates - This is a little earlier than I would like to take Gates, but Iím not enamored with the available WR at this spot either since T.J. Houshmandzadeh just left the building. In terms of picking Gates over Tony Gonzalez, I prefer Gates based on youth and having a better QB. Even though Gonzo was a better option last year with marginal QBs, I believe Gatesí off year was mostly due to recovering from that toe injury that I would hope is now behind him.
5.09 WR Chad Ochocinco - I was hoping Aaron Rodgers would fall to this pick but he went back at the 5.04. While that still left Kurt Warner and Tony Romo as options at QB, Iím already invested in the Cards and Cowboys, have more confidence in Rodgers going into this season and prefer to pass on QB now to get my second WR, where pickings are getting a little slim. Based on projections from Mike Krueger, Antonio Bryant is ranked higher than Ochocinco (never going to get used to typing that name), but I feel Bryant should slip a little further and Ocho provides good value here given the talent/situation/potential if he can play nice with his coaches and teammates. Admittedly, a big ďifĒÖ
6.04 WR Antonio Bryant - Ah, here he is. Warner just got nabbed and Romo is still available, but given the risk with Ochocinco, it is a good idea to go back to the well at WR right away. Plus to get FF Todayís 12th ranked WR in the 6th round is a good deal. Bryant is a bit of a headcase himself, having worn out his welcome a few times in his career. He produced great in the second half of last season though. Playing the percentages, there is a good chance at least one of Ocho and Bryant will outperform their draft position. The other consideration here was upside RB Jonathan Stewart who ended up going a pick later.
Looking ahead, top priorities are clearly a starting QB, a primary backup RB and then depth plus a defense and kicker in the final rounds. Tony Romo did get picked at 6.07 which is fine. Iím not convinced it will be addition by subtraction for Romo having exchanged Terrell Owens for Roy Williams. Iím looking at Donovan McNabb as the last Tier 2 QB on my rankings, so weíll see if he makes it back.
Now how does this happen? FantasySharks selected pick 6.12 at 3:00pm Eastern, 5.5 hours ago, and has not made their pick at 7.01 immediately after. Talk about not paying attention to what is going on. I guess this is why we mock draft so early. Not only to see where players fall, but to get our collective heads on straight.
It has been slow go due to some long stretches of down time, but we are close to finishing off Round 11 of 16. This was called the ďMayĒ mock draft with plans by FF Toolbox to do one each month until the start of the season. We might as well roll off this one and right into the next or the August one is going to start in November.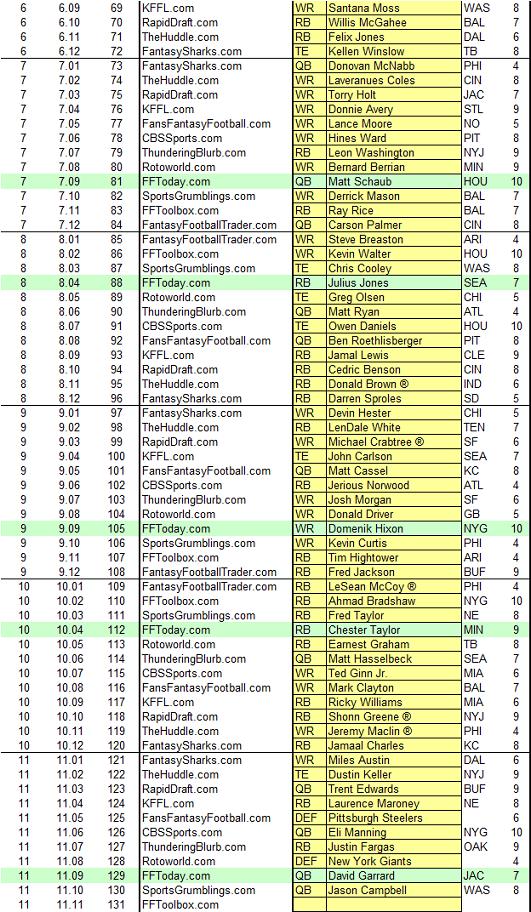 7.09 QB Matt Schaub - I held out hope Donovan McNabb would fall to me, but with an unexpected twist Fantasy Sharks grabbed him to backup their starter Drew Brees. While Schaub does rank a notch below McNabb and others, I will grab him here because I saw a lot of improvement from him, and the entire Texans team last year which has me very optimistic about Schaub this season.
8.04 RB Julius Jones - While there are a number of backup/3rd down/relief RBs that could pan out well if they get enough rushes and recepts in their limited role, lets play the probabilities and go with a current starter. Didnít it take brother Thomas 6 seasons before breaking out and becoming a force in the league? ErÖ or was it 5 seasons for Thomas and I used that same line last year re: JuliusÖ?
Cedric Benson was a consideration at the 8.04 pick, but looking back I donít think he was really as impressive last season as people perceive. It was more like, ďhey, Cedric is actually doing somethingĒ so he got some props in the fantasy community. Fred Taylor and Jamal Lewis were also available amongst starting RBs. Donald Brown is likely the biggest risk-reward of the backup RBs, and LenDale was still there for the taking too.
9.09 WR Domenick Hixon - Anyone still believe in the 3rd year WR theory? Didnít think so, but it may work here. As Hixon has been asked to do more in his short career, heís done pretty well. We have him as WR1 on the Giants as of today. If that sticks through training camp, this could be a bargain. Nice potential breakout candidate.
10.04 RB Chester Taylor - Talented player, playing behind a stud. Not a flashy or upside pick, barring injury to said stud, but steady reasonable backup and bye week filler.
11.09 QB David Garrard - Not entirely sure who is going to catch the ball with any consistency, but hey, the Jagsí receivers have never been good and he still churns out decent points, especially for a late drafted backup. Run, Garrard. Run!

12.04 DEF Chicago Bears - I'm really not usually one to take a team defense anywhere close to what would be considered early. I would often wait until the next to last round after practically every other player has at least one defense, look at the matchups for the first few weeks of the season and grab one. I know there will be options on the waiver wire. I know it is a position I will churn on my roster. Why get one early? Well, I'm going against the grain here for really no other reason than I have a good feeling about the Bears this year, and this is still decent value in Round 12. This is a team that regularly is near the top of the league in turnovers. They harp on turnovers and scoring by the defense. With presumed better QB play and improved receivers, I can envision a better offense benefiting the defense, giving them more sack and turnover opportunities. Sacks are what hurt the Bears scoring, but I'll take the big play potential of these guys. Or I'll churn them if they don't live up to expectations.
13.09 RB Brandon Jackson - At this point with a pair of backups already at each of RB and WR, and backup QB, it is time for some boom-bust picks late in the draft. The popular upside picks are already pretty thin at this point, but Brandon Jackson fits the bill for me. Am I a big fan of Ryan Grant? Not really. I think he is okay but not too spectacular. That isn't to say I think Brandon Jackson is a specimen of a RB either, but I like what he showed in limited time last year. Most of all, I believe the Packers offense is a high powered offense, and should Ryan Grant not cut the mustard or goes out injured, Jackson will have a great opportunity to produce. Probable bust but potential boom. Sign me up.
14.04 WR Chris Henry - This pick makes sense for me on a couple levels. Yes, there have been some fluff pieces floating around with Carson Palmer singing the praises of a newly focussed Chris Henry at OTAs. Do I believe the comments from Palmer are completely genuine or tell the full story that Henry, who once recorded 15 TD over a 2-year span in 2005 and 2006, is turning his career back around and upward? Not really. It could be true, or it could just as easily be a ploy from Palmer to get Chad Ochocinco motivated for the upcoming season. Either way, as the Chad Ochocinco owner in this league, I'm in good shape. This pick provides a little insurance on Ocho, and is an upside pick in its own right if Henry can get his act together and perform at a high level on the field.
15.09 WR Mike Walker - Buddy Matt Waldman told me after he read my David Garrard comments about the porous Jag receivers I needed to grab Mike Walker. I in fact reminded myself about Walker when I wrote that as well. Of course Matt told me to take him back in the 12th round and I said, "its a mock, lets just see how far he falls." The buck stops here, I grabbed him. Walker is a forgotten man in fantasy circles, for those who ever knew who he was in the first place. MyFantasyLeague's ADP info is still telling me I took him too early. A perfect late round flier pick given the opportunity, youth and hint of talent.
16.04 K Nick Folk - I preselected in order Mason Crosby, Kris Brown and Folk. I ended up with Folk. Pick a reliable kicker from a good offense, and you're pretty much set.