8/23/07
Post #1: You're Like Me, You Have No Luck
August 12, 2007
You can't bag a top draft pick to save your life. While you may even be "okay" with a low draft pick thanks to the early 2nd round pick, just once you'd like to have your choice of a top 1st round pick, sit back and watch the peasants try to figure out the best of the "we're not worthy" group of 1st round candidates. Just once... maybe next year. For this year, as you know, we need to play with the cards we've been dealt.
And with that intro, that brings me to the SOFA IDP league. Eleventh pick a year ago. Eleventh pick in 2007. Oh well.
This is a 12 team redraft IDP league against other fantasy football websites. Start 1 QB, 2 RB, 3 WR, 1 TE, 1 K, 2 DL, 3 LB, 2 DB; draft 28 man rosters. Scoring is normal performance, 4 per PaTD, 0.04 per PaYd, 6 per Ru/ReTD, 0.10 per Ru/ReYd plus 1 point per reception. Defensive player scoring 2 points per tackle, 1 per assist, 2 per sack, 3 per turnover.
FF Today has a good track record in this league.
2006: 7-6, 3rd in points and highly improbable loss in the semi-final to the eventual Champ (seriously improbable; goes back to the no luck thing)
2005: 10-3, 1st in points, loss in the final
All right, this is the year! Oh wait, we're from the 11 spot. That means we actually have to do some work to achieve fantasy excellence, and this article will run through the draft as it unfolds working from near the bottom of the order. It will include things to think about and expect utilizing a bottom of the order draft pick, plus some IDP strategy and commentary (although this will still be helpful for non-IDPers).
This is a slow draft, so for something a little different, let's do this one blog style. I'll write updates as the draft progresses. Now if Team 1 would just open the proceedings with Tomlinson then we can get this show on the road.
Post #2: Pre-Draft Strategy
August 13, 2007

Yes, I suppose we should develop some sort of strategy heading into this.
First and foremost, am I going to take RB-RB or RB-WR to kick things off? My answer right now is, I don't know. It depends. I hate locking into drafting set positions in certain rounds, especially with 10 picks before my 1st and 13 picks before my 2nd, I really want to see who gets taken at RB before I make the call.
For those in the definite RB-RB camp, WR has to be a strong consideration because (a) the league is 1 point per reception, (b) we start 3 WR each week and (c) I won't get another shot at one of my Tier 1 WR. However, if there are 10 or 11 top RB I like before all other players, and 2 of them are available at my picks, RB-RB could be a go here.
I expect to go RB-WR, as I have always been a proponent of getting a top WR with one of my first 2 picks while others grab RB, after RB, after RB. Of course you need to have good RB to do well in most every fantasy football league, but by the time a dozen or more RB are off the board, they blend together, and we get more separation from other teams (more value) grabbing a top WR.
While I have heard some people recommending WR-WR this year, and stockpiling RB later, I'm not convinced this is wise. The RB drafted later could pan out, maybe, but do you really want to count on that to fill 2 starting RB positions? That is too much risk and potential for disaster. Secure one RB with one of your top picks when drafting at the backend of the 1st round.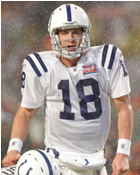 For those leaning towards Peyton Manning as a viable late 1st rounder, I actually drafted Manning last year in this league... at pick 3.11. That was a bargain thanks to these other RB hungry owners who are always looking to skimp by at the QB position. This year Manning's ADP has swung back to people considering him anywhere from mid-1st to mid-2nd. As much as I loved having Manning, I won't take him unless he is a bargain like last year. In a league starting 6 RB/WR/TE, it becomes too much of an upward climb taking Manning with a 1st or 2nd pick, and then trying to make up drafting those other positions later. I do not expect Manning to make it back to me at 3.11 this time around.
With 1 point per reception, we need to be careful what RB we rate as good versus average. It makes a big difference in the scoring at the end of the day. Not only do the receptions add up to points, but a double whammy - RB who catch passes do not get shutout of the game plan when his team is having a bad game, or worse, an unexpectedly bad season.
However, with a late 1st draft spot it becomes tricky trying to make sure you don't pass on a quality RB who happens to not catch passes, in favor of a guy who is a pass catcher but overall doesn't get near the opportunities. I remember one year in WCOFF (same scoring) I was sitting in a league, at the 11 spot actually (rolling eyes), and a guy drafted Jamal Lewis at 1.08. I thought that was a huge mistake due to Lewis' lack of pass catching. And then Lewis went on to have his 2,000 yard season. Nice pick.
WR and TE are important with 1 PPR. We don't want to get by with the likes of a starting trio of Reggie Brown, Terry Glenn and Derrick Mason plus Owen Daniels at TE. They may all exceed their draft position, but we need some quality and reliability at these positions. The best bet is to invest properly in WR and a good TE, while looking for pass-catching value at RB later.
In an IDP league, I put a lot of emphasis on waiting to draft my defense. That is where the value comes from, because the positions are so much deeper with players that score similar amounts, it is much better to secure a good offense and wait on defense. This really is the secret of my success in IDP leagues, because every IDP league I've ever been in, people always jump on defense too early.
In this league in particular tackles are worth 2 points which is pretty significant, so I may grab 1 top LB to anchor my crew, but I will still very rarely be the first person to pull a defender off the board at any of DL, LB or DB. Wait to see when the first gets taken, then the second, third, etc. Follow my tiers and I'll still start a quality defense at a much lower draft pick cost when all is said and done.
DL are really shortchanged in this scoring earning only 2 points for a sack. I'd much rather see DL be worth more at 4 points per sack. As there are every year, there will be good DB available on the waiver wire starting Week 1 of the season. Even more reason to delay drafting DL and DB.
That gives a good overview of important aspects of this league and how we're going to approach the draft, understanding what positions are important and what positions we plan to wait on. Let's see if the draft has started.
Post #3: Anyone Want to Trade Down?
August 13, 2007

The draft started. Here is the first update email I received:
1.01 RB LaDainian Tomlinson, SD

1.02 RB Steven Jackson, CAR

1.03 RB Steven Jackson, STL

1.04 RB Larry Johnson, KC
Whoops. I actually have a programmer working on a new fantasy game which includes a draft component, and I told him the importance of users being able to go back and change draft picks or rollback the draft. He was skeptical, but finally agreed with me. Exhibit A, human error happens. We are off to a rocking start here. (Aside: You are really going to like this new fantasy game, but its too early to give any details about it yet.)
Okay, one rollback already in the books, the draft report looks like this:
1.01 RB LaDainian Tomlinson, SD

1.02 RB Steven Jackson, STL

1.03 RB Larry Johnson, KC

1.04 RB Frank Gore, SF

1.05 RB Brian Westbrook, PHI

1.06 RB Joseph Addai, IND
Damn. I'm already not liking the way this draft is going. Why oh why did I draw the #11 pick? I offer to trade entire draft positions with the #7 team. No surprise, he rejects it.
Picks 8, 9 and 10 before I'm up. If I was mapping out a worst case scenario, these are exactly the 7 RB who would be taken in the first 7 picks. I'm expecting Shaun Alexander next.
1.08 RB Willie Parker, PIT

1.09 RB Shaun Alexander, SEA

Okay, small surprise there and Guru (9 spot) got a good deal in my opinion. From here on, the RB getting drafted in all drafts - PPR and otherwise - are very interchangeable. Based on my ADP data in the Cheatsheet Compiler, the most popular picks in order are Rudi Johnson, Travis Henry, Laurence Maroney, Willis McGahee, Ronnie Brown and Maurice Jones-Drew.

Tough, tough call differentiating between these guys. And my top tier of WR is 5 deep, so that is not much help either. Its like no player is worthy of this pick, really. No player is standing out like the RB in the top half, and the players are going to be just as valuable in the late 2nd as those drafted in the top of the 2nd.

I think at this point my feeling is drafting from the bottom is less than ideal. Tip: If you can convince some Gomer in your league who lucked into an early draft pick to swap draft spots, do it.

Post #4: Stud RB = Going Against the Grain In '07?
August 13, 2007

I've been a proponent of taking a stud WR from a late draft pick spot for a few years now. That was when there was only a few standout top WR, and I wasn't enamored with the RB beyond the top 12 or so.

This year I've seen more and more "grab a top WR" advice floating around. I have to be honest though, I'm not following through with that. There are 6 WR I can reasonably see landing as the top WR by year's end, and numerous others I'd be more than happy with manning my WR1 (and with some luck) WR2 spots.

And on the RB side, with the emergence of young guys Reggie Bush, Joseph Addai, Maurice Jones-Drew, Laurence Maroney, Cedric Benson and increased optimism for Travis Henry and Edgerrin James, the number of available (perceived) good RB has risen. This is giving me a greater comfort level using both 1st and 2nd rounds picks on RB when drafting at the back end of the draft. I have greater expectations for the RB and I don't see the clear difference makers at WR this year.

Am I imaging this trend that RBs are increasing in value while top WR are actually decreasing? It wouldn't be the first time, but let's take a look at our projections for the 9th to 16th ranked RB and 1st to 6th ranked WR in this scoring system for 2005-2007. These would be the RB and WR up for consideration for a late 1st and early 2nd round draft pick.

2005-2007 - RB/WR Value Trends
2005
2006
2007
D. McAllister
274.6
E. James
254.7
R. Brown
270.7
L. Jordan
260.3
R. Johnson
248.5
M. Jones-Drew
269.3
J. Jones
256.0
J. Addai
246.1
E. James
263.9
C. Dillon
255.0
C. Williams
244.5
L. Maroney
258.9
K. Jones
250.1
J. Jones
237.2
W. Parker
252.8
A. Green
248.5
C. Taylor
234.1
B. Jacobs
241.6
C. Portis
247.5
W. Dunn
228.5
W. McGahee
237.2
J. Lewis
240.9
R. Droughns
227.9
R. Johnson
236.7
R. Johnson
234.4
C. Portis
224.0
T. Henry
228.1
Average
251.92
Average
238.39
Average
251.02
R. Moss
341.9
T. Holt
300.8
C. Johnson
289.5
C. Johnson
328.5
S. Smith
290.5
R. Wayne
281.2
T. Holt
306.0
C. Johnson
279.0
T. Holt
280.6
T. Owens
289.0
D. Driver
273.9
S. Smith
277.3
J. Horn
281.8
L. Fitzgerald
273.6
M. Harrison
269.5
M. Harrison
278.3
A. Boldin
259.5
T. Owens
260.8
Average
304.25
Average
279.55
Average
276.48

The projected points for RB in the 10th, 11th, 12th and 13th spots are all at the highest level in 2007 compared to the prior 2 years. Plus as stated in my article on tiering, I believe these projections for Travis Henry are too low, and I would move him into the top 10 at the position (late edit: Mike Krueger since bumped up Henry). At WR, the 1st, 2nd and 5th are at the lowest level in 2007 compared to the prior 2 years.

I think this confirms my suspicions, that I have more confidence in taking a RB with both my 1st and 2nd round pick this year than in the past. Even just looking at the RB, down to Parker that is 13 RB, plus moving Henry up makes it 14 and even add one more who is sure to get drafted in the top 12 of most every league, Rudi Johnson, that is 15 RB to strongly consider before drafting a WR. If I draft at the bottom of the order in the 10th, 11th or 12th spot (of a 12 team league) and no position gets drafted in front of me except RB, then I'm still in a position to justify taking RB-RB. In the past, I had maybe 11 or 12 RB I had confidence in using a high draft pick on, so RB-WR was the way to go in those years.

Does this qualify as going against the grain? Are people truly putting more emphasis on taking a top WR when the chips are down and the draft results are in? Tough to say. I do know this though... in these so-called "expert" leagues (I've always preferred the name "showcase" leagues), the owners are RB obsessed. Many times to a fault. As of writing this I am still a pick away from making my first selection. We should know soon enough if these leopards have changed their spots.

Post #5: I Missed the Broncos-49ers Game, Honest
August 13, 2007

1.10 RB Rudi Johnson, CIN
Johnson is a good example of what I was talking about, RB who aren't pass catchers, but perform at a level sans pass catching that they still warrant a top pick. Personally, I won't draft Rudi. I'm not sure what it is exactly, but you go this long never having a player on one of your many (too many) fantasy teams, you're not going to all of a sudden grab him now. Not after 1,250+ carries since taking over the starting job back in the second half of 2003. People seem to have a lot more faith in Rudi since the Kenny Irons injury. I'm not sure why that is, as he very unlikely increases or decreases opportunities with or without Irons backing him up. Anyway, on to my pick finally.
Example 2 of a RB who doesn't catch a lot of passes, but I felt he was the best of the rest with potential on his new team to exceed this draft slot. I am being honest, I did not see the Broncos-49ers game before making this pick. If you can believe it, the Canadian TV network picking up the ESPN feed continued a never ending women's tennis match that overlapped the game. When it finally finished and they cut to San Francisco, the game was into the 2nd quarter. I didn't see the impressive opening drive by Denver capped by a Henry TD. More people are paying attention to Henry now though, so if you want him going forward he may not even make it into the 10th and lower spots in the order. Again, it should depend on whether your league is point per reception or not, as I would still take the top 7 as they fell, plus Alexander, before Henry.
The Huddle in the 12 spot pre-drafted, and I did in fact go RB-RB as discussed in the last post.
1.12 RB Ronnie Brown, MIA
2.01 RB Laurence Maroney, NE



2.03 RB Cedric Benson, CHI

2.04 QB Peyton Manning, IND

2.05 RB Edgerrin James, ARI

2.06 RB Brandon Jacobs, NYG

2.07 RB Willis McGahee, BAL
First off, I understand the red flags with Maurice Jones-Drew: Won't repeat the TD from '06; Is still behind Fred Taylor who got a big contract; Return of Greg Jones. Other than the first point about the TDs, I'm not seeing the downside here. Jones-Drew proved what he is capable of, and is not going to get less opportunities than a year ago. He is a big pass catcher on a team with a dearth of talent catching the ball. Greg Jones is no threat. Taylor showed last year he works well sharing with Jones-Drew, and Taylor can't seem to find the end zone himself with any regularity, having scored 7, 3, 3 and 6 TD in the past 4 years. The biggest threat of this pick being a mistake is passing on McGahee if he turns into a 400+ touch back.
Second thing on this group of picks, did I say these owners would be RB obsessed? Too much I think. The ideal picks to be making in this league setup starting at the 2.04, and that includes swapping McGahee in where Benson was picked, is WR. Grab a top WR. I have 6 of them on my list - Chad Johnson, Harrison, Steve Smith, Wayne, Holt and Owens.
I can respect the Peyton Manning pick just for the fact it is not a RB, but its too early in my opinion. Manning fell to the 3.11 a year ago. Have expectations really changed that much for Manning between heading into the 2006 season, and now? No. He is the safest QB and very likely to finish with the best stats, but the opportunity cost is too great. A top WR plus a later drafted QB is going to wipe out the advantage of taking Manning here, and settling for a later drafted WR.
Still a ways to go until we get to the bottom of the order again. Expectations are that in addition to those players that have been drafted, all 6 top WR plus a couple more will be taken, Antonio Gates, maybe Carson Palmer, and the rest RB for a total of 15 picks before my 3.11 selection.
Post #6: Love Reggie Wayne. Not Meant to Have Him.
August 14, 2007

Finally someone takes a WR. Since when do you get great value taking the first player off the board at a position? Well it just happened as RotoWorld resisted the urge to reach on a RB and plucked Steve Smith. Nice grab. Mastermind immediately followed it up with Chad Johnson.
2.08 WR Steve Smith, CAR

2.09 WR Chad Johnson, CIN

2.10 RB Clinton Portis, WAS

2.11 RB Thomas Jones, NYJ

2.12 RB Deuce McAllister, NO
3.01 QB Carson Palmer, CIN

3.02 WR Marvin Harrison, IND

3.03 WR Terrell Owens, DAL

3.04 WR Torry Holt, STL

3.05 WR Larry Fitzgerald, ARI

3.06 WR Anquan Boldin, ARI

3.07 RB Cadillac Williams, TB

3.08 QB Drew Brees, NO

3.09 WR Roy Williams, DET
This is a nice sampling of players you can expect to be taken between an early 2nd round pick and a late 3rd round pick, but there are a few which have me scratching my head a bit. Deuce McAllister in the 2nd round? Admittedly when you have a pick on the end and you really like a guy, you may have little choice but to overpay for him, but I guess KFFL is not concerned about one Reggie Bush. KFFL could have had LT, a Tier 1 WR and Carson Palmer though. Got to love the #1 pick in the draft.
No Antonio Gates? Double checking the point-per-reception rule. Yep, still there.
No Reggie Wayne? Wayne is getting drafted after Anquan Boldin? I've got Wayne in the same tier as Smith/Johnson/Harrison/Holt - a Tier 1 WR. Hey, I could get this guy. I could get a player I have essentially even with players I considered back in the early 2nd had I taken a WR. Holy, if I can get Wayne and the Huddle are not fans of Gates (which apparently is an epidemic in this league), then I'll be sitting pretty through 4 rounds. Henry, Jones-Drew, Wayne and Gates. I can taste the victory beer right now!
3.10 WR Reggie Wayne, IND
Well $*@! %&#! *@!% There goes that idea.
I've got T.J. Houshmandzadeh, Donald Driver and Javon Walker all in the same tier, and there are 2 picks between now and my next. I'm not going to take a chance that the Huddle will pass on Gates.


3.12 WR Donald Driver, GB
4.01 WR Andre Johnson, HOU

I can live with it. Wayne-Gates would have been a dream at those picks, but getting Gates this late in the 3rd round in this format is still a nice surprise.
Briefly, we can look back now and see if I had taken a Tier 1 WR in the 2nd round, then I'd have to put a lot more emphasis on RB here. The available RB include Marshawn Lynch, Adrian Peterson, Ahman Green, Marion Barber. Not stellar choices for an early 4th round pick, in my mind, but the tradeoff test is really Jones-Drew + Houshmandzadeh vs. Chad Johnson/Steve Smith + Lynch. I'm comfortable I made the right choice.
Post #7: Receptions Are Money
August 15, 2007

A lot of WR go between the 4.03 and my 5.11, which is understandable since the RB are depleted quite a bit and it is point-per-reception scoring.
4.03 WR Lee Evans, BUF

4.04 RB Marshawn Lynch, BUF

4.05 WR Javon Walker, DEN

4.06 WR Marques Colston, NO

4.07 WR Randy Moss, NE

4.08 RB Adrian Peterson, MIN

4.09 WR Laveranues Coles, NYJ

4.10 RB Ahman Green, HOU

4.11 WR Plaxico Burress, NYG

4.12 RB Marion Barber, DAL
Love Lee Evans. That is earlier than normal with him, but I still think he lives up to that. All 4 RB I mentioned last time went in this round.
5.01 WR Hines Ward, PIT

5.02 WR Calvin Johnson, DET

5.03 WR Deion Branch, SEA

5.04 RB Julius Jones, DAL

5.05 RB Jerious Norwood, ATL

5.06 RB Jamal Lewis, CLE

5.07 WR Jerricho Cotchery, NYJ

5.08 WR Reggie Brown, PHI

5.09 WR Santana Moss, WAS

5.10 WR Santonio Holmes, PIT
This round does not look nearly as good as the prior on paper. Interesting to note there was not a single QB taken in these picks, so if you are in the late 3rd/early 4th and considering a QB, maybe hold off because that QB or a very similarly ranked QB could make it back to you.
Okay, I'm up. For those who lost track, the lineup right now is Henry, Jones-Drew, Houshmandzadeh and Gates. Position choices?
QB - Only Manning, Palmer and Brees are gone. If I feel the need for Bulger or Brady, I need to take them now. I do have Kitna in the same group with those two, so I'm going to push it on QB to the next set of picks in the 7th/8th.
RB - 29 are gone so it is getting thin. Some okay picks available in Tatum Bell, Ladell Betts, Brandon Jackson and Deangelo Williams, but they will all be backups for me while I only have 1 starting WR.
WR - 25 are gone, its 1 point-per-reception and I see a bigger drop-off within 6 to 7 WR from the next tier and beyond, compared to all these similarly looking, spot starter RB.
TE - Got Gates. Time to see some other TE come off the board.
IDP - No one has jumped on defense yet. The first defensive player went in the mid-3rd in 2006, followed by mid-5th, 6th and on. Defense is going to start to go before my next picks, which is fine because that is just going allow those good QB and other skill offensive players more chance to come back to me.
I think you can tell by the comments, I'm going WR here. We might be a little light on RB depth coming back, but I'd rather scrape together some RB prospects later and have solid WR, than the other way around, especially in a league where WR are so important. I'd feel less settled about the backup RB if I hadn't spent the 1st and 2nd round picks on the position, so that decision is still impacting the strategy and decision making here.


5.12 RB Tatum Bell, DET

6.01 RB DeAngelo Williams, CAR

Young guys, but high upside guys, but young guys. Given the relative inexperience of my starting WR trio, I'd like to add an Isaac Bruce or maybe Derrick Mason later on as a value pick who I could slot in if one of these young guys regress a bit out of the gate.
Interesting that the Huddle went with their 3rd and 4th RB here, which really puts a dent in the available RB depth. Still, I'm not ready to give up Edwards for a guy like Betts as this point. I like Betts but he is still a hit or miss player depending on the status of Clinton Portis.
Post #8: Finally Some Defense, But Not For Me
August 16, 2007

I don't mind working from closer to one end of the draft. It lets you check the teams behind you to get a good feel for what positions they are probably going to draft, so you have a better idea if you can wait on a position to your next pick or not. But man, from the 11 spot it is a lot of picks on the long turn.
6.03 RB Brandon Jackson, GB

6.04 WR Joey Galloway, TB

6.05 RB Ladell Betts, WAS

6.06 WR Chris Chambers, MIA

6.07 WR Darrell Jackson, SF

6.08 RB LaMont Jordan, OAK

6.09 QB Marc Bulger, STL

6.10 QB Tom Brady, NE

6.11 DL Jason Taylor, MIA

6.12 TE Todd Heap, BAL
Uh oh. Both Bulger and Brady went here. No way I get Kitna now.
Finally a defensive player taken, Jason Taylor. Interesting pick for this league with a DL going first off the board. In one sense, he does set himself apart from the other DL by a large margin because he plays the pass and the run very well. On the other hand, sacks are low value in this league, so Taylor is going to have to put up good to great tackle numbers to justify picking him before all other defenders.
7.01 WR Terry Glenn, DAL

7.02 DL Aaron Kampman, GB

7.03 RB Fred Taylor, JAC

7.04 RB Leon Washington, NYJ

7.05 QB Donovan McNabb, PHI

7.06 LB DeMeco Ryans, HOU

7.07 TE Jeremy Shockey, NYG

7.08 WR Greg Jennings, GB

7.09 TE Kellen Winslow, CLE

7.10 QB Tony Romo, DAL
McNabb? Romo? Well what do you know, I got Kitna. Sweet! I can't believe I'm excited about Jon Kitna. As a fantasy player, you've got to love Mike Martz.


7.12 TE Tony Gonzalez, KC
8.01 QB Matt Hasselbeck, SEA
This is where my original Drafting from the Bottom discussion takes a turn. I accepted a trade offer here, which is certainly easier to facilitate in a slow draft than a live draft where all non-trading parties are just yelling, "make your pick", "time's up", "next!" Ha ha. Those other guys in your league are so-o-o-o helpful, aren't they? So here is the deal-e-o:
I Give: 8.02, 11.11, 12.02, 16.02
I Receive: 9.04, 10.09, 11.04, 15.04
I'm not crazy dropping down 14 spots. I was looking at LenDale White and Keith Bulluck with that 8.02 pick, leaning to Bulluck, but I remember I'm always preaching to wait on defense. I already have my star TE and people are looking to add their TE right about now. I already have my starters at QB, RB and WR, and no player is really exciting me here, beyond Bulluck. I have to drop down 14, but in exchange move up 14, 10 and another 10. I accept the trade.
Now let's see some more TE, QB and defense I don't care for (or can easily find equivalent points for later) get drafted in bunches here.
Post #9: Jinx, Hawk and The Gamble(r)
August 17, 2007

This post title sounds like characters from the old G.I. Joe cartoons. So Mastermind did that trade with me to move up and take...
8.02 TE Chris Cooley, WAS
I was sure he'd take Vernon Davis.
I wonder when the guys will go that I was considering with the 8.02?
8.04 RB LenDale White, TEN

8.05 LB Keith Bulluck, TEN
Well, there you go. Bulluck was a great pick as he should have gone 3 picks sooner (wink). At 2 points per tackle, LB will start to go fast, but the thing with LB is that it is such a deep position, there is absolutely no reason to panic in an IDP league when the defense starts getting drafted. Follow your tiers and try to grab guys as the tiers get shallow, not when they are full of all kinds of choices.
8.06 LB Zach Thomas, MIA

8.07 LB Antonio Pierce, NYG

8.08 WR D.J. Hackett, SEA

8.09 WR Vincent Jackson, SD

8.10 LB Brian Urlacher, CHI

8.11 TE Jason Witten, DAL

8.12 QB Philip Rivers, SD
9.01 WR Bernard Berrian, CHI

9.02 DB Adrian Wilson, ARI

9.03 DB Chris Hope, TEN
Time to get a little "crazy". Thanks to the trade, I have the next pick but also 5 of the next 25 picks. Okay, I'll admit it. I didn't adjust my rankings in the Cheatsheet Compiler going into this, and just have Mike Krueger's straight projections plugged in. Nothing wrong with that, but when I said earlier I only had Bulger, Brady and Kitna left in the Tier 2 QB, I skipped over one name.
Vince Young is ranked the #2 QB in this scoring based on the FF Today projections. Hey, it makes sense. Check the rushing yards and rushing TDs. They add up. Also factor that this league has lower scoring for passing yards (1 per 25 instead of 1 per 20) and lower points for passing TDs (4) compared to rushing TDs (6), and all of a sudden Young vaults up the rankings.
Couple this with the fact that 10 other QB are already drafted, Young is sitting all alone way at the top of my QB rankings. My other position tiers are not nearly so shallow or identifying a clear cut draft candidate. Also, 3 teams are sitting here in round 9 with no QB, and there does seem to be a clear dividing line between the above average and below average QB this year. I'm ready to put the screws to those 3 teams. Welcome aboard, Madden cover boy! Did I mention I'm not superstitious?
Got to make these next 4 picks count before another long wait. Ideally, I want an anchor for my LB, a backup RB, a backup WR and best player available with the 4th pick.
9.05 RB Kevin Jones, DET

9.06 QB Ben Roethlisberger, PIT

9.07 LB London Fletcher-Baker, WAS

9.08 DB Kerry Rhodes, NYJ

9.09 RB Warrick Dunn, ATL

9.10 WR Donte' Stallworth, NE



9.12 LB Mike Peterson, JAC
I'm not going to blow smoke on this pick. I have little faith in Foster he can make it through a season due to injury, much less hold off the younger Deangelo Williams, but word is Foster remains the starter at this time. With Williams going almost 4 rounds earlier, Foster is the definition of a potential value pick at this juncture.
10.01 LB Lance Briggs, CHI



10.03 DL Julius Peppers, CAR

10.04 LB Kirk Morrison, OAK

10.05 TE Ben Watson, NE

10.06 LB Donnie Edwards, KC

10.07 LB E.J. Henderson, MIN

10.08 WR Isaac Bruce, STL



10.10 LB Will Witherspoon, STL

10.11 RB Reuben Droughns, NYG

10.12 RB Chester Taylor, MIN
No, he's no Keith Bulluck, but I got the anchor for my LB corps who I've been eyeing for a couple rounds now, A.J. Hawk. I may have reached for him slightly, as there are others similarly projected by our own Tony Nowak, but Hawk represents more upside to exceed his numbers due to his youth and experience gained as a rookie now entering his second season.
Just missed out on Isaac Bruce by 1 spot. Disappointing. Bruce seems very undervalued this year. I was hoping for Bruce here and Curtis may even have lasted to the next pick. Once Bruce was taken though, I don't want to risk Curtis, so I grab him as my 4th WR.
11.01 LB Jonathan Vilma, NYJ

11.02 QB Brett Favre, GB

11.03 LB Ray Lewis, BAL

Lottery pick. Sometimes you just have to take a shot at hitting it big, and that defines Michael Turner this year. While he seemed to be going very high early in the preseason, he's come down to a much more reasonable price. Hey, I've already got 2 QB, 3 RB, 4 WR, 1 TE, 1 LB and I'm comfortable drafting defense later on. This is a fine spot to take Turner. The trade helped make this happen.
Post #10: The Rest
August 23, 2007

Fast forward 6 days, and we are in round 23. Hopefully the first 9 posts gave you a good overview of how to think about approaching, and seeing what can happen when drafting at the back end of a draft.
Since we started, Travis Henry has had an injury scare but now appears fine even though he is sitting out the rest of preseason. Mark Clayton turned his ankle, and similarly will miss preseason. Vince Young has not looked that great. Michael Turner looks like a world beater. I just watched the Bengals-Saints preseason game and the Bengals settled for 4 FG in the first half. The Browns still can't figure out their QB situation.
Such is the life of a slow draft with the interesting ups and downs of player values as the draft progresses. Here is how the rest of my draft has gone:
13.11 LB Keith Brooking, ATL

14.02 LB D.J. Williams, DEN

15.04 DB Troy Polamalu, PIT

15.11 DL Terrell Suggs, BAL

17.11 WR Anthony Gonzalez, IND

18.02 DL Will Smith, NO

19.11 WR Patrick Crayton, DAL

20.02 RB Adrian Peterson, CHI

21.11 TE Bo Scaife, TEN

22.02 DB Michael Huff, OAK
How has that worked out waiting on defense? I can certainly live with Suggs-W. Smith for DL, Hawk-Brooking-D.J. Williams at LB ... although apparently recent Eagles' castoff Jeremiah Trotter is on his way to Denver (sigh) ... and Polamalu-Huff at DB.
Plus I feel I got some nice depth at my offensive skill positions with Gonzalez, Crayton, Peterson and Scaife. If you haven't read my mirror piece, Drafting from the Top, late in that I mention taking WR that are "swing for the fences" choices. If they don't work out, then they are easily dropped. If they do pan out, far exceeding their draft spot, then your team is sitting pretty.
All right, that wraps it up. Here's hoping this entire write up is moot because you got a top draft spot, but some of us need to draft from the bottom. Lets prove we can win from this end of the order, and then maybe next year it will be easier to convince that Gomer in your league to swap spots with you. Well, with a little luck maybe...