Feature Backs
These rookies should be the workhorse runners out of the gate for their teams.
Chris Wells, AZ
The consensus top RB prospect heading in to the 2008 college season, Beanie saw his star fall through another injury-plagued season at Ohio State. Even though he still managed to rush for 1,200 yards at almost a 6 ypc clip, Wells was overshadowed in his own conference by Shonn Greene and Javon Ringer, as well as Knowshon Moreno nationally. A mixed bag of results at the Combine, headlined by a relatively disappointing 4.59 40-yard dash time (although he ran a sub 4.5 at his Pro Day), further questioned his status as an elite prospect. All this was a blessing for the Cardinals, who may have preferred Donald Brown, but still had to be thrilled to find Wells there with the 31st pick in the draft.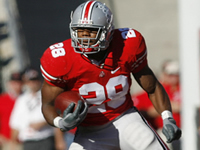 Wells: A feature back if he can stay healthy.
While the Cardinals had the second-highest passing offense in 2008, they were the worst running offense. The veteran playmakers at other skill positions and threat of the passing game provides the ideal situation for a young RB. It is the perfect marriage of talent and opportunity. Wells is my top rookie RB in redraft, keeper, or dynasty leagues. With just 15 career receptions in college, he will need to develop as a receiver, so that will limit his exposure to some packages, but his big play ability will keep him on the field even in many passing situations. I'm shocked anyone is concerned about Tim Hightower. Yes he had 10 TDs, but basically he was the right warm body at the right place at the right time. With an uninspired Edgerrin James producing unspectacular results, HC Ken Whisenhunt looked for a spark from an effort guy and got it. Seven of Hightower's ten TDs were from one or two yards out with opponents hesitant to stack the line against the league's second-rated passing offense. What Hightower did with his other carries was average just 2.8 yards and had one run over 20 yards, struggling most once he moved in to the starting lineup. It's a nice story, he served an important purpose, and earned an opportunity to remain a role player this year, but Hightower is clearly best as a complimentary player.
Knowshon Moreno, DEN
It appeared rookie HC Josh McDaniels was set to follow the Patriots blueprint of building a committee of role players in the backfield as the team collected three free agent running backs to go with three already on the roster. Then an unforeseen chain of events flipped the script. First came The Jay Cutler Situation, ending with their star gunslinger leaving town and to be replaced with a player who is a game manager. Now having a pass-first offense was no longer a sustainable model. Next came the draft and the mild surprise of no RB being off the board yet when their 12th pick overall came up. Despite defense being an overwhelming need, McDaniels and rookie GM Brian Xanders couldn't pass on selecting Moreno there. Extremely productive during his two seasons playing for Georgia (he entered the draft as a redshirt sophomore), Moreno is the complete package: a great natural runner with prototypical size, good receiving skills, and a willing blocker.
Following the draft, some of the clutter was cleared out of the backfield. Selvin Young and J.J. Arrington were released, and although Darius Walker has been signed since, he is just practice squad fodder. The fragile Ryan Torain is still coming back from an ACL tear late last season and on the bubble. That still leaves a solid trio of LaMont Jordan, Correll Buckhalter, and Peyton Hillis, the Broncos leading rusher last year, competing for touches. While this looks like a crowd, how it unfolds should not be a surprise. After a rough start in Denver and investing their top pick in a marquee skill position, McDaniels' future already seems tied to Moreno making an immediate impact. That isn't to say Moreno will be handed the job. He should separate himself from the pack on his own by late August with his playmaking ability and every-down skill set. At that point, there is more motivation for McDaniels to allow Moreno to pile up numbers and generate some positive headlines even in a loss. Then Buckhalter slots in nicely as the back-up, excelling in a series or two each game the way he did in Philly. Jordan remains the best short-yardage option of the group, which potentially makes him a TD vulture. The versatile Hillis can play a traditional fullback, but if McDaniels is any kind of offensive "genius", he won't ignore the production Hillis can bring as a runner and receiver and find plays for him, as well. Scoring is the one area I'm still confident will be spread around. While Moreno should have the opportunity to rush for 1,000 yards, don't look for double-digit TDs. Even with more conservative projections of expectations for greater sharing of carries, Moreno is a solid fantasy RB2, with plenty of upside, in redraft leagues. In keeper and dynasty leagues, he slots behind Wells and pushes him as the top rookie RB in leagues with ppr.

Best Potential, Limited Situation
These rookies have the skills to be fantasy stars, but are limited by their circumstances…at least for 2009.
Donald Brown, IND
A fitness nut and workout warrior, Brown definitely passes the eyeball test with an ideal size and build for a running back at the next level. He has good lower body strength and excellent vision, combined with a vicious stiff-arm. Not a very efficient runner in the open field, some unnecessary movements. He could use a track coach to refine his running style. What he definitely has is outstanding burst through the line once he picks his hole. That should be a nice fit for the stretch play and play action runs the Colts favor, giving him time to pick a hole and blow threw it. His receiving ability ensures he should at least be the third down back.
Brown is this year's version of Matt Forte, a great physical package who came out of relative obscurity at a mid-major to post incredible numbers far beyond the solid, but unspectacular, production he had prior to his final season. However, he won't be able to replicate the extent of Forte's success as a rookie because Brown fell in a brutal situation for redraft leagues. Regardless of how you think the carries will break down between he and Joseph Addai, it will be hard to collect both without getting them in back-to-back rounds. Even if you do handcuff them, good luck figuring out who will be the better fantasy producer week-to-week. New HC Jim Caldwell has indicated Addai remains the nominal starter, but he needs to earn on the field in camp. Addai missed time last year with a shoulder injury and had his knee scoped this spring. If Addai isn't 100% to start the season, Brown's redraft value shoots up. In dynasty leagues, Brown is a top 5 rookie pick.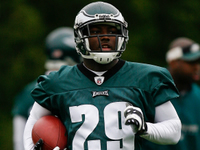 Opportunity in Philadelphia makes McCoy a valued rookie RB.
LeSean McCoy, PHI
Shady's stock began to drop after he had to bow out of performing Combine drills due to a rough battle with the flu. He had a solid, but unspectacular Pro Day a month later, but it was apparent he had lost ground to some of the other consensus top runners in the class. Once viewed as a potential first-round pick, McCoy fell late into the second round. However, he rocketed back up fantasy rankings because of where he fell – Philly. In the Eagles high-powered offense with Brian Westbrook turning 30 before the season starts while coming off a left knee scope in February and a cleaning of his right ankle in June, McCoy falls in to one of the best back-up situations available. It's too soon to write-off Westbrook, but HC Andy Reid's offense spreads the ball around, so McCoy should have some opportunities out of the gate and is a must-have handcuff to the starter. Going forward, McCoy has a bright dynasty future with the skill set to eventually replace Westbrook directly.
Shonn Greene, NYJ
With his football future in jeopardy after losing his scholarship in 2007 due to grades, Greene worked his way back and became one of the most unexpected success stories of 2008. He was the only FBS player to rush for 100 yards in every game on his way to pulling in all the major conference and national awards for a running back. A bruising runner who is rarely brought down on first contact, Greene usually buries his head in the first defender who squares up on him and flattens him. The tendency to put his head down could be a problem at this level. It limits his vision, so even if he breaks the tackle, he isn't viewing the field, and the second and third man in get there a lot faster in the NFL. Something else he'll need to work on taking the handoff and holding the ball. He keeps two hands on the ball for a step or two longer than most RBs after accepting it from the QB, even when he heads outside, where the unnatural movement slows him from getting to full speed quicker. A non-factor in the passing game in college, Greene needs to make some strides there, at least as blocker. Nothing will get him off the field faster than a missed block allowing a defender to tee-off on fellow rookie, and future franchise QB, Mark Sanchez.
New HC Rex Ryan likely had visions of a player he's very familiar with, Jamal Lewis, when Greene was sitting there in the third round. Greene is exactly the type of punishing north-south runner who can move the chains and eat clock that a defensive-minded coach wants as the tip of the spear on his offense. However, Thomas Jones is still in the picture, at least for this year. Greene should see some opportunities, but his redraft value is low even with Jones expected to see a decreased workload, because multi-talented threat Leon Washington is expected to be involved more. Jones is in the last year of his contract, so Greene should be the workhorse next year, sharing touches with Washington.

Back-ups
These rookies don't have the same talent level as those previous discussed and look to be solid back-ups with a chance to surprise if injuries give them an opportunity.
Javon Ringer, TEN
After a ridiculously productive senior season that saw him lead the nation in carries and FBS in scoring, Ringer paid the price. With a history of knee problems, he underwent a procedure in January. It caused him to miss the Senior Bowl and probably impacted his disappointing Combine about a month later. He helped himself at his Pro Day, but still fell to the fifth round amid concerns about his size and durability. An undersized RB who thrives on running inside isn't a good blueprint for success in the NFL, but Ringer is a versatile threat who displayed an indomitable will in college. He has a place in this league, but not as a feature back. He'll probably push workout warrior Chris Henry off the roster, but there is a chance Ringer would not even make the final roster. He won't last long on a practice squad, someone would scoop him up, which might ultimately be a better redraft opportunity than he'll have behind Chris Johnson and LenDale White.
Andre Brown, NYG
Brown is an appealing size/speed combo who has shown he can be a bruiser between the tackles and find another gear in the open field. He is a project with the measurables and potential to be a feature back, but significant doubts about his consistency and durability lead to me to believe he'll never achieve it. He has a history of inconsistency, usually related to a seemingly minor injury, that raise questions about what he'll be able to play through in the NFL. Little to no redraft value, but worth stashing on a dynasty roster if you don't reach for him or at the expense of a better prospect.
Gartrell Johnson, SD
Johnson gained national recognition after one of the greatest performances by a running back ever in the New Mexico Bowl. A strong Shrine Game performance kept his momentum going through solid workouts and eventually a fourth-round pick by the Chargers. He is a nice back-up, but not the replacement for LT2, and will have a limited role with Darren Sproles as the number 2.
Rashad Jennings, JAX
The most promising sub-FBS prospect at RB since Brandon Jacobs in 2005 who impressed at the Senior Bowl, he still showed the challenges in perception small school players face as he fell to the supplementary pick level of the last round. He falls in to a situation in flux at Jacksonville as the team is transitioning the feature role to Maurice Jones-Drew. I still like Chauncey Washington a bit more, but if they consider Greg Jones a fullback, Jennings fits in the roster. An amazing physical specimen, he is very raw and can no longer get by on superior athleticism like he did in the FCS.
Glen Coffee, SF
Poster boy for jack-of-all-trades who does many things well, but nothing exceptional. I have concerns about Coffee's upside because he could just have been a product of the system in college and he runs tall without good pad level or displaying natural instincts. He falls in to a good situation behind Frank Gore who tends to get dinged up and seems overdue for a significant injury. The 49ers had been ignoring the situation behind Gore for a few years and despite my questions about his potential, Coffee easily has the most talent after Gore. In the long run though, I don't see him as the replacement workhorse.
Cedric Peerman, BAL
He shocked a lot of people with his Combine performance, particularly his speed, which was the best among running backs. Pundits rushed to shoot him up draft boards, but Peerman is ultimately a guy with the punishing running style and mentality of a big back in a package too small to perform that way at the next level. He doesn't have the agility or quickness to get to the open field and capitalize on his speed. That is why he lasted until the sixth round. The Running Reverend does add value with nifty hands, good blocking skills, and leadership. He should be an instant favorite and positive influence in the locker room, intangibles are probably his best quality, with just enough talent and value on special teams to be worth a roster spot as the third RB. I don't see him ultimately as a threat to Ray Rice, who is the future feature back on that roster.

Wildcards
Intriguing players whose role is uncertain and value could surprise.
Mike Goodson, CAR
Readers of my college RB prospect reports are familiar with my affinity for Goodson from before he was on the radar of most pundits. This is an extremely talented player who struggled through injuries, a number of coaching changes, and the "student" part of being a student-athlete. The result was the 2006 Big XII Freshman of the Year saw his career go in reverse before declaring early. Regardless, the Panthers were impressed enough with the flashes they saw on film and between the Combine and his Pro Day to grab Goodson in the fourth round despite already having two young studs in the backfield.
Goodson immediately impressed at their OTAs, particularly with his receiving skills. He is built more like a WR than a RB and that is one way the team will look to utilize him, working him in as the slot receiver because, let's face it, there won't be many carries available while DeAngelo Williams and Jonathan Stewart are both there. Carolina is already looking outside the box in how they will use him and I only expect them to get more creative: returner, trick plays, etc. Unfortunately, that type of sporadic and inconsistent use isn't of much fantasy value. If Williams and Stewart are healthy, it's hard to envision a week in 2009 where you'd ever start Goodson. Barring injuries, he should have little to no value in redrafts. He has sneaky potential in dynasty and a good guy to get cheap now if you have either or both of Williams and Stewart.
James Davis, CLE
Davis and Clemson came in to the 2008 season with huge expectations and both struggled through a disappointing season together. Regarded as one of the top senior prospects entering the season, turmoil on offense and a coaching change resulted in few opportunities for Davis who was already sharing carries with the mega-talented C.J. Spiller. He failed to separate himself from the pack through the Senior Bowl and at the Combine, ending up going to Cleveland in the late sixth round. However, that is about a good a landing spot as he could have hoped for. Jamal Lewis turns 30 this month and has put a lot of hard mileage on in his career. Behind him is a budding talent in Jerome Harrison who looks to have a bigger role this year and ultimately could combine with Davis for a solid RBBC. I really like Davis and think he could surprise down the road. He has little competition to be the third RB and for the future, he might have the opportunity to form a new dynamic duo in the backfield with Harrison.
Bernard Scott, CIN
Some players come to the league with baggage, but Scott brings his on a flatbed truck. After moving around Middle America trying to find a football home between off-field issues, Scott was able string together a couple amazing seasons at DII Abilene Christian. The Bengals, apparently not willing to learn from their mistakes with troubled players, took a chance on him in the sixth round. There is no question about his talent, he has already impressed in OTAs, and he falls in to a situation behind a player in Cedric Benson who already has strike one in his own career. This backfield could have a cataclysmic meltdown if both players blow up together. However, if Scott can keep it together, he is a nice immediate compliment with a situation to get a feature runner opportunity by default.
Aaron Brown, DET
In addition to battling injury problems and a brief suspension in his years following being the 2005 MWC Freshman of the Year, Brown's production was impeded by playing in an offense predicated on spreading the ball around in the backfield. Regardless, I was shocked when he didn't receive a Combine invite and, due to that, not as surprised when he fell to the sixth round to the Lions. Brown has the ideal skill set for a third-down back. He is an excellent receiver (actually built more like one than a running back) and can split out to run routes. He also was one of the top kick returners in the nation. Special teams will get him a place on the team, but he has upside to do more. Watch for updates from their training camp, Brown could quickly ascend that uninspiring depth chart.