Bye Weeks: Carolina, Indianapolis, N.Y. Jets, San Francisco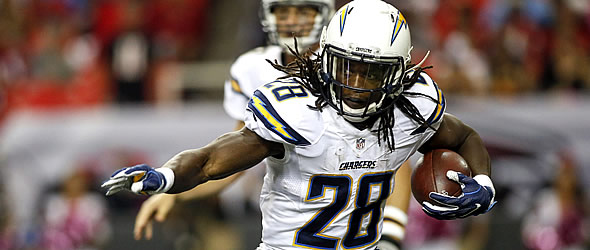 Melvin Gordon has been leaking snaps to Austin Ekeler but he's still the lead back in a plus matchup.
Grab a Helmet

Isaiah Crowell v. JAX: Volume isn't everything (ask Adrian Peterson's owners) but Hue Jackson's continued unwillingness to feed Crowell this season, despite preseason pronouncements to the contrary, is one of the more puzzling coaching decisions of 2017. Cleveland started the season with an exceedingly raw quarterback, frighteningly poor weapons at receiver, and an offensive line one could build a solid running game around. Nevertheless, Crowell is averaging only 15 touches per game (mostly rushing attempts) and the Browns are no closer to earning that elusive first victory. The good news if you haven't given up on him yet? He's been much more productive the last two weeks, scoring 17.8 and 15.5 fantasy points, respectively, against a tough Minnesota D and then Detroit. Jacksonville is abusing quarterbacks this year but has been gashed by opposing backs. If ever there were a time for 20 Crowell carries, this is it. Start him on Sunday.
Melvin Gordon v. BUF: Jacksonville has been gashed by opposing backs, but Gordon wasn't the one doing the gashing last Sunday. While the Chargers' meal ticket was notching a paltry 42 yards on 21 touches, his teammate, Austin Ekeler, was running all over the Jags (119 yards on 15 touches). Should we be concerned by this virtual Week 10 job share? Ekeler's certainly earned more work but received only 14 touches in the two previous games, leading me to believe last week's split was more situation and game flow-related than anything else. I'd feel very confident starting Gordon against a Buffalo defense that started the year as one of the league's best against the run but has since become one of the league's worst. The Bills have surrendered a staggering 47.8 points/game to opposing RBs the past two weeks and that has to have both Gordon and Ekeler owners salivating.
Dion Lewis v. OAK (in Mexico City): Some backs do more with less (Ekeler). Some do less with more (AD). Still others do just about right with just about right. Lewis definitely belongs in this last category now that he's clearly supplanted Mike Gillislee as the Pats' primary back. OK, so there really ISN'T such a thing in New England, but he's about as close as it gets. The former Pitt Panther has averaged over 13 carries per game since Week 6 and has rewarded us with just over nine fantasy points per outing (more if your league counts special teams scores). Lewis' owners might be concerned by the sudden emergence of Rex Burkhead and that concern is somewhat justified. However, there's more than enough work to go around in a New England offense that is explosive and desperately short of wide receivers. Continue to ride Lewis in Week 11.
Grab a Gatorade

LeGarrette Blount @ DAL: Blount was one of those just about right guys from Week 3 to Week 8, averaging just over 14 carries per game and a respectable 9.4 points/contest. Naturally, the Eagles went out and nabbed Jay Ajayi at the trade deadline, adding another body to an already crowded backfield that also includes Wendell Smallwood and rookie Corey Clement. Smallwood looks like the odd man out for now, but it could be Blount in the longer term and his value probably takes the largest longer-term hit. The Eagles' Week 9 boat race of the Broncos should have featured lots of LGB, but he was limited to just 9 carries (Ajayi notched 7, Smallwood 5, and Clement a surprising 12) and did very little with that workload, accumulating just 37 yards. That can't excite his owners in advance of a critical divisional showdown with the Cowboys. Sit him down.
Alfred Morris v. PHI: Philly can all but wrap up the NFC East with a win in Big D Sunday evening, as a four-game lead with six to play would be virtually insurmountable, especially since the Cowboys will be without Zeke Elliott for all but two of those final six games. If you were harboring hopes the 'Boys would be able to replace Elliott with the three-headed monster of Morris, Rod Smith, and Darren McFadden, last week's debacle in Hotlanta should have disabused you of that notion. Morris wasn't terrible (53 yards on 11 carries), but he did most of his damage on one meaningless drive and actually played fewer snaps than the rookie Smith, who replaces the target-allergic Morris on obvious passing downs. There will be plenty obvious passing downs against the high-flying Eagles, who have defended only 133 rushing attempts all year, 46 fewer than any other squad.
Tarik Cohen v. DET: Which way did he go? That's what most were asking earlier this season when the diminutive but explosive FCS product was zig-zagging his way through unsuspecting secondaries. Now it's literally…which way did he go? In his first three games as a Bear, Cohen averaged about 15 touches and almost 100 yards. Unfortunately, in his last three games as a Bear, he's only touched the ball 8 times TOTAL and has managed just 30 yards per outing. What the heck happened? It's not like the Chicago offense is setting the world on fire of late (just 15 points per the last three games), so this sudden drop in utilization is a real head-scratcher. Cohen seems like the perfect relief valve for a developing quarterback but apparently, Benny Cunningham is better in pass protection on third downs. Look elsewhere.


Quarterbacks | Running Backs | Wide Receivers