8/13/07



For the savvy FF veteran, an article about the "Five Mistakes to Avoid on Draft Day" is as easy to hit the snooze button on as it is to make that initial pick in a redraft this year. It's been done so many times in magazines, on websites, and even in one's own mind that it would appear on the surface there's nothing fresh to consider. After all, most people that have participated in fantasy football for any length of time know the basic things that would constitute a draft-day mistake; like not securing enough depth at a position, getting caught up in a "position run", and "reaching" for a player when he would likely be available at a later pick. So, how do we make an article on "Five Mistakes" that's worth your time? That's a solid question and here's my solid answer: the value of this article is that it's designed to deal specifically with the year 2007. In doing so, the writer hopes to avoid tired old tips about generic drafting and instead offer something fresh and up-to-date. You'll have to be the judge with respect to whether or not we accomplish that.

So, let's see. It's late August. You're gathered together with some of your closest friends and/or with people you only see this for one day a year. You're participating in a straight redraft with 12 teams, performance-based scoring, and plenty of roster spots to be filled. Lots of tough choices to make throughout the day…and there's plenty of directions you could go to be sure. Just don't make these mistakes and you'll do just fine:

1. Don't Draft Your First Quarterback Late Just Because It's What You Always Do.

Every year is different and there is real separation in my mind this year between the first half dozen guys and the rest of the pack. Manning, Palmer, Brady, and Brees are almost "sure things". A case could be made that Brees is not, but it would be a weak case. Remember that screen pass that Reggie Bush took to the house vs. Chicago in the NFC title game? Expect plenty more of that. Bulger and McNabb come with greater risk than the initial four due to injury/protection issues, but don't pass on either if it's late fourth round just because "I always wait to grab my first quarterback". It's not the year to do that. There will be a separation between the "big six" and everyone else. You've been warned.

2. Don't Shy Away From The Rookie RBs In Favor Of Declining Veterans.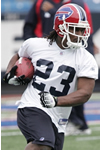 By "rookie", we're primarily referring to Marshawn Lynch and Adrian Peterson here. These two will likely last until at least the early to middle fourth round- Peterson may last longer than that. The temptation is going to be "safer" choices like Jamal Lewis or Ahman Green, whether one is filling the #2 or #3 RB slot. Don't do it. Look at Joseph Addai last year. Yes, Addai wasn't the "starter" for most of the season, but he paid dividends in December. As long as your playoff system is inclusive of at least half of the teams in the league, you'll want Peterson or Lynch- not Green or Lewis. Neither Lewis nor Green is going to be a key component in your championship run- Peterson or Lynch just might be. And, they won't wear down like Cadillac did two years ago because they have backfield mates to spell them.
3. Don't Be In A Hurry To Draft A Tight End Once Gates Is Off The Board.
There is going to be a tendency to look at names like Gonzalez, Shockey, and Heap and think "Man, I can get a real leg up on everyone else at TE if I land one of these guys". I would question that thinking, though, as I think the upside with every tight end not named Gates or Vernon Davis is limited. Heap and Shockey are consistently top five, but they've never had a year in which they exploded for points beyond the normal range for a tight end. And, short of landing a big-time QB to get them the ball, I don't think that's going to change anytime soon. The reality according to my projections is that guys like Heap, Shockey, or even Alge Crumpler will get you maybe 2 more points per game for a season than guys like Dallas Clark, Heath Miller, or L.J. Smith. Translation: There are better options during the first five and a half rounds of a redraft. As round six begins to wind down, begin taking a look at the tight ends not named Gates. Until then, though, feast on higher profile positions.
4. Don't Draft More Than Two "Higher Risk" Players On Draft Day.
Here's my advice on this one. Take out your cheatsheet for players at all positions and rank each player 1-3 in terms of risk for whatever reason (injury, competition for a job, or just general mental/emotional instability). A ranking of one means a player is low risk with respect to actually achieving what you have projected (players like Peyton Manning, Rudi Johnson, or Marvin Harrison comes to mind). A ranking of a 2 means a player comes with some risk, but not enough that you need to seriously consider avoiding him (again, players like Marc Bulger, Frank Gore, or Javon Walker). Finally, a ranking of three is for players that while they offer some potentially high rewards also carry with them significant risk for leaving you high and dry (Donovan McNabb, Clinton Portis, Terrell Owens). Ideally, it would be nice to only take one player with a ranking of 3 but 2 is workable as long as there are some lower- risk players to group the duo with. Three players of high risk is a good way to end up frustrated and playing for peanuts come December. So, take a chance on draft day and roll the dice, just don't do it often.
5. Don't Make Picks Aimed At Getting People's Attention.
I know you think this last one is a joke, but I can assure you that it's not. I've been involved in several redrafts a year for the past 20+ years and I can tell you that sadly, even after all these years, I still like getting a reaction out of the room. When your draft is going along and no one is making any comments on your picks, the tendency internally is to begin leaning towards "making a splash."Randy Moss is an example of a "splash" pick for 2007. Another would be Vince Young or Calvin Johnson. And, there's nothing wrong with taking any of these three. It's not about them. It's about sticking with your projections whether the other guys are impressed with your picks or not. Trust your projections and resist the tendency to bring attention to yourself just for the sake of doing so. And, be humble enough to admit that "Yeah, I tend to want others to be impressed with my picks at times." Knowing that it's a tendency is half the battle.
If you follow these five suggestions, are you going to achieve success in your league? I can't answer that. As Frank Gore owners from last year will tell you, sometimes it just all comes together no matter what mistakes you make. But, my hope is that this will serve as a guide for staying flexible, open-minded, and yet disciplined as you roll through your league draft in a few short weeks. Oh, and if you are looking for a late-round flyer, there's always David PatteRn.

Good luck and God Bless.