QB Brock Osweiler
(2015 QB Rank – No.30, 18.8 FPts/G)
One of the most underrated elements of a team's preseason and overall outlook for the year is the lack of a quarterback controversy. After scuffling with the quarterback situation a year ago, the team has an undisputed starting quarterback. Brock Osweiler has already impressed the coaching staff and his noted work ethic makes the burden of learning a new offense a clearable hurdle. Having DeAndre Hopkins split out wide makes life much easier and having a sturdy running back will keep defenses more honest. Unfortunately, Houston remains a run-heavy team and Osweiler won't be asked to win games through the air thereby limiting his passing yardage to a league average level. Considering the team is better equipped to punch the ball into the end zone via the ground and doesn't possess multiple quality red zone targets, Osweiler's touchdown potential also takes a hit. Five times last season a Texans' quarterback finished as a QB1 (top 12), and never higher than QB6 for the week… seems about right. He may provide a nice game or two if Hopkins gets loose, but more often than not, Houston's new signal caller will fail to be anything more than an average backup to use a few times during the fantasy season.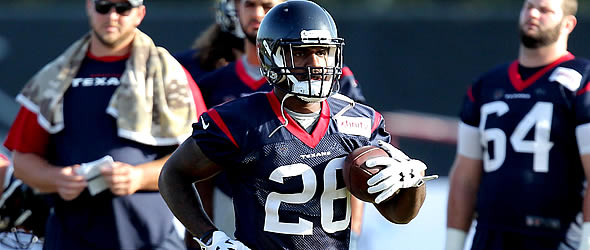 Houston RBs carried the ball at least 20 times in all but two games last season (over 30 six times).
RB Lamar Miller
(2015 RB Rank – No.6, 11.7 FPts/G)
Lamar Miller has logged over 240 touches in each of the past two seasons while not missing a game in three years. That is the type of durable plow horse the Texans have desired since Arian Foster became the NFL's most fragile starter a few years back. Despite carrying a 4.5 YPC in 2015, the Dolphins only allowed Miller 15 rushing attempts in a game five times all season. The Texans won't be afraid to let their new Clydesdale run wild and that means all kinds of goodness is waiting for a fantasy owner who remains open to taking a running back in the first round. As a result, Miller is one of most hotly debated fantasy commodities coming into the 2016 season. The added production Miller can provide in the passing game and the efficiency he's displayed the last two years (.76 FPts/touch) sets him apart from his peers. His potential touchdown yield is where the most risk lies with drafting Miller in the first round. Houston knows Alfred Blue can do the grunt work and they may decide to let him do just that near the goal. Keep a watchful eye on Blue's usage and effectiveness in short-yardage situations during the preseason and be ready to adjust your rankings accordingly.
RB Alfred Blue
(2015 RB Rank – No.40, 7.1 FPts/G)
A bit of a fantasy darling over the past two years, Alfred Blue has proven himself to be one of the better backup runners for fantasy owners to target. Much of that success was fueled by the team counting on Arian Foster to stay healthy, as well as a willingness to feed Blue the ball when asked to shoulder the load. He registered four games with 20 or more carries in 2015 but is far less likely to find himself in a similar position playing behind Miller. Houston could opt to use him as a battering ram to get him touches, but his lack of speed and limited use in the passing game limits his fantasy stock to that of a pure handcuff.
RB Jonathan Grimes
(2015 RB Rank – No.63, 4.4 FPts/G)
Grimes will likely be the backup passing down back to enter the year. He has been fairly productive with limited opportunities over the past three years, averaging 4.4 yards per carry and 8.8 yards per catch. He is good in a reserve role and could be a handy mid-season pickup should an injury or two provide him with more playing time. The small and speedy fourth round pick out of San Jose State, Tyler Ervin, provides competition for Grimes as a third-down specialist. Ervin should get a crack at helping in the return game and may force his way into special packages, including the hurry up offense if he can flash in camp.
WR DeAndre Hopkins
(2015 WR Rank – No.6, 13.6 FPts/G)
A year after taking over as the team's top option in the passing attack, DeAndre Hopkins solidified his place amongst the NFL's elite wide receivers in 2015. Unfortunately, the results may not have been completely by design as the Texans didn't head into last year thinking they would rank amongst the NFL's top ten teams in passing attempts (T-9th with 609). Looking ahead to 2016, there doesn't seem to be enough supporting evidence to provide Hopkins with another 192 targets. That isn't to say he won't hit the 150-mark as an elite WR1 option, but Houston is no longer a one-trick pony with the additions of rookie Will Fuller in the passing game and Lamar Miller in the running game. Brock Osweiler had a front row seat in Denver watching an offense methodically spread the ball around to move the chains and the blueprint laid out in Houston looks awfully familiar. Make no mistake, Hopkins has no competition as the top option in the passing game, comes without durability concerns and is as acrobatic of a pass-catcher as there is in the NFL. He is certainly capable of sustaining the success he had a year ago, but his team may not allow him to reach such lofty marks. A one-day holdout shouldn't factor into your 2016 ranking for the former Clemson Tiger where his first round value isn't likely to change much prior to opening kickoff.
WR Cecil Shorts
(2015 WR Rank – No.70, 5.9 FPts/G)
With so many balls being thrown to DeAndre Hopkins, Cecil Shorts was more of a spectator in Houston's offense than a solid secondary receiver. He only managed 42 receptions last year and could end up being moved to the slot if the team's lesser experienced receivers develop quickly. As the younger players are worked into the offense, an inevitable drop in targets puts Shorts' fantasy worthiness on life support. If he and Brock Osweiler can establish a good connection there is mild optimism for Shorts to postpone the youth movement and fill a possession role this season.
WR Jaelen Strong
(2015 WR Rank – No.102, 3.4 FPts/G)
Jaelen Strong and Will Fuller give the team its strongest depth at the position in years. Strong struggled to change the coaching staff's initial perception after showing up to training camp out of condition during his first workouts as a rookie. This off-season has been another story. The reports from OTAs have noted an improved attitude to go along with a leaner frame. Strong's ceiling is far higher than Shorts and the gap between the two is already narrowing and his fantasy value is ready to trend upward. Strong may not begin the year as Houston's second best wideout but he is the most likely to be found on fantasy rosters by the time the playoffs come around.
WR Will Fuller
(2015 WR Rank – N/A)
The Texans latest attempt to provide the offense with two quality receivers may be their best. In drafting Fuller in the first round of the 2016 draft, Houston has recognized the importance of depth in the passing game, while also adding a player capable of making defenses think twice about bracketing DeAndre Hopkins. There is generally a learning curve with receivers coming into a stable situation let alone an offense with a brand new quarterback and running back leading the way. To this point in the preseason, the rookie has demonstrated a great work ethic and attitude to help him rise up the depth chart quickly. He'll cut his teeth on passing downs to open the year and could see his role evolve if he finds success early.
TE Ryan Griffin
(2015 TE Rank – No.38, 4.1 FPts/G)
Add Ryan Griffin's name to the list of uninspiring Houston tight ends of recent years. Griffin's progress has been slowed by an Achilles injury but he is supposedly healthy for training camp. He has yet to break the 20-reception mark or play in ten or more games since joining the league in 2013. Adding less optimism for fantasy owners is the team's decision to continue to work C.J. Fiedorwicz into the rotation. Undrafted free agent rookie Stephen Anderson has impressed the coaching staff while working as the "move" tight end and may find his way onto to the roster as well. There isn't much to like about a potential committee approach on a team that barely uses the position on offense. This is a situation to avoid; even when sifting through TE2 options.