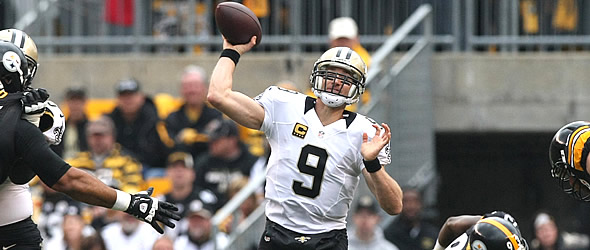 The Saints will run the ball more this year but Brees remains a QB1 with nice value in the fifth round.
QB Drew Brees
(2014 QB Rank – No.3, 24.5 FPts/G)
2015 will mark Drew Brees' 10th season in New Orleans and 15th season in the NFL. Last year, he failed to reach 5,000 passing yards for the first time since 2010. That is also the last time he "only" threw 33 touchdown passes. It seems logical to expect Brees' numbers to decline even more this year even before accounting for the losses of Jimmy Graham and Kenny Stills on offense. Yet the so-called decline he experienced may simply be the result of what he lost last year. Had Brandin Cooks not been lost to injury, the rookie may have continued to pace all Saints receivers for the rest of the year. Had Graham been healthier, there is a good chance he would have finished with a few more touchdowns and hit all of his usual marks. Was losing Darren Sproles prior to 2014 insignificant? The team brought in C.J. Spiller to infuse that pass-catching threat out of the backfield back into the offense. Cooks is healthy and gaining confidence each week as he proves himself to be amongst the NFL's most dangerous young receivers. A more suitable role for the aging Marques Colston and more respectable rushing attack add further reason for optimism in this offense. He is currently slipping into the fifth round of 12-team redraft leagues and remains a cut above the rest of the pack. Luke McCown returns for his second season with the Saints. He will be the primary backup to Brees, but 2015 third-rounder Garrett Grayson appears to be the team's choice to develop as the heir to the throne once Brees retires.
RB Mark Ingram
(2014 RB Rank – No.15, 12.7 FPts/G)
If not for hand and knee injuries, Mark Ingram would have likely finished as a top-10fantasy running back in 2014. That is why the team inked him to a new four-year deal, despite the fact he failed to produce in the first three years of his career. With little competition for carries and a team hoping to lean on a more effective rushing game, Ingram provides plenty of RB2 upside despite being an injury risk. His YPC has always been strong and he should be able to build upon last season's 4.3 YPC mark if the team commits to one primary rusher. Unlike many other NFL backfields, Ingram shouldn't lose many touches to other runners, especially near the goal line. C.J. Spiller is a capable second-string runner, but he will complement Ingram more than he competes with him for touches in this offense. Further down the depth chart, Khiry Robinson adds even more pressure and motivation for Ingram to match or exceed his totals from a year ago in the first year of his new deal. He also has the ability to pad his stats with a couple of catches per game, but he may not be asked to do as much this season with Spiller in the fold.
RB C.J. Spiller
(2014 RB Rank – No.71, 5.4 FPts/G)
New Orleans is an interesting place for C.J. Spiller to land, and I mean that in a good way. The changes are vast for Spiller as he heads to a dome in the South, leaving an outdoor stadium in the North. He goes to an offense that features an elite quarterback and head coach that are far more adept to putting up yardage than the Buffalo Bills in recent years. Spiller has changed conferences and divisions, a combination that will undoubtedly result in more games played in warmer climates under milder conditions. He appears destined for a Sproles-like role that should see him reach 50 receptions for the first time in his career. Spiller will have plenty of motivation to succeed right out of the gate as he is mixed in as a dual-threat running back. The team would likely turn to a RBBC should Ingram fail to make it through the season. As was the case for Sproles, Spiller's fantasy stock gets a tremendous bump in PPR formats. Where you value Spiller likely depends on your league's scoring settings, so adjust accordingly.
RB Khiry Robinson
(2014 RB Rank – No.58, 6.7 FPts/G)
The team's decision to resign Ingram makes Khiry Robinson nothing more than a handcuffing option heading into the 2015 season. Additionally, the addition of Spiller to the offense will limit Robinson's touches, even if Ingram is forced to miss any action. Still, he proved he can be an asset to the rushing attack after averaging 4.8 yards per carry on 76 rushes in 2014.The team will likely view him as a better between-the-tackles runner than Spiller, effectively giving him a shot to vulture two or three touchdowns throughout the season. As one of the NFL's better young backup runners, he could draw trade interest, but chances are he will be buried on the depth chart to open 2015. As a handcuff option to Ingram, he lacks upside to make him worthy of being selected in all but the deepest of leagues or dynasty formats.
WR Brandin Cooks
(2014 WR Rank – No.57, 8.6 FPts/G)
The youth movement in New Orleans is headlined by Brandin Cooks. The team jettisoned two of Brees' most dangerous targets in Stills and Graham. Additionally, the impending decline of Marques Colston as he enters the twilight of his career means Cooks will be asked to do a lot more during his sophomore season. The early reports from training camp have been positive. Cooks appears fully recovered from a thumb injury that ended his season a year ago, and he is gaining confidence as he prepares for a larger role in the offense. The Saints have had at least 650 passing attempts in each of the past five seasons. As long as Brees continues to lead the charge, Cooks should easily blow past the century mark in targets during the 2015 regular season. Even as the team's top wideout, a bullish fantasy owner should not overlook the lack of size when evaluating Cooks' touchdown potential for this season. Brees will still rely on the steadiness of Colston and size of TE Josh Hill and/or Ben Watson when the team doesn't decide to run the ball inside the 10-yard line. A strong WR2 in most formats, Cooks is already flying up draft boards as one of the league's preseason "buzz" players.
WR Marques Colston
(2014 WR Rank – No.31, 8.0 FPts/G)
Lifelong-Saint Marques Colston is coming off another "down" season in terms of fantasy production. The good news is he was able to finish as the 31st-best fantasy receiver, while posting a nearly identical stat line in 2014 as he did in 2013. The bad news is he had his worst season as a pro in 2014. At 32, he still has some gas left in the tank and will again be a key contributor in one of the better passing offenses around the league. However, it will be tough for fantasy owners to continue to trust him when he is coming off three straight seasons with a declining target total and catch percentage. Merely matching his stats from last season would be a nice outcome for Colston in 2015, but the potential for further decline makes him a risky WR4 for fantasy owners.
WR Nick Toon
(2014 WR Rank – No.107, 4.7 FPts/G)
On a fantasy points per game basis, Nick Toon delivered similar production to Davante Adams, Donte Moncrief and Markus Wheaton in 2014. All of these players have an arrow pointing up as they continue to see more playing time. However, a case can be made that Toon is in the best situation to blossom in 2015. For starters, he is closer to the guys above him on the depth chart where an aging Colston and inexperienced Cooks reside. As a slot receiver, Toon will also be tasked to help fill the void of departed tight end Graham. Secondly, he has more size than the others previously mentioned. Standing at six-feet, four-inches and 218 pounds, Toon is comparable to Colston. He needs to earn the trust of Brees and prove he can handle more reps within the offense, but a slight improvement on Stills' 2014 totals is not out of reach.
TE Josh Hill
(2014 TE Rank – No.27, 4.0 FPts/G)
The Saints made a gutsy call by trading Graham. Freeing up needed cap space aside, head coach Sean Payton has to be wishing he had a little more talent at the tight end position. The team flirted with Jermaine Gresham before he signed with the Cardinals so Hill's status atop the depth chart may need to be revised before your league's draft. Nonetheless, with Graham often less than 100 percent, Hill was able to collect five touchdowns while playing in 12 games as a rookie. The Idaho State alumnus has the hands and size to continue his success inside the red zone and should earn starting reps. For the first time in years, the Saints will lack an elite fantasy option at tight end. If Hill is tabbed the team's starter for 2015, he should be a serviceable plug-and-play option during bye weeks. Eleven-year veteran Ben Watson is always good for a couple of touchdown catches. He turns 35 years old in December and is three years removed from anything close to a worthwhile fantasy season but will be tasked with helping to fill the void left by Graham. If the team finds an upgrade, third-year pro Orson Charles may find himself the odd man out.