Bye Weeks: N/A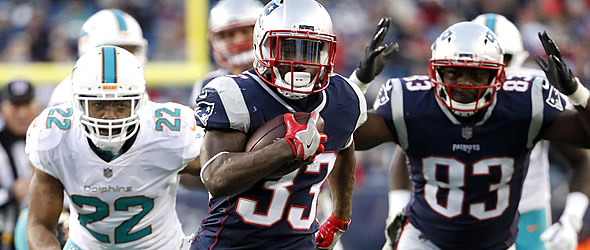 It's tough to trust Patriots RBs but Dion Lewis has seen double-digit carries in six straight games.
Grab a Helmet

Dion Lewis @ BUF: I know there is a measure of trepidation when starting any Patriots running back simply because you never know exactly who might be featured in the game plan. At different points this year, four different backs for New England have put up RB2+ numbers, but the real mainstay of the bunch has been Lewis. After a slow first five weeks of the season, Lewis has seen at least 11 carries in each of the last six games, and seems to be the runner the Patriots feature most consistently. The Bills have an exploitable run defense, and itís always a good idea to establish the run on the road against a division opponent. Lewis is also a threat to get a few drives vultured from him, but he should see a large enough snap share to trust as a RB2 .

Alex Collins vs DET: Although his numbers didnít jump off the page Monday night against the Texans, Collins is the clear lead back on this Ravens team. He carried the ball 16 times for 60 yards and a score, and while heíll lose plenty of snaps on 3rd downs to Danny Woodhead, Collins represents the most effective offensive weapon on a team that simply canít move the ball in the air. With Flacco and the receivers unable to do anything past twenty yards, look for a heavy dose of the run game against a Lions team thatís been eaten up on the ground the past few weeks. Game script is going to favor the run game in this one, and to me, Collins has a potential 75+ yard, 1 touchdown floor. This puts Collins soundly on the RB2 map and a great FLEX play if you have the depth to use him there.

Samaje Perine vs WAS (THU): Letís be honest, if not for the injuries to Rob Kelley and Chris Thompson, Perine would still be nothing more than a bench stash. But to give him credit, Perine has made the most of his lush opportunities, reaching 100 yards rushing in consecutive games, averaging a stout 4.5 yards per carry, and tacking on 6 receptions since being forced into the lead role. The Redskins have force-fed the rookie to the tune of 47 carries the last two weeks, so the volume alone gives Perine some of the highest floor potential among backs this week. All that heís done the last two weeks, combined with the enticing matchup against a Dallas team that is circling the drain, make Perine a surprisingly strong RB1/2 play in Week 13.
Grab Some Pine

Seattle Running Backs vs PHI: I wouldnít wish the starting running back position on the Seahawks on my worst enemy. Not only has it been a black hole of production the entire year, but it seems like voodoo dolls made of Seahawk running backs are the hot item this holiday season. Any time a new runner steps up into the lead role, a groin, knee, or ankle seems to snap, break, or sprain. The offensive line has been offensive all year, and while guys like Mike Davis and Chris Carson showed flashes, no one stays healthy long enough to make a fantasy difference. Seattle will continue to trot out whatís left of Eddie Lacy, hope J.D. McKissic can catch a few passes, and maybe Mike Davis stays alive long enough to have 10 carries. Nothing about this backfield exudes confidence so look elsewhere for your fantasy needs. Oh, and did I mention the match-up is also as brutal as can be as the Eagles sport the best run stopping unit in all the land? Need I say more?

DeMarco Murray vs HOU: Itís truly baffling how long itís taken the Titans to turn the reigns over to Derrick Henry, but after Murrays second straight dud last week, and the fact Henry was the lead dog in several 2nd half clock killing drives, it may officially be time to move on from Murray as a fantasy starter. Sure he stole a touchdown and reached 10 fantasy points for the only the 4th time this year, but he also had a second straight game of a yards-per-carry average around 1. Injuries and general wear have sapped him of his explosiveness, and simply isnít giving the Titans the big plays they desperately need out of the run game. If the Titans wise up and commit to Henry like I think they might, Murrayís floor on single digit touches could be devastating to your chances of winning.

Kareem Hunt @ NYJ: Something stinks in Kansas City. The Chiefs, for the first few weeks of the season, were an unstoppable offensive juggernaut. They were planning parades for Alex Smith, and Kareem Hunt was looking like a generational fantasy talent; then the wheels fell off during a 13-9 loss to the Steelers. Sure, the offense slightly rebounded a week later in Oakland, but since that loss to Pittsburgh, Hunt and the offense have gone in reverse, culminating in an unthinkable 11-17-0 line against Buffalo last week. The 12 touches and 20 total yards were by far season lows for the dynamic rookie, and frankly numbers that make no sense after a blazing hot start to his career. I know there has been some shifting of personnel on the offensive line, and d-coordinators have gotten smarter, but something has gone seriously off the rails with this offense. Hunt has gone from sure thing, to "cross your fingers" in a matter of weeks, and while you can't bench him, you have to hope a rebound comes before it's too late for your fantasy squad.


Quarterbacks | Running Backs | Wide Receivers