In dynasty leagues, it is critical to keep in touch with the value changes that players experience. Whether those moves in value are real or perceived, a savvy owner remains well aware of the changing tide in order to capitalize on the opportunities that develop. Tracking shifts in player value carefully and making roster adjustments accordingly are key components to your team's long-term success. Consistent contenders in dynasty leagues don't separate from the pack merely by chance or simply by getting "lucky" on a few rookie draft picks. These are the owners that put in the work and find ways to improve their team all year round.

Below, I provide in-depth analysis on two players that have recently experienced a real or perceived value change in dynasty formats. Soak it in, give it some real consideration, and if it rings true for you, use this information to help improve your team.

Robert Meachem – When he was selected by the Saints with the 27th overall pick back in 2007, many had high expectations for Meachem. Unfortunately, a knee injury derailed his rookie season, and he had a relatively quiet second year in the league as well. It wasn't until his third season—a season where he pulled in 45 receptions for 722 yards and 9 touchdowns—that he made a real splash. At that point, a lot of people became convinced that Meachem was on his way to becoming an impact player in New Orleans. But over the next two seasons, he didn't post the kind of numbers that were generally expected, and he left many owners very dissatisfied.

A fresh start in San Diego may be just what the doctor ordered for Meachem. The 27-year-old signed a four-year contract with the team and is now penciled in as a starter alongside Malcom Floyd. Vincent Brown is definitely in the mix, too, having shown some nice flashes during his rookie season, and Eddie Royal was brought in to play the slot and serve in the return game; but Meachem and Floyd are expected to see the bulk of the action at wide receiver this season.

Meachem proved in New Orleans that he is, at times, capable of beating his man deep and making plays. Now that he is paired with Phillip Rivers, a quarterback who is effective at taking shots downfield, Meachem could flourish. Vincent Jackson was able to produce big numbers as the team's top wideout, serving primarily as a deep threat, so it seems almost intuitive that Meachem will slip seamlessly into that role. Plus, it is encouraging to hear that Norv Turner has already been impressed with his new wide receiver's versatility. Further, if you look at the long-term situation in San Diego, Meachem could play a huge role for the team beyond this season. Floyd is a free agent in 2013 and Gates is getting older and having greater difficulty staying healthy.

The stars have aligned nearly perfectly for Meachem in San Diego. He landed in a great spot. So why do I feel discomfort deep in my stomach when I imagine myself relying upon him to start for my dynasty team for the next few seasons?

There are a couple of primary reasons. First, Meachem was already provided plenty of opportunity in an elite Saints offense and he never took advantage of it. Sure, Colston was locked in as the No. 1 receiver, but if Meachem could have cemented a role as the clear No. 2 in New Orleans, he would have posted noticeably better numbers. Instead, he failed to separate himself statistically from the likes of Devery Henderson and Lance Moore. With this in mind, it seems a bit less likely that he will smoothly transition into a productive lead receiver in San Diego.

My next issue with Meachem is that, in the long run, I feel Vincent Brown is probably the superior talent. I may be going out on a limb here, but I've been impressed with what I've seen from Brown. He lacks ideal NFL size and speed, but he attacks the ball in the air and has a knack for making plays. Admittedly, Brown is not currently in the position to out-produce Meachem or Floyd; but when looking at the bigger picture, I like his odds to do so eventually. Before too long, Rivers could start to look Brown's way on a regular basis.

Ultimately, if you are a believer in Meachem's skill set, you should definitely be looking to acquire him in your dynasty league. He clearly is going to get a great chance to succeed. However, since I have some doubts about his overall talent, I find myself unconvinced that Meachem will be able to capitalize on the great opportunity he has with the Chargers. While I expect his numbers to be slightly better than what he was posting in New Orleans the last couple of years, I think he is unlikely to lockdown the top wide receiver role in San Diego for an extended period. For that reason, I believe it makes sense for some of his current dynasty owners to explore trading him. The teams in your league that are thin at WR or are thinking that Meachem could be the next Vincent Jackson are the ideal targets.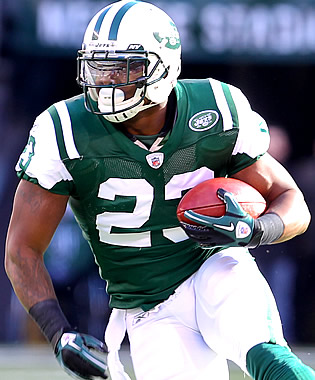 Greene may not be a sexy fantasy prospect but the numbers suggest he's a decent buy-low candidate.

Shonn Greene – If you tried to list the top 20 RBs in fantasy points scored in 2011 off the top of your head, you might not think of Shonn Greene. Yet, when using FFToday scoring, he actually registered as 18th overall, outscoring guys like Rashard Mendenhall, Willis McGahee and Jonathan Stewart. Greene quietly had a very productive season, rushing for 1,054 yards and 6 touchdowns and even pulling in 30 receptions for 211 yards.

While Greene may lack that extra gear needed to consistently break big runs, his compact build and overall skill set make him a solid runner between the tackles. He isn't an elite talent, but he has proven he can be an effective runner in the NFL. Frankly, it isn't all that uncommon for running backs with less-than-elite skill sets to post some nice numbers. For dynasty owners, the question is, "Can Greene put up at least a couple more nice seasons?"

To answer that, you first have to look at the change the Jets offense is going through. The biggest thing that comes to mind for many is the addition of Tim Tebow. While the former Bronco isn't slated to be the team's starting quarterback, it is expected that he will be used a good amount in Wildcat formations and around the goal line. Admittedly, this could be a limiting factor to Greene's touchdown production, but since most aren't expecting double-digit touchdown's out of Greene to begin with, Tebow's impact on this front may not be that significant.

A more substantial change for the team is the hiring of Tony Sparano as offensive coordinator. Rex Ryan has been clear that he wants to stick to a ground-and-pound approach on offense, and Sparano's run-heavy system should be a good fit. The Jet's ranked 16th in rushing attempts per game in 2011, at 27.7. I expect this to edge closer to 30 per game under Sparano, slightly increasing the opportunity for the team to make plays through the rushing attack.
When you couple the impact of the new offensive scheme with the departure of LaDainian Tomlinson, and the fact that the Jets didn't bring in any significant competition at the running back position, it looks more and more like Greene is going to get his hands on the rock a ton this season. Despite his aforementioned lack of elite talent, the situation is ripe for Greene to be a nice stat compiler in the near term. However, I believe there are reasons for concern.

The Jets offensive line was not great last season, particularly as it relates to the ground game. They were one of only seven teams to average less than 4.0 yards per carry. That said, improved health and a new system may serve as a springboard to help this group be more effective going forward. The line is only a moderate concern at this point; there are two other things that, when considered jointly, are slightly more worrisome when evaluating Greene's dynasty value.


His age: Greene turns 27 next month. Sure, 27 isn't the end of the road, but the closer RBs get to 30, the more heartburn they give me.


His contract status: Greene is a free agent after this season. Unless the Jets extend him, he will be trying to land a new contract that will start in 2013, a season in which he will be 28 years old. If he is unable to stay in New York, it isn't far-fetched to think he might have trouble finding a team willing to commit to him as their primary ball carrier. His age and lack of elite talent won't work in his favor. He is currently in a great situation, but that could change after this season concludes.


In the end, I see Greene as a decent buy-low opportunity for teams in the market for short-term help at RB. He isn't a sexy player to have on your roster, but he has a real chance of climbing into high-end RB2 territory this season. In the long run, his age/contract combo is a red flag for me. This might motivate me to shop him around, particularly if I weren't a title contender. Nevertheless, I'd be sure that any deal involving him didn't leave me too thin at RB and that I got good value in return. Greene brings too much to the table this season to sell low.