8/19/09



Each year, the wide receiver position in fantasy football is often the toughest to predict. There's no other position that has as high a turnover in the top echelon from year to year. Over a four-year period (2005-2008), an average of 15 new WRs cracked the top 36 by season's end. Amazing—especially when compared to the more stable year-to-year predictability of the QB position.

So how can you get those surprising breakout wide receivers on your roster? First, we have to identify what the term "breakout" means. A breakout wide receiver is simply a player with mid-round value (or lower) that has the ability—whether through sheer talent or his team's offensive make-up and philosophy—to be productive and fantasy relevant. More than that, the breakout candidate must either be a team's #1 option that receives little if any, pre-fantasy draft publicity (i.e., Anquan Boldin in 2003; Marques Colston and Braylon Edwards in 2006), or be a suitable complementary player playing alongside a top receiver (Wes Welker in 2007; Eddie Royal in 2008).

Now that the basic criterion is known, we must identify those players who best fit the mold of a breakout WR in 2009. Be careful not to overpay. They must be targeted at the right time of your draft to fully maximize the value of the pick.

Note: ADP based on 12-team, non-PPR leagues

1. Anthony Gonzalez, IND
Current ADP: 4.12

I chuckle when I see fantasy football publications and various Web sites rank Anthony Gonzalez behind receivers such as Antonio Bryant and Lee Evans. That kind of below-the-radar coverage brings a huge grin to my face because I know the foes in my big money league actually read some of that stuff. Gonzalez has everything you want in a sleeper candidate: quality talent around him, all-world QB, receiver-friendly offense, and he's shown flashes of being a really good receiver in the past.

He's certainly going to be third in the pecking order behind fellow WR Reggie Wayne and TE Dallas Clark. That's fine. Gonzalez's TD total will more than make up for his potential lack of receptions. Think about it. There's no way defenses will take their eyes off of Wayne and Clark, leaving the fleet-footed former Buckeye in one-on-one coverage all day. Word out of Indy is Gonzalez will line up in Marvin Harrison's old spot on the right side of the formation, so he will run the same routes the former Colt built his Hall of Fame career on. Gonzalez is ranked on many cheat sheets as a WR3, but don't be surprised if by Christmas his numbers rank him as a dependable WR2.

2. DeSean Jackson, PHI
Current ADP: 5.01

I'm high on Donovan McNabb this year, so it stands to reason that the most dangerous receiver on Philly's roster makes this list. Jackson quickly proved worthy of the trust that McNabb and head coach Andy Reid put in him last year. His big play ability and run-after-the-catch skill set easily make him a prime prospect for breaking out. It helps that the Eagles love to throw the ball all around – 59% of offensive plays were passes by Philadelphia last season. It's said the second year WR has improved his route running and concentration; if that's the case, it's inevitable that his numbers take a quantum leap in 2009.

Depending on any one wide receiver on in the Eagles offense comes with one caveat and that's McNabb's tendency to spread the ball around. Six players had at least 32 receptions last year. That may put a limit on what Jackson's totals, but his role in such a pass-happy offense can't be ignored. Reid is aware of the explosive potential of Jackson and the coaching staff tried getting the ball in his hands any way they could in 2008—punt returns, wide receiver screens and end-arounds (he had 17 rushing attempts last season). Jackson may not significantly increase his team-leading 62 receptions from a year ago, but he could easily quadruple his 2 TD performance of 2008.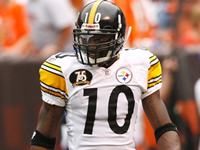 Fantasy owners want 2007 numbers from Holmes in 2009.
3. Santonio Holmes, PIT
Current ADP: 5.09
After the Pittsburgh Steeler passing game took a huge step forward in 2007, it came back to earth in thud-like fashion last year. Holmes entered 2008 a huge sleeper, coming off his 8 TD, 18 yards-per-catch '07 season. But Holmes struggled much of 2008 along with the rest Pittsburgh's passing game. Even though he never reached 100 yards receiving in a game, Holmes finished the season strong, scoring touchdowns in three of the last five games.
That's the kind of production fantasy owners should expect. This is the year when Holmes should become Pittsburgh's #1 receiving option. Both he and QB Ben Roethlisberger are young and talented enough to help revitalize a Steeler passing game that many hope will trigger comparisons to 2007. He seems to be maturing and has dedicated himself by gaining 10 pounds during the off-season to better handle the riggers of the league and become a more physical presence. While Pittsburgh remains the brute force running team that they've been known for, that doesn't mean production can't come from the passing game. Holmes should prove himself a worthy WR3 in 2009.
4. Domenik Hixon, NYG
Current ADP: 10.03
New York Giants QB Damon Manning is neither a top-line NFL nor fantasy quarterback. But he's good enough that players such as Domenik Hixon can craft above-average seasons and make themselves known in fantasy football circles. The receiving corps in New York is thin on experienced productive players, but Hixon appears to be the best of the bunch. And don't let Hixon's slim build frighten you. He hasn't missed any time during his previous two seasons in the league.
The Giants will rely heavily on the run this year as a direct result of the inexperience at the WR position but when they do open it up, Hixon will play the role of former Giant Plaxico Burress and make plays down the field. No one is sure if he can live up to those kinds of expectations, but the situation in New York sets up well for the third-year pro. Look at it this way: even with the limitations of the Giants' passing attack, Manning should still throw between 18-22 TDs and someone will catch those scoring tosses. There's no reason to think Hixon won't get his share.
5. Ted Ginn Jr., MIA
Current ADP: 9.09
This could be the year those Miami Dolphin fans who wanted the organization to draft Brady Quinn instead of Ted Ginn Jr. regret ever thinking of such a plan. Ginn isn't a wide receiver as much as he is a weapon. His ability in the open field makes many recall the reason why the Dolphins eschewed the golden-armed QB in 2007 for the thinly-built playmaker. He also gives offensive coordinator Dan Henning another tool in his considerable storage of creative plays… and with the success of the Wildcat Offense last year, I'm sure a few new wrinkles have been added that feature Ginn and his unbridled athleticism.

Starting WR Greg Camarillo is set to return after blowing out a knee Week 12 last season. It's crucial that Camarillo be healthy for the sake of Ginn's production. Before his injury, Camarillo was a poor man's Wes Welker and a great waiver wire find midway through the season. Having that kind of support allows the former Buckeye to not be the primary focus of the opposition. QB Chad Pennington gives Ginn and the Dolphin passing attack steady play under center that is vital to the team's success. Perhaps more than anyone else on this list, Ginn's production hinges on those around him but couple his tremendous upside with another year of experience and Ginn looks poised to build on his 56 reception, 14 yards per reception campaign of 2008.
6. Donnie Avery, STL
Current ADP: 8.01
Yes, Avery has an injured foot and will miss the rest of the preseason. That stinks. But don't lose sight of the fact that four months remain in the season after his projected return in early- to mid-September. I saw enough of Avery last season to make him one of my premiere sleepers heading into 2008. Some have said the offensive situation in St. Louis is a mess and to steer clear of any Rams not named Steven Jackson. That may be true, but wasn't it a mess last year? And didn't Avery still produce 53 catches and 3 TDs as a rookie? And with a year under his belt, a healthy Jackson to fortify the running game and an improved O-line, Avery is ready to surprise in 2009.
The injury does nothing but allow him to fall another round or two in your draft. Sure, there should be some trepidation, drafting a player with a preseason injury below the waist, but if you don't get trigger happy and don't overpay for him, Avery can be had with a late draft pick normally reserved for a #4 WR. Selecting him there and having him produce like a low WR2 or high WR3 by Halloween is worth the gamble. Be patient, keep an eye on him during your draft, and pluck him off the cheat sheet at the right moment.
7. Miles Austin, DAL
Current ADP: 12.07
Austin got off to a rousing start last year, catching 2 TDs through Dallas' first three games. His numbers fell off the map soon thereafter, and he finished the season with only 13 receptions. But with an offense that included Terrell Owens, Jason Witten, and later Roy Williams, there wasn't much attention left to give. Now the WR position beyond Williams is wide open and Austin has an opportunity to show the skills he displayed during the first quarter of last season.
He will compete primarily with Patrick Crayton for the coveted #2 receiver position and while Crayton may have better career numbers, Austin has the size (6-3, 216 lbs.) and athleticism to better complement Williams. As it stands, Dallas' front office felt enough confidence in Austin and Crayton that they decided not to pursue any free agent receivers, and only selected one in this year's draft. That puts significant pressure on both, but my money is on Austin putting together a good year and surprising many in the fantasy football world in the process.
8. Chris Henry, CIN
Current ADP: 10.01
Here's an interesting tidbit: newly-signed Seattle WR T.J. Houshmandzadeh appeared on Sirius NFL Radio recently and said he's kept in contact with several former teammates in Cincinnati. They shared with him that free agent WR Laveranues Coles is impressing few people at Bengals training camp. Those weren't Houshmandzadeh's exact words, but that was the implication. Even before that came to light, I looked at Henry as being able to duplicate his lone productive NFL year of 2006 in which he caught 9 TDs.
Henry isn't going to come close to being a go-to guy in the Bengals offense. He's never had more than 36 receptions in a season but could top that in 2009. What Henry gives the Bengals is an athletic, big-bodied speedster that gives defensive backs fits. He's a tremendous red zone target and deep threat. Whether or not the Coles stories are true, Henry should remain a threat in Cincy's passing attack and thus deserves a spot on your roster.