Entry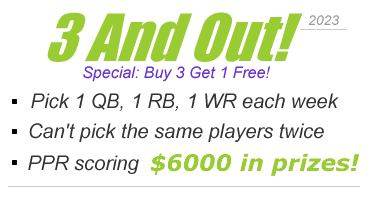 3 And Out! Fantasy Survivor Contest is open to all registered members at FFToday. You must login before joining the contest. If you do not have an FF Today account, you may create one for free.

Cost is $12.95 per entry or buy 3 entries and get a 4th FREE!

To enter the contest, an individual must purchase their entry and join the contest through the contest sign up page, prior to Sunday September 10th, 2023 at 1:00 pm Eastern.

Once your order is processed in real-time, you will be directed back to the 3 And Out! contest page where you can enter your QB, RB, & WR selections for Week 1.

Eligibility

3 And Out! Fantasy Survivor Contest is excluded from eligibility for residents of - Connecticut, Delaware, Indiana, Iowa, Louisiana, Montana, Vermont and Washington. Including additional jurisdictions where prohibited by law.

In addition, residents of Ontario, Canada are not eligible.

Eligible individuals must have reached legal age in their respective jurisdiction (typically 18 years old), or those who have not reached legal age in their respective jurisdiction can enter only with permission of a parent or legal guardian. Owners, employees and immediate family members of FFToday are not eligible to win prizes.

Game of Skill

3 And Out! Fantasy Survivor Contest is a game of skill. The winner is determined by the objective criteria provided in the contest rules. From all entries received, the winner is determined by the individual who uses their skill, knowledge and analysis of relevant football information to result in the most correct selections.

Contest Rules

3 And Out! Fantasy Survivor Contest rules are available on the contest main web page. These rules include an overview of the contest, entry deadline, prize, contest instructions for all contestants, and other details pertinent to the contest operation.

Prizes

The cash prizes are awarded in U.S. Dollars. In the event of a tie, the prize is divided evenly amongst those who have tied. Please allow 4-6 weeks from the conclusion of the contest to receive the prize.

All taxes associated with the receipt or uses of any prize are the sole responsibility of the winner. A 30% U.S. income tax withholding will be applied to any non-U.S. prize winners. In the event that the awarding of the prize to the winner of the contest is challenged by any legal authority, FFToday reserves the right in its sole discretion to determine whether or not to award the prize.

Notification

The winner will be notified by email after the official final results are posted at the conclusion of the contest. The winner must return, via email, contact information for FFToday to deliver the prize. FFToday will attempt to contact the winner in order to fulfill the prize at least three (3) times or for a period of thirty (30) days. If the winner is unable to be reached, this may result in disqualification. Prize notifications returned as undeliverable may result in disqualification. After 12 months, any unclaimed prize will be forfeited. By accepting any prize, the winners grant permission to FFToday to use their names and/or likenesses for publicity and promotional purposes without further compensation, unless prohibited by law. In the event of dispute about the identity of any entrant, entries made online are declared made by the authorized account holder of the email address submitted at time of entry. "Authorized account holder" is defined as the natural person who is assigned to an email address by an Internet access provider, online service provider or other organization that is responsible for assigning email addresses for the domain associated with the submitted email address. A potential winner can be required to provide proof that the potential winner is the authorized account holder of the email address associated with the winning entry.

Internet/Technology Problems

If, for any reason, 3 And Out! Fantasy Survivor Contest is not capable of running as planned, including infection by computer virus, bugs, tampering, unauthorized intervention, fraud, technical failures or any other causes beyond the control of FFToday which corrupt or affect the administration, security, fairness, integrity or proper conduct of the contest, FF Today reserves the right at its sole discretion to disqualify any individual who tampers with the entry process and to cancel, terminate, modify or suspend the contest. FF Today assumes no responsibility for any error, omissions, interruption, deletion, defect or delay in operation with transmission, communications, line failure, theft or destruction or unauthorized access to or allegation of entries. FFToday is not responsible for any problem or technical malfunction of any telephone network or lines, computer online systems, servers, equipment or software, failure of any email or entry to be received on account of technical problems or traffic congestion on the Internet or at any web site, phone lines, or any combination thereof, including any injury or damage to a participant's computer related to or resulting from participation in this contest. CAUTION: ANY ATTEMPT BY A PARTICIPANT TO DELIBERATELY DAMAGE ANY WEB SITE OR UNDERMINE THE LEGITIMATE OPERATION OF THE CONTEST IS A VIOLATION OF CRIMINAL AND CIVIL LAWS AND SHOULD SUCH AN ATTEMPT BE MADE, FF TODAY RESERVES THE RIGHT TO SEEK DAMAGES TO THE FULLEST EXTENT PERMITTED BY LAW.

Disclaimers

FFToday is not responsible for any late, lost, garbled, misdirected, incomplete, or damaged entries; any contest disruptions, injuries, losses or damages caused by events beyond the control of FFToday or any printing or typographical errors in any materials associated with the contest. FFToday is not in any way responsible or liable for any damage, loss or injury (including death) resulting from participation in the contest and/or acceptance and use of any prize won. FFToday is solely responsible for enacting, administering, enforcing the rules, and maintaining the integrity of the contest. FFToday and 3 And Out! Fantasy Survivor Contest are not sponsored or endorsed by the National Football League or National Football League Players Association.

Release

By participating in 3 And Out! Fantasy Survivor Contest, you release and agree to hold harmless FFToday, its owners and employees from any liability whatsoever for any claims, costs, injuries, losses, or damages of any kind arising out of or in connection with the contest or acceptance, possession, or use of any prize (including, without limitation, claims, costs, injuries and losses related to personal injuries, death, damage to or destruction of property, rights of publicity or privacy, defamation or portrayal in a false light, whether intentional or unintentional), whether under a theory of contract, tort (including negligence), warranty or other theory.

Official Rules

3 And Out! Fantasy Survivor Contest is subject to all United States laws, and to the contest official rules, and cannot be used in connection with any form of gambling. By entering 3 And Out! Fantasy Survivor Contest, you agree to abide by the terms of the contest official rules and by the decisions of FFToday, which are final on all matters pertaining to the contest. FFToday reserves the right to change the official rules at any time, in its sole discretion.