QB Marcus Mariota
(2017 QB Rank - No.17, 18.3 FPts/G)
Despite Tennessee being a playoff team, 2017 was a step backwards for Marcus Mariota as a fantasy quarterback. The team added multiple receivers in the NFL draft, but ranked 28th in the league in total pass attempts. But with Mike Mularkey gone as head coach and replaced with Mike Vrabel, there's some reason for optimism.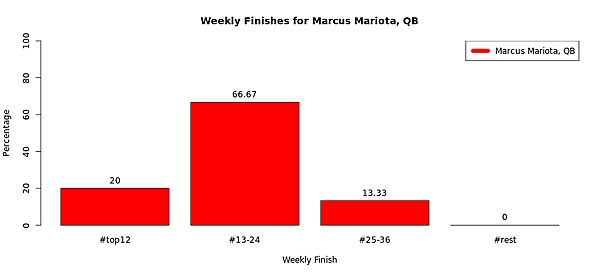 2017 was a QB2 season for Mariota and that was somewhat salvaged by his rushing production. Mariota threw 15 interceptions to just 13 touchdowns and produced his lowest passing touchdown rate of his career. He did manage 312 rushing yards and the extra points from his five rushing TDs largely kept him from being a bust.

Vrabel's offensive plans are largely unknown, but the addition of Matt LaFleur to the staff as offensive coordinator immediately raised eyebrows. LaFleur led the Rams offense in 2017 and helped Jared Goff go from a bottom-tier quarterback to seemingly competent. Goff finished 2017 as the QB12 and with another season with his young WR corps, there's hope that Mariota could rise beyond that level. He's yet to produce a top 12 QB season, but a new offensive system in 2018 can only help, making Mariota a bounce-back target and a good late-round target in your draft.
RB Derrick Henry
(2017 RB Rank - No.26, 7.8 FPts/G)
The exit of Demarco Murray seemed to be the opening needed to make Derrick Henry a viable RB1, but the free agency addition of Dion Lewis and team's insistence that it will likely run a committee approach, have put a damper on the off-season hype train.
Henry had a rollercoaster of a 2017. He posted four games with more than 15 fantasy points, but he also had five games with fewer than 3 points. His usability was entirely tied to whether he scored a touchdown and while he did manage to score 6 TDs, he was likely a disappointment for those who drafted him as a RB3.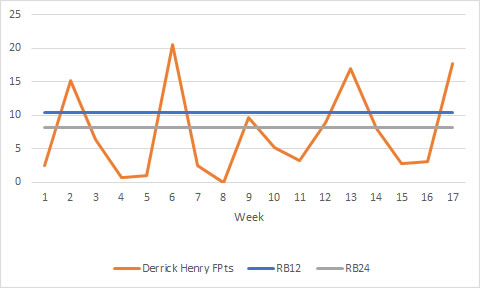 For the most part, Henry spent 2017 as either a RB1 or a bust, which makes it clear that he has a potentially high ceiling if he finds himself with a heavy workload. But, once again, he enters the season with questions surrounding his place on the depth chart. It seems logical to assume Henry will see the bulk of his work on early downs as Lewis is a more adept pass-catcher. Will he finally emerge or will he underperform again? At his current ADP of RB17, the acquisition price seems a bit high, but if reports continue to cause him to slip beyond RB 24, there's a chance he outperforms his draft position and finally delivers for fantasy owners.
RB Dion Lewis
(2017 RB Rank - No.13, 10.3 FPts/G)
Coming into last season, Dion Lewis was arguably the least talked about running back in Patriots camp. Excitement surrounded Mike Gillislee and Rex Burkhead because of their new contracts and their projected usage. While both came out the gates hot, by Week 6, it was Lewis getting a heavier workload. 2017 marked Lewis' first 16 game season which inevitably led to him setting career highs in several areas. 180 carries, 896 yards, and 9 total touchdowns were all high-water marks for the 27 year old back. His 32 receptions were the second best of his career.
Now Lewis joins a new team and new OC Matt LaFleur suggests the backfield will operate with Henry and Lewis as 1A and 1B. If this turns out to be the case, Lewis could have standalone flex value. In PPR leagues, Lewis is the running back to own as a potential RB2. In standard leagues, he'll likely have RB2 value only if Henry underperforms on the field or misses time with injury. When projecting RB value, it largely comes down to usage and Lewis appears to be in the same boat as guys like Theo Riddick and James White - strong in PPR, but probably a fade in standard.
WR Corey Davis
(2017 WR Rank - No.102, 3.4 FPts/G)
It wasn't a great start for the number 5 pick in the 2017 NFL draft. Davis only managed 65 targets and 34 receptions for 375 yards and no touchdowns during the regular season. But as a top 5 pick, there's reason to believe Davis will move up to the WR1 spot with the team. But if he continues to play second fiddle to Rishard Matthews, LaFleur's usage of his WR2 will give plenty of opportunity for the 23 year old. While some of the usage was skewed because of injuries, the Rams' WR2 received 16.41 percent of the team's targets last season.
The other reason for optimism is Davis'usage in the playoffs. In the Wild Card round, he received 7 targets, but exploded in the Divisional round against New England when he turned 8 targets into 63 yards and 2 touchdowns. If the playoff usage is a sign of growing trust between QB and WR, Davis could be in for a heavy workload in 2018.
If Davis is the WR1 in Tennessee, he'll have value as a low-end WR2 with a WR3 floor. If he's the second option out wide, there's some question about how high his ceiling can truly be, but he should have some flex value. His current ADP sits at WR33 in the 7th round. At that price, he's likely a risky pick for teams relying on him as a weekly starter, but if he's drafted as a WR4, he could be a steal.
WR Rishard Matthews
(2017 WR Rank - No.36, 7.4 FPts/G)
Matthews is an annually undervalued wide receiver passed up for more "exciting" options. As it stands, Matthews is the top wide receiver option for an offense bringing in a new offensive coordinator who proved that he can improve the passing game. 2016 was the highlight year for Matthews when he finished as the WR11 in standard scoring, but even with a step back in the offense and new receivers brought in, Matthews finished as the WR36 last season.
In just 14 games, Matthew put up a WR3 season. And in those 14 games, he put up four double-digit fantasy performances. While he'll never be a highlight reel WR1, Matthews has proven flex value and now has shown some level of success with two teams. If he can command the 18 percent target share given to LaFleur's WR1 in 2017, he'll easily outperform his WR55 ADP.
WR Taywan Taylor
(2017 WR Rank - No.108, 2.1 FPts/G)
Taywan Taylor was the lesser known rookie wide receiver on the Titans in 2017 but he was seventh in targets (28) on the team and two players have now left the franchise which should open up some additional opportunities. What stands out for Taylor during his rookie season is his 14.4 yards per reception average. This ranked second on the team behind only Rishard Matthews.
The addition of Dion Lewis likely means that Taylor won't get all of the targets vacated by Demarco Murray, but the loss of Eric Decker should give Taylor a few extra looks. In typical 12-team leagues, Taylor is exclusively a player to watch, in case of injury. But his deep play potential makes him an exciting waiver add, if the coaches call his number.
TE Delanie Walker
(2017 TE Rank - No.6, 6.5 FPts/G)
Delanie Walker is the epitome of a safe tight end play. Despite his age, Walker continues to be one of the highest targeted players at the position and maintains the most reliable option for Marcus Mariota. 2017 was Walker's 4th straight season with at least 800 receiving yards and he ranked 3rd in the NFL in targets for a TE and 4th in receiving yards. The lack of touchdowns (3) capped his fantasy upside but he maintained consistent value without scoring and was one of the few non-TD dependent TEs. If 6 fantasy points is the baseline target for the position, Walker exceeded that threshold 9 times during the season.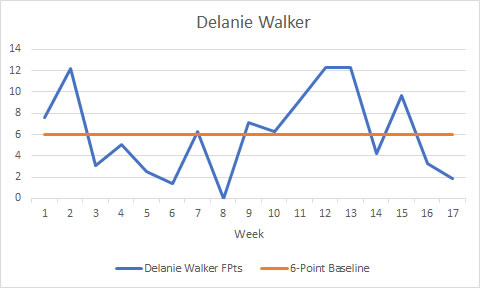 At some point, age will catch up to the 33 year old, but as long as he's a major part of the offense, he's going to have serious value at a weak position. Walker was surpassed in scoring by five others at the position, but only out targeted by two. Assuming his targets remain, there should be an expectation that his TDs return to the 6 or 7 range. If that's the case, he'll jump right back into the top 5 by season's end.
TE Jonnu Smith
(2017 TE Rank - No.47, 2.1 FPts/G)
Jonnu Smith had two exciting early weeks in 2017 before largely falling out of relevance. But at season's end, Smith was sixth on the team in targets and receptions. As a fantasy asset, he's entirely a handcuff for Walker who can be safely left on waivers in all redraft leagues. But be quick to pull the trigger if Walker gets injured because he could take over a very valuable role in the offense.