QB Deshaun Watson
(2017 QB Rank - No.27, 28.6 FPts/G)

What a fun seven weeks it was! Prior to his injury, Watson appeared to be one of the most game-changing players of the 2017 season. As a mostly undrafted player, Watson was a waiver wire pick up following his emergence to the starting lineup in Week 1. Following that, Watson finished as a top 12 quarterback 71.43% of his weeks. And his only two non-QB1 weeks were weeks 1 and 2.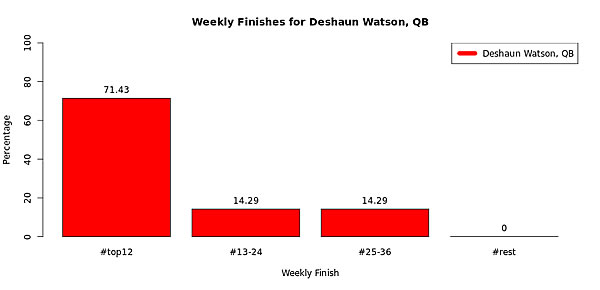 On a points per game basis, Watson was the top overall QB in fantasy football by a margin of nearly 3 points. A significant portion of this scoring came from his rushing success. Despite playing only 6.5 games, Watson had the 11th most rushing yards among QBs on the 17th most attempts. He added 2 rushing touchdowns to help improve his fantasy scoring.

Itís fair to see why thereís excitement surrounding him with regards to his average draft position. Early drafters donít appear to concerned that he tore his ACL on November 2nd as heís currently being drafted at the top of the 4th round as the second QB. Whether itís his rushing production or his connection with his top wide receivers, Watson has demonstrated a capacity to score fantasy points quickly. As a primarily late-round QB drafter, Iíll probably be passing on Watson in the early rounds, but he has the ceiling to anchor a team with weekly top 12 QB production.

QB Brandon Weeden
(2017 QB Rank - NA)

Hopefully Weeden doesnít see the field in 2018, but Watsonís mobile style paired with his ACL injury slightly increase the likelihood that Weeden could make an appearance. On the whole, Weeden would represent a major step-back for every piece of the offense.

He hasnít started a game since 2015 and over his career he has a 57.9 percent completion percentage and a 31-to-30 touchdown to interception ratio. If he comes on the field, every player takes a hit.

RB Lamar Miller
(2017 RB Rank - No.14, 9.8 FPts/G)

Quietly a high-end RB2, Lamar Miller demonstrated the best attribute a running back can provide, availability. Despite averaging under 10 points per game, Miller started all 16 games and finished among the top 15 RBs. He only had two weeks under 5 fantasy points, against Jacksonville and Indianapolis, but he scored more than 10 FPts in four weeks.

His backfield counterpart is recovering from an Achilles tendon injury that could land him on the PUP list to start training camp. While Miller didnít see a significant increase in workload following the Week 11 injury, Foremanís injury can only help secure Millerís role in the offense. And even if Foreman is healthy to start the year, itís unlikely that heíll command a significant share of the carries during the early part of the season.

Miller is currently being drafted in the 4th round of 12 team leagues as the 22nd RB off of the board. At that price, he represents a value as he has the most secure path to volume of the running backs in that price range. Whether heís the safe RB1 with a high floor for a WR-heavy team or a RB3 for a RB-heavy team, heís a strong candidate to outperform his draft position.

RB DíOnta Foreman
(2017 RB Rank - No.66, 5.9 FPts/G)

Foreman had just begun to show flashes before a serious Achilles injury left him sidelined for the remainder of the 2017 season. Foreman averaged more than 4 yards per carry as a rookie and had just scored on a long TD run before coming up lame on the last few steps. Had he not been injured, it appeared likely that he would earn more work.

Foremanís biggest risk is his likelihood to either miss games early in the season or have severely limited usage while he completes his recovery. And while thereís reasonable excitement for his potential, his 9th round cost is probably too high. If heís on the PUP list, his ADP will plummet to the late rounds or heíll go undrafted and if he starts on a snap count, heíll be a likely cut candidate in redraft leagues. Pass on him for now, but be prepared to act quickly on a potential waiver claim.

RB Alfred Blue
(2017 RB Rank - No.80, 4.7 FPts/G)

Blue has never eclipsed 700 rushing yards for a season, but heís the always present backup option for the Texans. While his 3.6 yards per carry will never generate excitement for fantasy purposes, heís a name to remember if the injury bug hits to Miller and/or Foreman. He can be completely ignored in traditional leagues, but he could be a spot start option should he ascend up the depth chart.

WR DeAndre Hopkins
(2017 WR Rank - No.1, 14.4 FPts/G)

Hopkins is proof that volume is everything for wide receivers. Whether it was Deshaun Watson, Tom Savage, or T.J. Yates, Hopkins was a valuable wide receiver because he was the most targeted receiver in the NFL despite sitting in Week 17.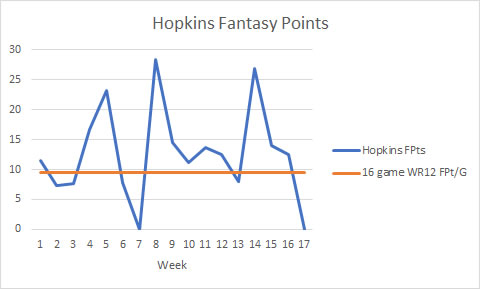 Hopkins out-produced the WR12 average during 10 of his 15 games despite playing weeks 9 through 16 without Watson. With that type of consistency, he secured his place at the top of drafts entering the 2018 season without any concern about quarterback play.

Hopkins has an ADP of 10th overall as the 2nd wide receiver. Antonio Brown slightly outperformed Hopkins on a per game basis, but with his volume, thereís no reason to doubt whether his production is sustainable. For drafters near the Round1/2 turn, Hopkins is a safe option.

WR Will Fuller
(2017 WR Rank - No.48, 8.5 FPts/G)

Fuller was seemingly the primary beneficiary of Watsonís rise to prominence last season. Weeks 4 through 8 may be the career apex for him when he averaged 17.7 fantasy points per game. But with Watsonís injury went Fullerís fantasy value. Following Week 8, Fuller failed to score over 5 fantasy points during any week.

While Fuller gave a mid-season boost to fantasy owners, he became an immediate cut candidate after the QB transition. His 7 touchdowns in four weeks is an obvious regression candidate even with the return of Watson. Fuller is being drafted as the 24th WR in the late-5th round. At that price, he represents a big risk, but if his connection to Watson continues at its roaring pace, he could be a league-winner. Heís price of a borderline WR2/3 is too steep, but as a WR3 or 4, he could be a strong option.

WR Braxton Miller
(2017 WR Rank - No.121, 2.2 FPts/G)

Despite being drafted in the 3rd round of the NFL Draft, Miller has largely been a non-factor for the Texans. He has only managed 57 career targets and converted 34 into receptions. Miller only played one college season as a receiver and his limited workload at the NFL hasnít provided much clarity about his likelihood for success. This could be a make-or-break season for the third-year receiver, but it would take a significant change for him to become fantasy relevant. Heíll battle rookie Keke Coutee for the targets out of the slot.

WR Keke Coutee
(2017 WR Rank - NA)

Coutee only earns a mention because of reports that he could compete for the WR3 role. If he can supplant Miller in the slot receiver role, thereís potential value for the rookie. Coutee averaged more than 15 yards per reception and scored 10 TDs during his final season at Texas Tech. If he brings that same level of explosiveness to the NFL, he could be a boom-bust spot DFS play in favorable matchups.

TE Ryan Griffin
(2017 TE Rank - No.56, 3.6 FPts/G)

Other than 2016, when C.J. Fiedorowicz finished as the TE17, the Houston Texans haven't provided much value for tight ends in fantasy. But with Fiedorowicz no longer on the roster, a new face will have to emerge. Current reports indicate that Ryan Griffin will be the leading TE on the depth chart but Stephen Anderson will be in the mix. In deep leagues, Griffin might be worth a late round pick, but in standard sized leagues, he's a player to avoid in drafts.