QB Cam Newton
(2017 QB Rank - No.2, 25.7 FPts/G)
Despite trading away the team's number 1 wide receiver mid-season, Cam Newton reclaimed his spot within the top 5 fantasy quarterbacks. After finishing as the QB15 in 2016, Newton had an ADP of QB9 according to Fantasy Football Calculator and needless to say, he drastically outperformed his draft position. He was consistently startable without many bust weeks as the chart below shows...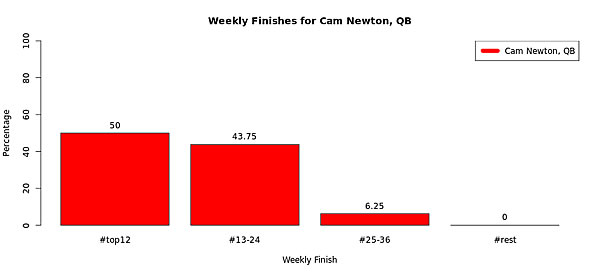 As is typically the case for Newton, he added a significant amount of value with his legs. His 139 carries was the most for any season of his career. He led all QBs with 754 yards rushing, by a margin of 168 yards, and he tied for the lead in touchdowns with 6. Newton has never been an efficient passer – the last time he completed more than 60 percent of his passes was in 2013 – and outside of his outlier year in 2015, he hasn't thrown more than 25 TDs in a season. Yet, he continues to be a fantasy asset thanks to his ability around the goaline (22 rush TDs the last three seasons). His ability on the ground keeps him in the QB1 conversation.
RB Christian McCaffrey
(2017 RB Rank - No.16, 9.4 FPts/G)
Christian McCaffrey's finish as the RB16 is somewhat impressive when you consider he was 39th among RBs in carries and the third in rushing attempts on his own team. McCaffrey had six weeks with at least 10 fantasy points, but he also had three weeks under 5 points. Because of his lack of consistent rush attempts, his scoring was almost completely tied to his receiving workload and after leading all running backs in targets and his role defined, that value is likely sustainable.
One of the obstacles for McCaffrey was Jonathan Stewart who handled 198 carries in his 15 games. And much to the delight of McCaffrey fans, he left the team in the offseason, but much to the dismay of McCaffrey fans, the team replaced him with a more capable, C.J. Anderson, who will almost certainly take a large portion of the early-down work.
McCaffrey's value changes noticeably by scoring style. In standard scoring leagues, he's a mid-RB2 who you can expect 9 to 10 points from each week. In PPR, he's a low-end RB1, RB9 in 2017, with a higher ceiling because of his 7 targets per week. His price is probably best suited as the RB15 and if he improves as a runner and/or increases his share of the carries, he'll likely outperform his ADP.
RB C.J. Anderson
(2017 RB Rank - No.17, 9.2 FPts/G)
With the exit of Jonathan Stewart in the off-season, there was a void at the RB position in Carolina, particularly in the early downs and Anderson was quickly added to the roster once he was made available. Anderson has been considered as disappointment to fantasy owners ever since his breakout campaign of 2014, but he's coming off of a 1,000-yard season with a 4.1 yards per carry average.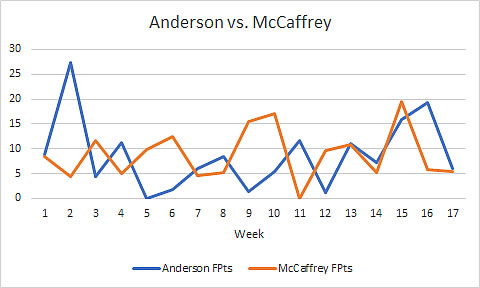 Anderson appears to be a value at the RB position with his new team. Although he lacks some of the upside, he'd poised to inherit a sizeable portion of Stewart's 200 carries. Stewart finished as the RB33 in standard scoring leagues despite rushing for just 3.4 yards per carry and only handling 15 targets. Anderson is currently being drafted as the RB40, according to Fantasy Football Calculator, and if he can maintain an average near 4 yards per carry, he should be positioned well to outperform his draft position. Anderson should be a target for drafters who start WR heavy in standard scoring leagues.
RB Cameron Artis-Payne
(2017 RB Rank - No.97, 3.1 FPts/G)
Cameron Artis-Payne is clearly the third back behind McCaffrey and Anderson and would need an injury to have a chance at any significant fantasy value, but the biggest problem for Artis-Payne is that one injury may not earn him a significant workload. He's a player without much upside and can comfortably be left on the waivers barring an injury and even with one injury, he's likely just a handcuff.
WR Devin Funchess
(2017 WR Rank - No.20, 8.3 FPts/G)
Funchess' breakout as the top wide receiver in Carolina felt like a long-time coming despite the fact that 2017 was just his third season. Since arriving from Michigan, Funchess seemed to be the most talented WR on the depth chart and his ceiling remained enticing in spite of his limited usage. And then the team "finally" moved on from Kelvin Benjamin and his value exploded. After scoring more than 10 fantasy points twice in the first nine weeks, he scored in double digits 5 of the final 7 weeks in 2017.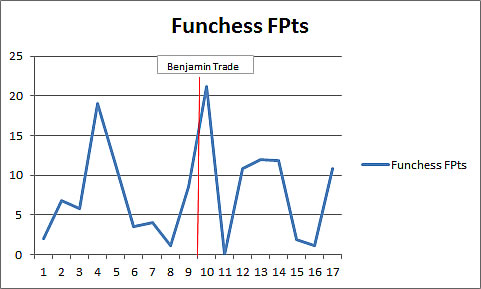 With the incoming first round WR pick (D.J. Moore) and return of 2017's second round selection (Curtis Samuel), there's additional competition for targets that could hinder Funchess' scoring. But even with the extra competition, he is the favorite to lead the team in targets and with his size, he should be plenty of redzone usage. His yardage efficiency (13.3 ypc) doesn't jump off the page which could make him slightly touchdown dependent. His ADP hovers around WR31 and as a WR3, he'll have value for fantasy owners.
WR D.J. Moore
(2017 WR Rank - NA)
D.J. Moore was the first wide receiver taken in the NFL Draft which was a slight surprise, but his college production and athletic profile would indicate he was worth a first round pick. In his final season, Moore accounted for more than 50 percent of both his team's receiving yards and touchdowns. Making his 1033 yards more impressive, he played much of the season with third and fourth string quarterbacks. That alone had some scouts raving about his potential, but Moore made his mark at the combine and solidified himself as a first round caliber player with a strong overall showing.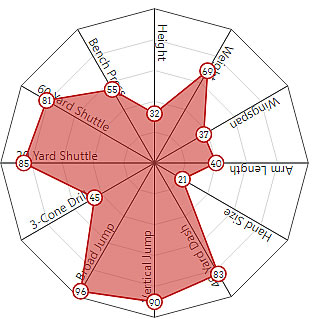 Funchess is the early favorite to be the team's top wide receiver, but given his draft capital, Moore will have a chance to earn a heavy workload. In redraft leagues, Moore has value as a lottery ticket play in the later rounds, but the excitement around him could hurt his value. Currently the WR47, Moore would be a solid bench option to stash and see if he can get consistent targets, but if he climbs into the low-40 range, he'll be overpriced.
WR Torrey Smith
(2017 WR Rank - No.84, 3.2 FPts/G)
Torrey Smith failed to stretch the field and convert targets into fantasy points in his normal manner in 2017. His 11.4 yards per reception last season was the lowest of his career. He only converted 53 percent of his targets into receptions; which is in line with his career efficiency, but on only 60 targets, his scoring potential was seriously limited. Leaving Philadelphia's crowded offense will help, but his targets aren't likely to exceed his 2017 total. Smith will always have big play potential, but he will be boom-bust unless he becomes the WR2 in the offense. Smith is currently undrafted in mock drafts and he's probably best-suited as a flex fill-in in premium matchups.
WR Curtis Samuel
(2017 WR Rank - No.129, 2.2 FPts/G)
Samuel only played in eight games in 2017 and never cracked 5 fantasy points in a week, but he's a former 2nd round draft selection so the team isn't likely to give up on him yet. Samuel is a versatile player who could see time lined up on the outside, in the slot, or potentially coming out of the backfield. After breaking a bone in his ankle last season, Samuel is progressing towards being 100 percent by training camp. However, he's at best fifth in line for targets making him a waiver player to keep an eye on in 2018. If he can earn consistent playing time, his athletic profile aligns well with a Tavon Austin-type player who could find creative ways to touch the ball.
TE Greg Olsen
(2017 TE Rank - No.51, 3.6 FPts/G)
Olsen's Week 3 injury derailed any chance for a productive season. His return from the broken foot likely hurt fantasy owners because he never fully recovered as a fantasy asset, but his ability to play is a positive for 2018. Olsen has been the safety blanket option for Cam Newton and his return should bring production.
Some owners may feel burned by Olsen after using an early selection on the tight end, but injury shouldn't be a major concern. 2017 was with first time he's missed a game since his 2007 rookie year. Olsen's target volume makes him one of the safer options at a thin position and if he's passed on for riskier options, he's a major value. Because of his proven production, his should be considered after the "big three" at the position (Gonk, Kelce, Ertz) and if he slips in favor of players like Jimmy Graham or Evan Engram, he could be a strong value for drafters.