While the offseason is a time for improvement, many players are focused on improving their health instead of their footwork or physique. Below you will find a list of fantasy-relevant NFL quarterbacks and running backs that have injury concerns for the upcoming 2015 season. With training camp just around the corner, the NFL season will be hear before we know it, which means fantasy football drafts are approaching. Equipping yourself with up-to-date injury analysis will enhance your chances of winning that championship.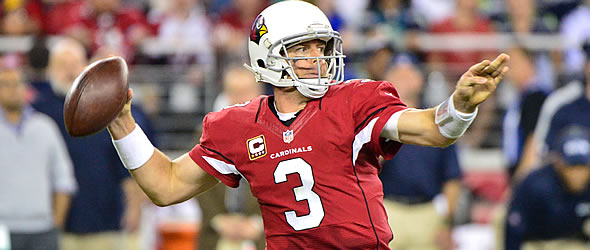 Palmer appears to be further along in his ACL recovery than fellow quarterback Sam Bradford.
Quarterbacks
Carson Palmer, Arizona Cardinals
After starting in five games and producing an equal number of productive fantasy weeks last season (Palmer averaged 277 yards, 2.2 TDs, and 0.4 INTs per game), the Cardinals quarterback tore his ACL in his sixth start. This was just three days after signing a $50-million extension with the team. The non-contact injury affected his left knee, which is the same knee Palmer previously suffered a torn ACL and MCL on eight years ago. His graft was taken from his patellar tendon this time around (the standard choice for ACL tears as it is one of the strongest grafts, but patellar tendonitis is a high risk), as opposed to a cadaver's ligament in his first injury. Palmer was enjoying his best touchdown-to-interception ratio as a professional in 2014 and had his highest quarterback rating since 2005. Though Larry Fitzgerald and Michael Floyd are still around (not to mention burner WR John Brown, who will be in his second year), many fantasy analysts currently doubt Palmer will return to be a starting fantasy quarterback (QB1). Cardinals' coach Bruce Arians set a realistic goal of July 1st for Palmer to return to action back when the injury occurred, but Palmer has been going through drills in a progressively intense fashion since early May. At training camp he's expected to be a full participant.
Injury Severity: High

Outlook: Plans to be full participant in training camp

Recovery Speed: Faster than Expected

Fantasy Take: Palmer may be ranked lower due to his injury last season. Doubters point to his age (35) and his past injury history (ACL/MCL '06). Given that the Cardinals paid Palmer a hefty three-year contract extension just before his injury, along with his remarkable recovery process at this age, it's a safe bet that Palmer will be leading the Cards in 2015 just as he did a year ago. Palmer should be the 12th-16th quarterback drafted off the boards when August rolls around assuming no setbacks in his recovery, providing great value for a low price.
Peyton Manning, Denver Broncos
In mid-January, we learned that Manning was playing on a torn right quadriceps muscle from December 14th (vs. San Diego) until the end of the season. While the tear itself came as a surprise, Manning's poor play and limited mobility in the pocket indicated a leg injury of some degree. Manning's injury required several weeks of rest, but he played through the injury eventually getting the much-needed rest at the start of the offseason. Manning is back to practicing but head Coach Gary Kubiak wants to limit Manning this offseason given his age and recent injury history. In early March, Manning took a pay cut of $4-million, primarily so that Demaryius Thomas could be locked down to a long-term deal.
Injury Severity: Moderate/Low

Outlook: Fully recovered, will fully participate in training camp

Recovery Speed: Normal as Expected

Fantasy Take: Manning is getting older and many feel that this quad tear is just the first injury of many that will ultimately send Manning into retirement. At age 39, Manning is the oldest starting quarterback in the league. Last year, despite his dismal last quarter, Manning still finished fourth among fantasy quarterbacks. There are a number of younger, more dependable options that should be taken before Manning on draft day. Demaryius Thomas will likely sign soon, but his situation needs to be monitored as we approach the season, as it could mean Manning may lose his top target. Meanwhile, wide receiver Wes Welker (free agent) and tight end Julius Thomas (traded, JAX) are no longer on the team. If you feel like Manning has another stellar (and injury-free) fantasy season ahead of him, you wouldn't be alone. But, it's hard to deny that his health will likely get the best of him this year or next.

Sam Bradford, Philadelphia Eagles
Bradford, like Palmer (above), is rehabbing an ACL tear for the second time in his career. However, Bradford's previous injury was torn in his seventh regular season game of 2013, whereas Palmer's was torn eight years prior. Bradford's second ACL tear forced him to miss the entire 2014 season since his injury occurred in a preseason contest. His recovery has been relatively slow-paced, but the good news is that there have been zero setbacks. They have eased him back into drills from the beginning of June, but he is still limited. This has allowed Mark Sanchez to take first-team reps throughout the offseason. Bradford ensured the media that he will be ready for training camp. The former first-overall pick has only played a full season in two of his five years in the league and is considered a serious injury-risk going forward. Bradford left St. Louis this offseason, a place where he was sacked 120 times in 49 games behind the Rams' unimpressive offensive line. The argument could be made that Bradford's supporting cast (or lack thereof) has contributed to his long list of injuries. The Eagles don't have the top offensive line in the league, but it will be a tier above what Bradford is used to.
Injury Severity: High

Outlook: Needs Watched Closely

Recovery Speed: Slower than Expected, No setbacks

Fantasy Take: Bradford's second ACL tear in as many years is concerning. His slower recovery is also leaving the door open for Sanchez to impress in practice. Bradford is still a few weeks from fully returning, and will need to quickly gel with his new teammates once he gets back on the field. The Eagles, under head Coach Chip Kelly, should be a high-powered offense this year and whoever gets the nod at quarterback will have a great opportunity to produce solid fantasy numbers. We will monitor the situation closely.
Notables:
Tony Romo (Dallas Cowboys) played through a back injury and broken ribs for part of the 2014 season, but seems to be healed fully. He participated in OTAs for the first time in three years and is primed for a strong year without DeMarco Murray.
Nick Foles (St. Louis) suffered a broken clavicle that forced him to sit out the second half of the year in 2014. It typically takes three months for this injury to heal, and Foles is no different. He's been practicing in OTAs. A bigger shot to his fantasy stock may not be his injured clavicle but instead his transition to the offensively challenged St. Louis Rams.
Running Backs
Arian Foster, Houston Texans
The bad news: Arian Foster's nagging injuries allowed him to play in only eight games in 2013 and 13 games in 2014. His injury laundry-list throughout his career includes a herniated disc in his back (2013), a serious calf strain (2013), and a pulled hamstring (2014), not to mention his knee and shoulder injuries which each required surgery in his collegiate years. The good news: Foster has participated in each of the team's OTAs this offseason. Also, Foster is in a contract year. Just as the Dallas Cowboys got all they could out of DeMarco Murray last season in his contract year, the Texans may use a similar approach with Foster. Foster is healthy right now, but those who draft him should expect him to sit at least a game or two given his injury history.
Injury Severity: Low

Outlook: Fully healed, practicing currently

Recovery Speed: Normal

Fantasy Take: Foster, age 29, is getting old for a running back in the NFL. There is no denying that when healthy, Foster is a fantasy stud. In his 13 games last season, he accumulated over 1550 total yards, 13 TDs, and a yards-per-carry average of 4.8. He doesn't need to play a whole season to warrant being valued as a fantasy RB1, but a 16-game season should be considered a bonus.
Todd Gurley, St. Louis Rams
St. Louis drafted the Georgia product with the 10th pick in the 2015 NFL draft. Gurley suffered a torn left ACL last November. He is still on schedule in his rehab; his goal is to participate on a limited basis at the start of the Rams' training camp on July 21st. He currently has not been involved in any team practices and has just started his eighth month of rehabilitation. Typically, ACL tears take closer to six months of recovery, but it seems the Rams are in no rush to push Gurley back. They have capable reserves, including Tre Mason that will fill the void while their first-round investment recovers. Gurley is still questionable for camp and there is a strong chance he will be placed on the PUP list until he's ready.
Injury Severity: High

Outlook: Expected to return during training camp

Recovery Speed: Slightly slower than normal, no setbacks

Fantasy Take: Dr. James Andrews, Gurley's surgeon, is going to give an update on Gurley's knee within the next three weeks. He will either clear Gurley for practice or not. Gurley's knee may limit him in training camp, but he should be ready for the start of the season, barring a setback.
Notables:
Stevan Ridley (New York Jets) had surgery to repair his torn ACL and MCL over seven months ago. The Jets and Ridley are noncommittal as to whether he will be ready for training camp. His chances of beginning camp on the PUP list are similar to Gurley's (above), if not higher.
Darren McFadden (Dallas Cowboys). It would be a crime not to include McFadden on an injury report, of course but it should be noted that the former Raider finally played a full 16 games for the first time in his seven-year NFL career. McFadden pulled his hamstring earlier this June and, after resting it for two weeks, is back to practicing on a limited basis. His injury has allowed Joseph Randle to solidify his role as the Cowboys' starter. However, the latest report is that McFadden "feels like a rookie again." Run DMC will be given ample time to rest his hamstring so that it doesn't become a nagging injury.
Andre Ellington (Arizona Cardinals) was limited last season with a split tendon in his left foot, and then missed the final four games due to a hernia. Team reports state that Ellington's foot is 100% healed and the hernia is no longer an issue. Despite the fact that Arizona selected running back David Johnson in the third round of the 2015 draft, Ellington is expected to be the featured back with Johnson as insurance in case of injury.
Rashad Jennings (New York Giants) missed time last year with a knee injury (Week 5) then battled an ankle injury during the month of December. He is no longer rehabbing the ankle this offseason and is fully healthy. The Giants added running back Shane Vereen in the offseason, whose premier pass-catching ability will allow him to steal snaps from Jennings this season.