Knowing Your League: Pt 4 - Draft Day
8/17/04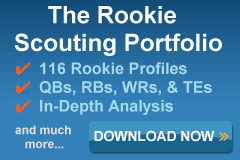 The "Gut Feeling" is often synonymous with a sense of desperation resulting from a lack of preparation. The Gut Check is a huge proponent of studying the numbers, but there's a point where one can place too much emphasis on the wrong information. This can result in the undervaluing or overlooking a player's potential. Therefore, The Weekly Gut Check is devoted to examining the frame of reference behind certain number-driven guidelines that fantasy football owners use to make decisions.

Although The Weekly Gut Check doesn't claim to be psychic, he does believe that he can dispel certain numbers biases and help you make the best choices for your team. We'll keep a running tally of The Weekly Gut Check's insights. This way you can gauge his views as something to seriously consider, or at least seriously consider running the opposite way as fast as you can!


---

Draft Day is still on the horizon for most, but The Gut Check just finished his last draft of the year. Draft Day for the ABFFL was the ultimate way to cap off a summer. Yours Truly feels like he just returned from a week at a spa and resort. Come to think of it, maybe Bentley (our draft day host) is onto something here. Just imagine handing a brochure to your spouse/girlfriend:

"Want to show that man in your life how much you care? No? How about showing him how much you want to preserve the sanctity of your home? Or better yet, send him on a vacation that's so good, nothing could spoil his mood. In fact, clinical tests have proven with 99.8% accuracy that our product will maintain your man's good mood even upon returning to a re-decorated home on his credit card!!! Better yet, none of this will come at the expense of your wedding vows. In fact, early studies reveal that resulting conceptions upon return are skyrocketing at a rate rivaling the Baby Boom!!!

Does it seem too good to be true??? That's what your man will think when you send him to Bentley's All-Inclusive, Fantasy Football Resort located in the heart of college football country and a convenient hour from the NFL town that boasts one of the leagues' most exciting players:
1300 square feet solely devoted to your fantasy draft.


Complete war room with draft board.

Plenty of outlet access for laptops

Private research facility with High-Speed Internet connection for last-minute draft day prep.
55" Wide-screen TV


ESPN updates

Preseason football

High-capacity/High-comfort seating arrangements

PS2 with Madden 2005 Special Edition
The world famous, Space-Eater Menu certified by NFL Space -Eaters Gilbert Brown, Tony Siragusa, and Keith Traylor:


Burgers

Dogs

Bratwurst

Pizza

Beer

Coke

Mrs. Bentley's How 'Bout Them Chicken Dip. So good, Bill Parcells banned his players in partaking-even before he nixed the local, exotic dance clubs. Athens, Georgia natives are speculating this dip was the true reason for Quincy Carter's demise.
Think of this as an emotional and financial down payment on a new living suite and call today before we're completely booked! Reservations are available with credit card or cash deposit. Remember ladies, if this doesn't get him excited then as my boy says, 'if it looks like a rat….'"

Pre-Draft Festivities
As much as The Gut Check missed the confines of The Frank-a place we all officially bid a fond farewell-Bentley's All-Inclusive Fantasy Football Resort started a new tradition in grand-style. The host invited us over the night before, coincidentally the day that ESPN Page 2's Bill Simmons coined National Madden Day: the official release of Madden 2005.

Bentley, The Gut Check, Cuji, DB, and Son of a Bentley kicked off the proceedings with pizza and the Falcons-Ravens preseason tilt. Then we broke out the Play Station2. We thoroughly tested Madden 2005 with a five-man tournament. The highlight of the night was The Gut Check's Titans besting Cuji's 49ers on a 4th down, Steve McNair corner pattern in the end zone as time expired. It was initially ruled incomplete before the referee-initiated replay showed Drew Bennett amazingly getting both feet in bounds while wearing Mike Rumph as a blanket. Of course, The Gut Check and Cuji own an X Box, so we were pretty much flailing around for most of the game as Bentley and Son of a Bentley that eventually took us to school courtesy of Bentley's Mike Vick and the full house backfield, and Son of A Bentley's one-play offensive scheme of Bulger to Bruce.

By the time we finished, it was six in the morning. Better yet, there was still another 24 hours of football, food, and frivolity.

One more thing before The Gut Check covers the results of the draft. Yours Truly and Cuji have both played ESPN's 2K5 and Madden 2005. We've both seen the 2K5 vs. 2005 thread on the FFToday Forum, and we have to agree with those that feel Madden 2005 is the better game. 2K5 is an excellent package for the price tag, but Cuji and The Gut Check have to say that Madden's graphics, player maneuverability, playbook, and Hit Stick are terrific. The 2K5 crib in an interesting concept, but The Gut Check wants more football and less Sims.

The Main Event


As a reminder, the ABFFL is a 12-team re-draft league with a scoring system that is somewhat related to the high performance scoring seen on AntSports. The Gut Check is listing each team according to draft order and their order of picks along with some commentary on what transpired:


Venus
Rd
Player
Team
1
Priest Holmes
KC
2
Stephen Davis
CAR
3
Donovan McNabb
PHI
4
Plaxico Burress
PIT
5
Andre Johnson
HOU
6
Lee Suggs
CLE
7
Roy Williams ®
DET
8
Chad Pennington
NYJ
9
Andre' Davis
CLE
10
Todd Pinkston
PHI
11
Eddie "Boo" Williams
NO
12
Philadelphia Eagles
13
Jim Kleinsasser
MIN
14
Sebastian Janikowski
OAK
15
David Givens
NE
16
Larry Johnson
KC
17
Vinny Testaverde
DAL
18
Oakland Raiders
19
John Kasay
CAR
20
Kurt Warner
NYG
Venus'

third draft illustrates an owner that is on the rise. No one can argue that Priest Holmes was the top back last year and has shown nothing to lose that distinction. Stephen Davis falling to 2.12 gives Venus a great 1-2 punch, and following up with Donovan McNabb makes this owner very dangerous-all three of these picks have shown the ability to carry a fantasy owner on any given week. Plaxico Burress was a reach in round four, but based on Venus' draft position, the Steelers receiver might have been gone by then end of round six. Venus could have picked Moulds, Chambers, Porter, or Koren Robinson, started round five with Andre Johnson, and still had a chance at Burress. This would have given him more depth without having to take a chance on Roy Williams. Lee Suggs could wind up being a late season star that takes over for Stephen Davis on this squad. Chad Pennington was a great selection in round eight. Venus missed out on handcuffing Davis with Foster, but did manage to grab Larry Johnson. David Givens and Andre Davis provide Venus with excellent depth with red zone potential. Overall, Venus had an excellent draft and should make the playoffs for the first time.
DB
Rd
Player
Team
1
Michael Vick
ATL
2
Eddie George
TEN
3
Terrell Owens
PHI
4
Mike Vanderjagt
IND
5
Kellen Winslow ®
CLE
6
Larry Fitzgerald ®
ARI
7
Warrick Dunn
ATL
8
Ben Roethlisberger
PIT
9
New England Patriots
10
Johnnie Morton
KC
11
Julius Jones ®
DAL
12
LaMont Jordan
NYJ
13
Drew Bledsoe
BUF
14
Dante Hall
KC
15
Ben Troupe ®
TEN
16
Erron Kinney
TEN
17
Amos Zereoue
OAK
18
Greg Jones
JAC
19
Brandon Stokely
IND
20
Matt Schobel
CIN



DB

—T.O.'s former roommate and a standout college cornerback that once intercepted Steve McNair twice, is a rookie to fantasy football. The Gut Check wasn't sure what to expect from DB Michael Vick at 1.02 was a surprise, but it was a good bet that the Falcons quarterback wouldn't have made it back to him in round two. Vick has the talent to be the fantasy MVP once again, but he's a huge risk. Eddie George might have come back to him in round 4 and he could have had Travis Henry, Brian Westbrook, Kevin Jones, Chris Brown, or especially Quentin Griffin. This was likely a case of a rookie owner not keeping track of the action. He was pretty amazed that others came into this thing with elaborate lists and laptops. Terrell Owens was a good pick at the end of round three, but his lack of familiarity with draft strategies and values really became apparent in the mid-to-late rounds. It seemed like DB would follow a decent pick with a reach. Although he picked the best kicker in the game in round four, DB could have waited at least twice as long for Vanderjagt. This was a true sign of a rookie that knows football, but has no experience with fantasy football. Winslow could wind up worth the fifth round pick, but once again he was valued lower. DB actually capitalized on The Gut Check's mistake of not acquiring Fitzgerald at the end of round five, because Yours Truly originally planned to take Favre on the way back when he saw that DB and Venus already had their first passer. The Gut Check just forgot after consulting his Draft Buddy, and lost out on one of the players he targeted. DB chose too many TE's—we weren't sure what he was thinking. Dante Hall could be a major sleeper—The Gut Check thinks Hall could be the best playmaker on the Chiefs receiving corps, and Vermeil recognized it last season. Overall, this team is missing a second starting rb and that puts him in the hole. But if Vick gets off to a good start and DB finds a waiver wire gem, this team could get competitive fast.


The Gut Check
Rd
Player
Team
1
LaDainian Tomlinson
SD
2
Michael Bennett
MIN
3
Travis Henry
BUF
4
Santana Moss
NYJ
5
Eric Moulds
BUF
6
Brett Favre
GB
7
Brandon Lloyd
SF
8
Chris Brown
TEN
9
Marcus Robinson
MIN
10
Rich Gannon
OAK
11
Kevin Johnson
BAL
12
Onterrio Smith
MIN
13
Dallas Cowboys
14
Freddie Mitchell
PHI
15
Tony Hollings
HOU
16
Joe Nedney
TEN
17
Daniel Graham
NE
18
Jason Witten
DAL
19
Robert Ferguson
GB
20
Kassim Osgood
SD
Yours Truly

said last week that he was happy with his draft position due to being sandwiched between a rookie and a conservative owner. The Gut Check was targeting Ahman Green as his first round pick, but was surprised to have to choose between LT2 and Green. In a weird way, The Gut Check was hoping not to have this decision because he liked Green Bay's offensive unit much more, but Tomlinson is a special player that he could not pass up-especially since he's #1 on The Gut Check's board. Michael Bennett in round two was a more difficult decision because Travis Henry and Westbrook were still available-talk about being hard up for choices! Yours Truly chose Bennett due to the strength of the offensive unit and he figured (incorrectly) that Westbrook, due to the news of Buckhalter projected to split carries evenly with the third year back, might fall back to him as far as round four. Yet it was when Henry was still there at the top of round three that the Gut Check had no choice but to pounce on him. With the preseason just beginning and the amount of question marks surrounding NFL backfields, The Gut Check took the opportunity to get three backs he felt were in his top fifteen. His choice was even more gratifying when he was still able to land Santana Moss and Eric Moulds as his top two receivers. In fact, Cuji was not too happy to lose out on Moulds and Yours Truly has to credit The Draft Buddy for helping him keep his data organized to draft the third rb and still land two excellent starters. This is the first time The Gut Check has had the pleasure of drafting Brett Favre and doesn't think last year's leader in passing tds will disappoint. Lloyd was a bit of a reach, but after Fitzgerald and Leftwich, he was on the list of mid-round prospects The Gut Check targeted as calculated gambles-especially with Cuji The Niners fan seated next to him. The steal of the draft was landing Chris Brown in round eight!!! The Gut Check couldn't believe the Titans' starter fell this far-and once Brown went off the board, neither could some of the owners. This meant Yours Truly didn't have to do a lot of handcuffing of backs. Instead, he had the luxury of picking the undervalued (Graham, Kevin Johnson, and Hollings) and the under-appreciated (Gannon, Mitchell, and Marcus Robinson). The two picks The Gut Check liked the least were Ferguson and Osgood. Considering they were his last two picks, that's a great sign.


Cuji
Rd
Player
Team
1
Ahman Green
GB
2
Kevan Barlow
SF
3
Hines Ward
PIT
4
Joe Horn
NO
5
Koren Robinson
SEA
6
Thomas Jones
CHI
7
Donte' Stallworth
NO
8
Jeremy Shockey
NYG
9
Aaron Brooks
NO
10
Tyrone Calico
TEN
11
Steven Jackson ®
STL
12
Antonio Gates
SD
13
Justin Gage
CHI
14
Correll Buckhalter
PHI
15
David Carr
HOU
16
Tatum Bell
DEN
17
John Carney
NO
18
Tampa Bay Buccaneers
19
Cedrick Wilson
SF
20
Mike Anderson
DEN
Cuji

was a major benefactor from the first round pick of Michael Vick. Ahman Green is arguably primed for the best season of the top three backs in this draft. Picks 2-4 are especially solid. Koren Robinson as a number three receiver isn't bad at all. Thomas Jones in the sixth round was a steal. So was Aaron Brooks in round nine. The only questionable pick was Stallworth, because he already had Horn. This was admittedly a miscalculation on his part, but adding Tyrone Calico to the mix was a great adjustment. Gates is an FFToday favorite at TE and Jackson and Buckhalter are great value picks. Possibly the only weakness is the lack of depth at quarterback. The Gut Check once again robbed Cuji with the choice of Rich Gannon, so David Carr was the best of the remaining crop. Carr has been a better NFL player than a fantasy quarterback, but The Gut Check believes the Texan's offensive leader has the experience and the developing talent to make the next step. Concluding his draft with Mike Anderson was another telling illustration of Cuji's experience and study. Anderson is highly undervalued in comparison to higher profile selections of Griffin, Bell, and Hearst. But there's a better chance that Anderson will get key carries every game, especially in scoring situations or injury to Griffin. The scariest thing about Cuji's draft is his dependence on the Saints' passing game, but as recent history suggests for both New Orleans and this owner, he'll be very competitive.


Dude
Rd
Player
Team
1
Clinton Portis
WAS
2
Chad Johnson
CIN
3
Derrick Mason
TEN
4
Curtis Martin
NYJ
5
Charles Rogers
DET
6
Keenan McCardell
TB
7
Trent Green
KC
8
Baltimore Ravens
9
Kevin Dyson
SD
10
Jerome Bettis
PIT
11
Byron Chamberlain
DEN
12
Tai Streets
DET
13
Jason Elam
DEN
14
Eli Manning ®
NYG
15
Derrius Thompson
MIA
16
Ladell Betts
WAS
17
Dez White
ATL
18
Moe Williams
MIN
19
Minnesota Vikings
20
Rex Grossman
CHI
Dude

had his typical draft. Portis, Johnson, and Mason were a good foundation. If Curtis Martin still has it and Pennington stays healthy, the Jets starting RB could be a steal. Rogers was the homer pick The Gut Check expected this year. McCardell was a reach because of the contract squabble. It was likely the Dude could have picked McCardell two rounds later with less potential impact to his team if the Buccaneers' receiver winds up sitting out for the year. Trent Green was good value in round seven and Byron Chamberlain is a potential steal in round eleven. The "once before, now again," Bronco could post some excellent red zone stats in this offensive scheme that has made Sharpe, Chamberlain, and Desmond Clark top fantasy players in the past. Kevin Dyson was a smart pick, but the round he got him was a higher than he was going in many drafts. Bettis, Streets, Betts, and Williams are players with little upside, but can fill in during the bye weeks. Eli Manning and Dez White are possible sleepers-especially White, a talented practice player that could round into game-day form now that he's in a better offensive scheme. Rex Grossman is a gamble on greatness, and the Vikings are an underrated unit that will soon be led by rookie, Dontarrious Thomas-an LB that would be grabbing even more attention this season if Jonathan Vilma weren't in the same draft class. Dude's roster really hinges on Curtis Martin and Keenan McCardell. If these two players step up he's a playoff contender, but it's no sure thing.


2 Names
Rd
Player
Team
1
Shaun Alexander
SEA
2
Peyton Manning
IND
3
Javon Walker
GB
4
Tony Gonzalez
KC
5
Marcell Shipp
ARI
6
Rod Gardner
WAS
7
Travis Minor
MIA
8
Quincy Morgan
CLE
9
Jeff Wilkins
STL
10
Eddie Kennison
KC
11
Garrison Hearst
DEN
12
Tim Brown
OAK
13
Joey Harrington
DET
14
Seattle Seahawks
15
Chris Perry ®
CIN
16
John Hall
WAS
17
Darnarian McCants
WAS
18
Adrian Peterson
CHI
19
Denver Broncos
20
Chris Cooley
WAS
2 Names

came into the league last year and had a good rookie year, but after a few too many beers he could be poised for a sophomore slump with the selection of Marcell Shipp in round five. This pick illustrates the benefits of keeping up with the news on a day-to-day basis rather than cramming or arriving to the draft with solely a cheat sheet from a magazine. There were also a number of homer picks with Gardner, McCants, and Cooley. All this aside, Two Names has some strong picks with Alexander, Manning, and Gonzalez. All three picks could put him over the top on any given week. Walker is a favorite of the Gut Check's this year-the selection of the Green Bay receiver elicited more than a few groans and "good picks," from the league. Travis Minor is a big gamble, considering Chris Brown was still on the board. Add Brown to this team, and suddenly 2 Names has a competitive unit. Overall, this team is a good example of how important it is to make solid picks early. At the same time, as with the Minor/Brown example, it's also good to know that in one can make up ground even with a blown selection. In this case 2 Names didn't appear to do it, but that's why all championships aren't locked up on draft day.


Bentley
Rd
Player
Team
1
Deuce McAllister
NO
2
Marvin Harrison
IND
3
Peerless Price
ATL
4
Quentin Griffin
DEN
5
Alge Crumpler
ATL
6
Isaac Bruce
STL
7
Keyshawn Johnson
DAL
8
Byron Leftwich
JAC
9
Ron Dayne
NYG
10
Emmitt Smith
ARI
11
Jerry Rice
OAK
12
Antowain Smith
FA
13
Lee Evans ®
BUF
14
Kelley Washington
CIN
15
Brad Johnson
TB
16
Michael Pittman
TB
17
Billy Miller
HOU
18
Aaron Stecker
NO
19
Tennessee Titans
20
Martin Gramatica
TB
Bentley

took advantage of what many fantasy football writers and researches call the best position in a draft-the middle of the round. Not only did Bentley benefit from D.B.'s pick of Vick (McAllister sliding to 1.07), but he also reaped the rewards of 2 Names' homer-ism in round six (Rod Gardner) and wound up with Isaac Bruce. Additionally, Bentley got arguably the top WR at 2.05 when Torry Holt was actually drafted ahead of Harrison. Although the Gut Check is not a fan of Peerless Price, it was a solid pick. Quentin Griffin looks like a 4th round steal based on his pre-season displays. Alge Crumpler was a reach in round five, considering that Todd Heap didn't go off the board for another two rounds. This could have been a good spot to select running back depth (Staley or Duckett), another solid receiver (Chambers, Porter, Toomer, Rod Smith, or Branch), or an established fantasy starter at quarterback (Hassellbeck). Byron Leftwich in the eighth round was the calculated gamble on greatness that Yours Truly has been recommending. The night before, Bentley made the attempt to find out which player the Gut Check was his "must have" and he was shot down. But The Gut Check knows that Bentley already knew the answer. It was fun to watch Bentley play dumb all the way through the draft about this selection. Bentley's selection of Kelley Washington was another Gut Check target that didn't make it back to Yours Truly in the round he was hoping to nab the future Bengal stud, and Lee Evans was another player in this category. But probably the funniest pick of the night was Ron Dayne. In the past our league would rarely turn on the TV during the draft, but the atmosphere has loosened up a bit. Within five minutes of the TV going on, ESPN News was showing highlights of Ron Dayne's 11-carry, 118-yard night. The Krispy Kreme jokes were flying, but Bentley must have liked what he saw because Dayne was gone the very next round. The Gut Check isn't sure whether our gracious host overreacted or made an astute adjustment. Either way, Dayne is a decent investment due to the fact he's slated to split carries with Barber. Overall, Bentley has a solid playoff contender with upside.


Raptor
Rd
Player
Team
1
Jamal Lewis
BAL
2
Domanick Davis
HOU
3
Darrell Jackson
SEA
4
Jimmy Smith
JAC
5
Chris Chambers
MIA
6
Deion Branch
NE
7
Todd Heap
BAL
8
Jeff Garcia
CLE
9
Reggie Williams ®
JAC
10
William Green
CLE
11
Mark Brunell
WAS
12
Carolina Panthers
13
Ryan Longwell
GB
14
Michael Jenkins
ATL
15
Chester Taylor
BAL
16
David Terrell
CHI
17
Corey Bradford
HOU
18
LaBrandon Toefield
JAC
19
Az-Zahir Hakim
DET
20
L.J. Smith
PHI
Once again,

Raptor

made wise decisions throughout most of his draft. Based on last year, Jamal Lewis and Domanick Davis are a terrific 1-2 punch. The combination of Jackson, Jimmy Smith, Chris Chambers, and branch is solid from top to bottom. The Gut Check was a round late on Jimmy Smith, a player he's been targeting in the mid-rounds of other drafts. Todd Heap was great value, especially after Alge Crumpler went two rounds earlier. Possibly the only weakness in his starting lineup is QB. Garcia and Brunell made need another year with their new teams to accumulate good numbers. David Terrell is a gamble-on-greatness/homer (University of Michigan) pick that has good value in round sixteen. L.J. Smith could be a steal in round twenty. Although the Gut Check isn't crazy about the depth, Raptor's starters are excellent picks from top to bottom. If healthy, this team should make the playoffs. QB play will dictate how far they'll go.


D.W.W.A.
Rd
Player
Team
1
Edgerrin James
IND
2
Marshall Faulk
STL
3
Steve McNair
TEN
4
Steve Smith
CAR
5
Jerry Porter
OAK
6
Rod Smith
DEN
7
Charlie Garner
TB
8
Drew Bennett
TEN
9
Jake Plummer
DEN
10
Joey Galloway
TB
11
Dallas Clark
IND
12
DeShaun Foster
CAR
13
Matt Stover
BAL
14
Buffalo Bills
15
Lamar Gordon
STL
16
Troy Brown
NE
17
Nate Burleson
MIN
18
Dominic Rhodes
IND
19
Freddie Jones
ARI
20
Josh Reed
BUF
James was a solid first round pick. Faulk was a back the Gut Check was glad didn't fall to him round two, due to the injury issues and upside of Steven Jackson. Nonetheless, Faulk was his usual self when he returned from injury. If neither player returns to their superstar form for a full season, D.W.W.A. is going to be out of luck. Steve McNair in round three is a pick the Gut Check likes, although he hoped for the co-MVP to drop to late round four or the top of round five. Steve Smith, Jerry Porter, and Rod Smith make a decent corps of receivers with some upside (Porter), and Charlie Garner is great insurance in round seven. Plummer and Galloway were once again excellent value. DeShaun Foster in the twelfth not only gives him trade bait, but a possible starter down the stretch. The Gut Check likes this draft a lot, because D.W.W.A made smart value picks throughout the process and did a good job handcuffing at least one his starting backs with a clear-cut number two (Rhodes). This is a typical, D.W.W.A. team: it looks a bit shaky based on all the preseason talk but will likely be a division winner when it's all said and done. If Faulk and James return to form, this team could make a championship appearance.


Ligtenmiller
Rd
Player
Team
1
Daunte Culpepper
MIN
2
Rudi Johnson
CIN
3
Anquan Bolden
ARI
4
Tiki Barber
NYG
5
Matt Hasselbeck
SEA
6
Amani Toomer
NYG
7
Randy McMichael
MIA
8
Muhsin Muhammad
CAR
9
Ike Hilliard
NYG
10
Tyrone Wheatley
OAK
11
Terry Glenn
DAL
12
Miami Dolphins
13
Bubba Franks
GB
14
Jake Delhomme
CAR
15
Troy Hambrick
OAK
16
Josh Brown
SEA
17
Troy Edwards
JAC
18
Atlanta Falcons
19
Artose Pinner
DET
20
Morten Andersen
KC
Our defending champion started his sophomore slump this weekend. Culpepper is a terrific pick. Rudi Johnson was a solid second rounder, but

Ligtenmiller

clearly thought Bolden was out for two weeks rather than the 8-12 that was later confirmed after the surgery. Other than Matt Hasselbeck in the fifth round, the rest of the former champ's picks were on the pedestrian side. None of his wide receivers come from strong passing offenses and many of them are the second option. It looks like this owner's belief that Bolden was returning in two weeks really threw him off. Tyrone Wheatley in round ten could be a good value, if he lives up to Norv Turner's expectations. If this happens, this roster could have enough to get into the post season. Otherwise, Culpepper may turn into trade bait to land more depth. The Gut Check believes this is the most likely scenario if The Champ can't land a waiver wire gem before mid-season.


Skelly
Rd
Player
Team
1
Corey Dillon
NE
2
Torry Holt
STL
3
Laveranues Coles
WAS
4
Kevin Jones ®
DET
5
T.J. Duckett
ATL
6
Marc Bulger
STL
7
Marty Booker
CHI
8
Justin McCareins
NYJ
9
Peter Warrick
CIN
10
Dennis Northcutt
CLE
11
Marcus Pollard
IND
12
Josh McCown
ARI
13
Jacksonville Jaguars
14
Adam Vinatieri
NE
15
James Thrash
WAS
16
Jay Feely
ATL
17
Itula Mili
SEA
18
Justin Fargas
OAK
19
Kevin Faulk
NE
20
Pittsburgh Steelers
Skelly

turned out to be the owner chanting, "Fresh Fish, Fresh Fish, …" The Gut Check is very high on Corey Dillon and to follow this up with Holt and Coles is pretty good. The only move the Gut Check questioned early was choosing Holt over Harrison. That may turn out to be splitting hairs once the season ends. Kevin Jones is probably the best rookie back in terms of talent and situation combined. The Lion should be a solid, second RB in his starting lineup. Bulger, Booker, McCareins, and Warrick are all solid mid-round picks. This is a competitive starting lineup. The depth is the issue. Josh McCown is a gamble at this point and James Thrash is not a good bet to contribute unless there's an injury-which is possibly a decent handcuff for the Coles selection. Justin Fargas is a good sleeper pick-a talented back that could take over for Wheatley as the season progresses. On paper this looks like a .500 roster that could go either way the running backs go. The Gut Check believes this team may surprise.


Sweet River
Rd
Player
Team
1
Fred Taylor
JAC
2
Randy Moss
MIN
3
Tom Brady
NE
4
Brian Westbrook
PHI
5
Duce Staley
PIT
6
Reggie Wayne
IND
7
Donald Driver
GB
8
Ashley Lelie
DEN
9
Willis McGahee
BUF
10
Travis Taylor
BAL
11
David Akers
PHI
12
Bobby Shaw
BUF
13
Ben Watson
NE
14
Antwaan Randle El
PIT
15
Musa Smith
BAL
16
Kansas City
17
Kyle Boller
BAL
18
Anthony Thomas
CHI
19
Desmond Clark
CHI
20
Jerome Pathon
NO
Sweet River

had his typical draft. Taylor and Moss are exciting players capable keeping him in every contest. Tom Brady is a great quarterback, but not necessarily a great fantasy quarterback. This is the type of reach that River generally makes each year-a player that will probably play like a third round pick, but could have been had in rounds 5-8. Westbrook backed up by Staley at least on this roster-although no longer on one in the NFL-is a good move. Wayne, Driver, and Lelie are all receivers capable of good weeks but none are clear-cut, go-to guys. This is the weakness of Sweet River's squad. This means Moss, Taylor, and Westbrook will have to carry this organization and The Gut Check isn't sure that can happen. This team will win its share of games, but the Gut Check thinks he'll ultimately come up short if Lelie and Westbrook don't break out.



The Gut Check's Predicted Playoff teams:

Venus, The Gut Check, Cuji, Bentley, Raptor, and D.W.W.A.

The Gut Check learned quite a bit from this process. Never one to use a piece of draft day software in previous year, you can add The Gut Check to the converted. Mike MacGregor's Compiler and Draft Buddy are must haves. Although The Gut Check will likely re-create his own Access Database in the off-season, he'll be able to import his projections into the Compiler, which will automatically create a cheat sheet with tiers and eliminate a ton of work. The Draft Buddy made The Gut Check's draft simple and he directly credits it with helping him stay on top of the action so he could analyze his data within a two minute time frame per pick and compile a roster that should be highly competitive. Yours Truly was also able to minimize his fixation on sleepers with the help of ADP data that he updated on the ADP tab of the Draft Buddy with recent mocks. Although he would have preferred a later draft day, The Gut Check felt like his picks matched his preparation and the results should follow.

Next week, The Gut Check unveils his Preseason All-Gut Check Offense and after that, the All-Gut Check Defense.