2nd Half Differentials
10/14/04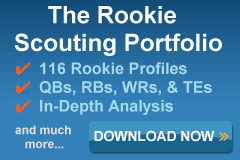 The "Gut Feeling" is often synonymous with a sense of desperation resulting from a lack of preparation. The Gut Check is a huge proponent of studying the numbers, but there's a point where one can place too much emphasis on the wrong information. This can result in the undervaluing or overlooking a player's potential. Therefore, The Weekly Gut Check is devoted to examining the frame of reference behind certain number-driven guidelines that fantasy football owners use to make decisions.

Although The Weekly Gut Check doesn't claim to be psychic, he does believe that he can dispel certain numbers biases and help you make the best choices for your team. We'll keep a running tally of The Weekly Gut Check's insights. This way you can gauge his views as something to seriously consider, or at least seriously consider running the opposite way as fast as you can!


---
Unless you have a perfect record, it's that time of the season where most owners seriously ponder making a transaction. This is especially true for teams sitting at or below, .500 for the season. With this in mind, it's a good time for Yours Truly to examine players that have a track record of having a significantly better (or worse) second half of the season in comparison to their first.
The Gut Check looked at average fantasy points for the major offensive skill positions between the first and second halves of seasons 2000-2003 from raw data he compiled from Doug Drinen's stat tables downloadable from www.pro-football-reference.com. The fantasy points are based on the standard performance scoring system, which The Gut Check has employed in his previous columns. Some of the results are statistically deceiving. Yours Truly will do his best to point out where this may be the case.
Statistically, here are the best second half of the season quarterbacks over the course of 2000-2003:

Best 2nd-Half QBs 2000-2003
Last Name
First Name
Gms 1-8
1st Half
Gms 9-16
2nd Half
Diff
Pennington
Chad
9
10.41
17
18.74
8.33
Hasselbeck
Matt
18
11.84
24
18.16
6.32
Vick
Michael
10
15.64
15
19.19
3.55
Kitna
Jon
25
14.73
31
18.17
3.44
Green
Trent
26
18.75
26
21.55
2.79
Brunell
Mark
25
15.84
22
18.2
2.36
Maddox
Tommy
13
15.16
15
17.16
2
McNabb
Donovan
29
20.36
26
22.25
1.9
Brooks
Aaron
23
20.32
27
21.8
1.48
The Gut Check has to question the Chad Pennington and Michael Vick differentials. Both quarterbacks are relatively new as NFL starters (this is Vick's second full season as a starter and only Pennington's first full year) and have suffered early season injuries that kept them off the field for extended lengths of time. Tempering this stat aside, Pennington and Vick have generally had good second halves of the season. The Gut Check feels more confident in Pennington because the offensive system remains the same and the running game is off to a great start. This should force opposing defenses to place greater emphasis on stopping Curtis Martin once they review the film of the first five or six games of 2004.
Matt Hasselbeck looks like the type of quarterback owners should target in trades. Hasselbeck and Dilfer were still in a platoon system on the early end of this range, but owners should take advantage of the fact that the Seattle veteran was a preseason fantasy favorite and has been a bit of a disappointment for this owners—ranking 17th at his position for fantasy points scored. If you have Hasselbeck on your team, stay patient. If you don't and need a quarterback, he's a good guy to target.
Mark Brunell appears on this list, but the Gut Check knows that going from his current 12 points per game to a whopping 14 per game won't make much of a difference for any owner. Donovan McNabb on the other hand is off to a great start. Based on his historic differential, owners should be confident it continues for the remainder of the year.
The signal callers that under perform their first half averages contain more deceiving results.

Underachieving 2nd-Half QBs 2000-2003
Last Name
First Name
Gms 1-8
1st Half
Gms 9-16
2nd Half
Diff
Griese
Brian
24
22.26
17
13.54
-8.72
Bledsoe
Drew
26
18.68
21
13.75
-4.93
Bulger
Marc
8
24.41
13
19.69
-4.71
Fiedler
Jay
26
17.66
23
15.04
-2.62
Manning
Peyton
28
23.33
32
20.87
-2.46
Warner
Kurt
19
22.66
14
20.61
-2.05
Plummer
Jake
26
17.98
28
16.46
-1.51
Favre
Brett
28
19.99
32
18.54
-1.45

Favre, Warner, Manning, and Bulger are players the Gut Check would continue to want in his starting lineups for a few reasons:
They put up #1 QB to Elite level performances more consistently than most.

Other than Bulger, who suffered injuries and lack the same amount of games factored into his average, these quarterbacks have a reasonably small differential.

The averages for these quarterbacks' second halves keep them among the realm of quality starters.
Of all the players listed here, Bledsoe and Griese are of the most concern. Bledsoe has yet to show the consistent, high level of play that he produced in the 1990's. Griese has been a streaky quarterback that has seen his opportunities and confidence come and go. He may have some decent games in Tampa, but it isn't likely The Gut Check will make any attempts to acquire him for a stretch run.
There are some clear choices at running back worth targeting in the second half.
Best 2nd-Half RBs 2000-2003
Last Name
First Name
Gms 1-8
1st Half
Gms 9-16
2nd Half
Diff
Portis
Clinton
15
14.21
13
24.15
9.93
Dunn
Warrick
26
9.22
27
15
5.78
Taylor
Fred
21
13.38
23
17.26
3.88
Lewis
Jamal
22
13.81
23
17.09
3.27
Staley
Duce
24
9.48
24
12.42
2.94
George
Eddie
29
11.76
31
13.69
1.93
Barber
Tiki
27
12.39
31
14.31
1.92
Alexander
Shaun
28
13.18
29
14.55
1.37

Clinton Portis tends to get off to a slower start. Granted, his rookie year is factored into these results but a nearly ten-point differential is the most of any fantasy player. The enthusiasm this stat may generate may need to be tempered a bit due to the well-publicized issues with Portis' fit into Joe Gibbs' offense, but The Gut Check still anticipates Portis will come around in the second half and is definitely a player worth acquiring from an owner that has soured on him.

Warrick Dunn is a surprise, but Yours Truly is beginning to wonder if there hasn't been a time when he's seen Dunn in a favorably statistical light that it hasn't seemed odd. It's time to accept that Warrick Dunn is a highly underrated fantasy back and probably a guy that could be acquired easily for a stretch run. It sure looks like the Falcons will be a competitive team. The Falcons' ability to defend the run and newfound pass rush should help anticipate that Dunn will continue to good enough looks to warrant a fantasy start.

Fred Taylor is another guy that gets off to a slow start. This has definitely been the case in 2004. As defenses are forced to take notice Leftwich—something that should happen after two straight weeks with a 300-yard game—Taylor should see things open up as the season progresses.

Duce Staley has historically been a better second half fantasy runner, but with Jerome Bettis as a goal line vulture and the fact that Staley has been splitting time with several backs as an Eagle between 2000-2003, The Gut Check isn't as optimistic as he'd like to be about Duce.

Like Donovan McNabb, Tiki Barber is historically a slow starter. Fantasy owners that didn't listen to Yours Truly in the preseason and drafted Barber should be excited about his prospects for the remainder of the season.

The running backs with worse second halves than first halves are not players The Gut Check would count on to experience similar results in 2004:
Underachieving 2nd-Half RBs 2000-2003
Last Name
First Name
Gms 1-8
1st Half
Gms 9-16
2nd Half
Diff
Garner
Charlie
29
14.24
30
10.85
-3.39
Williams
Ricky
34
16.15
32
13.31
-2.84
Davis
Stephen
30
14.63
24
12.28
-2.35
Henry
Travis
22
14.84
20
12.5
-2.34
Dillon
Corey
26
12.73
31
10.94
-1.79
Pittman
Michael
28
9.96
31
8.77
-1.19
James
Edgerrin
24
16.78
22
15.78
-1

Obviously, Garner and Williams require no discussion for 2004. Stephen Davis generally gets banged up later in the season and his numbers tend to fall. The Panthers' running back should have a better second half virtually by default of his injury. But how good Davis truly feels coming off his knee surgery will dictate whether his average points per game is good enough to be a coveted starter.

Travis Henry is also another guy that accumulates injuries as the season progresses. The Gut Check traded away Henry two weeks ago because he had depth at the position and Chris Brown (his 8th round pick) was out performing the Bills' starter (his third round pick) anyhow. With McGahee rumored to get more looks, it might be time to cut your losses on this under appreciated player.

The Gut Check believes Corey Dillon will only get better as 2004 progresses, because he's on a team that knows how to win. Historically, the Bengals have been so bad on defense that they were out of games with greater frequency than what Dillon should expect to see as a Patriot. The running game should be a huge factor down the stretch, and as long as Dillon remains healthy, that's a good sign for his fantasy owners.

Receivers' differentials are about on par with running backs.
Best 2nd-Half WRs 2000-2003
Last Name
First Name
Gms 1-8
1st Half
Gms 9-16
2nd Half
Diff
Boldin
Anquan
7
10.59
8
14.11
3.53
Toomer
Amani
29
7.78
31
11.16
3.38
Jackson
Darrell
28
7.55
27
10.71
3.16
Burress
Plaxico
28
6.52
27
9.44
2.92
Muhammad
Muhsin
27
6.24
25
8.9
2.66
Johnson
Keyshawn
29
7.39
26
9.77
2.38
Smith
Steve
18
6.14
18
8.31
2.17
Kennison
Eddie
31
5.14
24
7.28
2.14
Moss
Randy
28
12.9
32
14.85
1.95
McCareins
Justin
15
5.49
12
7.33
1.84
Robinson
Marcus
22
6.01
16
7.81
1.8
Chrebet
Wayne
26
6.37
22
8.15
1.78
McCardell
Keenan
29
8.41
29
10.11
1.69
Robinson
Koren
19
6.21
24
7.55
1.34
Taylor
Travis
28
5.93
24
7.12
1.19

Anquan Bolden will have better numbers just by taking the field in 2004, but it appeared last season that Bolden improved his production in the second half of 2003. The former rookie of the year should provide a nice boost to the Cardinals' offense if he returns to the field in good enough shape to make an impact. The Gut Check thinks Josh McCown might not be a bad wavier wire pick up or throw-in player to acquire in a trade before Bolden comes back.

Amani Toomer, Darrell Jackson, and Plaxico Burress are definitely guys worth targeting for the stretch run. Jackson is always value highly, but Toomer and Burress are usually easy players to acquire from owners in the first half of the season. Based on the early returns in 2004, this year should be no different. Toomer is off to a disappointing start, but a healthy and productive Shockey and Barber should help create more opportunities for Warner to gain rapport with his receiving corps.

The slow finishers at receiver offer few surprises.
Underachieving 2nd-Half WRs 2000-2003
Last Name
First Name
Gms 1-8
1st Half
Gms 9-16
2nd Half
Diff
Glenn
Terry
21
9.23
23
6.23
-3
Moulds
Eric
28
10.66
29
7.7
-2.97
Brown
Tim
28
9.83
32
7.42
-2.41
Smith
Rod
32
11.97
27
9.6
-2.36
Johnson
Andre
7
8.93
8
6.63
-2.3
Patten
David
25
7.49
19
5.34
-2.15
Hilliard
Ike
26
8.93
19
6.85
-2.08
Bruce
Isaac
28
11.31
31
9.65
-1.66
Harrison
Marvin
28
14.94
31
13.43
-1.52
Booker
Marty
25
8.6
30
7.41
-1.19
Price
Peerless
29
8.48
31
7.38
-1.11

Terry Glenn has traditionally been a player to view cautiously. This year is no different and only less experienced fantasy owners might bite on a trade involving the former rookie of the year. Eric Moulds seems to be a talented player that has been at the mercy of inconsistent quarterback play, changing offensive schemes, and another receiver to take pressure off him. Lee Evans should help some, but Moulds owners will have to ultimately count on Bledsoe and that's not something the Gut Check is too excited about for the stretch run. Then again, Ralph Wilson has openly stated that he wants Mike Mularky to open up the offense so Yours Truly is still confident about Moulds' prospects.

Yours Truly is ignoring Andre Johnson's differential due to the fact he was a rookie last year and the Texans appear to have taken a step forward in their passing game in 2004. The Gut Check is also ignoring Bruce and Harrison's differential. The amount of points is already small and in Bruce's case, he's off to a great star that shouldn't drop off too significantly down the stretch. As for Harrison, this is the first season where the Colts are benefiting from the production of two other receivers. In the Gut Check's opinion, Harrison is poised for some big games down the stretch because defenses will have to key on Wayne and Stokley after they study the formations which feature these two complements making game-changing plays throughout the first half of the year.

The only tight end that historically has a positive differential that matches up with the other skill positions is Boo Williams.
Best 2nd-Half TEs 2000-2003
Last Name
First Name
Gms 1-8
1st Half
Gms 9-16
2nd Half
Diff
Williams
Boo
11
2.76
17
6.06
3.3
Dunn
Jason
6
2.13
5
4.86
2.73
Pollard
Marcus
24
5.41
29
6.68
1.27
Gonzalez
Tony
31
9.14
28
9.5
0.37

Jason Dunn is listed, but his range of games is really too small to seriously consider. Looking beyond the stats, The Gut Check thinks Dunn could wind up a viable option based on the recent schemes of the Chiefs in 2004. The Kansas City receiving corps has yet to make a huge impact and the presence of another capable receiving tight end will help balance the offense. Remember, Dunn was considered a terrific prospect in his own right when the Eagles drafted him several years ago.

Possibly the greatest second-half disappointment has been Randy McMichael.
Underachieving 2nd-Half TEs 2000-2003
Last Name
First Name
Gms 1-8
1st Half
Gms 9-16
2nd Half
Diff
McMichael
Randy
14
7.08
14
2.82
-4.26
Mili
Itula
22
5.15
22
3.4
-1.75
Heap
Todd
16
6.58
22
5.15
-1.43
Becht
Anthony
22
4.66
26
3.38
-1.28
Riemersma
Jay
22
4.72
22
3.66
-1.06
Crumpler
Alge
19
5.32
21
4.37
-0.95

Although there has been an upgrade to the receiving Miami receiving corps, the running game and quarterback play is worse. It's likely, that McMichael's numbers could suffer once again down the stretch.

Time for the second installment of The Gut Check's Intuition or Indigestion:

The Gut Check still thinks Jerry Rice has enough left to put up decent fantasy numbers as a bye week fill-in or #4 fantasy receiver. It's understandable that Oakland wants to focus on developing their youth at the position and game-time experience is one of those key ingredients towards getting it done. What teams would make Rice a worthwhile fantasy consideration if he were traded in the next week? Other than Detroit, Atlanta would be an excellent place. Rice would provide a consistent presence for Michael Vick to maintain discipline in his reads and serve as a mentor for a young receiving corps trying to learn the nuances of the West Coast Offense.

Bernard Berrian is a rookie worth keeping an eye on for next season. Berrian, the favorite target of David Carr while at Fresno State, has speed to burn and runs good routes. It's rumored the Bears want to give him more time at receiver as the year progresses because his skill set matches up with the type of offense Terry Shea brought to Chicago. Berrian should be a forgotten man in most keeper leagues and a worthwhile pick up in the off-season.

Brian Westbrook should score this week against a Panthers defense that won't have linemen Brentson Buckner and Kris Jenkins.

Good luck this weekend!