First Quarter Stat Line
10/7/04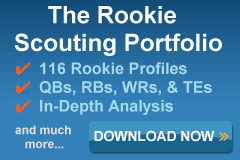 The "Gut Feeling" is often synonymous with a sense of desperation resulting from a lack of preparation. The Gut Check is a huge proponent of studying the numbers, but there's a point where one can place too much emphasis on the wrong information. This can result in the undervaluing or overlooking a player's potential. Therefore, The Weekly Gut Check is devoted to examining the frame of reference behind certain number-driven guidelines that fantasy football owners use to make decisions.

Although The Weekly Gut Check doesn't claim to be psychic, he does believe that he can dispel certain numbers biases and help you make the best choices for your team. We'll keep a running tally of The Weekly Gut Check's insights. This way you can gauge his views as something to seriously consider, or at least seriously consider running the opposite way as fast as you can!


---
Every four weeks Yours Truly is going to hold his preseason projections to the harsh light of the 2004 season and determine whether they still have life to them, or require an autopsy. The Gut Check doesn't know what Krueger's evaluation process will entail, so he created his own.
At first, he considered using the standard educational grading system (A=90-100, B=80-89, C=70-79, etc.). But fantasy football isn't school—it's gambling's more affable cousin. And if The Gut Check earned anything over a C-minus on a consistent basis, he'd probably have to start considering a career in odds making, which means the grading system does not reflect the performance.
Then he thought about going with the favorite ploy of many sports columnists—the old "batting average grading system," where anything over .300 is good. The Gut Check has never been a baseball fan, and he doesn't want to make his work look better than advertised. The field goal percentage tactic is basketball doesn't work either.
Ultimately, it all comes back to football. The Gut Check will model his evaluation after a quarterback's stat line. The number of statements he's made about a player or situation will be the attempts. The amount of these statements that still have a reasonable chance to be true will be considered completions. Yardage will be rewarded upon the difficulty of the insight—more yards for the least likely scenarios, less for the easier predictions.
The statements Yours Truly made that appear to be way off track will be interceptions. Touchdowns will be the picks that turned out very close to the mark. We'll use The Gut Check's completion percentage and touchdown to interception ratio to evaluate his record during the four, quarter points of the season. When the season ends, The Gut Check will have something akin to a quarterback stat line for a four-quarter game. Obviously, results may change from one quarter to the next so we'll just assume every grade is ultimately under the review of instant replay until the season ends.
But before taking the field, The Gut Check has to comment about John Henderson's idea for pre-game motivation. Is it just Yours Truly, or did you also have these thoughts?
Slapping a 6'8", 320-pound behemoth in the face without suffering dire consequences has to be a perverse thrill, doesn't it?


If you're an opposing quarterback or running back on the Jags schedule, did you really want to see this is what happens just before he lines up in your path?


How did this come up? Did they practice this during the week? Henderson to Jags' Trainer: I want you to slap me so hard that it leaves a hand mark on my face-no, on second thought-I want you to slap me so hard, that the hand mark appears on the opposite side of my face! Jags' Trainer: (The look on his face shows he doesn't know whether to get excited or piss his pants).
Let's get this evaluation started. The Gut Check will review the highlights, lowlights, and other predictions of note. If you want to see the entire scorecard check out this table.
Overall The Gut Check's first quarter stat sheet reads like this:

Gut Check's 1st Quarter Stat Sheet
Player
&nbspComp
Att
Pct.
Yds
TDs
INTs
FF Pts
The Gut Check
50
99
50.5%
710
14
10
91.5
In fantasy scoring terms, Yours Truly would rate 4th among QBs in total points—a good amount above Marc Bulger and just below Daunte Culpepper. As you can see, The Gut Check's completion percentage isn't really NFL-worthy but he has a knack for making the big play. Kind of like the rookie signal caller that likes to go downfield but needs to learn how to read and react more effectively at this level. Of course there are a lot of plays still under review, so the stat line could change significantly. So far, it looks like a Boom or Bust season…
Highlights
Play Call: "Truth be known, Lee Suggs was always a better back than William Green. Although the Gut Check believes Green still has a shot at a bright NFL future if he continues his personal recovery, Suggs will be the complete package."

Result: 20-yard completion across the middle—True, Suggs has only played one game this year, but he was impressive against the NFL's top ranked defense against the run that allows 59 yards per game on the ground and 2.5 yards per carry. Considering that Butch Davis was going to be cautious with Suggs in this first game back, and still wound up feeding him twenty-two times, The Gut Check has no problem saying Suggs illustrated what Yours Truly has been saying this since June.
Play Call: Regardless of the conspiracy theories, the answer will emerge in this summer in training camp. Although William Green will have something to prove, it's mainly to himself. As admirable as that may be, it doesn't generate the same type of motivation as being slighted. William Green had it handed to him and he didn't appreciate it. That's why the Gut Check is betting on Lee Suggs to take the job and not let go.

Result: 15-yard fade in the end zone for a touchdown—Suggs won the job outright in training camp. Although he didn't start the first quarter of the season due to the neck stinger, there was no question Suggs was the man.
Play Call: "But Westbrook also has the potential to be an every down back. He has a deceptively strong lower body befitting someone that would weigh 220 rather than 205 and this allows him to break more tackles than one would normally see from a back of his height. Westbrook runs with a low center of gravity and this actually keeps him from absorbing as much punishment as some of the bigger backs that run upright."

Result: 10-yard pass in the flat for a score—So far Westbrook is averaging just over 22 touches per game considering Priest Holmes—fantasy football's perennial top pick is averaging 28 carries per game. Only Tiki Barber has gained more yards from scrimmage than the Eagles' starter. Despite not scoring a touchdown, Westbrook is still the thirteenth-rated fantasy back in standard performance leagues. Of course, it is only the quarter point of the season. We'll see if this play holds up under review.
Play Call: "So what does the Gut Check recommend for the 2004 season? Value Duckett similar to that of Mike Alstott: some weeks with heavy goal line carries and the occasional 100 yard game, but don't count on him as anything more than a weak #3-solid #4 RB in 10-12 player fantasy leagues. Otherwise, disappointment is (as the last two years have illustrated) is likely for fantasy owners of Duckett."

Result: 30-yard strike for six—Duckett is the 35th ranked back in standard scoring leagues—little more than a bye week option right now at best. Although Duckett's carries have increased every game, he's still clearly backing up Dunn. Half of his 2004 total came in week four and neither of the last two games was in doubt when the Spartans' alum got the ball. Seems to The Gut Check that Dunn is still very much the main man (16th in yards rushing in the NFL) in Atlanta.

Play Call: "The steal of the draft was landing Chris Brown in round eight!!"

Result: 30-yard td pass—Brown had three consecutive 100-yard games, including an effort against a Jaguars defense that didn't allow this type of performance from backs rated far higher than the first year starter. Round eight for a running back rated among the top five is clearly grand larceny.

Play Call: "Thomas Jones in the sixth round was a steal. So was Aaron Brooks in round nine."

Results: Two, 20-yard scoring passes—Like Brown, Jones was leading most fantasy RB's in points scored until last weekend. The Gut Check also mentioned in his offensive line ratings that Chicago's line should contribute to improved fantasy value of some skill position player and listed Jones (and Westrbook) as a part of his All-Preseason Gut Check Squad. Aaron Brooks is a top-five fantasy quarterback in most standard scoring leagues.

Play Call: "Nearly all of the breakout receivers in our sample study were starters. So eliminating all but the clear-cut starters heading into 2004 is a wise approach. This brings the list down to 9 players. We're also focusing on players that are entering their second, third, fourth, or fifth season. This leaves us with six strong, breakout candidates from the 41-reception, 400-yard, 2-TD minimum:"

Strong Breakout Candidates
Last Name
First Name
Rookie Year
Year
Team
G
Rec
Rec Yd
Rec TD
FF Pts
Wayne
Reggie
2001
2003
clt
16
68
838
7
125.8
Walker
Javon
2002
2003
gnb
16
41
716
9
125.6
McCareins
Justin
2001
2003
oti
16
47
813
7
123.3
Johnson
Andre
2003
2003
htx
16
66
976
4
121.6
Branch
Deion
2002
2003
nwe
15
57
803
3
98.3
Gardner
Rod
2001
2003
was
16
59
600
5
90

Results: 4 out of 6 for 100 yards, including a 25-yard touchdown—Thus far, Wayne, Walker, Johnson, and Gardner are among the top twelve receivers in fantasy football after four weeks. Branch was also off to a good start prior to his knee injury. McCareins has been quiet. Yours Truly has to credit Tony San Nicholas for getting open in this series so the Gut Check could just make some easy throws.



Play Call:

"On the other hand, Terrell Owens is a point of departure. Mike [Krueger] projects Owens, as an Eagle, will have similar production as his 2003 season as a Forty Niner. The Gut Check believes Owens will have a significantly better season catching passes from McNabb. This was a good reason for The Gut Check to reconsider his expectations. However, after looking at Owens' 2002 season, and factoring in McNabb is a more accurate deep ball quarterback, Yours Truly decided to keep his projections."

Results: 30-yard completion (TD under review)—Owens is on track for 104 receptions, 1456 yards, and 24 touchdowns. Realistically, the touchdown total doesn't seem attainable and there's still plenty of season left, but the point is that Owens has actually been underrated as a fantasy receiver over the course of his career and he's exceeding expectations thus far in Philly.

Lowlights

Play Call: "Fitzgerald will prove in his first year that he's the most NFL-ready receiver in the class."

Result: Receiver went down with a sprained ankle on an out pattern and the cornerback got an easy pick—Roy Williams has emphatically proved Yours Truly wrong with some unbelievable displays of athleticism that make him look like a rookie combination of Randy Moss' acrobatics and Terrell Owens' toughness after the catch. Fitzgerald leads the Cardinals in receiving, but that's not saying much. The phenom out of Pitt is on track for 68 receptions and 814 yards. This isn't the impressive total Yours Truly had for him (70-1100-5), but it's still within possibility—especially if Fitzgerald's ankle heals and Bolden comes back this season-nothing The Gut Check is counting on…

Play Call: "[Troy Edwards] If everything comes together, he could have a season like Az-Hakim did with the '99 Rams-36 receptions for 677 yards and 8 touchdowns. Edwards had 35 receptions for 487 yards, and 3 touchdowns in thirteen games last year. If Leftwich makes the jump that many second year quarterbacks do, then Edwards could benefit, even in the slot."

Result: The Gut Check overthrew his receiver and the safety was playing center field—Edwards has been a frequent target in the slot when he's been in the game, but Hokie-alum, Ernest Wilford has usurped most of Edwards' opportunities with his stellar play. Edwards could still have some good games, because he's received multiple looks in the red zone, but he's not really a player to consider for your roster any time soon.

Play Call: The Gut Check's number one player to avoid in the draft-Giants' running back Tiki Barber.

Result: Total misread of the defense and threw the ball right into double coverage for an INT return and a defensive touchdown. Probably the worst call Yours Truly made so far this year. Barber is tops in yards from scrimmage after four games and is the #2 RB overall in fantasy football. The presence of Coughlin, the threatened re-emergence of Dayne, the patchwork offensive line, and Barber's fumbling problems were sound reasons why Barber didn't appear as a promising option, but The Gut Check has to admit that he might have let the fact that he picked Barber in 2003 as his #2 back to pair with Ricky Williams and the disappointment might have prematurely soured him on Barber.

Play Call: Kevin Dyson was a smart pick, but the round he got him was a higher than he was going in many drafts.

Result: Thrown into double coverage and picked off—Smart pick? Nothing about landing Kevin Dyson was a smart pick and the only thing too high in conjunction to drafting him might have been the state that fantasy owners have shared with Ricky Williams…

Play Call: All Gut Check offense…Quincy Wilson.

Result: Easy Pick—Wilson made the practice squad, but you can't make an impact for fantasy owners on the bench wearing street clothes. Unless Dunn or Duckett go down for an extended length of time, Wilson won't be promoted anytime soon. Even if this happens, Wilson needs to hold onto the football and learn how to pass block. If Wilson can improve in these two aspects, don't be surprised if the Gut Check is calling his name next year.

Play Call: All Gut Check offense…Kevin Johnson.

Result: Very inaccurate throw for an easy pick—Kevin Johnson has definitely been a better option than Travis Taylor, but that's not saying anything considering Taylor is hurt. Randy Hymes has been the most productive Raven receiver and Kyle Boller's play has done little to warrant much consideration for any Baltimore pass catcher at this point.

Play Call: All Gut Check offense…Kelley Washington.

Result: Quarterback and receiver not the same page and resulted in an int—The Gut Check thought this was a can't miss situation, but it turns out T.J. Houshmanzadeh has been the more productive player off the bench for the Bengals and was the one to replace Peter Warrick. Washington had one decent game, but he hasn't busted out as predicted.

Play Call: "These changes dropped Carr six spots in The Gut Check's ratings—significant enough of a drop to force the Gut Check to think twice about making Carr a solid backup on his roster."

Result: The Quarterback hesitated on the open man and threw the ball too late for an interception—Carr is the 6th rated fantasy QB in standard performance leagues after the first quarter of games. We'll find out if Carr has truly made the leap or Detroit, San Diego, Kansas City, and Oakland have horrible pass defenses. The Gut Check's head coach is getting ready to throw the red flag onto the field for this one..


Miscellaneous

Play Call: "As for this year, the Gut Check projects at least 850 yards and a 5 TD season with weeks where Lloyd comes up big and others where he disappears—definitely a decent fill in for your #3 WR spot on your re-draft league's fantasy roster but valued more like a #4 or #5 WR on draft day."

Result: The ruling on the field is an incomplete pass, but the defense is challenging the play and contends it's an interception--The Gut Check almost made this an interception, but the fact that Lloyd is getting double- covered and other receivers have put up solid numbers means that Lloyd is doing something right from an NFL WR standpoint. So far it looks like Yours Truly threw this one into tight coverage and the play is still under review because the opposition is challenging that the DB had possession of the ball…If Lloyd can return from injury and start making plays—and the fact, he was targeted a decent amount in key situations suggests he can—this could turn the other way.

Play Call: "Yet just from playing the percentages, the owner that picks a second year (or second year starter) at quarterback that is likely projected at best as a second-tier fantasy passer has a good shot of getting a player that will not only crack the top ten in yards and tds, but has a better than even chance to be in the top five for yardage and nearly a 75% chance of making the top five in scoring. This means Kyle Boller, Josh McCown, and Carson Palmer may be good risks this year as well--but 14 out of the 19 qbs listed in the table played in at least 10 games and had over 200 attempts in their rookie year. That's why the better gamble is a player with reps in actual games. Statistically speaking, Leftwich is the best choice of the three with Boller, McCown, and Palmer behind him in that order."

Result: The ruling on the field is an incomplete pass, but the offense is challenging the receiver had both feet in bounds—this order is dead-on accurate in terms of quarterback rating. Of course, fantasy owners can care less about this statistic. In terms of yardage, it's Palmer, Leftwich, McCown, and Boller. Leftwich leads Palmer and Boller in touchdowns (Emmitt Smith as more passing tds than McCown). Overall, Palmer (#15 fantasy QB) and Leftwich (#19 QB) look like the best 2nd year candidates to have a shot at attaining these lofty performance projections. After the first three weeks of the season, Leftwich appeared nowhere close to achieving this status, but his performance in the clutch and the show he put on during the Indianapolis game might change how he's used with a softer schedule ahead.

Play Call: "Melwelde Moore is this year's Domanick Davis."

Result: Incomplete, but the potential 50-yard bomb for a touchdown is still under review—Not that the Gut Check realistically thought Moore would get the opportunity to start, but Yours Truly watched enough of the Tulane star to know that Minnesota drafted a talented back. Based on the history of Vikings' backs, don't be surprised if Moore does well enough to create a total fantasy mess out of this backfield when Smith and Bennett return. There always seems to be at least one every year…

Thoughts on what's ahead for the second quarter of the NFL season (Take this as intuition or indigestion-whichever you prefer):

Maybe its because both players starred at Wisconsin and wound up with AFC East squads, but Buffalo rookie Lee Evans looks like he could have a second half performance that rivals Chris Chambers' rookie year. Josh Reed hasn't become the player the Bills' thought they stole in the second round of the 2002 draft. With 7 receptions for 170 yards in three games, The Gut Check believes his friend Jut—who said Evans would be ready to make an impact his rookie year—might have been right all along. Don't be surprised if the Bills' skill players sneak their way back onto the fantasy radar—especially Eric Moulds who is benefiting from Evans' starting on the opposite side.

A lot of fantasy owners are hitting the panic button on Thomas Jones after Rex Grossman tore his ACL in week three. The second year quarterback was averaging 15.1 fantasy points per contest—19th among quarterbacks—before injury. Although the Bears' backup Jonathan Quinn only put up 7 points in his first game, Jones owners should allow for a rust factor. Chicago's offensive line is intact and playing well thus far. The Gut Check isn't convinced trading Jones while he's hot is the best decision. Lovie Smith and Terry Shea know they need to find ways to get Jones the ball in advantageous situations. Additionally, the Eagles defensive coordinator Jim Johnson has proven in the Vikings game how to game plan appropriately to shut down the a specific player, as illustrated by Onterrio Smith having two big efforts sandwiching an average outing against Philly on Monday night.

Maybe it's because Yours Truly will never be able to completely shake his Browns' up bringing, but he's looking for Cleveland to go on a winning streak. Based on his teammates reaction to his return, it's apparent Lee Suggs has potential to become a leader on this team and seems to have the type of grind it out, never say die outlook as quarterback Jeff Garcia. The Gut Check isn't getting excited about the Browns' this year, but they might get some of the Dawgs in the Pound frothing at the mouth in October.

That's it for this week!