2008 Rookie Impact
Quarterbacks
7/1/08



Note: This series contains excerpts and sample profiles from my 2008 Rookie Scouting Portfolio, an FFToday.com publication available for purchase here. The RSP provides play-by-play examples that back up my observations of each prospect's performance. For my takes on previous rookie impact quarterback classes check here for impact articles from 2006 and 2007.
Every year I start this article with the same table to top rookie performances at the quarterback position to explain why the words rookie quarterback rarely equals fantasy success:


Rookie QBs At Their Best
Last
FF Pts
Rookie Year
Round
#
Season Ranking
Peyton Manning
297.15
1998
1
1
6th
Jim Kelly
287.55
1986*
1
14
5th
Warren Moon
242.00
1984*
U
U
12th
Rick Mirer
241.95
1993
1
2
9th
Chris Weinke
239.35
2001
4
11
19th
Vince Young
233.3
2006
1
6
12th
Jim Zorn
225.15
1976*
U
U
6th
Byron Leftwich
219.75
2003
1
7
18th
Ben Roethlisberger
219.45
2004
1
11
21st
Kerry Collins
217.25
1995
1
5
22nd
Average
242.29
13th

* - Denotes player's first year in NFL, not necessarily first year in pro football. Jim Kelly was drafted in 1983 but played in the USFL until '86. Warren Moon originally signed with he CFL.

U - The player was not drafted by an NFL team.

Notice that only Peyton Manning, Jim Kelly, and Warren Moon had long, productive careers, but Manning was the only true rookie of the three when he entered the NFL. Ben Roethlisberger is definitely on the right track and Redskins coach Jim Zorn had a decent career. Young's career is still just beginning, but the rest have burned out. Judging from this list, only two true rookies have built a successful career after a fast start. Talk about an argument against starting a quarterback immediately…

The 2008 class is short on athleticism, but long on guys who understand how to play the game. There is one do-it-all player with potential fantasy superstardom written all over him but he will not get his chance any time soon. For a re-draft, Matt Ryan might be the only player you even consider drafting, but there are nine quarterbacks I would consider for a dynasty draft with a decent roster size and three or four more who could develop but will be available on your waiver wire as late as early 2010.

Brick by Brick, But Built to Last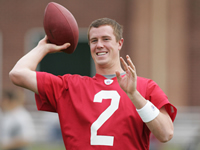 Ryan: He'll impress analysts more than fantasy owners this season.
Matt Ryan, Atlanta—It's difficult to argue against the Falcons making this pick. Ryan is a pocket passer with accuracy and toughness who elevated the mediocre college offense around him. This is what many draft analysts thought of Joey Harrington and why they projected him as a franchise QB, but I think Ryan will actually fulfill higher expectations.
There are other analysts that believe Matt Ryan has the field vision, accuracy, and leadership that will make him on par with Tom Brady and Peyton Manning. I'm more inclined to think Drew Bledsoe or at best, Dan Fouts. Ryan has some mobility at this stage of his career, but so did Bledsoe. Early in his career he should be able to execute roll outs and get some positive gains if the pocket breaks down, but don't believe that 4th QTR scramble fest at the conclusion of the Virginia Tech game is anything close to trademark Ryan.
This is a quarterback who prefers to drop five to seven steps, survey the field, and manipulate the defense with his command of the playbook and accuracy. His arm strength is good enough for him to stretch the field, but he lacks that rare gun. Paired with a strong running game, Ryan will develop into a solid fantasy starter with a few years of borderline elite play.
Rookie Impact: Odds-on favorite to start by November, the latest. He'll impress NFL analysts more than fantasy owners in this scenario. If he starts on opening day, don't be surprised if he flashes enough quarters of strong play and becomes a low-end fantasy backup. Because he's smart player with a mature outlook, I think he'll be better out of the gate than most rookie quarterbacks. Don't anticipate numbers that compared with Peyton Manning or Vince Young, but a notch below Ben Roethlisberger's rookie ranking among his QB brethren is possible.
Three to Five-Year Outlook: Ryan has enough of a gunslinger mentality to take command of an offense and produce some big games. I liken his upside to Dan Fouts if he gets the weapons and green light to win through the passing game. Realistically, expectations are more in tune with a modern day Ron Jaworski: a QB with a 15-year career and four, top-10 fantasy seasons and ten, top-12 years. He'll be very good, but not great.
Good Foundation, Needs Grit
Brian Brohm, Packers—I'm a fan of Brohm's game. He's a strong decision maker with good mechanics. Like Ryan, Brohm is not a highly mobile signal caller, but he needs to refine his footwork so he can slide well enough in the pocket to buy time. He is not as good under pressure as Ryan, but he's efficient.
There are a lot of people skeptical of Aaron Rodgers to believe Brohm will have a chance to take over the job sooner than later. I think these observers are too optimistic about Brohm. He has a very difficult time with pressure in his face. A good NFL quarterback has the ability to take punishment on one play and then deliver a strong, accurate throw the next. When I studied Brohm on film, I noticed that the rookie had a clear tendency to be inaccurate after a sack or contact in the pocket. He often missed dump off throws with no pressure around him on plays following a hit.
It's this tendency that he'll need to improve or he'll never make a successful transition from back up to starter. His arm strength also isn't elite in quality, so the west coast offense is a natural fit for him once he shores up his footwork and presence in the pocket.
Rookie Impact: I think Brohm will be impressive in training camp because he's a great student of the game and he won't face real pressure, but once he experiences the speed of the NFL I'll be surprised if he makes a strong enough adjustment this year.
Three to Five-Year Outlook: I didn't study Aaron Rodgers' game so he's still an unknown commodity for me. If Rodgers succeeds, look for Brohm to find his way elsewhere because his approach to the game and decision-making will keep him demand. At worst, I believe the rookie will be a journeyman signal caller. With a good offensive line in front of him in Green Bay, Brohm could begin his career on a positive note. Based on these factors, he's a good player to draft in a dynasty league in the mid-rounds. If he can overcome his jitters after contact, his upside borders Ryan's, but I believe that's a very difficult tendency to get past.
Struck Gold?
Josh Johnson, Tampa Bay—Maybe I'm just stuck on small school quarterbacks who Jon Gruden picks in Tampa, but if there's a player I think has a chance to be a dynamic playmaker from this class of quarterbacks it's Josh Johnson.
His 2007 stats are incredible, but it is what one would expect from a small school signal caller about to go pro: 2988 yards, 43 scores, and only one interception in 301 attempts. He also had 726 yards and two scores on 101 carries. What you wouldn't expect is how former Colt QB and current Stanford coach Jim Harbaugh has felt about Johnson, who he coached at San Diego in 2006. When pro scouts visited Stanford to check out Harbaugh's current players, the coach would routinely break out game film on Johnson and rave about his former QB.
What makes Johnson a quality prospect is his footwork, presence, and arm strength combined with his athleticism. The most important component of a pro quarterback's game is pocket presence. It's a difficult thing to teach a player, because it's a lot like dealing with contact: either you can keep your eyes downfield and operate in tight spaces or you lose your concentration and to varying degrees become less effective a passer. Johnson is a natural operating out of tight spaces. He has the ability to stand in the pocket that we've seen from Tom Brady, Ben Roethlisberger, and Steve McNair.
When you combine his solid mechanics as a thrower, his pass-first mentality, and deceptive foot speed, he might be the most promising signal caller in this draft. If he were able to be half as good statistically at a Boston College, we'd be looking at the first player selected in this draft. This is why I value Matt Ryan and a Brian Brohm ahead of him. The rest of the quarterbacks in this draft are developmental projects along the lines of Johnson or journeymen with more immediate upside, but a much lower ceiling.
Rookie Impact: Bruce Gradkowski was a favorite sleeper of mine in Tampa. His issue was a lack of arm strength. The Toledo product demonstrated a good pocket presence and strong decision making, but defenses soon learned they could force him to make long throws he couldn't hit to win games. Although there is a logjam at QB, the fact that Gruden waived Gradkowski and former starter Chris Simms is asking for a trade signals to me that Tampa will likely go with Garcia and McCown as the 1-2 punch and Johnson at least makes the scout team. Because of his athleticism and both Garcia's and McCown's injury history, Johnson could be the #3 QB to begin the season.
Three to Five-Year Outlook: After the sure thing of Matt Ryan, there's no other QB in this draft I'd rather have. Johnson is more what I thought Gradkowski might become, but I overestimated Gradkowski's arm strength. If you're in a dynasty league, Johnson is a great mid-to-late round pick to hold onto.
Joe Flacco, Ravens—Here's the guy most fantasy owners will be the best QB in this draft once it's all said and done. Count me as a fan. Flacco is a big guy with a howitzer for an arm and enough athleticism that he reminds folks of Ben Roethlisberger. I was highly impressed with Flacco's physical skills and demeanor under pressure at Delaware. Here's an RSP sample of Flacco's performance against Southern Illinois.
Where Flacco needs work is his tendency to hold onto the ball too long. John Harbaugh has already noted that Flacco is doing this in camp so look for this to be an area requiring major adjustment as a rookie. The preseason hype on Flacco is that he never makes the same mistake twice and they love his arm strength and confidence.
Although there's excitement about seeing what Flacco can do, 2007 draft pick Troy Smith has impressed enough to be the front-runner for the starting job. Those same reports explain that Smith has improved tremendously and offensive coordinator Cam Cameron is excited about the variety of plays he can call with Smith as the starter. Last year I profiled Smith as an underrated player in his draft class so this is not surprising to me. Flacco will have a lot more work than some expect to win the job outright as a rookie.
Rookie Impact: He'll be one of those #3 QBs who will get a chance to leapfrog Kyle Boller if Troy Smith suffers a long-term injury and/or the Ravens have a rough start to the season.
Three to Five-Year Outlook: Flacco is the odds-on favorite to start in Baltimore within a few years because of his draft position/contract. If he shows anything, he'll be pushed ahead of Smith unless the former Ohio State star turns into a star in the making by the end of year two. Flacco and Josh Johnson both have a chance to be pro bowl quarterbacks in this league if they can adjust to the speed of the game and refine their skills. Flacco has a chip on his shoulder because former Dolphins and Bears coach Dave Wannestedt dumped Flacco for Tyler Palko when he arrived at Pittsburgh.
Sneaky
John David Booty, Minnesota—Tarvaris Jackson is at a pivotal point in his career as a starter. This is the year that he'll need to demonstrate he can make reads, handle pressure, and make the throws expected from an NFL starter on a consistent basis. John David Booty is not the athlete that Jackson is, but he's a mobile and efficient signal caller with decent movement in the pocket.
What I like about Booty is his ability to execute play fakes and rollouts. He has a very defined throwing range, which limits him on throws longer than 30 yards. With Peterson, the Vikings line, and two deep threats in Rice and Berrian, I would feel constricted with Booty as my starter if trying to execute the obvious play action game that one would want to use with this personnel.
Rookie Impact: He is an excellent pick for a west coast system with a strong running game. If Jackson falls apart, Booty has enough skill to keep Minnesota competitive for a short stretch as a rookie.
Three to Five-Year Outlook: In a few years, he could challenge for the job if Jackson isn't the future stud Brad Childress envisioned.
Sam Keller, Oakland—Tony Romo's quarterback coach worked with Sam Keller at Arizona State and said that Keller actually flashed more talent at that point in his career than the Cowboy's newest multi-millionaire. When I studied Keller's game film at ASU, I saw an aggressive, downfield passer who stood in the pocket and fired away.

But Keller personality-wise Keller has been trying to act like the typical Tom Cruise leading man role from his 80s films: Talented and cocky guy storms onto the scene, wins over some while alienating others because he's too reckless on and off the job until something happens to create a fall from grace.
Keller's fall from grace occurred when Rudi Carpenter's family threatened to transfer their kid if he didn't get a shot as the starter after Keller got hurt. Coach Koetter originally had a policy of starters not losing their job to injury, but the threat of transfer caused him to flip-flop and he put the personnel decision in the hands of his team. After heated debate, the team went with Carpenter because allegedly Keller was too much of a fan of the nightlife—although he didn't have any criminal issues due to his partying at ASU.
Keller decided to transfer to Nebraska where this downfield passer had to conform to a west coast attack. Although former Nebraska head coach Bill Callahan has few fans in Lincoln, he possesses a solid track record as an offensive mind. Callahan liked Keller ever since he saw the California native in high school, while the former Raider coach was watching his son's games.
Keller didn't get drafted, but the Raiders signed him to a contract after a try out. I think Keller has enough skill to develop into a journeyman. His arm strength is decent, but it could be better with some tweaking to his mechanics. He's also not known for his mental acumen on field. He's a gutsy player who was fine with just executing the play that was called. I wouldn't be surprised if Keller gives fellow ASU alum, Andrew Walter some competition by 2009.
Rookie Impact: #3 QB or scout team guy to keep an eye on.
Three to Five-Year Outlook: If JaMarcus Russell falters Keller has the moxy and skills to surprise. You won't need to pick him in any drafts this year. He'll be available for a couple of seasons.
Upside But Likely A Journeyman Starter or Career Clip-Board Carrier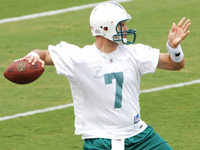 Chad Henne: The next Elvis Grbac?
Chad Henne, Dolphins—I'm not nearly as bullish on Henne as most. Sure he's a big guy with a decent arm and a big school pedigree, but just because he had a mediocre career at Michigan doesn't mean he's going to be the next Tom Brady. If he's the next Elvis Grbac, he'll exceed my expectations.
Henne is a sitting duck in the pocket. He doesn't slide away from pressure effectively and he'll often drop his eyes when the pressure gets within his sightlines. Henne's a tough guy, but I haven't seen enough from him to believe he'll look as good on the field as he often does in practice.
Rookie Impact: If you believe the Dolphins are going to fair better with the immobile Henne over the relatively mobile Josh McCown or John Beck after the disaster of their 1-win, 2007, then you must believe it was Bill Parcells and Tony Sparano who discovered Tony Romo (it was Sean Payton).
Three to Five-Year Outlook: If Henne can at least keep his eyes downfield and learn to slide away from pressure he has the other tools to be a solid backup on a Parcells style team that is already through the initial building stages. I think he's overrated even in dynasty circles.
Kevin O'Connell, Patriots: O'Connell lands in a great situation as the future understudy of Tom Brady. He's a 6-5, 225-lb passer with a strong arm and excellent mobility. Since he lacks consistency with his decision-making and he needs extra work on his mechanics, sitting behind one of the best quarterbacks in the game eases the pressure for O'Connell to develop immediately.
Rookie Impact: Unless the Pats implode, O'Connell is a scout team quarterback in New England.
Three to Five-Year Outlook: Look for O'Connell to get a shot to be Brady's back up and if he develops as expected, he'll be trade bait for GM Scott Pioli.
Projects
Colt Brennan, Redsksins—No quarterback's stock too more of a roller coaster ride than Brennan's. Concerns about his size, a poor showing versus a top-flight college squad, and a post-season injury caused Brennan to take a nosedive down draft boards.
What Bremnan does have is terrific accuracy and the ability to throw the ball from a variety of platforms and on the run. Former Hawaii coach June Jones raved about Brennan. Before you write off that as a recruiting tool for Jones, remember that he also said un-drafted free agent WR Devon Bess reminded him of Andre Rison and Bess has made enough noise in Dolphins camp that the coaching staff recently said he just might be a talent that one "can hang your hat on."
What I like most about Brennan is his quick release, but he needs to develop better habits with ball protection in the pocket and play within the game plan rather than freelance to make a big play.
Rookie Impact: If Brennan sees the field, the 'Skins have gone south in the worst way.
Three to Five-Year Outlook: If Jim Zorn has some success Brennan has the raw talent to be a decent west coast passer. That said the rookie needs a lot of work. View this as Zorn's pet project.
Erik Ainge, Jets—Ainge has size, athleticism, and experience in a big-time program. The offense he starred in limited him to a short passing game so his arm strength is a bit of a question mark. What's promising is that Ainge got better once Phillip Fulmer got around to getting him quality tutelage in former Manning(s) coordinator David Cutcliffe. I liked the flashes of pocket awareness he demonstrated at times, but he's far from a finished product.
Rookie Impact: With the Jets hoping for Kellen Clemens to get it together and Chad Pennington's career in apparent decline, Ainge has a good chance of sticking as a developmental project.
Three to Five-Year Outlook: Ainge needs to prove he can make the tough throws on a consistent basis to be more than a clipboard guy.
Andre Woodson, Giants—Woodson is a player I really admire for his competitive fire. He has faced tough competition and has performed very strong at key moments. He has good arm strength and decent accuracy, but at this point he's a slightly more athletic version of Byron Leftwich. Yes, Woodson has an elongated delivery and tends to hold onto the ball too long. If he doesn't correct these issues he could take a lot of punishment if he has to see the field any time soon.
Rookie Impact: Woodson has a shot to make the active roster, but he's not a player you'll want on your fantasy roster unless you have a practice squad.
Three to Five-Year Outlook: Woodson has the skills to become a solid pro and potential starter, but his mechanics need a lot of development for it to happen. He is strictly a project at this point in his career.
Kyle Wright, Vikings—Wright has all the physical tools to be a franchise quarterback. What he lacks is confidence. He's had flashes of what made him a top recruit, but was never able to put it all together. If Wright can figure out how to play consistent football from a conceptual standpoint, he could be the best quarterback on the Vikings roster.
Rookie Impact: Practice squad hopeful.
Three to Five-Year Outlook: The mental/emotional approach to playing the game is the most difficult skill to obtain, so unless the light comes on for Wright early, he'll bounce around to a couple of squads if he's even in the league.
Chad Brink, Texans—The un-drafted rookie out of Washington State is a smart player who has enough arm strength and accuracy to compete for a roster spot. He lacks top-flight physical skills, but I was surprised he didn't get picked in the late rounds. The Texans have seen enough from him to cut Quinn Gray and sign Brink to a contract.
Rookie Impact: Likely a practice squad player with potential to be the #3 QB if he has a good preseason.
Three to Five-Year Outlook: Future back up who could exceed expectations with good coaching.