The Weekly Gut Check - Vol. 125
Crank Scores
7/11/08



The "Gut Feeling" is often synonymous with a sense of desperation resulting from a lack of preparation. The Gut Check is a huge proponent of studying the numbers, but there's a point where one can place too much emphasis on the wrong information. This can result in the undervaluing or overlooking a player's potential. Therefore, The Weekly Gut Check is devoted to examining the frame of reference behind certain number-driven guidelines that fantasy football owners use to make decisions.

Although The Weekly Gut Check doesn't claim to be psychic, he does believe that he can dispel certain numbers biases and help you make the best choices for your team. We'll keep a running tally of The Weekly Gut Check's insights. This way you can gauge his views as something to seriously consider, or at least seriously consider running the opposite way as fast as you can!


---
Crank (according to Dictionary.com) – noun 1. Machinery. Any of several types of arms or levers for imparting rotary or oscillatory motion to a rotating shaft, one end of the crank being fixed to the shaft and the other end receiving reciprocating motion from a hand, connecting rod, etc. 2. Informal. An ill-tempered, grouchy person. 3. an unbalanced person who is overzealous in the advocacy of a private cause…5. a strikingly clever turn of speech or play on words. 6. Archaic. A bend; turn. 7. Slang. the nasal decongestant propylhexedrine, used illicitly for its euphoric effects.

Crank (according to FFToday.com) -- noun 1. Abbreviation for Consistency Ranking. Fantasy player performances measured in various ways and distilled into one number that shows how well they reach a consistently desired production for a fantasy owner. For a detailed explanation of its origins, go here. 2. Matt Waldman. See definition 3 above. 3. What Matt Waldman was taking (See definition 7 above) while he was developing the concept five years ago.

I developed the Crank Score with the hope of using it as a method to refine my player rankings prior to a fantasy draft. One thing that Consistency Ranking does very well is statistically explains why one player was a better choice than another in a head-to-head league format. Note the word was in that sentence. In recent seasons I have experimented with methods of using the Crank Score to create projected rankings and this month, I'll do it again for the next four columns. Please understand these are experiments I'm toying with here. If I strike gold, great, but my motivation here is to give you a variety of ways to apply this information:
This Week:

I will use the Crank Score as a tool for refining rankings by adjusting players within tiers. I'll use FFToday's current projections combined with last year's Crank Score results to adjust the ranks.



Next Week:

I will unveil an improved Crank Score formula that is simpler and hopefully more effective at measuring what fantasy owners seek.



Week Three:

I will look at past rookie performances and determine who to incorporate them into a Crank Score projection.



Week Four:

I will reveal my Crank Score projections based on the above factors and other criteria.
I will be using FFToday's default scoring for these projections. If you wish to work with Crank Scores on your own and use your league scoring system, check out the Crank Score Calculator after you log into My FFToday. If you don't have a My FFToday account, set one up! You'll find the customized scoring and updates worthwhile, especially with multiple leagues. Once again, these are experiments. If you come up with a way you use Crank Scores that you would like to share, e-mail me.
The easiest way to use Crank Scores is looking at the measurement over a one – or two – year period and determining adjustments to your projections. I hear from several readers that say this is how they incorporate Crank into their draft planning. I will be using Mike Krueger's projections from June 23 for this analysis and instead of using the final Crank Score, I'm going to break out the score into the number of Elite Games; #1 Games, and Sub-Par Games for a 12-team league. Elite Games are the equivalent of a performance that, on average, would place the QB in the top two at his position for any given week for 2007. #1 Games are the equivalent of a top-12 effort on average for 2007 and Sub-Par Games are performances not worthy of a starting fantasy QB (out of the top-12). The way I'm going to adjust the rankings is by simply sorting Mike's projections first, by the number of Elite Games and second, #1 Games from 2007.
Cranking FFToday's Top 24 Quarterback Projections
When I compare Mike's projections to each player's 2007 Crank output, there are some noticeable differences worth discussing. The players highlighted in yellow are quarterbacks with projections that are noticeably higher than their 2007 Crank performance and the green highlighted players were projected noticeably lower than last year's Crank production.
Cranking FFT's QB Projections
Rnk
Player
Elite
Gms
#1
Gms
Subpar
Gms
Rank
Adj
P Yds
TDs
Int
Att
R Yds
TD
Fpts
1
Tom Brady
12
15
1
0
4,311
36
10
52
104
1
332.8
3
Tony Romo
8
11
5
1
3,850
27
15
28
115
1
279.5
2
Peyton Manning
7
11
5
-1
4,116
30
12
29
32
2
299.8
12
Aaron Rodgers
6*
11*
5*
8
3,419
21
17
19
77
1
234.5
8
Ben Roethlisberger
6
9
6
3
3,381
24
15
40
116
2
254.8
6
Derek Anderson
5
11
5
0
3,615
25
17
37
92
1
259.8
4
Drew Brees
5
9
7
-3
4,185
26
16
18
45
0
275.9
10
Matt Hasselbeck
5
8
8
2
3,370
22
18
28
104
1
239.2
5
Carson Palmer
3
7
9
-4
4,104
24
18
22
31
0
263.3
7
Jay Cutler
3
6
10
-3
3,552
23
14
56
185
1
258.6
11
Donovan McNabb
3
6
8
0
3,220
20
9
37
155
2
236.3
16
Philip Rivers
3
6
10
4
3,243
22
13
31
43
0
222
15
Jon Kitna
2
7
9
2
3,329
20
19
29
85
1
227.7
20
Jake Delhomme
2*
6*
5*
6
3,139
20
12
12
25
1
214.1
13
Vince Young
2
6
9
-2
2,895
12
13
86
462
4
234
17
Jason Campbell
2
5
8
-1
3,177
16
13
51
235
1
220.6
18
Eli Manning
2
4
12
-1
3,122
21
17
22
48
1
219.7
9
David Garrard
1
7
5
-9
3,180
22
10
47
215
2
248.7
29
Tarvaris Jackson
1
3
8
10
1,714
8
12
42
210
5
133.6
24
Trent Edwards
1
1
9
-4
2,569
14
12
24
95
1
174.3
14
Matt Schaub
0
4
7
-7
3,529
21
15
20
75
0
232.7
19
Marc Bulger
0
3
9
-3
3,245
20
15
20
43
0
214.1
22
Brodie Croyle
0
1
8
-1
2,965
15
16
22
85
1
193.1
21
Matt Leinart
0
0
5
-3
2,978
18
11
29
114
1
208.5
23
JaMarcus Russell
0
0
4
-2
2,675
12
14
35
135
1
174.5
* The numbers attributed to Aaron Rodgers are Brett Favre's stats. Jake Delhomme's stats are from 2006.
There are six players Mike has in the top 12 that when compared with their 2007 Crank Scores are players who have a chance to significantly impact your fantasy team for good or bad. This depends on whether you are buying or selling each player's projected worth. There are six others that you will likely get in the later rounds as back ups, but you can use the Crank Scores to maximize the value on your investment.
Overrated?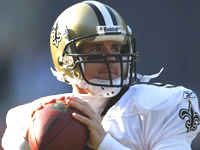 Fantasy owners are looking past Brees' inconsistency in 2007.
Drew Brees killed fantasy owners at the beginning of 2007, but took it up a few in the second half of the season. Iíve seen him regularly go as the fourth QB off the board in several mocks this summer. The logic among owners is that Breesí rough start was fluke and the Saints offense will be more mature and therefore more consistent in 2008. But if you are the type to heavily consider last yearís history, then you may ask what New Orleans has done to improve its receiving corps and running game and if they havenít done much, will opposing defenses figure them out? I agree with the consensus, common sense assessment over the 2007 Crank Score and have no problem believing that heíll cut his Sub Par Games from seven to three and half of those four additional #1 Games will be elite performances. The only problem is I seem to have difficulty getting Brees after round four in these drafts.
Carson Palmer was a viable starter in 2007, but his nine Sub Par Games were disconcerting. Whatís different in 2008? Chris Henry is now officially gone and wonít even make the sporadic guest appearances he did in í07 and I mentioned last year that the stats painted a grim outlook for Rudi Johnsonís career after 2006. Palmer is still a fine player, but the Bengals time as ďteam on the riseĒ peaked two years ago and I would be wary of the offense bouncing back in 2008. Palmer was the ninth-ranked QB last year and to have him at the number five spot means you could be sacrificing a quality receiver, runner, or elite tight end to reach for him. The Bengals QB will still throw for enough yards to make Houshmandzadeh and Johnson owners happy, but youíll likely have a better chance to get a comparable signal caller a few rounds later while still nabbing a better player earlier in the draft at a position with greater demand.
Jay Cutler at number seven is a player that could make or break you. The adjusted ranking by ďcrankingĒ the projection puts him at number ten, which probably wonít change the round you would have to grab him, because ďsecond-tierĒ starters like Cutler come off the board in clusters. But does Cutler have the skill and weaponry to be on par with the likes of Hasslebeck, Palmer, and McNabb? Itís possible, but Iím not as optimistic as some. Brandon Marshallís maturity has legitimately come into question and this may impact his professional life. Tony Scheffler will be playing in pain for the next couple of years and heíll have to prove that he can produce with discomfort before I give him benefit of the doubt. Will Darrell Jackson return to his Seattle form? Again, itís possible, but heís a guy that can take your fantasy squad in either direction and in most drafts you wonít have a choice to get ďgreat valueĒ with him.
David Garrardís projected rank and 2007 Crank score produces a cranking adjustment that takes him from ninth overall to eighteenth. But his missed time impacted the number of games one could add to his Elite, #1, and Sub Par efforts. Itís reasonable that Garrard would have had at least one more elite game last year and that would have only dropped him from ninth to twelfth overall, rather than dropping out of starter status. Again, I side more on the consensus, common sense regarding the Jaguars quarterback. Ranking Garrard somewhere in the ninth to twelfth range is reasonable. As long as the Jaguars donít get too cute with their receiver rotation by trying to throw too many players into the mix, I think Garrard owners will benefit.
Underrated?
Aaron Rodgers didnít post the Crank Scores I attributed to him, Brett Favre did. But its obvious fantasy owners who take Rodgers as a low-end starter are hoping he can maximize the productivity potential of his receiving corps. I donít believe the new Packers starter will have the same freedoms or take the same risks as Favre, but I do believe he can do half as well as his predecessorís í07 Crank Scores. That puts him in the same range as Cutler, another make or break player. If youíre a high risk-high reward owner, picking either Rodgers or Cutler after youíve built a solid team could put you over the top. Iím more inclined to go with Rodgers because of the overall talent of the Packers is stronger.
Ben Roethlisberger is a quarterback Iíve been aiming for as a solid starter with upside in rounds five to seven, much earlier than I normally take my first signal caller. Cranking his projections puts him as the number five QB going into 2008, but thereís good reason to be on either side of this viewpoint. The loss of guard Alan Faneca could really spell the downfall of the Pittsburgh offensive line. They already gave up a ton of sacks last year and as good of a third down QB Big Ben has become, he could be under too much pressure to make things happen by himself. What I like about the Steelers QB is his receiving corps. Santonio Holmes is more than an excellent deep threat. Limas Sweed should be a decent redzone and perimeter receiver as his rookie year progresses. Heath Miller is an underused, but quality receiver as a tight end. Hines Ward is the lynchpin though. Ward played the season with injuries and I believe with the addition of Sweed, that he will see better match ups. Mike Tomlin also got himself a solid complement to Willie Parker with Rashard Mendenhall and Mewelde Moore is an excellent situational back. The Steelers have the weapons to be a notch below the Pats and Colts.
Phillip Rivers isnít a player I would normally get excited about, especially after tearing his ACL in January. But like Bernie Kosar in his prime, Riversí talents have little to do with his running. The addition of Chris Chambers, the development of Vincent Jackson, and the return of LT and Gates give him a strong enough offense to post Troy Aikman-like numbers. Not exactly a fantasy football compliment, but he could produce well enough to be a low-end starter at the price of a second QB. If you believe you can rotate him with a player such as David Garrard or Donovan McNabb to gain favorable match ups after you went early on other positions in your draft, Rivers can help your team a lot more than his stats look.
Jake Delhomme gets reunited with the Muhammad-Smith combo of his salad days and the duo of DeAngelo Williams and Jonathan Stewart could make Delhomme the lead dog in a much-improved offensive attack. Delhommeís best years were 2004-2005 where he was the seventh- and ninth-rated QB, respectively. If you believe the preseason news about his recovery, Delhomme is an excellent, late-round deal that you can pair with another QB for the match up merry-go-round or as a late-round gem.
Cranking FFToday's Top 24 Runningbacks
The results of "Cranking" the running back spot have far more dramatic differences than the quarterback position, but I decided to alter sorting priority and go with #1 Games first, then Elite Games and #2 Games. This is another way you can choose to use consistency. This may give you a list where the ceiling of a player's upside isn't as important, but it produces a ranking of players who have less highs and lows. I took this even further with wide receivers which you'll see later. Once again the yellow-highlighted players are noticeably lower after getting their projections Crank-adjusted and the green-highlighted runners are noticeably higher.

Cranking FFTs RB Projections
Rnk
Player
Elite
Gms
#1
Gms
#2
Gms
Subpar
Gms
Rank Adj
Att
R Yds
TDs
Rec
Rec Yds
TDs
Fpts
1
LaDainian Tomlinson
6
12
14
2
0
323
1,582
18
56
456
2
323.8
4
Brian Westbrook
6
12
14
1
2
256
1,177
6
71
640
4
241.7
25
Jamal Lewis
4
9
10
5
22
228
956
6
28
192
1
156.8
3
Steven Jackson
2
9
11
5
-1
319
1,340
9
62
520
2
252
8
Clinton Portis
2
9
11
5
3
275
1,156
10
49
414
1
223
6
Joseph Addai
6
8
10
5
0
256
1,151
11
42
342
2
227.3
21
Earnest Graham
5
8
9
6
14
194
852
7
37
285
1
161.7
5
Marion Barber
3
8
8
8
-3
223
1,025
13
52
353
2
227.8
7
Willis McGahee
1
8
13
2
-2
325
1,365
10
36
220
1
224.5
2
Adrian Peterson
6
7
9
5
-8
287
1,465
14
39
404
2
282.9
10
Marshawn Lynch
1
7
9
4
-1
319
1,341
9
28
205
0
208.6
24
Brandon Jacobs
1
7
8
3
12
202
970
6
25
180
1
157
35
Ahmad Bradshaw
2*
7*
7*
9*
22
149
775
4
23
167
1
124.2
31
Julius Jones
0*
6*
10*
6*
17
224
875
4
31
225
1
140
11
Ryan Grant
4
5
8
6
-4
275
1,156
10
33
215
0
197.1
20
Frank Gore
3
5
10
5
5
223
983
5
38
315
1
165.8
9
Maurice Jones-Drew
3
5
6
9
-8
176
914
12
47
415
2
216.9
16
Edgerrin James
2
5
7
9
-2
294
1,175
8
28
187
0
184.2
27
Justin Fargas
2
5
6
8
8
182
857
5
43
333
1
155
12
LenDale White
1
5
8
8
-8
301
1,265
9
23
136
0
194.1
33
Chester Taylor
1
5
5
9
12
162
792
5
30
245
0
133.7
34
Ronnie Brown
3
4
5
2
12
148
650
5
30
245
2
131.5
14
Larry Johnson
3
4
4
4
-9
267
1,069
9
34
255
1
192.4
13
Willie Parker
2
4
8
7
-11
294
1,266
7
26
189
1
193.5
*Bradshaw and Jones are examples of projecting last year's results. I combined Bradshaw's elite-#1-#2-sub par figures with Derrick Ward's 2007's and I used Maurice Morris' figures for Jones.
Owners Think They Are Flukes…
This is one of the only plausible explanations as to why Jamal Lewis and Earnest Graham are not much higher on draft boards early this summer. I have personally seen Lewis go as early as the first round and as late as the fifth in mock drafts among various fantasy writers. The age/wear and tear factor is really messing with fantasy owners. Lewis is only 28 years old, but two ACL surgeries as a college and pro and a ďcomeback yearĒ have fueled the perception that Lewis will come down to earth in 2008. Count me as a skeptic, but the Browns offensive line is vastly improved and Lewis looked completely recharged as a runner in 2007. What this tells me is you better monitor Lewisí ADP up to your draft. Currently MockDraftCentral.com has Lewis as the 23rd pick in 118 qualifying drafts from last week. For a back that performed at a level in 2007 that is worth getting picked much earlier should make your ears perk up. If Lewis lands in your lap at the turn of the 2nd/3rd round and you already selected LT or AD, this could be one of the reasons why picking first in a draft gives owners a slightly higher percentage chance of winning their league.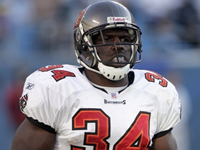 Earnest Graham: A fluke?
Grahamís value has been depressed due to several factors. First was the contract negotiation through mini-camp that kept him away from the spring festivities. Next was the acquisition of Warrick Dunn from the Falconsóa runner perfectly capable of starter-like production if given the chance. Thrown in the surprising recuperation of Cadillac Williams and whispers that Michael Bennett looks like a football player again and the backfield in Tampa Bay looks too crowded for Graham to repeat his 2007 numbers. But letís not get carried away. Fast running backs like Michael Bennett are often ďtraining camp heroes,Ē Cadillac will likely begin the season on the PUP list, and Dunn is nothing more than an insurance policy so they donít have to rely solely on Bennett if Graham doesnít work out. I can envision Earnest Graham getting more than 222 carries he received in 15 games last year, because he only started 10 of those contests. Adjust Grahamís touch rate for six games he didnít start by 12 attempts per game and weíre looking at 294 carries in 2008 to the tune of 1205 yards at 4.1 yards per carry. If Graham has 7-10 scores, heís a likely top-10 candidate. Grahamís ADP last week on MockDraftCentral.com is 32nd (3.08). While I canít muster a serious effort to justify Graham as the sixth-best RB on the board after ďCrankingĒ Mikeís projections, the difference does signify that heís currently an undervalued commodity.
The AD-Flavored Kool Aid Is Too Sweet?
Donít tell me Adrian Peterson isnít one of the three best runners in the NFL! Itís certainly something a lot of owners are thinking right now. Yet after the Crank adjustment, Peterson comes out as the 10th-best fantasy runner. When I search my heart of hearts, ranking him in the same tier as Marshawn Lynch is a more realistic expectation for him because we cannot expect 224 and 296-yard efforts from him in 2008, can we? The logical answer is no we canít, especially if Brad Childress decides Chester Taylor will continue to get a similar number of carries in 2008. I doubt Taylor will greatly interfere with Petersonís touches as he did last year and I do believe Peterson will be more have fewer sub par games this year. At the same time, I can also see him having fewer elite games. Still when I watch Peterson play, I canít help but think Earl Campbell, LT, Eric Dickerson, Walter Payton, Jim Brown. Can you? It wasnít like that 296-yard game was against the Bengals defense. He averaged 9.9 yards per carry on 30 attempts against the frickiní Chargers! What this analysis tells me is we all may be getting too excited about what many regard as Petersonís imminent domination in 2008. If you play strictly by the numbers this info could caution you to pick LT and maybe two other backs ahead of Peterson. Iím not sure if Iím ready to paint or dance by numbers, but to be fair and balanced, weíll talk more about getting too giddy on Peterson in the coming weeks.
No Love For The Giants Backfield?
Brandon Jacobs might be an ideal #2 RB and a potential steal as a #1 RB if he can remain healthy and Ahmad Bradshawís legal woes earn him a trip to the principalís office. Speaking of Bradshaw, I took the liberty of adding Derrick Wardís Crank figures to his as another technique of projection as a way of showing the possibility of Jacobs and Bradshaw becoming the Thunder and Lightning backfield many owners anticipated in New York almost a decade ago. I think itís clear that the ground game is very much the engine that drives the Giants offense and the lack of a proven commodity that stays healthy or out of trouble has depressed the value of the RBs on this squad.
Julius Jones is routinely going at the end of the fourth round, which could remind many of the scenario fantasy owners found his older brother Thomas when he went from Tampa Bay to the Bears. The Jones brothers are good, but not great backs. Which means they can be underrated players on solid offensive units. Look for both of them to outplay their draft position with little risk on your part to grab them.
Drunk Off MJD?
I love Maurice Jones Drew, but this adjustment demonstrates the risk involved with drafting him as anything more than a low-end, second back. That risk is Fred Taylor and the Jags unwillingness to put MJD in the current role Brian Westbrook has in Philly. Iím a huge fan of Westbrook, but MJD is a better all-around back from a talent standpoint. Heís more powerful, a better blocker, and faster. And Mike Krueger obviously agrees with me, because otherwise he would not be ranking a committee RB with #2 RB fantasy numbers in the top 10 unless he were enamored with MJDís ability. Itís a bold move that can make or break you, considering MJDís average draft status is the 27the pick off the board according to Mock Draft Centralís most recent report. LenDale White (Chris Johnson) and Willie Parker (Rashard Mendenhall) also have a higher draft status than they might deserve with high profile rookies that will be given every chance to eat into their production. These are players you want to be careful not to reach for, but still enjoy the benefits if you get them as #3 RBs or low-end #2 RBs (if you got a quality player or two at another position first).
As for the rest, Larry Johnsonís expected rebound season isnít something Iíd presume too quickly. The line is still a shambles and his workload from 2006 could make him a prime candidate to be a low-end #2 RB, at best. Justin Fargas did a fine job with a notoriously underachieving offensive line and I donít believe heíll cede as much time to McFadden as some think. At worst, Fargas and Chester Taylor will be first-rate handcuffs.
Ronnie Brown appears to be a higher valued player than his ranking, but thatís solely due to his pre-injury performance. If anything, it should confirm that Ricky Williams is worth late-round consideration.
Cranking FFToday's Top 24 Wide Receivers
For receivers I experimented with I sorting the consistency measurements in this order: #3 Games, Elite Games, #1 Games. I actually think this method makes the most sense of the sorting methods I've used thus far. In fact, I'd recommend sorting RBs by #2 Games, Elite, and #1. The reason is you're prioritizing your ideal performances out of a player by selecting performers with the most "starting quality" games and then by games with the highest possible upside. This sorting method stays true to the Crank Score's intent: consistently high productivity without negative variances that can really hurt your squad. In fact, this experimentation with sorting the scores led me to several other ideas which will result with me making an adjustment to determining that singular Crank Score for the first time since I published it. I'll unveil it in more detail next week.

Cranking FFTs WR Projections
Rnk
Player
Rec
Rec Yds
TDs
Fpts
Elite
Gms
#1
Gms
#2
Gms
#3
Gms
Subpar
Gms
Rank
Adj
1
Randy Moss
89
1,329
15
222.9
10
11
13
14
2
0
8
Braylon Edwards
84
1,175
10
177.5
6
11
11
13
3
6
5
Larry Fitzgerald
99
1,355
11
201.5
5
7
10
13
2
2
3
Reggie Wayne
95
1,335
12
205.5
5
8
10
12
4
-1
4
Brandon Marshall
107
1,450
10
205
3
6
8
12
4
-1
6
Terrell Owens
89
1,275
11
193.5
7
10
11
11
4
0
12
T.J. Houshmandzadeh
99
1,100
8
158
4
7
9
11
5
5
10
Torry Holt
87
1,144
8
162.4
2
7
8
11
5
2
30
Derrick Mason
83
932
5
123.2
1
4
6
11
5
21
16
Greg Jennings
69
1,088
7
150.8
4
8
10
10
3
6
7
Chad Johnson
93
1,315
10
191.5
4
5
6
10
6
-4
15
Wes Welker
93
1,064
8
154.4
2
7
8
10
6
3
13
Marques Colston
86
1,160
7
158
6
9
9
9
7
0
23
Plaxico Burress
63
887
7
130.7
6
7
8
9
7
9
21
Anquan Boldin
69
965
7
138.5
2
5
5
9
3
6
17
Bobby Engram
89
1,075
7
149.5
1
7
7
9
7
1
29
Chris Chambers
63
889
6
124.9
0
1
7
9
7
12
20
Roddy White
77
1,075
6
143.5
4
7
7
8
8
2
14
Santonio Holmes
76
1,125
7
154.5
3
7
7
8
5
-5
32
Reggie Williams
61
845
6
120.5
1
4
8
8
6
12
2
Andre Johnson
99
1,430
11
209
4
7
7
7
2
-19
27
Joey Galloway
62
965
5
126.5
4
6
6
7
8
5
11
Roy Williams
80
1,110
8
159
3
3
4
7
5
-12

What surprised me most about this Cranking of the WR projections is that Mike Kruegerís logic behind Brandon Marshallís top five ranking appears to have some merit. Seventy-five percent of the Broncos receiverís games in 2007 were of starting qualityóas good as Reggie Wayne, and only Fitzgerald, Moss, and Edwards were more reliable in this manner. Iíll have to seriously reconsider my take on Marshall as long as he can manage to stay out of Goodellís doghouse. The problem with this method is that Marshall lacked quality #1 and #2 games compared to a player like Owens, who was significantly better in many respects this sorting didnít quite capture.

Braylon Edwards may not have been the dominant performer on the level of Randy Moss, but when you view everything but his Elite games alongside Moss, there isnít much of a drop off. To list Edwards as a bit underrated is almost comical, but he just might be if you consider these projections or the fact that at Mock Draft Central heís on average the fourth WR off the board in recent mocks.

T.J. Houshmandzadeh taught me a valuable lesson last year. His ability to give you quality starts week after week makes him a top ten receiver, but this sorting technique would force me to justify why Derrick Mason is better than Greg Jennings and I canít do it. Jennings had twice the number of #1 WR performances and nearly twice the amount of #2 Games. So while I like the sorting of the lowest-tier as the first priority, it doesnít give a thorough enough accounting of consistency to make a strong decision.


Cranking FFToday's Projected Top 15 Tight Ends

So here's a take in another direction…instead of sorting and ranking by one of the Crank categories, I simply added the positive categories and subtracted the Sub Par Games from the total and then sorted by this number as a different version of the "Crank Score."





Itís certainly a cleaner looking overall number than the original Crank Score. It shows that last year, Winslow was two games better than Witten when measuring the number of quality games expected from a starter, but as you can see with Winslow vs. Gates, heís not really 4 games better although his Crank Score is 4 points higher. More on this next weekÖ

According to this method, Dallas Clark his a highly undervalued commodity if you believe his numbers werenít compensation for the absence of Marvin Harrison (which is hard to do in some respects). Still, Clark is a fine player and although ranking him fifth might be pushing it, itís not that strenuous. I would definitely consider him over Chris Cooley, who could see enough loss of targets in a new offense with a still unproven QB.

Todd Heapís adjusted numbers are depressed due to missed time in 2007 as is Tony Schefllerís, but both of their missed time actually valued them over a potentially more deserving Owen Danielsóa player who has become a late-round favorite of fantasy owners in mock drafts this year.

Hopefully, this piece gives you a number of ways to apply Crank Scores into your draft analysis. Next week, I'll introduce a new calculation for Crank Scores and in coming weeks, I'll give you my projections for 2008.