The Weekly Gut Check - Vol. 139
Visiting the Cattery
10/16/08



The "Gut Feeling" is often synonymous with a sense of desperation resulting from a lack of preparation. The Gut Check is a huge proponent of studying the numbers, but there's a point where one can place too much emphasis on the wrong information. This can result in the undervaluing or overlooking a player's potential. Therefore, The Weekly Gut Check is devoted to examining the frame of reference behind certain number-driven guidelines that fantasy football owners use to make decisions.

Although The Weekly Gut Check doesn't claim to be psychic, he does believe that he can dispel certain numbers biases and help you make the best choices for your team. We'll keep a running tally of The Weekly Gut Check's insights. This way you can gauge his views as something to seriously consider, or at least seriously consider running the opposite way as fast as you can!


---
The biggest news of the week has been about the Cowboys and their injuries to Tony Romo and Felix Jones, the jettisoning of Adam Jones, and the acquisition of Roy Williams. But the media is already wearing out the Cowboys angle of this story as you read this column. Let's focus on the Lions. Although the Roy Williams trade is an attempt by the Cowboys to become an dynamic offense that can outscore anyone this year as a way of counterbalancing their young and green secondary, there's not much I can impart to help your fantasy squad for the rest of the year. In fact, I can sum up what you want to know about your Cowboys fantasy players in a sentence: Roy Williams will have a season similar to Chris Chambers after his trade in '07 (see last week's article where I showed the splits on Chambers), which will mean T.O. and Jason Witten will see a minimal change in targets and Marion Barber will be able to run wild because opposing defenses will be preoccupied with the passing game. Any questions? Good. We'll talk in due time about my theory that this deal means T.O. will be S.O.L. in 2009.

The impact on the Lions is the more compelling fantasy story for owners looking for some mid-season help with their lineup. Detroit's decision to part with Roy Williams means several things for the organization from top to bottom. I'll break down what I think this trade means for the team and fantasy owners this year and beyond.

Burying the Remnants of the Martz Era

Rod Marinelli wants what the last three out of four Super Bowl champions (Giants, Colts, and Steelers) have in common: a balanced offense that uses a strong running game to set up big plays in the passing game and keep their defense rested and in a position to remain aggressive when they do take the field. When the Lions parted ways with offensive coordinator Mike Martz, they still had the offensive players that bought into the pass-happy system, specifically two of the team's bigger on-field leaders: Jon Kitna and Roy Williams.

You didn't have to be a lip reader to know that John Kitna's sideline tirade during the opening day beat-down courtesy of the Falcons was a plea to open up the offense. Soon after, Roy Williams complained about the number of opportunities he was receiving commensurate to reserves like Shaun McDonald. Williams also grew increasingly frustrated on the field as the season progressed, culminating with him gesturing wildly to the coaching staff about an overthrown pass from Kitna.

With the drafting of lineman Gosder Cherilus and runner Kevin Smith, and addition of veteran back Rudi Johnson coach Marinelli gave new offensive coordinator, Jim Colletto, the tools to begin constructing a team to match his vision. Rookie defensive end Cliff Avril is a Justin Tuck-like project that may also pay dividends in a few years. The biggest issue is that anyone drafted in the Matt Millen era is not as likely to be a match for the new GM's philosophy, even if that new personnel man is aligned with Marinelli and decides to keep the coach. This uncertainty with the future leadership of the organization makes it difficult to project the long-term fantasy value of several players, but there are some we can get out of the right now.

Regardless, the Motor City Jungle Cats Need A QB

Kitna is done for the year and likely on the outs with Marinelli, too. Dan Orlovsky is a big, strong-armed athlete who, if you saw last week, is out of his element at the pro level. Lions' fans will be clamoring for the staff to give Drew Stanton a shot, and don't be surprised if they do. The problem is Stanton is a poor man's version of Josh McCown; a big-time athlete who shows flashes of promise couched between poor decisions from the pocket. If you have even casually followed Josh McCown's career, you know that the one-time Cardinal, Raider, Dolphin, and Panther has never developed the acumen for the game in the way that progressed him beyond journeyman status. Gus Frerotte is another player with a similar career trajectory. These are players that really had to work at their pocket awareness and still show lapses in judgment that are too costly to remain a starter for the long haul.

The Lions have struck out on the QB front and they will need to start over. With the additional picks, it's possible they can acquire a young quarterback with promise through an off season trade or hope a potential stud like Matthew Stafford comes out this year and is within their reach. Personally, I would try to loosen the Browns' grip on Brady Quinn or the Jets' grasp of Kellen Clemens or take a chance on Bills reserve J.P. Losman, because I doubt the better free agent quarterbacks will come to Detroit (Warner) or be welcomed back (Garcia). But for the rest of the season, the Lions will evaluate the quarterbacks on their roster. You will see plenty of Orlovsky and Stanton and it will be a mixed bag for the rest of the offense. I'd rather have Luke McCown or take a chance on John Beck or Matt Moore if they can acquire them.

But Calvin Johnson Has Produced Without a Quality Starting QB In The Past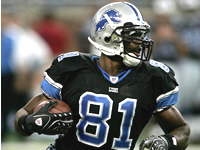 More targets but shorter routes are in store for Calvin Johnson.
Remember how people talked about QB Matt Ryan playing on an offense without big-name talent surrounding him at the skill positions? If you never saw Johnson play at Georgia Tech, I'm sure most observers would agree with me when I say that their star receiver could have reached 2000 yards and 20 scores if he had a top-flight quarterback throwing him the ball. Reggie Ball was Georgia Tech's quarterback during the Calvin Johnson era. Ball was frequently criticized for not looking Johnson's way enough. He also lacked the velocity to stick throws in tight coverage which often meant Johnson had to be wide open or going after a jump ball.
These two situations won't happen very often in the NFL and this means the Lions will need to give Johnson an opportunity to gain yards after the catch on short passes in order to take advantage of his skills in 2008. I think this will happen. We saw Johnson score on a crossing route last week and I believe we'll see more of those plays, including short hitches, and wide receiver screens. The upside with Williams in Dallas will be the increase in targets we'll surely see for Johnson. The downside is his yards per reception will likely deflate that initial enthusiasm. Brandon Marshall saw a lot of short routes like this last year so there's still hope for Johnson, who is physical enough to make the most of this adjustment. If you have a luxury of depth at the RB position and you're looking for a cheap deal from a panicking owner, Johnson might be a nice buy low option at a low risk for you. Just don't break the bank to get him, because odds are against him of being worth it.
Adoptees from The William Clay Ford Humane Society
Looking for potential waiver wire bargains? I have two strays for your consideration: Shaun McDonald and Mike Furrey. Calvin Johnson may see more targets because opposing defenses will be licking their chops forcing Detroit to beat them with the pass, but the second-year receiver will see a lot more bracketed coverage on his side of the field. The most likely beneficiary will be McDonald who had a 79-catch, 943-yard, 6-score season in 2007. At 5-10, 183 lbs., he's best suited for the slot but regardless of where he plays, he'll likely have the confidence (and the most practice reps) with the two back up quarterbacks now thrust into the starting lineup. Of course, Furrey had a similar season in 2006: 98 catches, 1086 yards, and 6 touchdowns. At 6-0, 195-lbs., he's the most likely candidate to line up in Williams' old spot. If I were guess which of the two has the best fantasy production, I will go with McDonald because he's most likely to be on the side of the field where he gets a one-on-one match up, if Colletto uses three receiver sets.
The Liger and the Cub
Hopefully the Lions will employ three receiver sets to run the football, because it will spread out the defense enough to aid their tandem of former Bengal, Rudi Johnson and rookie Kevin Smith. Both runners are used to playing in three receiver sets as the sole back in the backfield and these formations provide the Lions playbook flexibility in a variety of down and distance situations. A two-tight end, pound-the-ball-down-the-throat approach will tip the offense's hand and put the quarterbacks under more pressure than necessary.
Unfortunately, the Lions have only two poor rush defenses on their schedule for the rest of the season – next week versus Texans and December 14 against the Colts. I haven't changed my mind about Kevin Smith. I still believe he's going to be a fine runner in this league, but the offensive line is still a work in progress. If you're skeptical, just take a look at exhibit A, Rudi Johnson. Johnson has more 1300-yard seasons than any active player and the Lions system doesn't differ radically from the Bengals, but Johnson's yards per carry average is deceiving.
Overall, Johnson sports a 4-ypc average (40 attempts, 160 yards), but his situational stats tell a different story. When the Lions are ahead and defenses expect the run, Johnson's average is 3 yards. When the Lions are behind, Johnson averages 5 yards per carry. When the team is within seven points or less, his average is 2.2 ypc on 17 of his 40 attempts. The 20 attempts when the Lions were behind by 15 or more points resulted in 5.4 yards per carry. Not that impressive.
Kevin Smith is averaging 4.6 yards per carry on 42 attempts. When you take out the 50-yard run he had last week, his stat splits are similar to Johnson when the team is ahead or behind. Keep the 50-yard run and Smith's numbers are significantly better, although I wouldn't say the sample size is big enough to make it a quality number to base any arguments in the rookie's favor.
Neither player is going to be worth much in re-draft leagues. Smith is talented enough that he could continue to improve as the season progresses, despite the lack of surrounding talent. His confidence in his skills despite getting initially benched for Johnson was also impressive. It didn't take long for the Lions to realize they would have to make the situation a time-share because Smith wasn't going to give up. In dynasty leagues, I would remain strong about Smith's prospects because it's most likely the GM will see they have two out of the three pieces needed in the offensive puzzle in Kevin Smith and Calvin Johnson. Rudi Johnson is at the end of his career. He's still capable of delivering good games, but he's in the stopgap phase of his career.

He's Not a Lion, but He's Definitely Catty
With Roy Williams' arrival in Dallas, it begs the question whether Terrell Owens days as a Cowboy are numbered. Although Williams' production in Detroit does not rival T.O.'s in any stop during his career, their skill sets are similar and Williams comes without the emotional baggage. Owens plays like a young, 34-year-old, but he's still considered a year-to-year commodity in the NFL. Just look at DE Simeon Rice, who was profiled on ESPN's investigative news show, E:60. The former Cardinal and Buc was one of the dominant pass rushers of his era and within the span of one year, a shoulder injury combined with his reputation as a poor teammate has him currently shutout from the NFL.
Unlike Simeon Rice, Terrell Owens takes practice seriously, but I'm not sure I can formulate a good argument that a dominant pass rusher is less valuable than a dominant receiver. Look at what Reggie White, Bruce Smith, and the duo of Osi Umenyiora and Michael Strahan did for their teams? Jared Allen may not have the sack total Vikings fans hope for, but his play has helped the defensive line get a lot of pressure on the quarterback and keep this team in games despite an underperforming offense. Randy Moss is a dominant receiver and he hasn't done much without a viable, starting quarterback.
Although every NFL player is one injury away from calling it a career, older players like Owens are in danger when they suffer an injury that requires a season's worth of rehab. They may be ready for the next season, but they have become too cost prohibitive for organizations to employ if he doesn't see the field or provide instant impact. I believe Roy Williams is Jerry Jones' attempt to maximize his team's strength to outweigh its weakness (the secondary) this year, but it is also a signal that Owens' behavior in the locker room and press conferences is wearing thin. LB Bradie James said as much last week and unlike Michael Irvin, who was regarded as a leader, Owens is seen as divisive. Roy Williams strikes me as a follower and when it comes to the chemistry of this team that is what they want from a receiver. As we can see with Tank Johnson and Adam Jones, Jerry Jones has been the last stop for players. Owens was the first guy on this list we could cite as an example.
Transactions under the Radar
Anyone else notice Indianapolis' trade for Bills defensive tackle, John McCargo? In case you're new following pro football or just need a reminder, Colts GM Bill Polian has a knack for spotting talent. McCargo is a young guy that many scouts felt could develop into a dominant player at his position. McCargo played on the same line as Texans' DE Mario Williams when they were at North Carolina State. This is a good move for the Colts to begin shoring up the middle of their defense and you always have to start with the front line. Bob Sanders may have been player of the year and Gary Brackett has been pretty good, but you want these guys attacking a defense and it's a guy like McCargo who can give them the potential to do just that.
I know it has barely been two months into the season, but I think Jim Zorn has built up a little equity with his decisions to speculate that the signing of Shaun Alexander is probably a good move since the former Seahawks' quarterback coach signed off on the transaction. Alexander has been the target of frequent criticism by former players and media analysts for not running hard or finishing plays. Who knows why Alexander stopped running with the fervor that his peers were used to seeing from him; he could have been suffering from burn out or there his disclosed (or undisclosed) injuries were worse than what was made public. Still, I have never seen former linemen or running backs vilify a player through the press the way ESPN's crew did with Alexander. Hopefully, Alexander won't need to see the field, but in an offense like Washington's I could imagine a healthy Alexander feeling reinvigorated about the game.
Speaking of University of Alabama runners, Kenneth Darby was signed off the Falcons practice squad by the Rams. Darby was only behind Alexander and former Miami and Denver start, Bobby Humphrey, when it came to career yards for the Crimson Tide. I have frequently mentioned Darby as a player to follow and I believe much like Derrick Ward, Reuben Droughns, or Mike Anderson, this second-year runner has a shot to produce if given the opportunity. He's not someone to add to your roster unless you're in a deep dynasty league looking for a luxury pick.
Shout out to the Dust-off Fellers of Al Anbar
After last week's column was posted, I received an e-mail from Rob Surener an army MEDEVAC helicopter pilot flying Blackhawks in support of the marines in Al Anbar, Iraq. Rob concurred with me about the way the business of fantasy football has impacted the game. He talked about his days as a Sunday Ticket owner driving his friends and family crazy with the constant switching of the channel. The only cure was getting deployed to Iraq (way to put it all in perspective, Rob). Here's what he had to say about watching football:
There have been several of us who squabble each week over which AFN (Armed Forces Network) telecast game that we'll actually watch. There have been payoffs, bribes, and the inappropriate use of rank structure to decide between games, but once it's decided, we'll stick to the chosen game. It has brought back my love of watching football and I've limited myself to waiting until each set of games are finished to check my fantasy teams. It may have been drastic measures, but football is fun to watch again!
Rob says his corner of the war has grown much quieter since he arrived 14 months ago. Get back safely and I look forward to hearing about you taking in a Packers game at home. I'm sure I speak for most rational people when I say to you and everyone deployed in Iraq that we appreciate the sacrifices you've made on behalf of our country. Regardless of whether we agree with the original plan or its execution, the fact that you step up every day and put your life on the line so our country can continue to be a place where we can show our patriotism through open debate is worth all the respect we as a nation can afford to give.